9 January, 2023
10 Best AngularJS Bootstrap Templates 2023
We made sure to save you a lot of time when creating a list of trustworthy AngularJS Bootstrap templates. Admins, dashboards and other web apps, it's all possible with these.
With a 100% fluid layout, lightweight structure and well-organized code, these tools are at the top of their game.
Meaning, no matter your choice, you unlock yourself with many options and possibilities. Some even come with landing pages, while others are exclusive dashboards.
What's best, you can preview all of them first, witness them in action (even on different devices) and go from there.
Make the development process fun – with an AngularJS template!
Top-Notch AngularJS Bootstrap Templates
ArchitectUI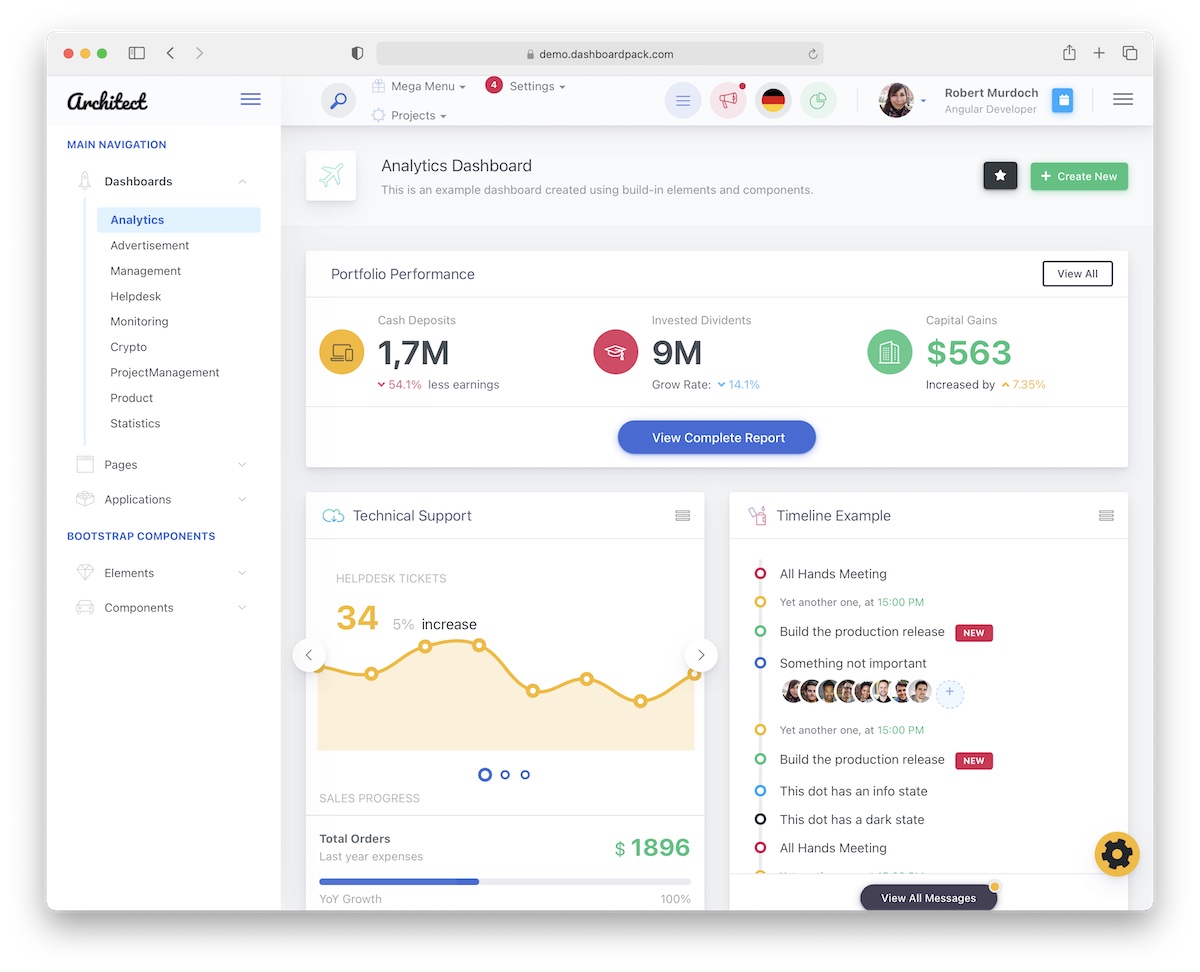 ArchitectUI is one of the more versatile dashboard templates available on the market. It includes nine main layouts, multiple other page layouts, and 100s of components.
You can also pick from numerous preset color skins, finding the right one for your project much easier. All the elements are easy to improve and adjust, so you can create a dashboard panel that meets your needs precisely.
Documentation, friendly support and regular updates are part of the bundle.
Additionally, you can choose from three pricing options, starting with Freelancer for $69 (for one application only).
NobleUI

NobleUI is an AngularJS Bootstrap template that supplies you with multiple demo options. You have light, semi-dark/light and dark themes and an optional horizontal navigation bar sample. NobleUI also does not miss an RTL template.
It also saves you extra time with functional applications, like email, chat and calendar, to name a few. Extra internal pages, from wizard (plus validation), easy style configuration and lifetime free updates, all this and more is what you get with NobleUI.
Note: depending on the time of your purchase, you can even score a nice discount.
Spruha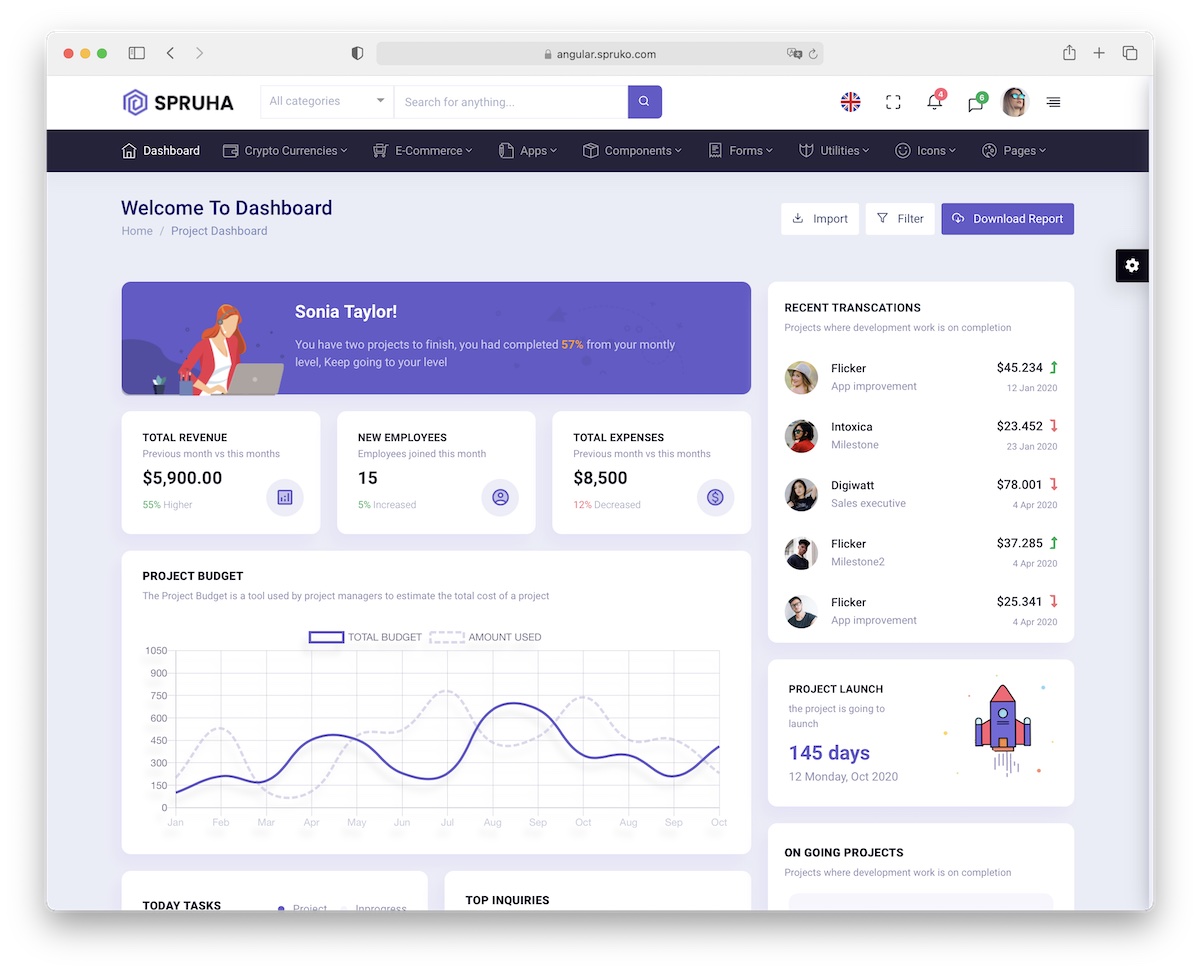 The development of admins and dashboards happens much easier with an AngularJS Bootstrap template. Another of our favorites is Spruha. We are amazed that this tool doesn't have 100s, heck, 1000s of downloads.
The kit comprises over one hundred HTML components, light and dark modes, RTL compatibility and file upload function. Don't you think this is all you get. Not even close.
There's so much more to Spruha that will make you want to use it immediately. You also have the freedom to customize default configurations lightly or heavily – that's entirely up to you.
Minible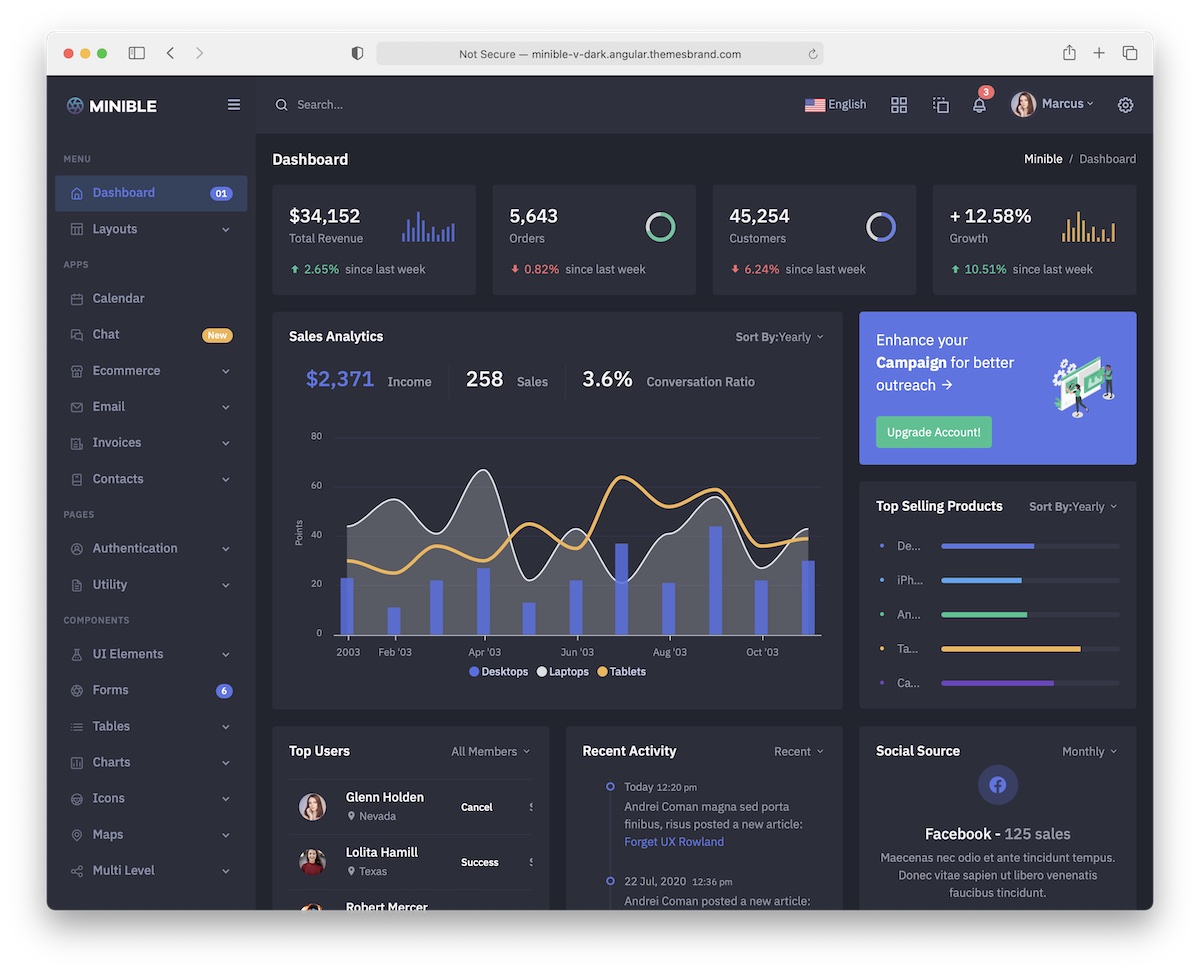 Minible doesn't stop amazing us even with the Angular version. Yes, this template comes in all sorts of different formats and technologies, truly covering everything.
But our focus is Angular, which Minible covers with its wide range of layouts and elements.
Minible handles all types of web applications, eCommerce, CRM, CMS, admin panels, SaaS, you name it! You can even go against the grain and employ it for something custom.
You get all these functional apps, different charts, Sketch and Adobe XD files, six layout types and dark mode.
Start like a boss with Minible, no need for anything else.
Apzel

While some of the AngularJS Bootstrap templates come exclusively for admins and dashboards, the others are for websites.
Apzel is a perfect example of a powerful bundle of goodies for app and software websites. The set of six home designs and multiple practical internal pages covers everything necessary for you to start immediately.
There's even a shop and a blog section!
Other highlights are video support, floating navbar, back-to-top button, animations and pricing. The layout smoothly reshapes to different screen sizes, ensuring great performance.
Apzel is also customizable and comes with a user/beginner-friendly code.
Landrick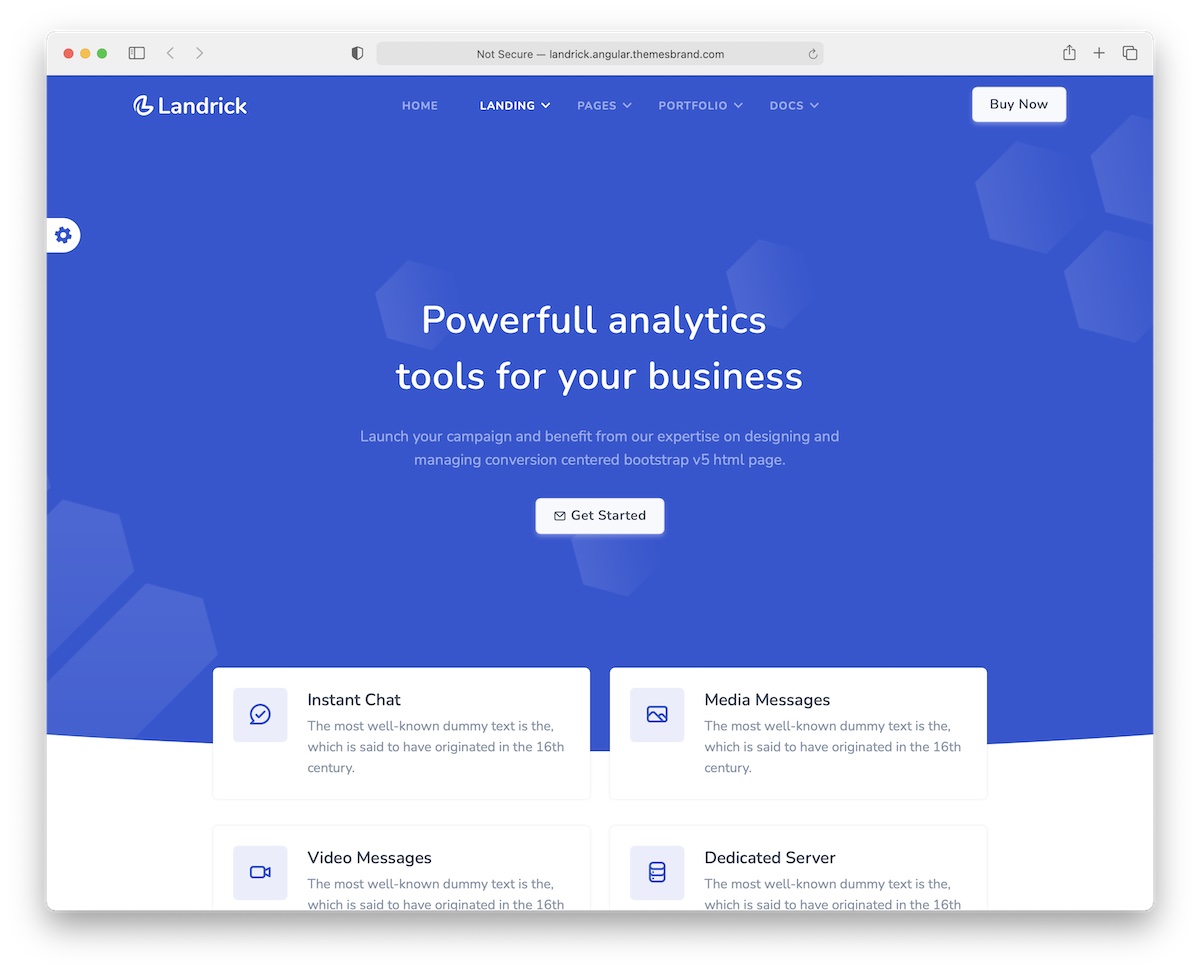 Landrick is an all-around AngularJS Bootstrap template for – hence the name – building landing pages. It has 100s of downloads and 5-star ratings, which makes it a tool worth checking out.
Landrick is getting all this shine because it ROCKS. It has a minimal design with over fifty pages that you can use, reuse, customize – whatever! – to your liking.
Along with multiple home designs, Landrick also comes with tons of extra inner pages – just in case. You can use Landrick for anything. Software, applications, products, services, agencies, the list goes on and on.
Doccure

Doccure is an all-in-one solution for medical institution and doctor websites. From front and admin pages, Doccure rocks them all for you to mix and match.
You save yourself a ton of time for a small investment, not needing to start from the ground up. You can even work with the default version of Doccure, ensuring an even quicker outcome.
Doccure includes lightweight code, many different home designs, RTL layout and many industry-specific features. Patients can make online appointments much faster with a solid website that you will establish with the power of Doccure.
MOPHY

MOPHY is a pretty exclusive AngularJS Bootstrap template since it comes for developing an admin dashboard for payments.
It has an extremely modern and mobile-first design that combines simplicity with creativity. Along with the main sample, you also get my wallet, invoice, profile, calendar and transition details sections amongst many more.
MOPHY is in total harmony with all popular web browsers and devices. The user experience will always be first-class and that's a guarantee.
Moreover, you can also access the professional support team for six months straight. However, MOPHY doesn't miss extensive documentation either.
Syndron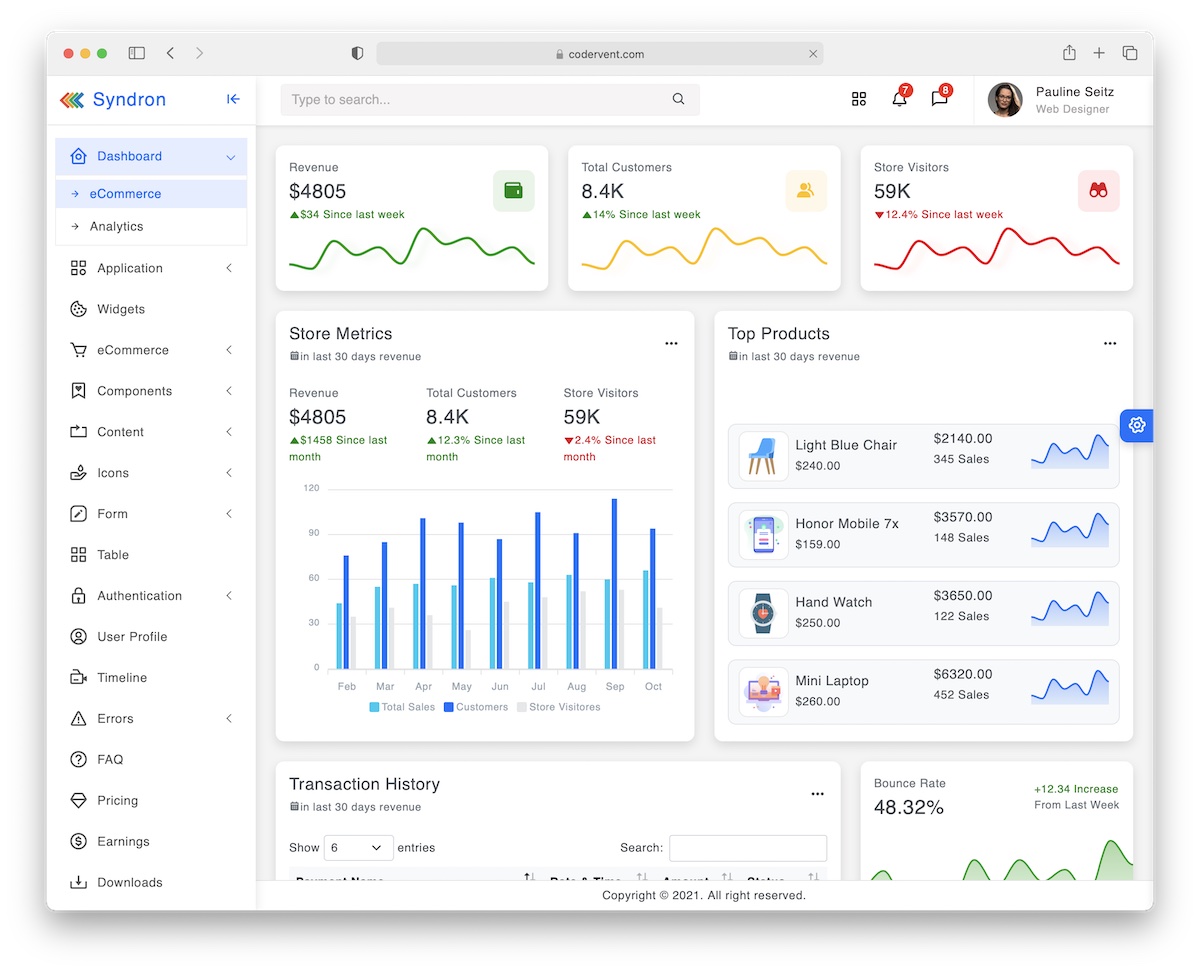 Syndron is another more generic admin template based on Bootstrap 5 and AngularJS. It works for any application you plan to launch.
Even if working with out-of-the-box configurations, you can make great things happen. But the real fun begins when you modify it and improve it to meet your expectations.
All your work with Syndron will be easy, but it requires basic coding knowledge. Light and dark layouts, over sixty elements, two hundred icons, lazy loading and Google Maps are some of the material that every Syndron gets.
Join the tribe and realize powerful web applications.
Kripton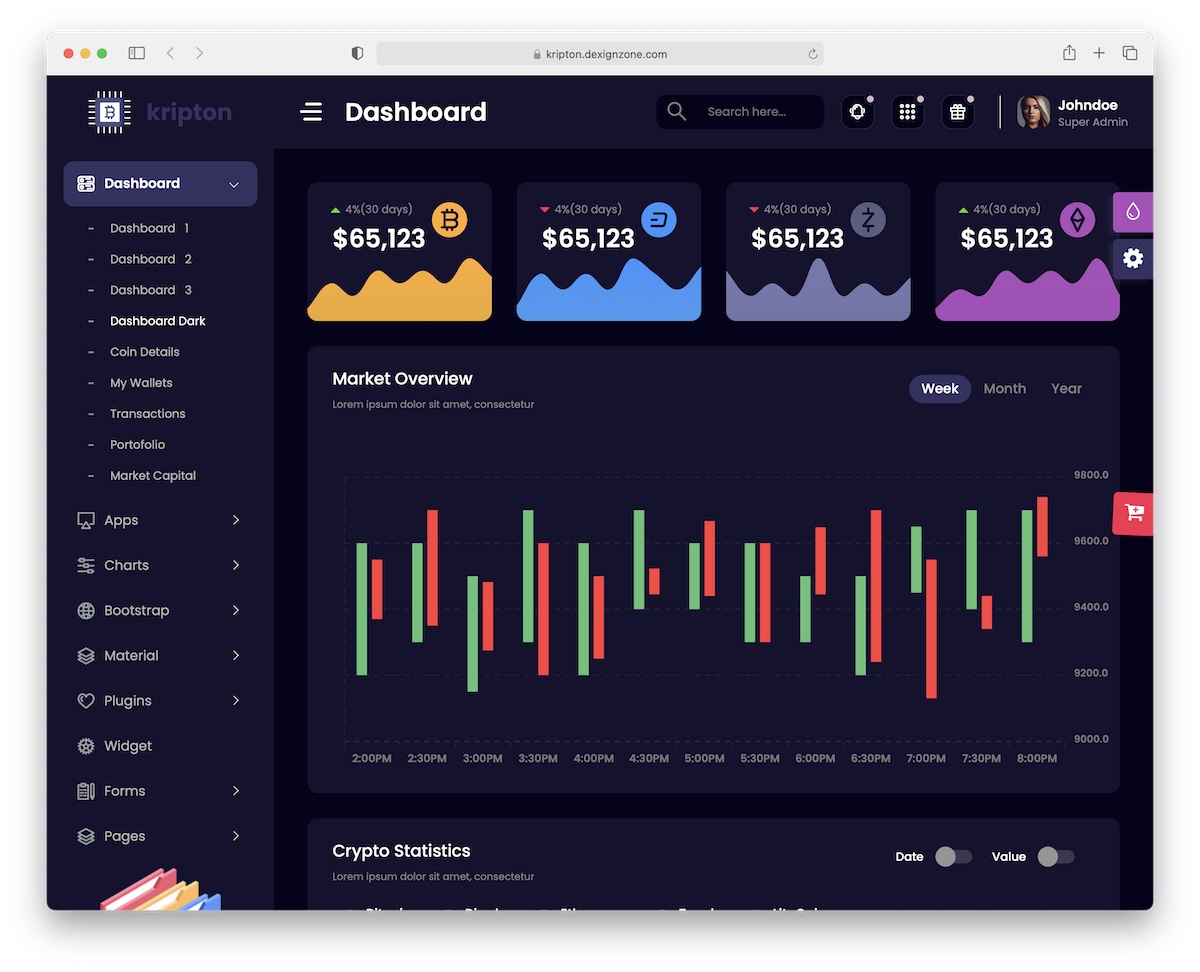 As the name suggests, Kripton is an AngularJS Bootstrap template for the cryptocurrency industry. With the niche-specific designs, layouts and features, you can comfortably kick-start your project. Immediately!
Kripton is very cheap for the amount of material that you get. Over eighty pages, fifty elements, multiple dashboard styles and dark mode are only a handful of goodies that you get.
There's A TON MORE.
You can also choose from multiple present color skins, pick a sidebar format and create an RTL admin. Kripton doesn't have any boundaries, so approach it with an open mind and do your thing effortlessly.