20 Basic HTML Templates 2019
When you decide to create an establishment online, it will make you feel like it is some sort of a hurdle. Now if you will develop a website, you need to first have some coding expertise. You may as well employ an expert to do the job for you. There is also a need to obtain a domain, find hosting, and carry on a load of stuff for you to effectively work on it. The good thing is that things can get easier and simpler when you consider basic HTML Templates. In any of these templates that you choose, you can design and get your web organization as easy and fast as possible.
Stencil
Built for freelancers, bloggers, and shops, Stencil is a multi-purpose basic HTML template. This is perfect for those who want professional designs to be pixel-perfect. One more thing is that this template is a base for a website built.
As it works well on almost handheld devices, it is even more fully responsive when used. Shop businesses, blogging businesses, and portfolio will benefit more from this one.
What more, editing is just made easy on your part. Of course, you need to have basic knowledge of CSS, JS, and HTML. Featuring thirty-four unique pages, premium designs, Bootstrap 4, Google Fonts, Black and white templates, and detailed documentation, it's more likely that you will want to use it.
Ronby
Another multipurpose basic HTML templates to find, Ronby is amazing because of its six niches. These niches are the fitness, restaurant, medical, business, fashion shop, and construction. Discover how it is designed to meet your unique purpose. Find how each home has its built inner pages that are a basic need.
Being a clean and creative HTML template, it's something that is different from all others. All possible pages have been tried to be covered. The files are also completely organized. Even the design comes very modernly and elegant. You'll also like it for being easy to customize.
Designed with Bootstrap Grid, it also is made to be pixel perfect. And with 24/7 free support, appreciate just how powerful and unique it can be. Any other features to be impressed the most of it are a creative and modern design, CMS compatible HTML, documentation included, free flat icons and font awesome, and free fonts.
Educo
A highly customizable and responsive HTML template, Educo is a perfect tool for you. It comes with four different layouts while it stays to be fully responsive. It features a revolution slider including two dashboard pages. As per these pages, these are intended for the student and instructor. There are still more to expect from it like the free fonts and icons.
What more to like about it is that it is compatible with the browsers known today. It even comes with free professional support. Actually, it is built according to the Bootstrap 12 column responsive grid template. It is also suitable for the education system and businesses such as studies and courses. You will love this above other basic html templates.
The difference this template can make is that it can be mainly used for education- related businesses. It also boasts many of its star-performing features and functionalities.
The Conference
For spectacular and fantastic HTML templates, The Conference is the best option to ever consider. The name itself already could explain to you what you need to know about it. You will be impressed and amazed by its live preview page. You will also get a complete understanding of how you will obtain a free tool. This has its functional page that can run in little to no time at all.
With pricing tables and plans, a parallax effect, it's something that you will definitely be amazed of. This has its CTA buttons including an events calendar. The inner page is features will give speakers a shine they most deserve to have. Keep others updated with the blog section of the Conference.
The Lista Shop
Sell online products in a clean way possible using Lista Shop. This one is a basic HTML templates that can help you push your products and have them viewed by the people.
Perfect as it is equipped and packed with so many features; realize how it can become your best choice of template. It will cover the process of how your site is created. It is also done a lot easier establishing a page.
Start discovering the entire system of Listashop. That is the only way that you could start blogging. Announce all those new drops and introduce content marketing for the success of your online business.
Gastro
Designed to perfectly fit for a food-blog, restaurant, and cafe website, Gastro, is simply the versatile HTML template to ever think of. It is multi-purpose and is fully responsive. It also comes retina-ready and is unlimited and even more customized. Its distinct feature is none other than the restaurant-feature element of HTML food menu, recipe template for food blogging, and online reservation.
Limitless possible are simply brought to you when creating a website. It is due to the reason that it highlights 40+basic elements. These can serve as a good foundation for a website. Be fully in control of every template, layout, and element. Moreover, save, modify, and create your template and section as you like it.
If you own a fast food stall, a cocktail bar, or a Michelin-star restaurant, you can always consider this as one of the basic HTML templates to meet your needs. This best applies to hotdog truck, dining restaurant, coffee roasters, sushi bar, and homemade bakery.
Qusq HTML
Perfectly suitable for a freelancer or designer like you, Qusq HTML is one important tool to consider. This is a unique and colorful portfolio that can help you show off your creative work in style. It also mainly covers pages related to a portfolio website.
As per the HTML files, they are built with the use of the latest technologies like Sass, Bower, Gulp, and Node.js. Among those pages included are the following: Blog Classic, Blog Detail, Portfolio Detail (Left, Right, and Default), The Team, About, Shortcodes, Contacts Alt, Contacts, 404 Error Page, and Search Results.
And all of the main features it is known to offer to include responsive layout, masonry portfolio, working PHP contact form, pixel-perfect and retina ready design, modern and flat design, jQuery, CSS3, and HTML5, Parallax Portfolio and Blog, iPhone, iPad, and mobile-ready. It is also SEO optimized and it has gulp, bower, and Node.js.
Eventmanagers
Such an HTML template that is easily customizable, Eventmanagers is one tool you will ever consider. It comes with excellent features such as hover effect/thumbnail popup, cuton font replacement, HTML templates in 3 variations of variation_1, variation_2, and basic, flexible and easy to customize, 2 PSD files, W3C valid. And if you need to be guided on how to use it, there already is complete help documentation for you.
Start
A very basic HTML template, Start is more needed if you operate a business. It has its ten different demos while it covers all essential features of your business website. A complete website is already offered to you especially if your business is just starting up.
Included in it are ten different demos. When you decide to have it, you will get the new start demos. Surprisingly, it offers a lot of features such as the revolution slider, multi-layer Parallax, Custom Icon Font, Contact Form, 56+ blog pages, 200+portfolio pages, 800+ pre-built HTML pages, Bootstrap 3.3.x, Isotope, sticky menu and mega menu, filterable portfolio, and easy to use shortcodes and elements. You can't wait for sure to have this one out on your website.
TownPress
Bombarded with so many impressive design features, TownPress is the best HTML template for you. This is good because of its town documents, upcoming events, specialized widgets, galleries, and more. This makes a perfect foundation for your town or city portal CMS.
But because this is classified as a static HTML template, it requires a user to at least have a basic HTML knowledge. It is properly coded as long as the best practices are followed. It is especially useful because of its retina graphics, mobile-friendly, and valid HTML5.
Some of the support and help links are featured as well such as online docs for ease of customization, a support forum for support and pre-sale question, private message for inquiries concerning sensitive data, and please rate.
The Order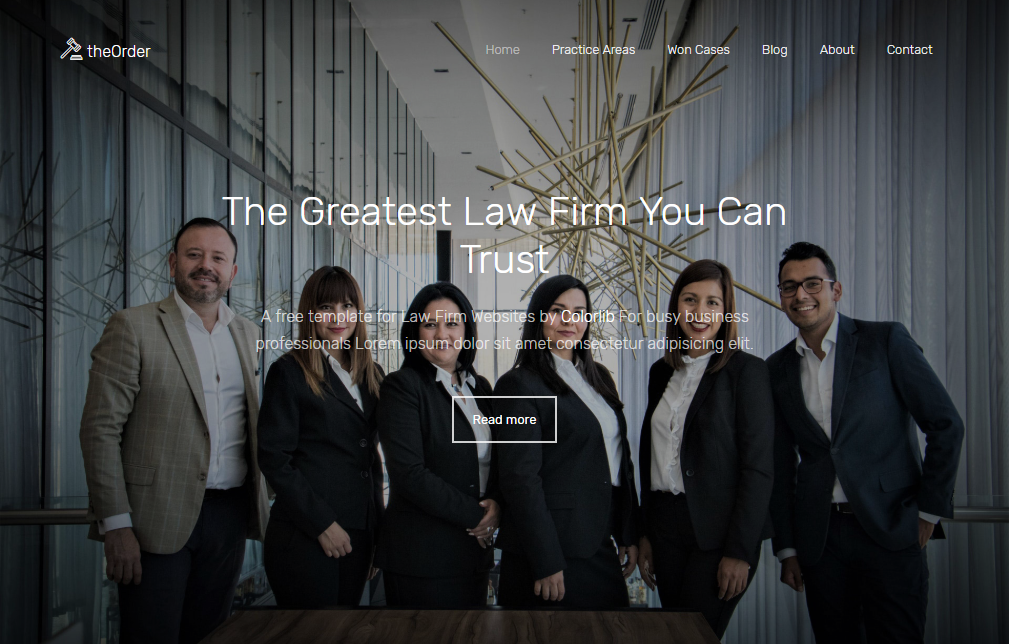 When looking for one of the best basic HTML templates, The Order is the right for you. This features a lot of excellent assets and features for you to create the right space for your web. You will for sure stand out from the rest of the crowd. Even building a good online appearance is a lot easier. This is one way for you to attract a new clientele. Never miss out the opportunity of what this brings to your business.
The Order is the right tool you need to use for your website. Its template is dependent upon the Bootstrap and reveals content on the scroll. It also has the whole page for those cases won. Start your law blog to reach more of your potential clients.
Travel Agency Bootstrap Template
This HTML template is perfectly made because of CSS, JS, HTML5 and Bootstrap frameworks. In addition to being fully responsive, it is also amazing because of its text slideshow. It has 26.html pages, rent a car, hotel, cruises, and flight pages. These have already been tested to work perfectly.
It is also up to you to choose the language for your website. Truly, this one is the best travel agency HTML template that is also responsive, as mentioned. While they use laptops, tablets, and Smartphones, this template can work well with any of them.
MedArt
Strongly push your medical services by having MedArt by your side. This is a free medical HTML template that can get you connected more to a broader audience. This website is freshly-designed that lets more patients find you from the rest of the websites.
MedArt is created to be professional, elegant, and clean. This has all the necessary elements for your web and a whole lot more. You will only exert a little effort and work for it to become a fully-functional website. One more thing is that it comes with appointment form, width slider, awesome testimonials section, working form, full-blown contact page, and more.
UnApp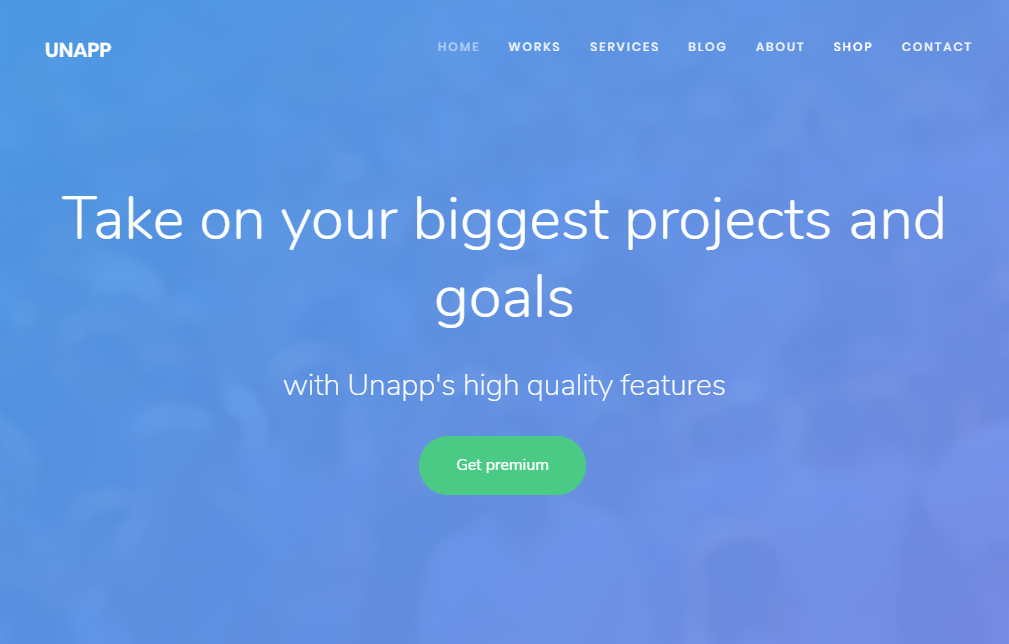 Unapp is a free business app website template. This can bring your project online. And this can be shared as well with the people. You will succeed with wanting others to see your product. You won't need to come up with your design. There is also no need to invest more time into it. This HTML template can do the job for you.
What more, this is intended for applications of all types. This will also help you to incorporate content marketing and a blog. Thus, you will find it easy expanding your web presence in an online shop. Your imagination will have a chance in the use of Unapp. And there will be no limits if you want to establish a web space for your business application.
ARTEM
Try something basic HTML templates like ARTEM. Find out how trendy and creative this can be for your digital agency. It's something needed by resumes, creative agencies, architects, and more. Like it more as it is backed by modern technologies. And yes, it is true that it has an amazing animation to make your project simply one of the best.
Built following an updated Bootstrap 4 framework, BEM, SASS, this is a template this is great on your device. This one is also available in two different color schemes of dark and light. Moreover, it is well-documented and easy for you to use.
The unique features that make it more amazing as a template include Blog Include (x2), modern animation, detailed UI, ultra modern and minimalistic design, working AJAX subscriptions Form, and Extended Documentation.
Baldiyaat Local Government System HTML
With Baldiyaat Local Government System HTML modern and beautiful design, it's a tool that you would really like the most. It is suited to be used on city governments, local governments, and government agencies. It has so much more to offer when it comes to customization features that showcase the needs of a municipality or city. It is also compatible to be used with modern mobile devices.
The many features it is designed have included: city events management, contribution and donation, online appointments booking, city services and pre-made designs, single page for advisors and departments, municipal, team and officials. There are also popular places, attractions, and more.
So, no need to think twice about this HTML template as it is fully responsive, designed to meet mobile performance, search-engine optimized, professional code, browser optimization, menu system, Google font ready, unlimited color options, retina ready, and many more.
Mustache
Mustache is described as a responsive, single-page portfolio HTML template. This is purposely-built to meet the needs of freelancers and agencies. If you think that this is right for your project, then consider it especially because of its responsive layout. It is also actually based on the skeleton grid. It comes with working contact and Ajax form. And with its unique feature of Google maps integration, you'll realize then that this is really what you need. It also has its PSD along with vector shapes that enable you to create unlimited color variations. Its fancybox integration is also one more thing to like about it.
The simplicity in its design and the modern feel make it all the more a good option for you. The support it can offer you with helps you modify the tasks yourself. That makes it stand out from other basic html templates online.
Mozzarella PHP & HTML Cafe Bar Template
This one HTML template is great because of its essential functionalities. There is, however, a need to have some basic PHP knowledge. Even the knowledge on how to use MySQL server and (PHP 5+ web server) also can help you out with using it.
The things that make it extraordinary are the 134 PHP files with CSS3 and HTML5, admin panel that lets you manage categories, posts, and products, a functional blog with comments integrated fully with DISQUS. There is also a functional calendar featured.
26 PSD and texture are also even included in this basic HTML template. What more, it comes in wide and boxed versions that make it more ideal for you. That is why you must not doubt a template such as this.
Hostrocket WHMCS & HTML Template
A well-documented and responsive HTML template, Hostrocket WHMCS & HTML template is exactly what you need. It comes with video support, testimonial slider, retina ready, amazing support, WHMCS integration, HTML5 animation, font icons, domain search, scroll menu, and more.
In any web hosting project you have, it can be simply be done in a beautiful way. It can best offer you a chance to get the landing page ready in just a few minutes. You will just need basic skills in HTML so you can edit it.
The video and testimonials support only make it sure to you that it is usable and dependable. Plus, you can get the support you need in any issue that you face.
MobileAT
A multipurpose blogging website and mobile HTML, MobileAt is great for news, magazines, publishers, and bloggers. If you need pixel perfect and professional blogs online, then you need to choose this one. You'd love this for mobile use as it acts as a base for application and mobile website built.
The pages included in MobileAt are as follows: thirty-nine white screens, and thirty-nine black screens. And almost seventy-eight total screens are available that include the select interests, sign up, walk-through step 1, 2, and 3. Show your interest in this template today. This is one of the best basic html templates out there!