20 Bootstrap Admin Panel Templates 2019
The use of Bootstrap admin panel templates actually has so many advantages for a user. For a developer who has no design sense and capability, he or she is given an opportunity to create good-looking and functional backend user interfaces.
With gorgeous user interfaces developed, it only proves that Bootstrap admin panel templates could be shown to a potential visitor. It is also definitely a lot cheaper and faster to finish your project. And since time is very precious, it's maybe about time to not waste yours via this tool. Eliminate all the headaches often associated with it and concentrate further on the back-end development.
Architect UI (Most Popular)
Architect UI is the best selling admin template which is based on Bootstrap 4 and can be purchased as Angular, React and Vue template.
Influence
Classified as a very responsive admin panel dashboard, Influence is built with everyone in mind. If you want to have a web app, it is fair to suggest considering this. This is specifically built following Bootstrap as its strong framework.
What more, this is a 6+ admin rolled into one dashboard. It can serve its purpose as an influencer finder, e-commerce dashboard, finance dashboard, influencer profile, and sales dashboard. All other essential components include 50+ bootstrap and a widget ready dashboard template. They can come in a variety of styling and color which you can modify.
Hogo
When looking for a multipurpose, responsive, and clean bootstrap admin panel, Hogo is a way to go. It actually has almost 50+ plugins and 2000+ HTML pages. It is useful when it comes to 5 various dashboards.
Be ultimately proud of this admin panel that comes with customizable components, widgets, and clean user interface. Since it is presented in a unique and awesome design, you will find it much easier designing it.
There is no need to work hard because it comes with bootstrap admin panel templates customization. It will definitely save you more time and effort which you wanted from the start. It also allows you to download all lifetime free future updates for free.
Clip-One
A totally responsive and super flexible Bootstrap admin panel, Clip-one is truly one-of-a-kind. It comes with two complete themes: admin RTL version and admin version. It can be ordinarily used in an intuitive and simple way for your back-end applications.
Among other excellent features, it has to offer the following: dynamic pagination, CSS3 Animations, Datepicker, Color Palette and Colorpicker for Bootstrap, Form Wizards, Inline Editing using CKEditor, Circle Dials, Tree Views, Data Tables, FAQ Page, and Multiple File Uploader, and a whole lot more.
It's Brain
It's Brain is the newest 2.0 version of Bootstrap admin panel that you can take advantage of. This one has been added with several features such: placeholder plugin, tags input plugin, input limiter plugin, usual form validation, masked input plugin, autocomplete, order bars plugin for flow charts, and chosen plugin with styled drop-downs.
Having liquid 2 columns and fixed layout, it's something beyond ordinary. It is well-integrated with flot charts of pies, bars, and lines. This is one of the bootstrap admin templates that has its form elements, interface elements of four color styles, color picker, inline date picker, and usual date picker.
Se7en
This is definitely what you have been waiting for. New stuffs have also been added to it that include: Pricing Tables Page, Inbox/Message page, 500 Error Page, and latest font awesome 4.0, boxed and fluid layout options, left or top navigation options, five background patterns, X-editable, Dropzone File Upload and jQuery Multiple File Upload, custom checkboxes, and radio.
With so much goodness and love into this Bootstrap admin panel that is released, you will really like it more. There are more page designs and options to it. The bugs that have been present at it have also been fixed. You will for sure enjoy it and love it more because of its dynamic content loading and animated loading.
Webstrot
For a professionally-designed Bootstrap admin panel, Webstrot is one thing to have. This comes with a clear and clean design making it even more perfect for you. It is also fully responsive and is built with Bootstrap 3 Framework and Bootstrap 4 Framework, CSS3 Media query, and HTML5.
What is clear about it is that it is integrated with the most updated jQuery plugins and reusable UI components. You may make use of it in many different types of web applications such as custom admin panel, CRM or CMS, app backend, and websites of things.
The features include 04+ layouts, Bootstrap 3 framework, 10+ different dashboards, 1000+ UI components, 500+ demos pages, HTML5 valid pages, lightbox, dark and light color schemes, range slider, creative and clean dashboard page, and so much more.
Basik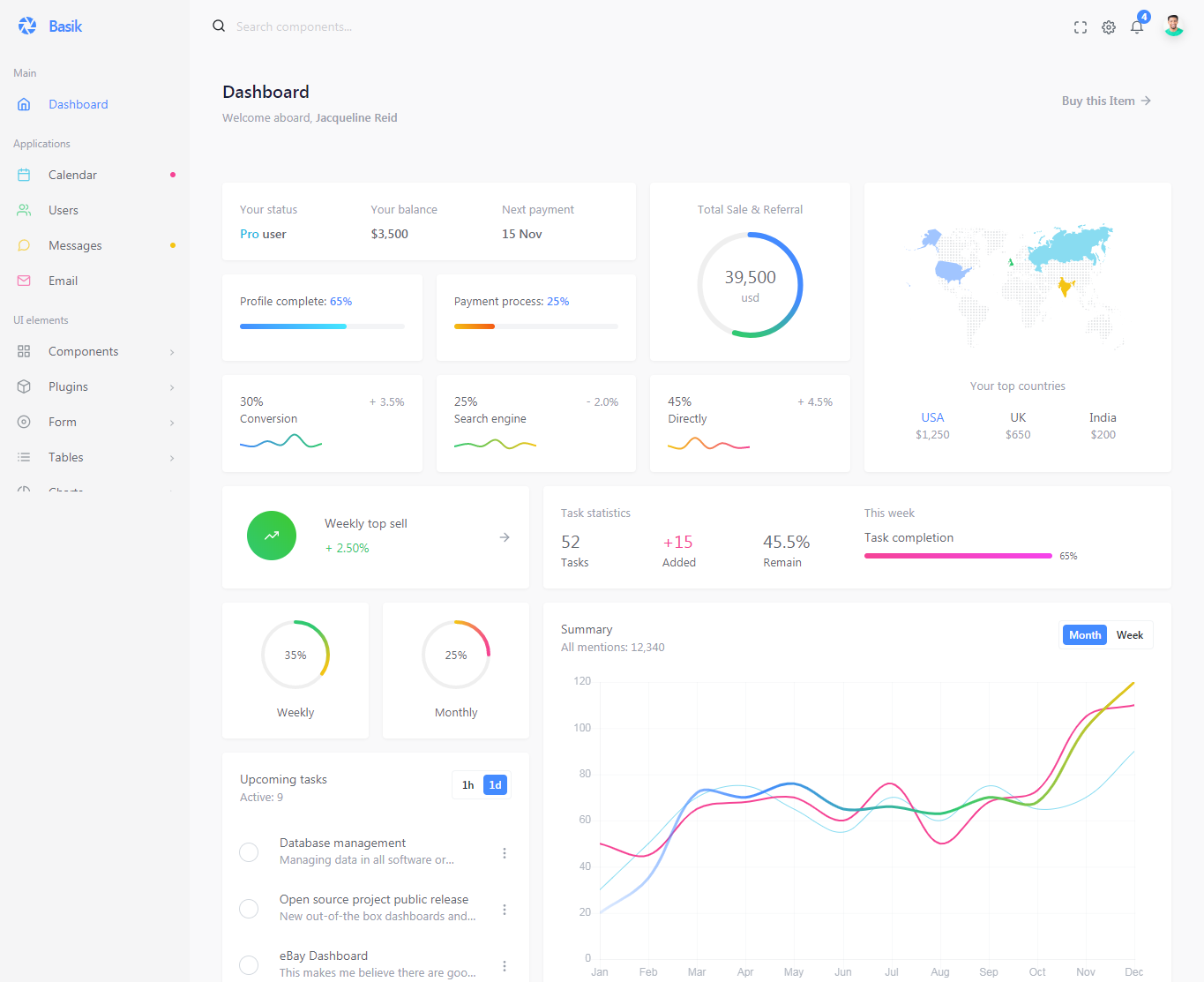 If you want to build a functional and beautiful web application the easy and fast way possible, Basik is a good match for you. This is responsive to being a bootstrap web app and a customized admin template. This proudly has its 4 apps and so many useful components. This bootstrap admin panel templates also can help you to build project management, CMS system, and web applications.
It includes several features that are as follows: Grunt and Npm task, Sass variables and Bootstrap 4, light and dark style, donut charts and gradient line, lazy load modules, ajax loading w/ a full screen mode, message/users management, and email/calendar app.
Londinium
The newest premium Bootstrap admin panel, Londominium has so much more to say. With its 35+ plug-ins, custom elements, flexible content structure, you'll definitely want it for your project. It is strongly supported with a Bootstrap framework having two columns of liquid structure. It also embraces its two sidebar and four-level navigation options, vertical and horizontal navigation structures.
It is designed with compatibility in mind with the latest jQuery and Bootstrap 3 versions. It is easy for you to use with its bootstrap plugins and custom stuff like drop-down menus, buttons, various button sizes, and more.
Using CSS3 animation for all other elements and components, it's more likely that you will like it more. It has the popovers, tooltips, buttons, links, charts, and more. It also contains almost 850+ high-quality icon glyphs that depend much on the 16px grid.
AdminEx
Worry no more for your next web development project as AdminEx has now been introduced. This is fully packed with so many useful components that are structured and organized PROPERLY. This is fat-free, slick, and well-documented. It won't consume much of your time while integrating it with your web app.
Enhance your app's user experience. Give it such a face-lift needed in no time at all. It is even greater for being compatible with IE10, IE9, Firefox, Opera, Chrome, and Safari, including Bootstrap 3. There are also Themeforest files included such as the JS Files, CSS Files, and HTML Files. And that's make this stand out from other bootstrap admin panel templates.
Elite Admin
When it comes to flexibility and features, nothing can compare to Elite Admin. This one has got to say when used for web development projects. It features ease of customization, 9 colour skins, dark or light sidebar, 2000+pages, charts options, less base Css, multi-file upload, 1000+UI components, Lots of widgets, Bootstrap 4x, fully responsive pages, validation form eCommerce pages, three-level dropdown, calendar design, gallery option, table examples, gallery option, dedicated support, and detailed documentation.
Nine color schemes are also made available with Elite Admin. What's more exciting about it is that it has 21 demos included. You just need to name it with so many demos' variations. This is by far a highly recommended bootstrap admin panel.
Target Admin
Designed as a responsive and sleek admin theme, Target Admin is one good bootstrap admin panel to ever use. This can get your project done with ease and quickness. This includes elements styles, example pages, including javascript widgets.
Among its great features include Bootstrap date picker, time picker, jQuery iCheck, Select 2, Textarea Counter, Autosize, Font Awesome 4.0, and Bootstrap 3,0. There's so much more to find here like the Social Feed, Datatables, Portlet Boxes, Accordion, Pill Tabs, Basic Tabs, Stacked Tabs, Magnific Popup, Growl Plugin, jQuery Sparkline, jQuery Full Calendar, jQuery Flot Charts, and Sample Pages. Initially released in Version 1.0, this Bootstrap admin panel can be your best choice.
Piluku
Having a responsive and flat admin dashboard, Piluju is an extraordinary Bootstrap admin panel. It is boosted with the material effect elements that make it a good choice for everyone. Just as it is created on Twitter Bootstrap 3, it is all the more perfect for its 3rd party elements or features. It is beneficial as it can be used for backend admins from finished user pages to login.
It is easily used because of a full-detailed documentation. It further explains to you how to get started with the unique elements. It has its essential features like the widgets ready, unlimited colorful themes, complete flat design, info-boxes with clean and neat styles, all bootstrap UI components and kits, 1500+icons, unique mailbox and timeline, advanced notifications, flat file and beautiful browser, and so much more.
Paper Panel
What's perfect with Paper Panel is that it is easy for you to customize meeting your needs. It is also easy for you to create a unique version of Panel. With a modern design, better user experience, and simplicity, it's something you will definitely love. It also allows you to create catchy backend panel for an awesome development project.
Prior to the installation process, just check on the documentation to know more about its details. As to the documatation for each of the components, it is explained having variations inside demo and code example. So, do not think twice having this Bootstrap admin panel templates.
Espresso
The Espresso theme is built based on the most updated versions of bootstrap jQuery (v.3) and (v.4). That's when it is perfect to be used for different screen sizes of mobile phone, tablet, and desktop) and screen sizes and viewport.
With such a white label and minimal feeling, you also enjoy it for the purpose of having to build your own layout. This features a top bar navigation that you can set to a sticky mode. This will enable it to always become visible.
Its workflow process is sped up and automated because of the workflow tools used such as the Gulp and SASS. The code is also more readable as BEM or block element modifier methodology is used. This enables a reusable and extendable CSS code.
Aero
Endorsed in a regular and extended license, Aero is a clean and modern Bootstrap admin panel to ever consider using. This one actually uses modern, minimal, and flat design. It is built to be fully responsive using HTML5, jQuery, CSS3, and SASS pre-processor plugins.
Love the fact that it can be utilized for almost all types of the dashboard including app templates. These templates are as follows: CRM, Analytics, Backend websites, business website, build Blog, CMS, timeline, mobile or desktop applications.
A few of its features include layout options to make the Mini sidebar, sidebar, mini right bar w/ collapse, user pages for the locked screen, register, login, page offline, and forgot password.
CloudUI Admin
Such a multipurpose, full-featured, and premium bootstrap admin panel, CloudUI Admin is the way to go. This is built following JQuery, CSS, HTML5, and Bootstrap 4 Framework.
You will like this one with its reusable UI plugins and components. It is beneficial in the sense that it is one of the best. It lets you begin your project with ease. It also basically follows a google material design. Thus, your application considering the best practices in performance and usability is assured of.
So, what else is there to wait? Go for this one that can seamlessly work on all major devices and web browsers. One more, this can accelerate the development of your project, save more money and time, and reduce QA time.
Dore jQuery
The newest version of Dore jQuery is in Version 1. What has been added are the mailing page, invoice page, and tables page. The background images are already removed to favor the SVG via CSS.
Features include right-click menu, keyboard shortcuts, sound, and video player, 10 color schemes, icons mind web font, two panels menu, components, dashboards, applications,
As it proudly introduces its design, it may seem not necessary but it motivates the manufacturer to give only what is best for the viewer. There's more work done into composition, design harmony, colors, and icons.
Among others to like are the superfine charts, layouts intended for the job, extra responsive, layouts and structures, and components. The applications are created to best fit your needs such as the media library, survey, chat, and to do.
Virgo
A soft and responsive Bootstrap admin template, Virgo has so far been suggested for you to use. This comes fully clean with HTML code as it is based on Bootstrap, and jQuery.
Find from here all that is needed for your project or back-end app. This has got a lot of features like the jQuery plugins. This is also compatible to be used for the newest browsers.
With a clean type of source code, it can definitely save you more time. Once you purchase it, you will see that it is well-documented. So, you just don't have to forget its documentation.
Its features highlighted include the following: log-in page, drag and drop blocks, themes, navigation, tables, Virgo buttons, validation, widgets, and samples.
Liberty UI Admin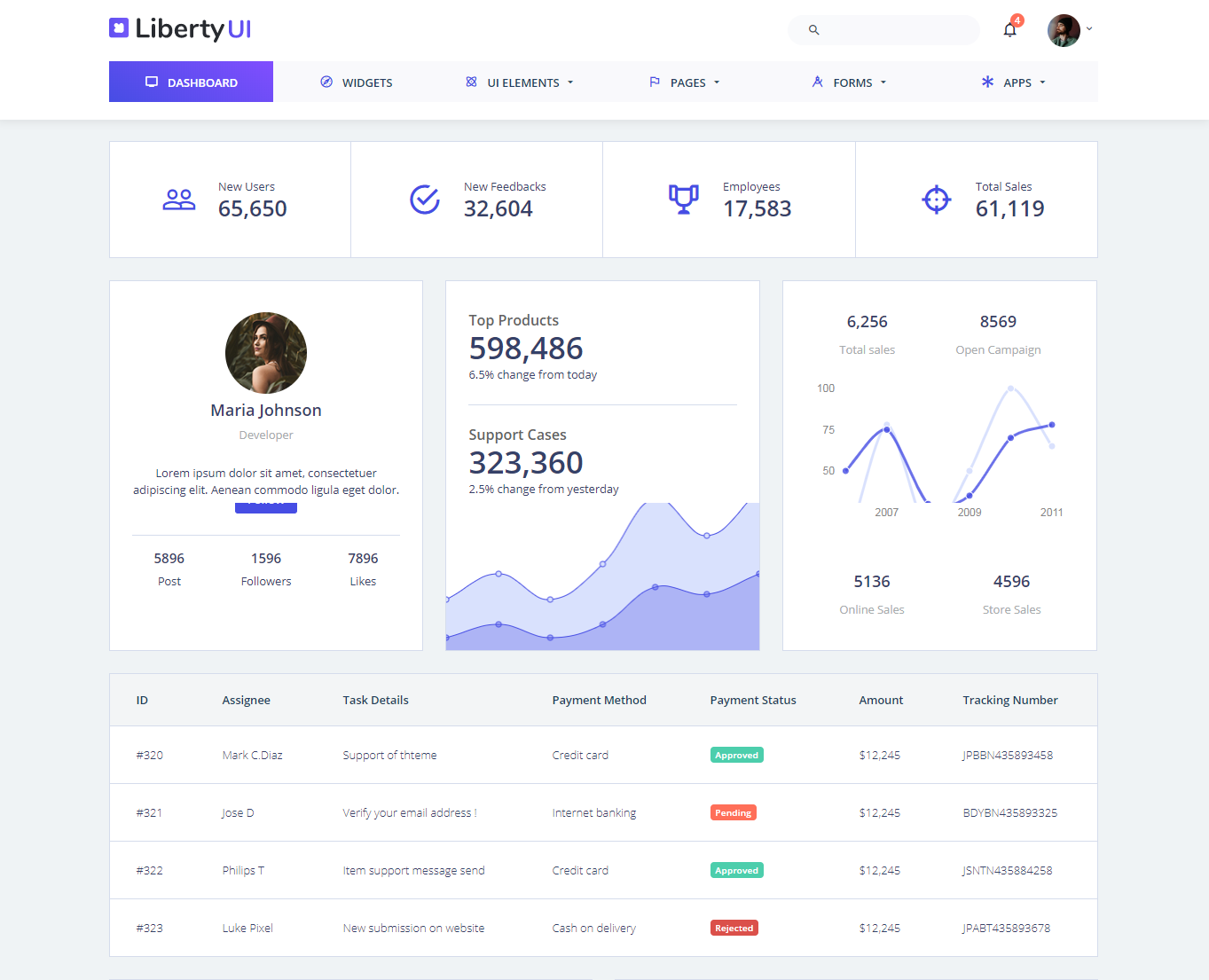 A theme that receives good feedbacks, Liberty UI Admin is a full-featured Bootstrap admin panel for you to use. It is a premium template that is built with CSS, JQuery, HTML5, and Bootstrap 4 Framework.
It is designed with compatibility to Firefox, IE11, Opera, Safari, Edge, and Chrome. It actually follows guidelines on a flat design that makes it intuitive, sleek, clean, and user-friendly.
When you purchase this Bootstrap admin panel templates, you get to enjoy having a free download. This is prior to all of the updates in the coming future. The features listed are also as follows: charts options, ready to use plugins, validation forms, RTL support lots of widgets, range slider, RTL demo version, 100 UI Components, awesome widgets, and dashboard.
Remark
Featuring a creative, responsive, premium, and customizable Bootstrap admin panel, Remark can be so easy for you to modify. This consists of the latest collection of reliable libraries. Find how easy this can be integrated into your projects. You will also be allowed to create solutions prior to your future designs.
Enlisted are the following features: CSS3 and HTML5, Flat UI with clean style, Responsive Layout (tablet, desktop, and mobile devices), extended utilities class, Angular UI support, developer-friendly code, bower dependency management, gulp tasks and grunt tasks, code optimized with tools of bootlint, csslint, lesshint, jshint, and htmlhint.
A complete list of features are also included: multiple layout, horizontal mega menu, 100+ widget, 1000+UI component, style of the site guide, foldable navigation w/ infinite levels, useful forms of plugins support, Psd file, ten chart plug-in support, nine table plug-in, pages, media app, projects app, messages app, work app, mailbox app, taskboard app, calendar app, contacts app, and more.