20 March, 2023
9 Best Django Website Templates 2023
Our ultimate review of the best Django website templates ensures you pick the right tool easily with zero doubt.
We thoroughly investigated each tool in great detail, ditch the poor-performing ones and only keep the most promising ones.
This saves you even more time, as you don't need to determine which would work best. In short, these all work BEST!
But this is just one part of saving time.
All these Django templates are easy to use and come with heaps of great layouts, features and components.
No matter which you pick, you are on the way to successful app development.
Most Reliable Django Website Templates
1. Black
Let's kick things off with the unexpected. Even though dark designs may not be the most popular on dashboards, Black is way too good to skip. Not just that, place it at the top of this list.
This Django template treats you to a collection of two hundred elements with many other practical features. All these goodies come for one main reason – to assist you in speeding up your development process.
Like other tools on this list, Black has three pricing options (starting at $149). It all depends on how many projects and developers you want to include.
2. Black (Free)
If you are hyped about the Black Django website template just as much as we are, you can start with the free version first. Hey, why not? It is still an amazing dashboard with thousands of downloads and 5/5 reviews. No joke!
You can work with Black to monitor your data and statistics easily. Keep everything as organized as possible from one location and that's exactly what you can do with Black.
Sure, you may not get as much material as with the pro version, but you can still enjoy a great start with the Black free template.
3. Argon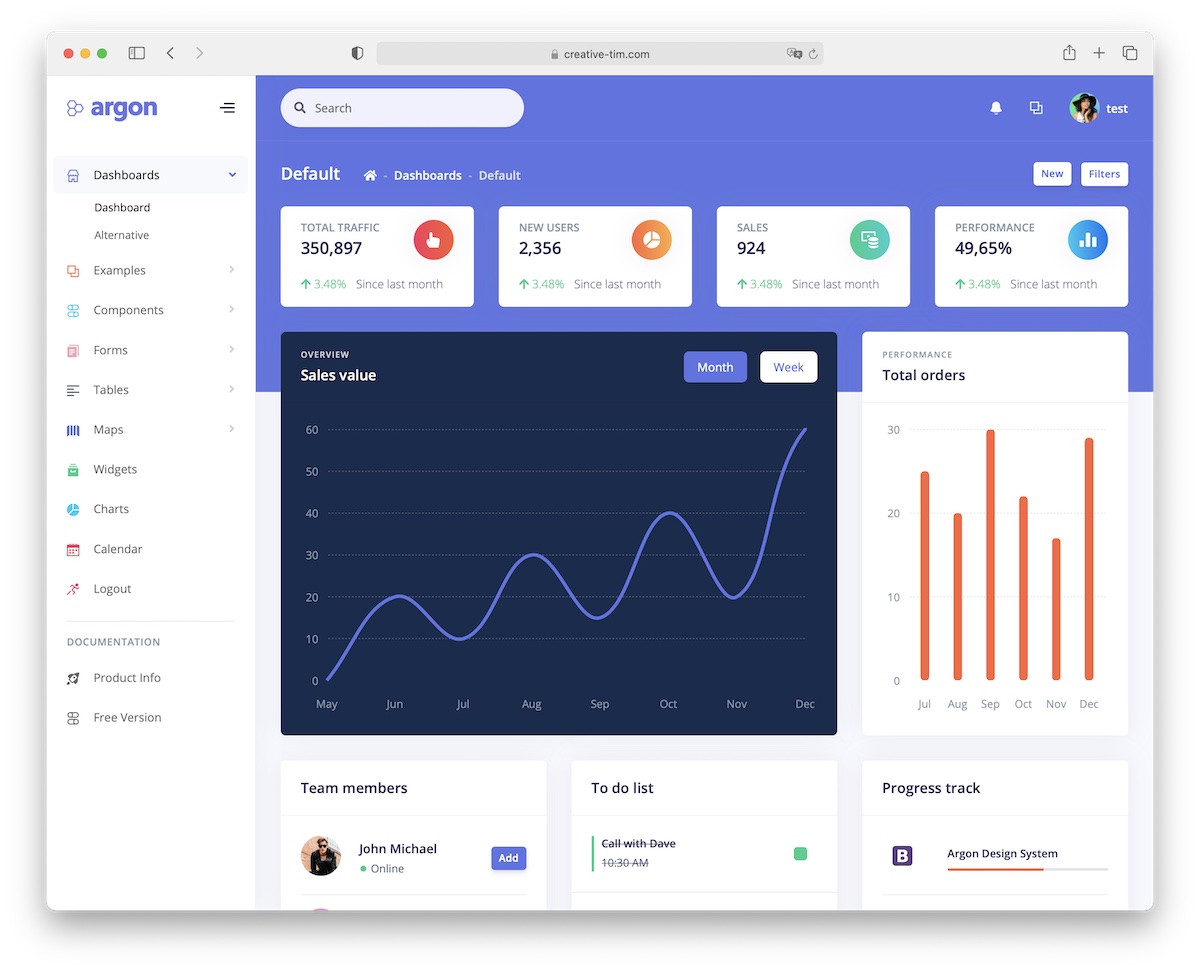 Argon is another one of our absolute favorite Django templates due to its amazing design structure and available features. It's clean and modern with just the right amount of fancy stuff that does not distract the viewing of the stats.
You have complete freedom to use and reuse the available two hundred components however you want. Not just that, but you can also make adjustments and improvements, taking things to the next level.
Argon also rocks a modular structure with an easy-to-understand code base. In other words, the template is for everyone, whether you are a beginner or an expert.
4. Argon (Free)
You probably already noticed a pattern that this list of the best Django website templates follows. A mix of premium and free options.
Argon is a free alternative that follows the latest trends and uses only modern technologies. It's based around Bootstrap 4, guaranteeing exceptional performance across all modern devices and platforms.
Aside from a collection of one hundred (yes, that's 100!) elements, Argon also includes regular updates. This one is more premium than free.
Additionally, it treats you to four plugins, six example pages and extensive documentation. You can even ask some basic questions in the comments section (on the official page).
5. Material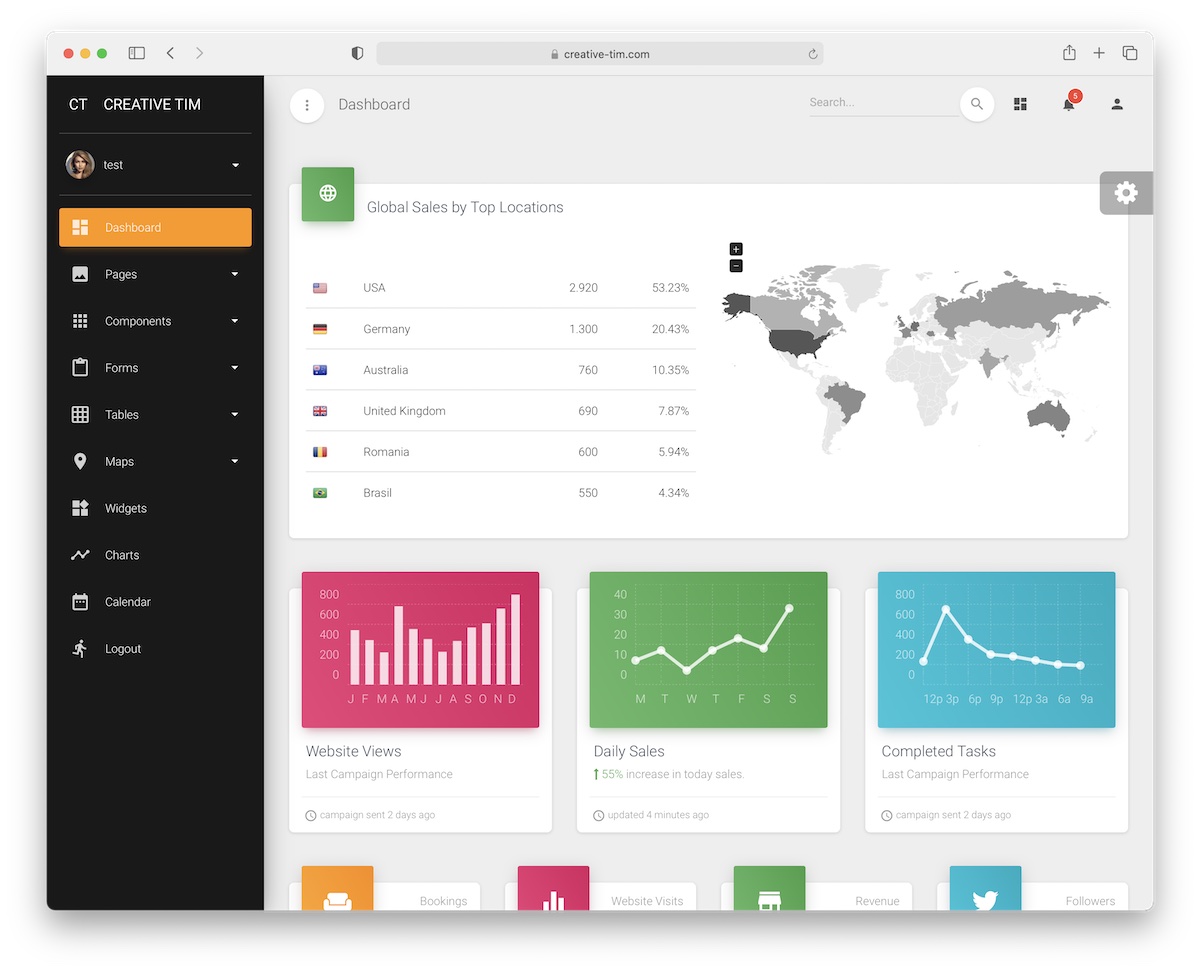 Hint: If you dig the look, you can skip Material premium and scroll down to download the free demo.
But for all the serious users who want tons of material to work with for their applications, Material's pro solution will do the trick. Managing and maintaining statistics and other information is much easier than you think with the right tools.
However, Material can easily handle a ton of stuff without seeking help from 3rd-party apps and plugins.
When opting for the Freelancer package ($149), you get six months' worth of updates and tech support. But this is just a fraction of all the specialties that Material sports.
6. Material (Free)
Here you go, Material free. A simple-to-use Django website template that you can activate for setting up a quick prototype. Note that Material is no random free template since it has sixty editable components. You even get five preset color filters!
Material works for management systems, CRMs, admins and the like. The Material-Design-inspired look also ensures the atmosphere of your new dashboard will be top-notch.
Moreover, Material also contains deployment scrips for Docker and Gunicorn/Nginx stack with other useful stuff that will do you well.
Why work on your next application development from scratch if you don't have to? You don't even have to pay for it.
7. Skote
Skote is a versatile Django admin template with an HTML option. It contains a wide range of highlights that will make your dashboard special.
You can choose between dark and light modes, different layout styles (even RTL!) and the list. All the contents are in complete harmony with one another even if using them out of the box.
But you don't have to.
Instead, you can entirely modify the presence (even functionality) of Skote, so it serves your needs to a T.
Note: Skote comes in many other formats, which you can access on the product page.
8. Minible
Building and developing a powerful admin dashboard with Django is easy with Minible. The predefined designs and layouts are fairly minimal, operating as-is for several projects without a hitch. Still, you can make adjustments and any other edits you want, too.
Over six layouts are entirely preset, with options to go with a dark mode and RTL. You get email and chat applications by default and many other pages, which save you time and effort.
Last but certainly not least important, the free six months support is available to answer all your questions. Even if you are still learning Django, the team is there to help you out.
9. Qexal
Qexal is a Django website template that stands out from the masses. Instead of all the others that work for admins and dashboards, Qexal is a landing page template based on Django.
Choose from nine demos with additional log in, sign up and forgot password templates.
Qexal is great for a new website or if you plan to redesign an existing one. Heck, even if you work on several projects at the same time, Qexal is capable of handling them all with ease.
Beautiful, modern, responsive design works well, ensuring great content distribution and a fantastic user experience.