10 Free Bootstrap Admin Panel Templates 2021
A web development project always requires a well-designed custom admin panel. And you are now at the verge of what tech to use. You can actually develop or choose a CMS or just have a template. The right decision to make is to go for admin panel templates. This is due to the reason that it is the most cost-effective and fastest solution.
Understand that these panels have come out as an easy way to build the User Interface of an application. Be ultimately impressed as it is ready with its usable elements and pages that include icons, charts, and widgets.
Gentelella
For a classy-looking admin panel template, Gentella is the one to ever consider in mind. Love this template featuring many elements interactively. It is free in three variations of the dashboard. The hover effects are impressive as these show you the accurate data of the graphs. Adjust the navigation menu if you feel like it is obtrusive. The left sidebar will introduce you to the options of the footer and navigation option. An option for full-view, log out option, and settings are also available. There is also a place for you to include a welcome message and user profile picture in the sidebar and top bar.
Nalika
When you want a dark-themed admin panel template that is free, Nalika is a good way to go. With its huge icons and texts features, a user like you will find it easy to interact with the dashboard. Navigate through it with possible options on the left part of the sidebar. Be in control using profile controls on the right part of the sidebar. Highlight activity status and know more about the notifications with lightbox effects.
Create a website application which enables you to manage your staff. This one will simply be useful on your part. Each of your employees will be able to create their profile. They will find it easy seeing their progress and tasks. Keep this template so that your employees can find it more effective to use.
SRT Dash
Brighten everyone's day with the pop colors of the SRT Dash admin panel template. This is good to use when it comes to dealing with multiple data. You will also keep track of the records using the chart widgets.
It is different from any other admin panel templates because of it being a financial theme. In the demo dashboard, you can get all those financial elements altogether. What more, it is interesting with its plenty of charts and user elements. It is likable to be used for other types of dashboards.
See the content in a full-page view or minimize the sidebar for a better view. This template is one-of-a-kind as it gives anyone access to the admin panel from a handheld device.
Material Dashboard Lite
When you're a certified dark version lover, Material Dashboard Lite is the best admin panel template to go to. The content will appear to be a lot cleaner because of its greyish color. Despite the fact that it gives a limited amount of block and element options, it still is amazing as it gives you UI maps and elements. The animated progress bars, icons, and buttons are the components of the UI elements.
You get to interact in a map with the small animation effects introduced by the location pins. Being a generic themed admin template, it can really be flexible based on your need. It is something that is simple and dark.
Matrix Admin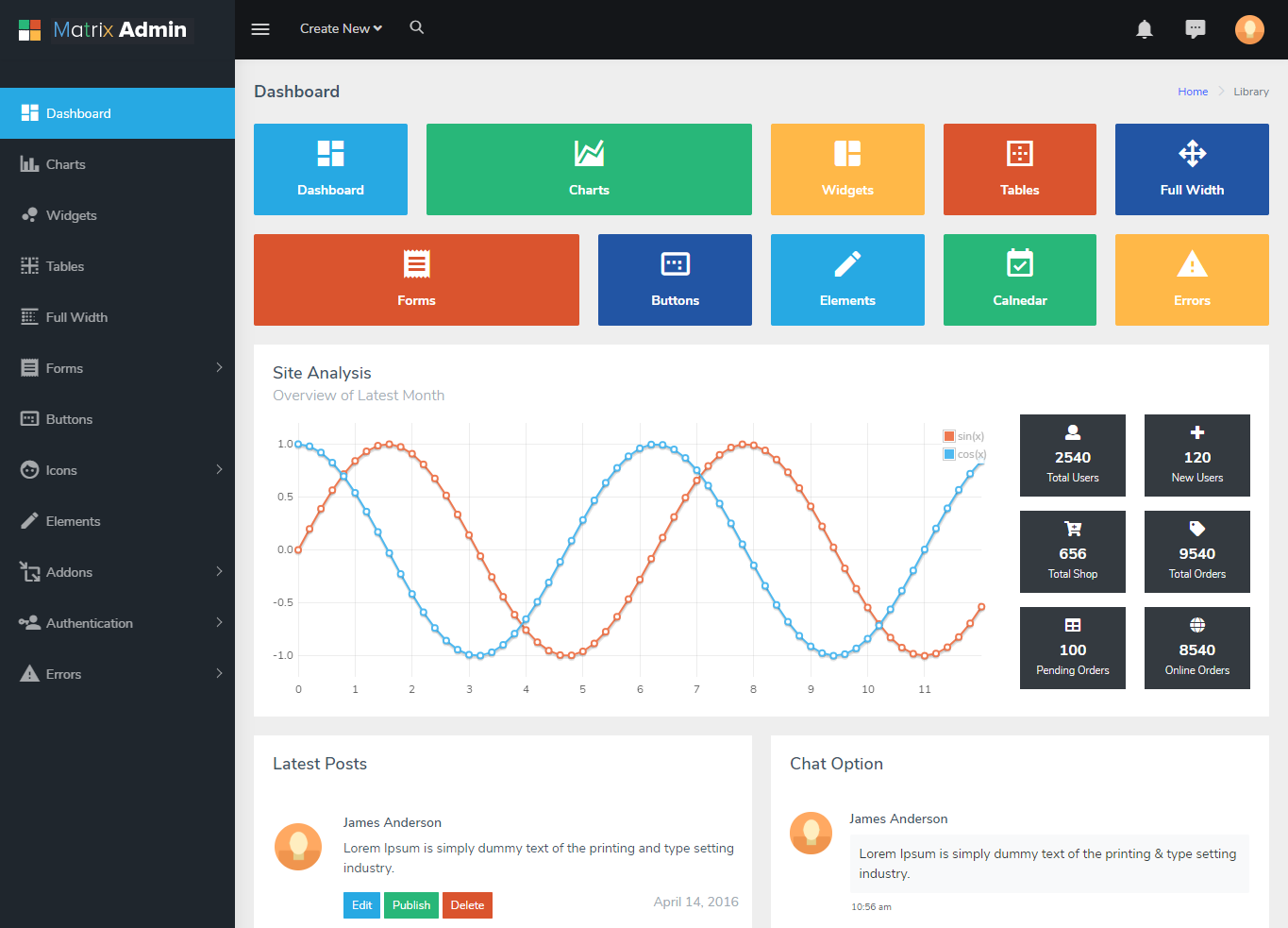 If you don't like the idea of missing an email, Matrix Admin is the best choice. It has its impressively designed long dashboard. There is also enough space to add some of the useful elements and blocks. Although there may seem an issue on the readability on mid-screen and small screen devices, it is still more manageable.
No worry about, as mentioned, missing an email. The feature of flash notification will let you know about new and incoming emails. The visual effects are so far subtle and impressive. You won't get annoyed by this template. There's so much more to discover such as the icons, elements, forms, widgets, and more.
Startmin
A professional-themed dashboard template, Startmin, is also free. It is eye-catching because of its trendy web colors and elements. It also gives you a neat and nice layout along with other essential dashboard elements. Its clean white space makes the web elements neat to look at.
A significant number of charts, UI elements, tables, and drop-down options can be found in the template. These can be specifically customized to meet your specific needs. It can so much easier for you to use especially because of its sales stats. There are also blocks intended for chat and notification. So, you should never hesitate using it for some intended purposes.
My Admin Lite
Specifically-designed for activity tracking and profile management, My Admin Lite is the best way to go. This is quite similar with the Ample Admin Lite in regard to the light theme color and clean design. From its dashboard are the many options for the to-do list, message board, and traffic stats. In the topmost bar, you get to choose the search bar and the profile details. No need for you to minimize the navigation bar on the side. It really is a lite version as it goes limited in its options and elements.
If you will make use of this admin panel template, you already have all the possible options relevant to your needs. These can be customized and upgraded to a premium version.
Monster Admin
When all you want is nothing but a perfect admin panel template, do not think twice but consider Monster Admin. It is designed to be a premium quality template. But, you need to accept the fact that it comes with limited options prior to being free. With its default options, the more you like it as it fits perfectly for blog website domains. It also comes with projects and recent posts for the month. There's also this Sine wave chart you will adore.
And at the topmost part of the bar, there is an option that highlights the search bar and user profile info. It is worth trying being a modern web.
Visitors
The Visitors admin panel template is simply amazing for its refreshing look. It is free and colorfully designed for you to use. It can stand out from all other admin templates. The colors are trendy and neat to best fit for use. It is also transparent to use the left navigation bar. You will like the idea of adapting to the background colors.
Some of the significant elements for customization can be found in the Visitors template. Just the same with other free admin panel templates, this one utilizes font awesome icons. You also get all other elements such as the maps, tables, charts, and forms.
Adminpage
A simple powerful and perfect bootstrap admin template, Adminpage is what you are looking for. This fits for any kind of website software type of admin panel. With almost 80+ page designs, a 2000+ icons used, 60+ plug-ins, and LRT and RTL support, you'll more likely use this one.
It enables you to customize it which is its strong point. It has a lot of widgets, applications, UI components, multiple file uploads, detailed documentation, and more. This admin panel template is actually designed following Twitter Bootstrap framework. This has got to offer modern unique layouts and designs. It can work well with any types of devices, and web browsers. Customize your project in admin dashboards, CRM, or CMS. This is the best way to go for you as a user.
A2 Admin
With its seemingly huge collection of UI components that can be reused, A2 Admin is indeed a perfect admin panel. It is also completely integrated with an angular material. You may utilize it for several web applications such as project management system, custom admin panel, CRM or CMS, application backend, and admin dashboard.
There are still more and newer features that the template can offer. The already existing ones still need to be improved. Among its excellent features include charts, maps (Leaflet and Google), Bootstrap 4 Support, RTL Support, Angular 7+ - Fast Single Page Application, and Full SASS Support. Other features that make it more unique include widgets, A2 admin components, calendar, and a responsive layout (mobile devices, tablets, and desktops).
Turbo Admin
If you want to focus on building web apps such as admin dashboard or customized admin panel, Turbo Admin is a good way to go. This will save you more time and effort when reducing QA time. The money will also be saved prior to the efforts of doing so. Moreover, it is fully responsive with all of reusable UI plug-ins and components. It can work well with many different devices and web browsers. You need to have this which can be found on Themeforest.
But just remember that this follows a specific material design guideline. This makes it clean, sleek, user-friendly, and intuitive. The best thing about this template is that when you buy it, you can get a free download of all possible updates.
Victory
To settle with one of the best admin panel templates, choose the Victory Bootstrap 4 Admin Template. This is a quick way for you to start on your project. You won't need to scratch as you just need to try this one out. It is basically designed following a material design from Google. You will only need to follow the practices that are relevant to performance and usability.
It is easy to be used on all major devices and web browsers. It is so far considered to be one of the best templates. It is beneficial for being multi-purpose and full-featured premium template. It also comes with JQuery, CSS, HTML5, and Bootstrap 4 Framework.
Mantos
Mantos is perfect for you to use as it meets your needs. These can include real estate, CRM, HRMS, Project Management System, Billing Management System, Loan Management System, and more. It proudly has its excellent features that are as follows: vector and Google maps, e-commerce pages, UI components, 40+ reusable widget, Bootstrap 4, Blog pages, lightbox gallery, font awesome icons, Google fonts, calendar, chat page, 2000+ icon fonts, developer-friendly code, and documentation included
Prior to the pages, these can include forms 11, graphs 6, mailbox, widgets, dashboard, other pages of gallery, contact page, price tablets, empty page, 404 page, and login lock screen. Icons can include linea arrow icons, themify icons, weather icons, linea e-commerce icons, and more.
App Assist
Explore the unlimited possibilities of the powerful and super flexible App Assist. This one is designed following a modular design. It can be easily built upon and customized. It's also even more perfect for web applications including project management system, custom admin panel, application backend, admin dashboard, and CRM or CMS.
Five layouts having an organized folder structure are included. Commented and clean code, 100+ components, 100+pages, 50+ advance card, and 50+ charts are all available in this template. What more, there are Angular 4+ CLI starter kit, range slider, form layouts, three icon sets, charts (Ngx Charts, and Ng2 Charts), Maps (Leaflet and Google), Calendar, Tables, Widgets, Angular Material components, and unique theme components.
AxilBoard
With Axilboard being a powerful, responsive and clean admin panel template, you'll ordinarily expect more from it. It also has a lot of plug-ins and components for better user experience. There are lots of effort and love put to make this a valuable tool for all.
Get the utmost satisfaction from its features and functionality. It is so far considered as a responsive material that is supported by multi-devices. It is also designed to be compatible with different browsers. Have Axilboard in mind for its responsive slide menu, data table, vector map, clean UI, mail features of inbox, compose, and details, user profile, font icons, and free fonts. There are various widgets that include a counter, ChatBox, Weather forecast, Author, Map, and more.