16 February, 2023
11 Free Bootstrap Admin Panel Templates 2023
A web development project always requires a well-designed custom admin panel. And you are now at the verge of what tech to use. You can develop or choose a CMS or have a template. The right decision to make is to go for admin panel templates. This is due to the reason that it is the most cost-effective and fastest solution.
Understand that these panels have come out as an easy way to build the User Interface of an application. Be impressed as it is ready with its usable elements and pages that include icons, charts, and widgets.
1. AdminLTE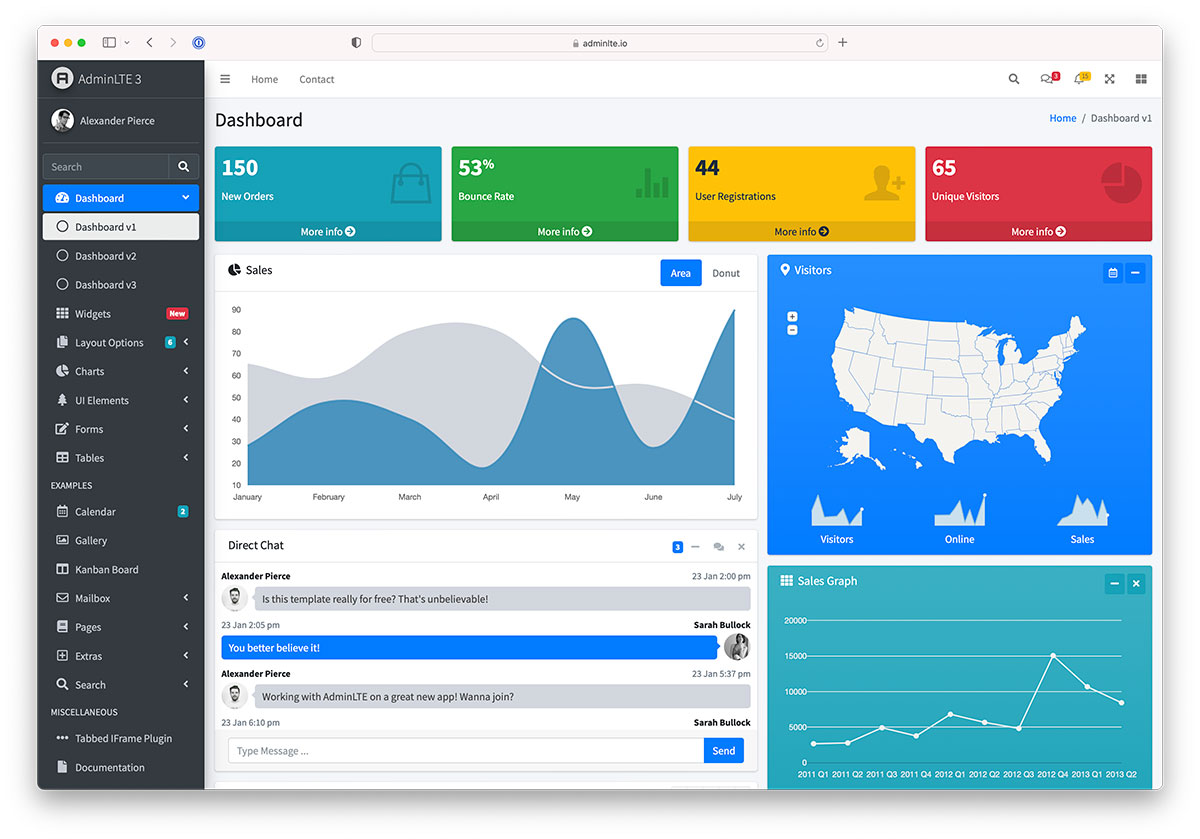 AdminLTE is the most popular admin template ever released to the public. It has more active contributors to the project than most templates have users. It is the only template you will need to ensure the longevity of the project you are working on.
2. Adminator
Adminator is a very popular free admin panel by Colorlib. It is well maintained and is updated to use Bootstrap 5 frontend framework.
3. ArchitecUI
ArchitectUI is a clean and minimal admin panel for many use cases. It features all the necessary features like graphics, forms, tables and so much more. For even more elements you can go with the premium version of this template.
4. Gentelella
For a classy-looking admin panel template, Gentella is the one to ever consider in mind. Love this template featuring many elements interactively. It is free in three variations of the dashboard. The hover effects are impressive as these show you the accurate data of the graphs. Adjust the navigation menu if you feel like it is obtrusive. The left sidebar will introduce you to the options of the footer and navigation option. An option for full-view, log out option, and settings are also available. There is also a place to include a welcome message and user profile picture in the sidebar and top bar.
5. Nalika
Nalika is a good way to go when you want a free dark-themed admin panel template. With its huge icons and text features, users like you will find it easy to interact with the dashboard. Navigate through it with possible options on the left part of the sidebar. Be in control using profile controls on the right part of the sidebar. Highlight activity status and know more about the notifications with lightbox effects.
Create a website application that enables you to manage your staff. This one will be useful on your part. Each of your employees will be able to create their profile. They will find it easy seeing their progress and tasks. Keep this template so that your employees can find it more effective.
6. SRT Dash
Brighten everyone's day with the pop colors of the SRT Dash admin panel template. This is good to use when it comes to dealing with multiple data. You will also keep track of the records using the chart widgets.
It is different from any other admin panel templates because it being a financial theme. In the demo dashboard, you can get all those financial elements altogether. It is interesting with its plenty of charts and user elements. It is likable to be used for other types of dashboards.
See the content in a full-page view or minimize the sidebar for a better view. This template is one-of-a-kind as it gives anyone access to the admin panel from a handheld device.
7. Material Dashboard Lite
When you're a certified dark version lover, Material Dashboard Lite is the best admin panel template. The content will appear much cleaner because of its greyish color. Although it gives a limited amount of block and element options, it is still amazing as it gives you UI maps and elements. The animated progress bars, icons, and buttons are the components of the UI elements.
You can interact in a map with the small animation effects introduced by the location pins. Being a generic themed admin template can be flexible based on your need. It is simple and dark.
8. Matrix Admin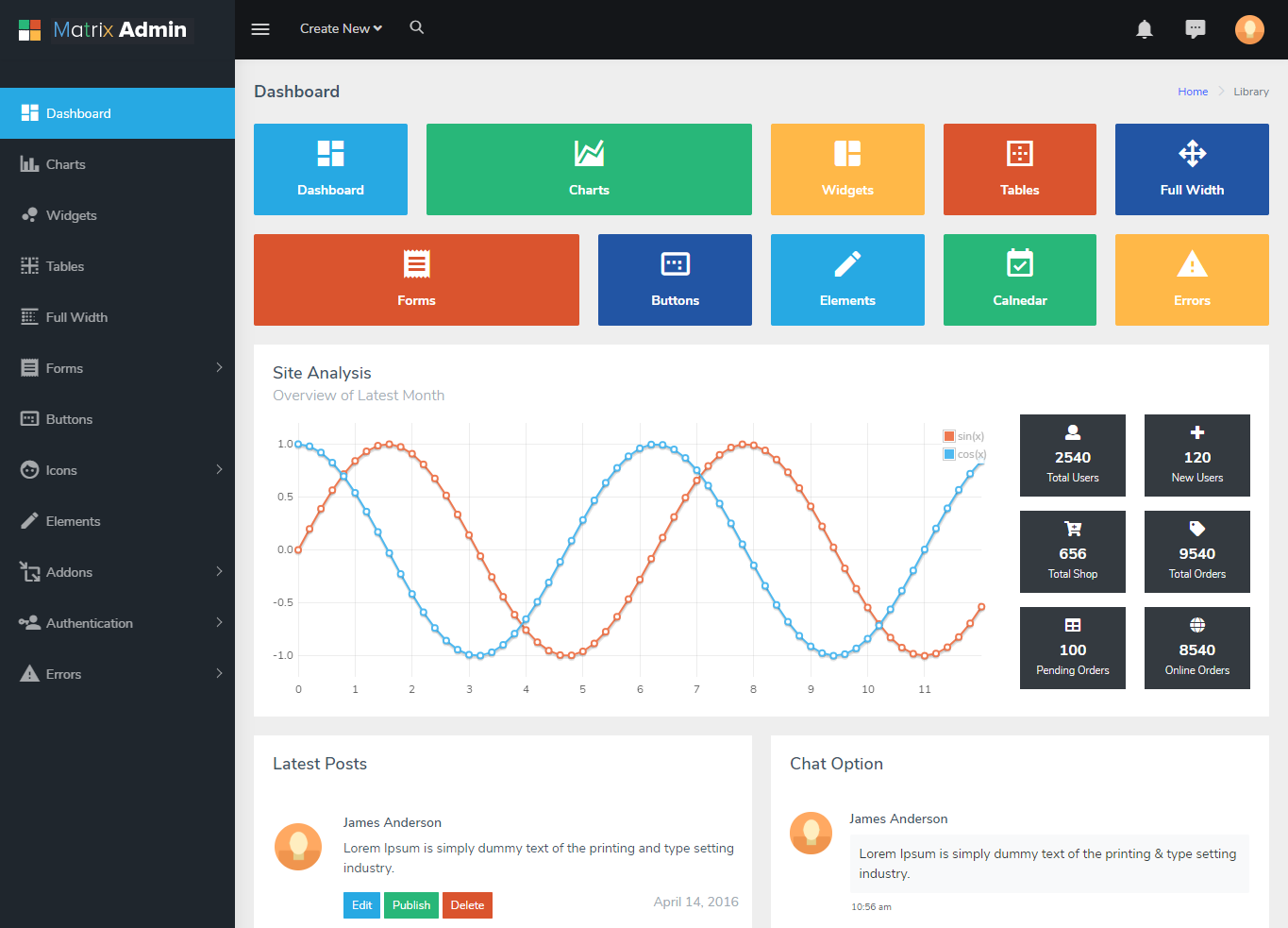 Matrix Admin is the best choice if you don't like the idea of missing an email. It has its impressively designed long dashboard. There is also enough space to add some useful elements and blocks. Although there may seem an issue on the readability on mid-screen and small screen devices, it is still more manageable.
No worry about, as mentioned, missing an email. The feature of flash notifications will let you know about new and incoming emails. The visual effects are so far subtle and impressive. You won't get annoyed by this template. There's much more to discover, such as the icons, elements, forms, widgets, and more.
9. Startmin
A professional-themed dashboard template, Startmin, is also free. It is eye-catching because of its trendy web colors and elements. It also gives you a neat and nice layout and other essential dashboard elements. Its clean white space makes the web elements neat to look at.
Many charts, UI elements, tables, and drop-down options can be found in the template. These can be specifically customized to meet your specific needs. It can so much easier for you to use especially because of its sales stats. There are also blocks intended for chat and notification. So, you should never hesitate using it for some intended purposes.
10. My Admin Lite
Specifically-designed for activity tracking and profile management, My Admin Lite is the best way to go. This is quite similar with the Ample Admin Lite regarding the light theme color and clean design. The many options for the to-do list, message board, and traffic stats are from its dashboard. You can choose the search bar and the profile details in the topmost bar. No need for you to minimize the navigation bar on the side. It is a lite version as it is limited in its options and elements.
If you use this admin panel template, you already have all the possible options relevant to your needs. These can be customized and upgraded to a premium version.
11. Monster Admin
Do not think twice when you want a perfect admin panel template but consider Monster Admin. It is designed to be a premium quality template. But, it would be best if you accepted that it comes with limited options before being free. With its default options, the more you like it as it fits perfectly for blog website domains. It also comes with projects and recent posts for the month. There's also this Sine wave chart you will adore.
And at the topmost part of the bar, an option highlights the search bar and user profile info. It is worth trying to be a modern web.