5 February, 2023
10 Powerful Free Admin Templates 2023
You can use these highly versatile and resourceful free admin templates to kick off your new application.
Why pay a fee if you don't have to? You can use these for learning, prototyping, and other personal use.
Since free tools can sometimes be sketchy, we reviewed and tested them for you. This way, we can guarantee that all the solutions are 100% reliable and trustworthy.
They also come with different layouts, components, color options and user-friendly code. Every admin template is also responsive and cross-browser compatible.
Keep in mind you also get templates that use different technologies. For instance, you'll notice four different ArchitectUI versions (Vue, Angular, React and HTML).
Boost your web development workflow with a predefined free template now.
Best Free Admin Templates
ArchitectUI Vue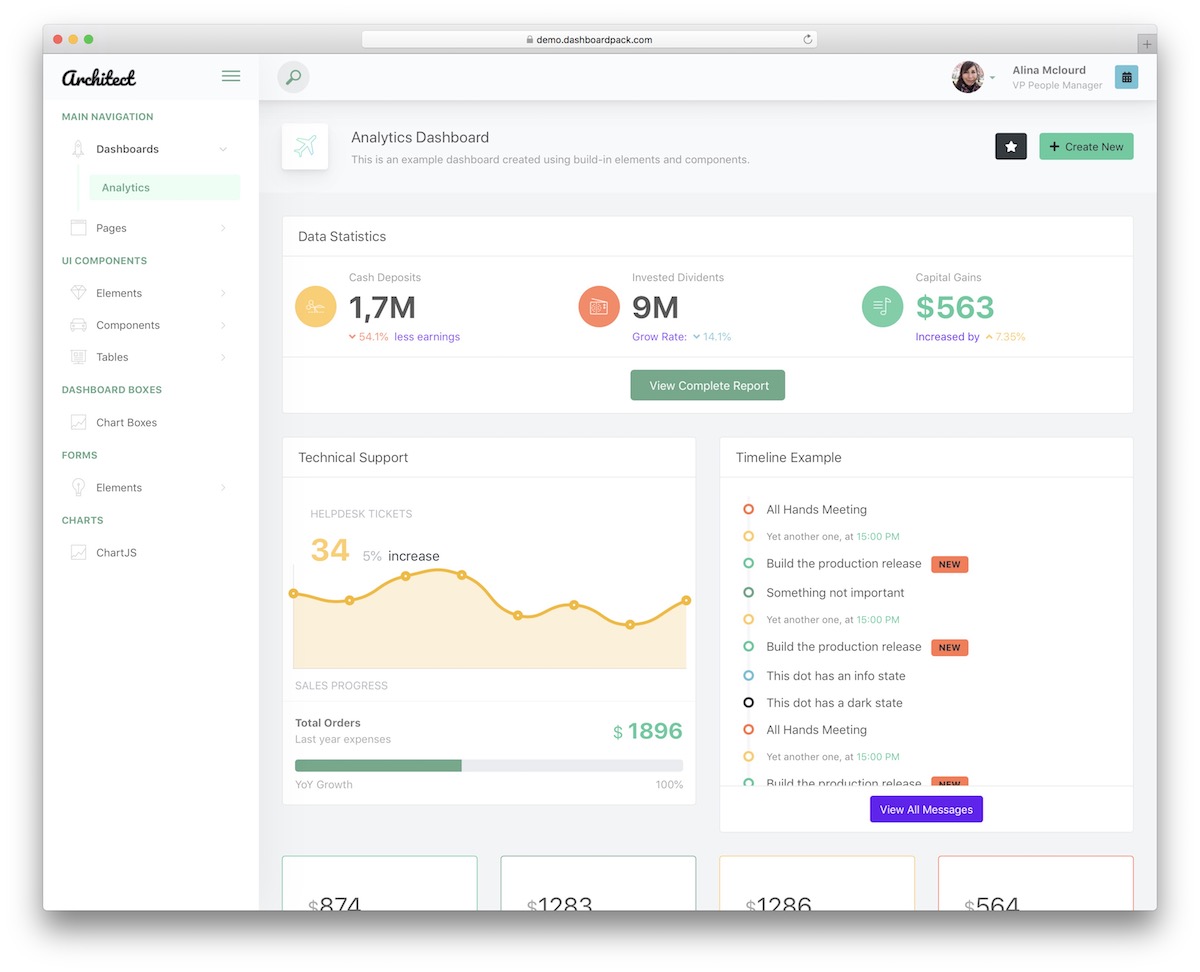 To kick this complete collection off the right way, here is the Vue version of ArchitectUI. The template is based on Bootstrap 5, so you know the layout is entirely fluid and compatible with mobile devices. You couldn't be more right.
Moreover, ArchitectUI contains up to fifteen custom elements and widgets that you can mix and match however you want. You can also benefit from other styling options, which allow you to make improvements and adjustments to the default settings.
It doesn't go without saying that basic coding knowledge is necessary to work with ArchitectUI. But that's it! You will create a striking dashboard even as a beginner.
ArchitectUI Angular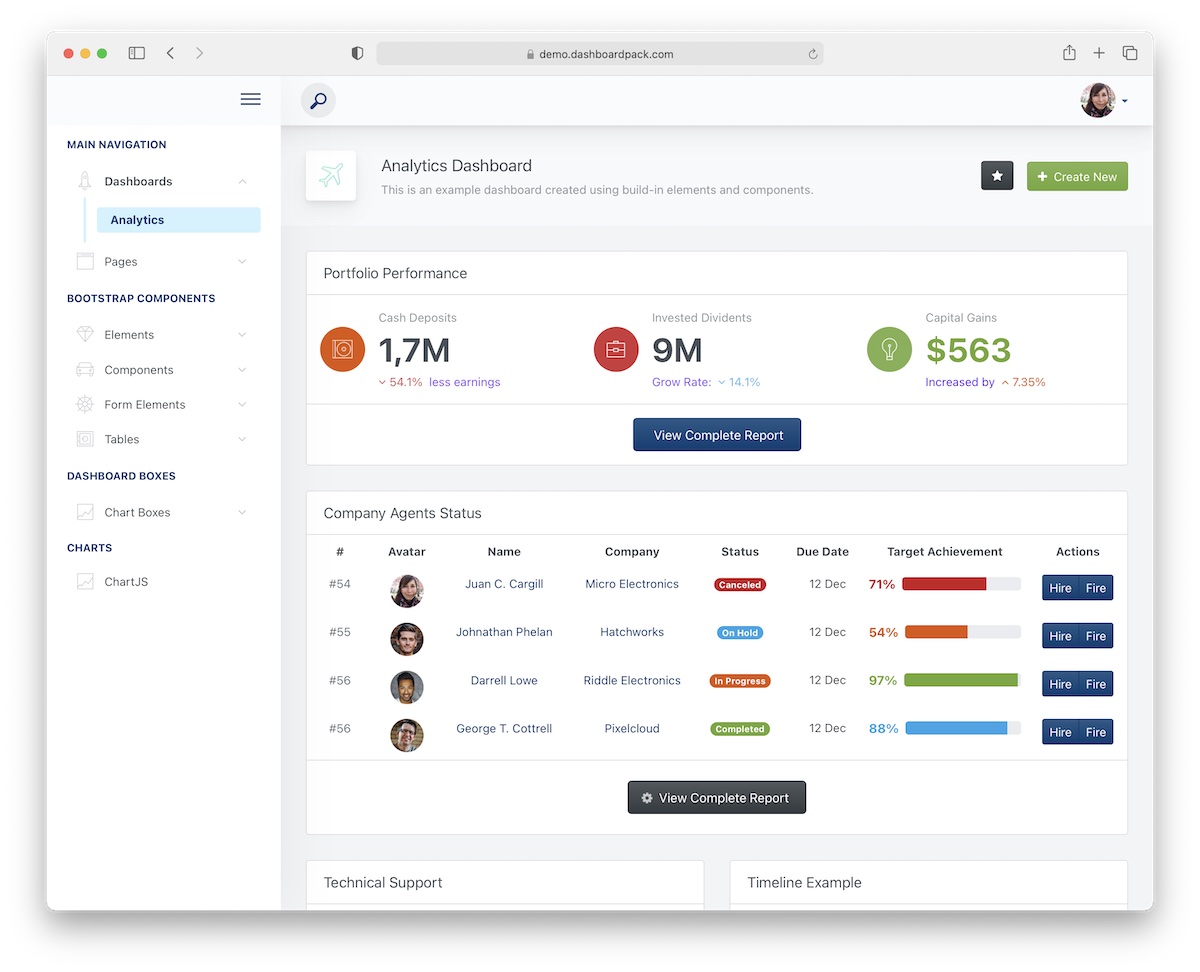 Moving forward, here is a free admin template based on Angular 12 and Bootstrap Framework. You get many practical elements and components mixed into a minimal design that create a pleasant experience.
The kit contains drop-downs, icons, modals, progress bar, tables and charts, to name a few.
You can use ArchitectUI for building an analytics dashboard by default, but other admins are also possible. You can also preview the template by visiting the live demo before making final decisions.
It's a free tool, so you have nothing to lose.
ArchitectUI React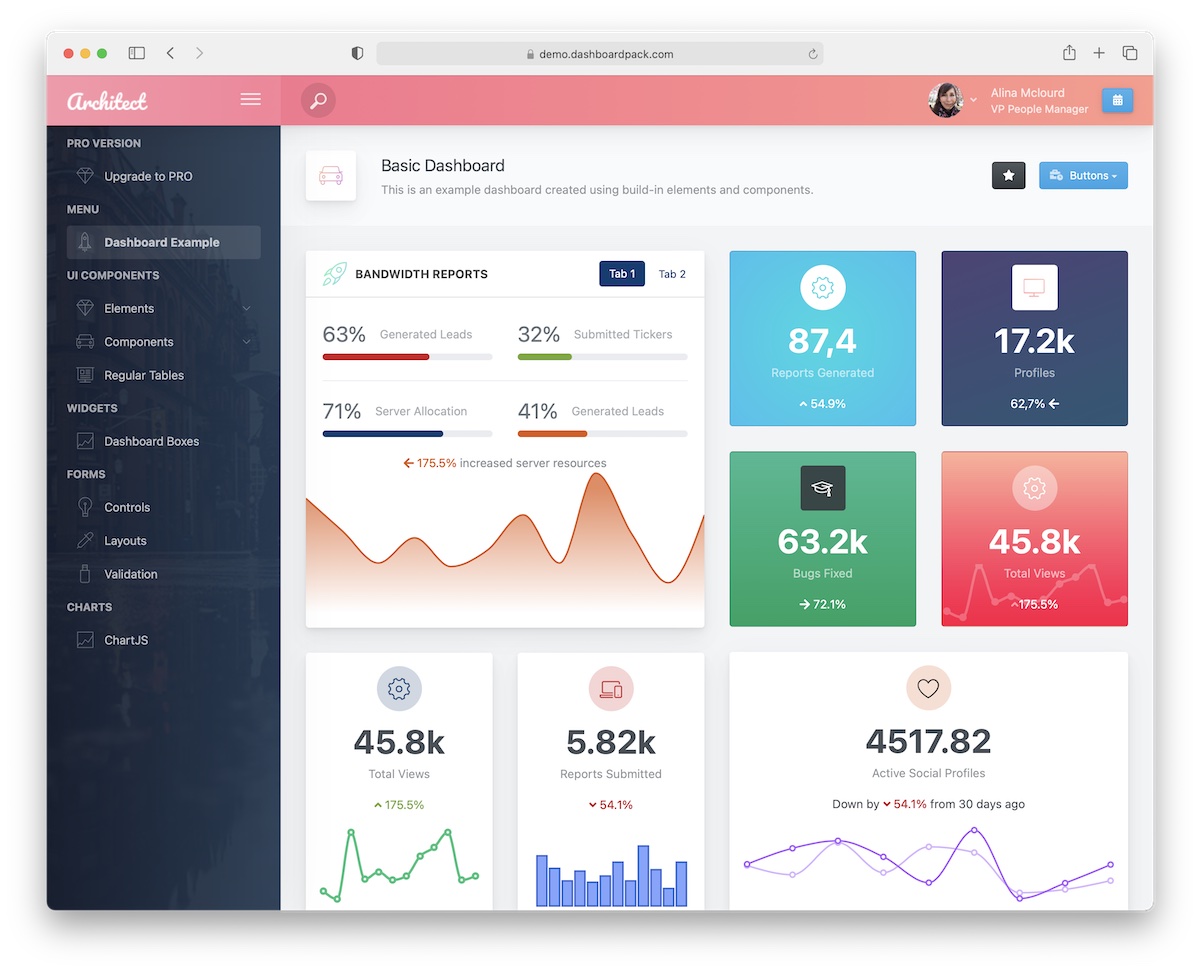 The ArchitectUI React admin template is pretty popular amongst users, and it's one of our favorites, too. Whether a beginner or an expert web developer, you'll make the magic happen with ArchitectUI.
That's a guarantee. Note: if you are just starting your journey, you can use ArchitectUI to get closer to the pro level. And when you need even more features and functions, you can always upgrade to pro.
ArchitectUI will grow with you!
This free admin template has a built-in style changer that allows everyone to quickly modify it, so it fits the necessary branding regulations.
ArchitectUI HTML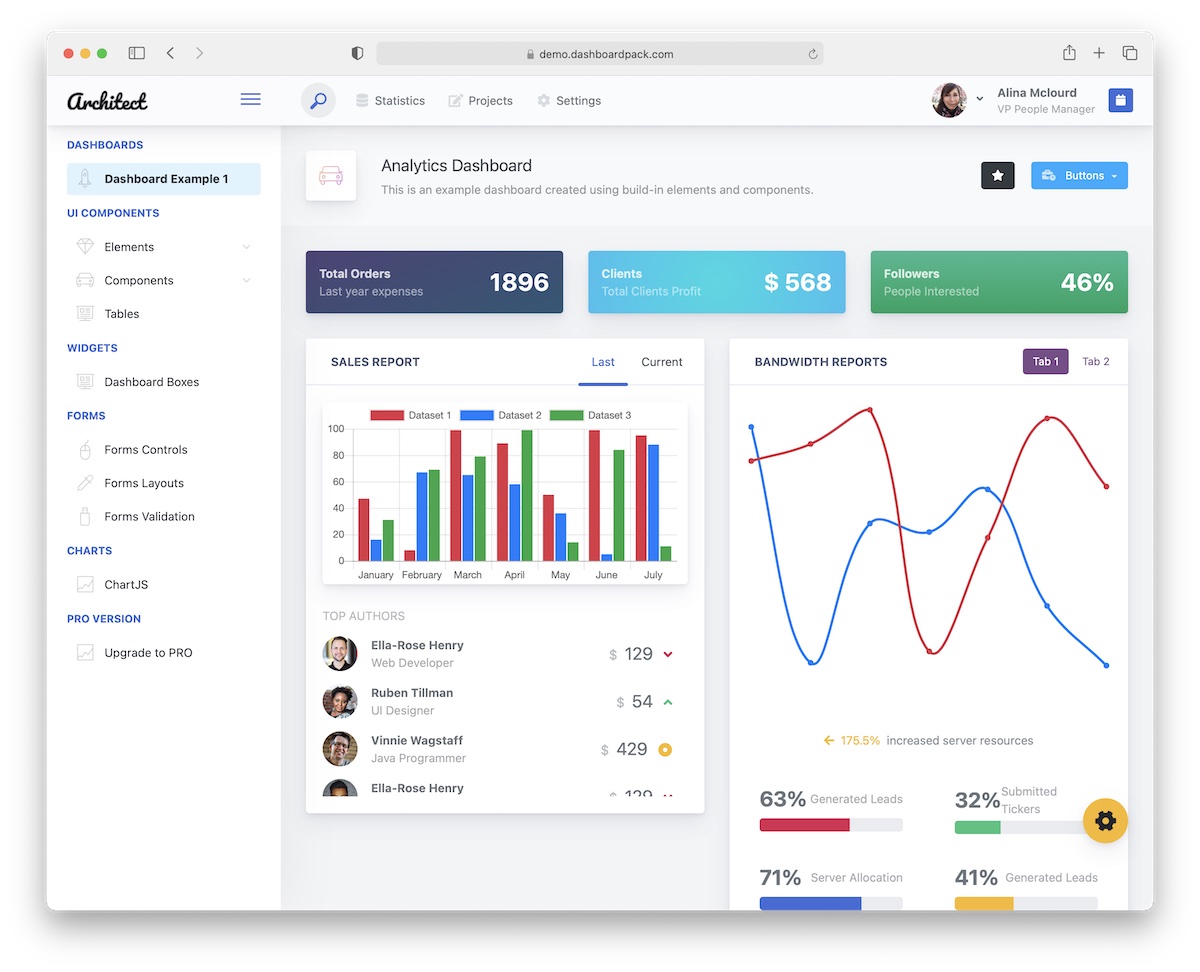 When searching the web for the best free HTML admin template, you cannot find a better one than ArchitectUI. It is a tool of many great features that you can activate with a click on a button.
Using the latest technologies doesn't only mean great performance, but the coding work is easy, too. And if you ever find in need of extra help, you can either join the community form or go in direct contact with the support team.
Some other features of ArchitectUI are scalable assets, different color schemes and optional sticky or fixed elements. For an HTML admin template, ArchitectUI is the right choice to make.
Material

Material is a free admin template that doesn't limit you in the project use. In other words, Material works for admins, CRMs, content management systems and more.
You can use Material out-of-the-box; this approach will produce the fastest results. However, you can also modify it and make your own version. But even in this case, you'll enjoy a swift development process, as Material is very user-friendly.
There's a batch of sixty elements, two plugins and three page layouts. You can also choose from five color filters and use your own scheme.
Thanks to Material, create an admin that's to your liking sooner than later.
Download
Light

Light ensures a light design and a light code. That's exactly what you want for your admin dashboard. But you don't need to make things from the ground up – use the power of Light instead.
With well over 100k downloads and a 4.9/5 star rating, you know Light is doing its job very well. The only thing the author could improve is updating it more often.
Still, even in the state it's now, you will see only great things happen with Light. Note: there's also the premium version available with 120 elements and fifteen plugins.
Download
Paper

Paper has a smooth, almost soothing look to ensure a top-notch experience on every device. Paper wows every user right from the get-go as a Bootstrap admin template that costs you nothing.
You can enjoy it fully by visiting the live preview before making any final decisions. We are pretty confident that, once you go Paper, you never go back. And even if you grow your web app so large it needs more features, you can also go with Paper Pro.
Some other features are great code, SASS files, extensive documentation and community support. You are welcome to share your questions in the comment section over on Paper's official product page, too.
Download
Argon

Argon is a free admin template that's open-source with many features and fantastic customization options. Just by using it's default settings, you can enjoy the creation of a neat dashboard.
The design is clean and minimal, beautifully displaying all information and details you'd like to monitor.
While other tools are quite limited with elements, Argon comes with one hundred of them (100!). Still, the pro version has one hundred more (200!).
Also, the available page layouts allow you to save extra time, as you can use and reuse them however you want. Make the necessary admin quickly – with Argon!
Download
Now UI

Color and typography choices, heck, the overall design of Now UI is up-to-the-minute. With modern technology and well-organized code, working with Now UI will be comfortable.
What's more, whatever project you plan to bring to fruition, the dashboard will look at a pro-level. However, the available sixteen components may not give you the potential you deserve, but they ensure a smooth start. Still, you can 10x that with the premium version.
We are also always amazed by the friendly support that Now UI has. Guys over at the Creative-Tim are real champs!
Download
Vuetify

We don't need to go into extreme detail when speaking of Vuetify. You already know what technologies this free admin template uses. That's right, Vuetify, Vuex and Vuejs.
With 100s of reviews and getting 4.8/5 ratings, you know Vuetify is a serious deal. It even has over 55,000 downloads! What a baller.
Thanks to Vuetify's friendly base, you only need the beginning coding skills and you're good to go. You get a quick start guide and comprehensive documentation to help you get the gist.
A few Vuetify highlights are different color options, dark mode and optional sidebar image. Vuetify is BOMB.
Add Your Comment