23 October, 2023
10 Best HTML Dashboard Template Examples 2023
Never again worry about picking the best HTML dashboard template for your next web application. Our carefully selected options are safe and tested to work smoothly.
Speaking of work, you will have it very easy to activate any of the templates below.
They all have two things in common:
User-friendly code
Modern technologies
BUT.
This is just a small segment of all the specialties that you get. Yes, there is a lot more.
Tons of elements, nice design options, preset color skins and practical widgets are all at your fingertips.
If you are looking for the best HTML template for developing a powerful dashboard, you have at least one (BUT MORE) appropriate one here.
Best HTML Dashboard Template Examples
1. Adminty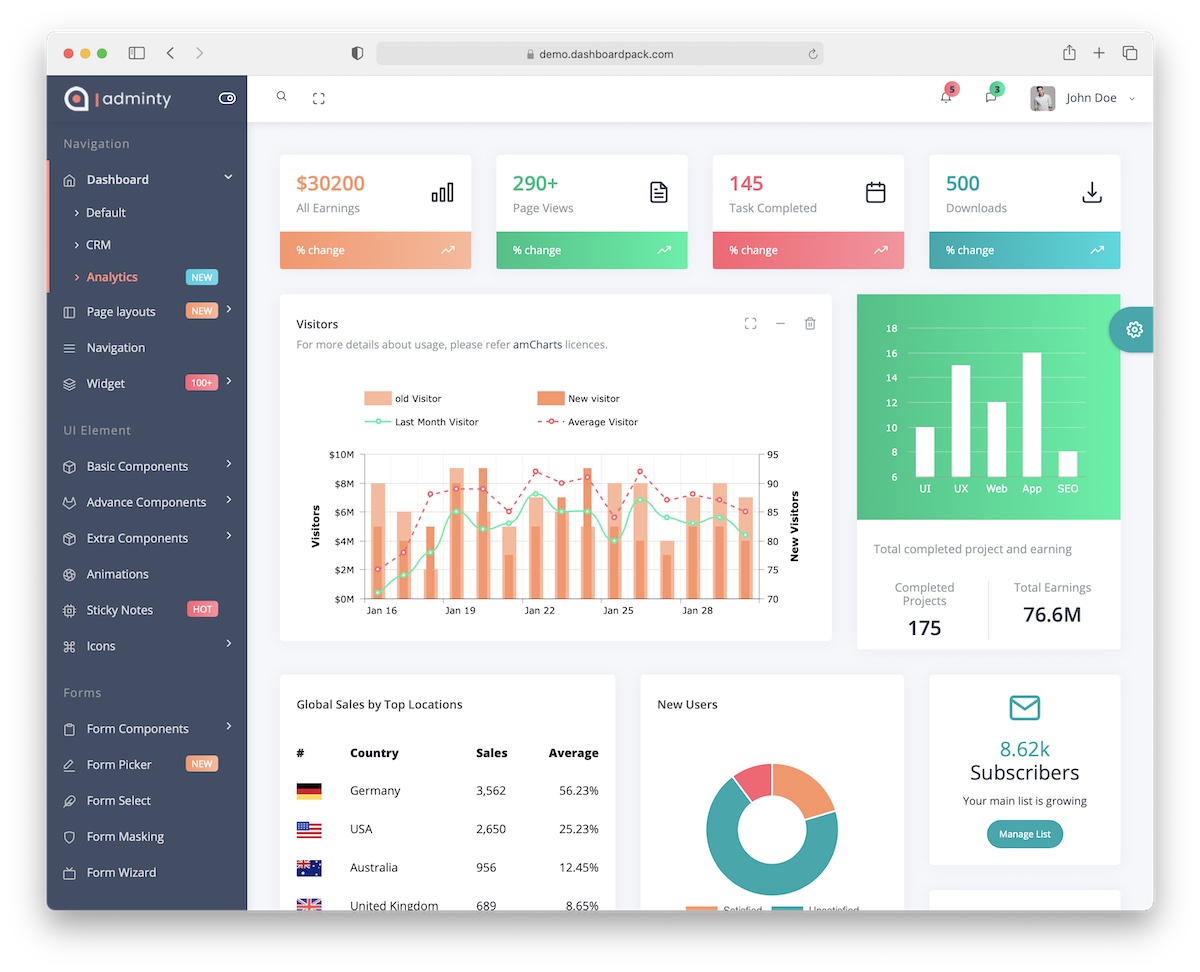 Adminty is an all-around solution for admins that uses Bootstrap Framework. It has the necessary page layout, the elements, components, and whatever you need to build the dashboard quickly.
Speaking of components, there are over two hundred available. To make it even more exciting, all are customizable. Make things the way you want without holding back!
You can also select from multiple ready-to-go color skins, dark or light sidebar, and three predefined dashboard styles.
The basic license (Personal) costs $69, but you can also opt for Developer or Lifetime. It all depends on what you (and your client) need.
Adminty is our favorite pick. FOR SURE!
2. ArchitectUI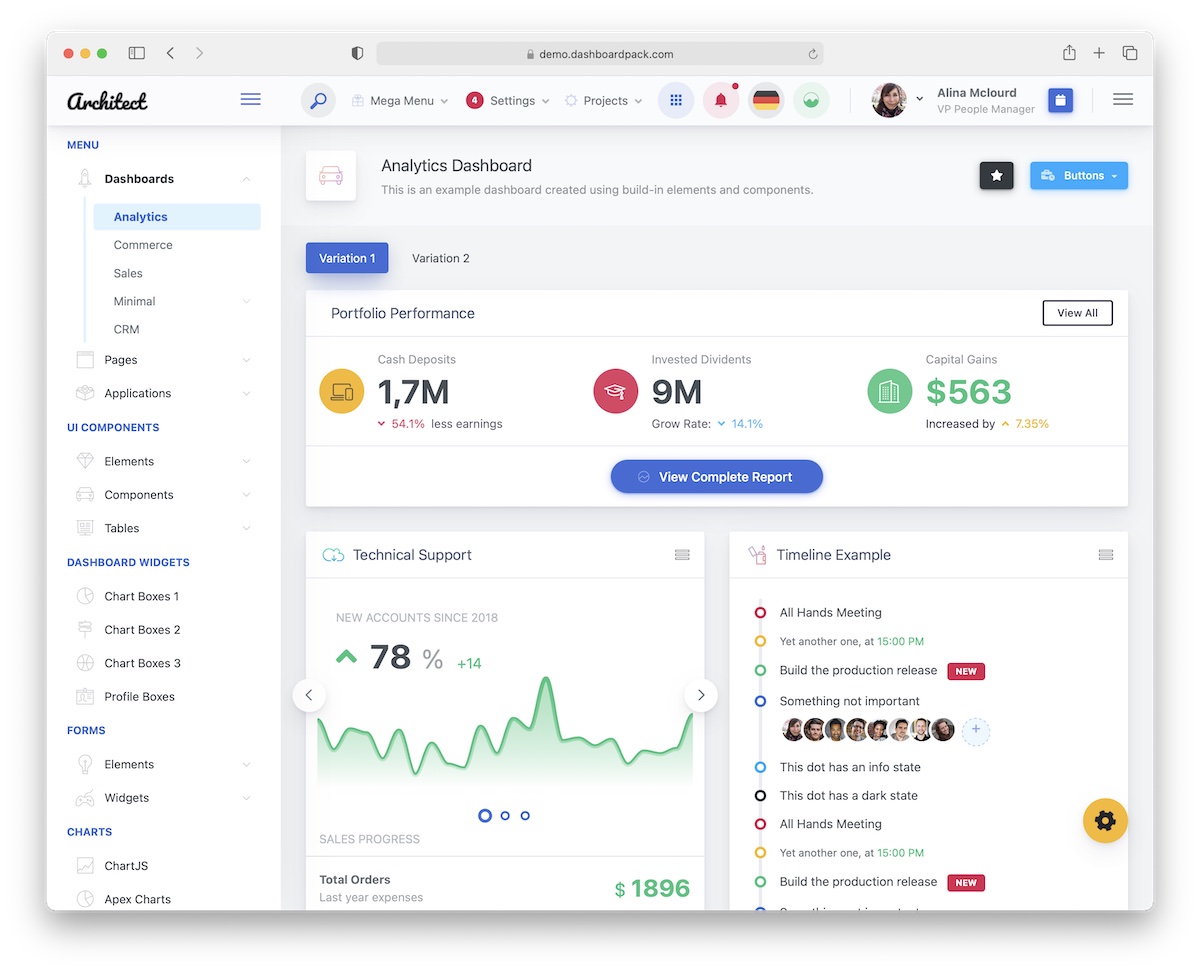 ArchitectUI made us go WOW the most when choosing the ideal dashboard templates based on HTML for you.
First and foremost, you can choose from several different dashboard demos and TONS of different color skins. ArchitectUI also supports optional fixed header, sidebar, and footer.
You can separate page sections with a shadow or a line. Additionally, ArchitectUI includes white and gray mode.
Do you know what's best? That this is still just the beginning of all the fun, you'll experience with ArchitectUI.
Make a powerful dashboard for your website, app, or software quickly. And maintain your professionalism at an all-time high.
3. Admindek
Admindek has this entire HTML dashboard template's coolest (or the cutest?) name. Right?
But really, the name does not matter that much. Admindek is a remarkable alternative that will impress you with its 100s of components, which you can mix and match for free.
Moreover, Admindek is also entirely customizable, but many enjoy using it as is. This just shows that you have many options and possibilities with Admindek.
Admindek blocks layouts for CRM and analytics with additional general ones by default. You get the gist of animations, widgets, notifications, icons, forms, and extensions.
Admindek is a beast of a template that will do you wonders!
4. Hospital
Every website and web application needs a dashboard, even for hospitals and other medical institutions.
Hospital is a more exclusive HTML dashboard template with a minimal and clean design. It's exactly what you'd expect from an admin template for a hospital. Immaculate. And powerful.
Every component of the tool is easy to use and customize to your heart's content. On the other hand, Hospital also functions out-of-the-box fantastically well.
The layout is entirely responsive, guaranteeing fantastic performance and experience on mobile and desktop. Finally, three pricing options are available when choosing Hospital, Personal, Developer, and Lifetime.
5. Finance
Instead of bringing you only generic dashboard templates, we found some solid niche ones. However, there's a catch. Even though it is niche, you can still go entirely against the grain.
This applies to Hospital, Finance and others on this list. This gives you an even better understanding that you cannot go wrong with any of the admin skins we hand-picked.
Finance practices with the latest technologies have hundreds of components, color schemes, and Bootstrap base. Powerful features, modern technologies, and simple to use – what else do you need?
Extensive documentation, support, and forums are also available for all Finance users. All your questions were answered.
6. Kero
Kero is no stranger to sporting small and large applications. You can get the ball rolling with Kero, whatever you want to build. Like, NOW!
What's unique about Kero is that it comes in horizontal and vertical versions. This refers to the navigation positioning. Either it's in the sidebar or on the top.
Every Kero's detail works in perfect harmony with one another. By default! Still, everyone with a basic coding understanding can modify each element and overall template however they want.
Kero is a solution for everyone.
Note: If you go with the basic package (Personal), you get six months' worth of support, updates, and tech support.
7. ArchitectUI (Free)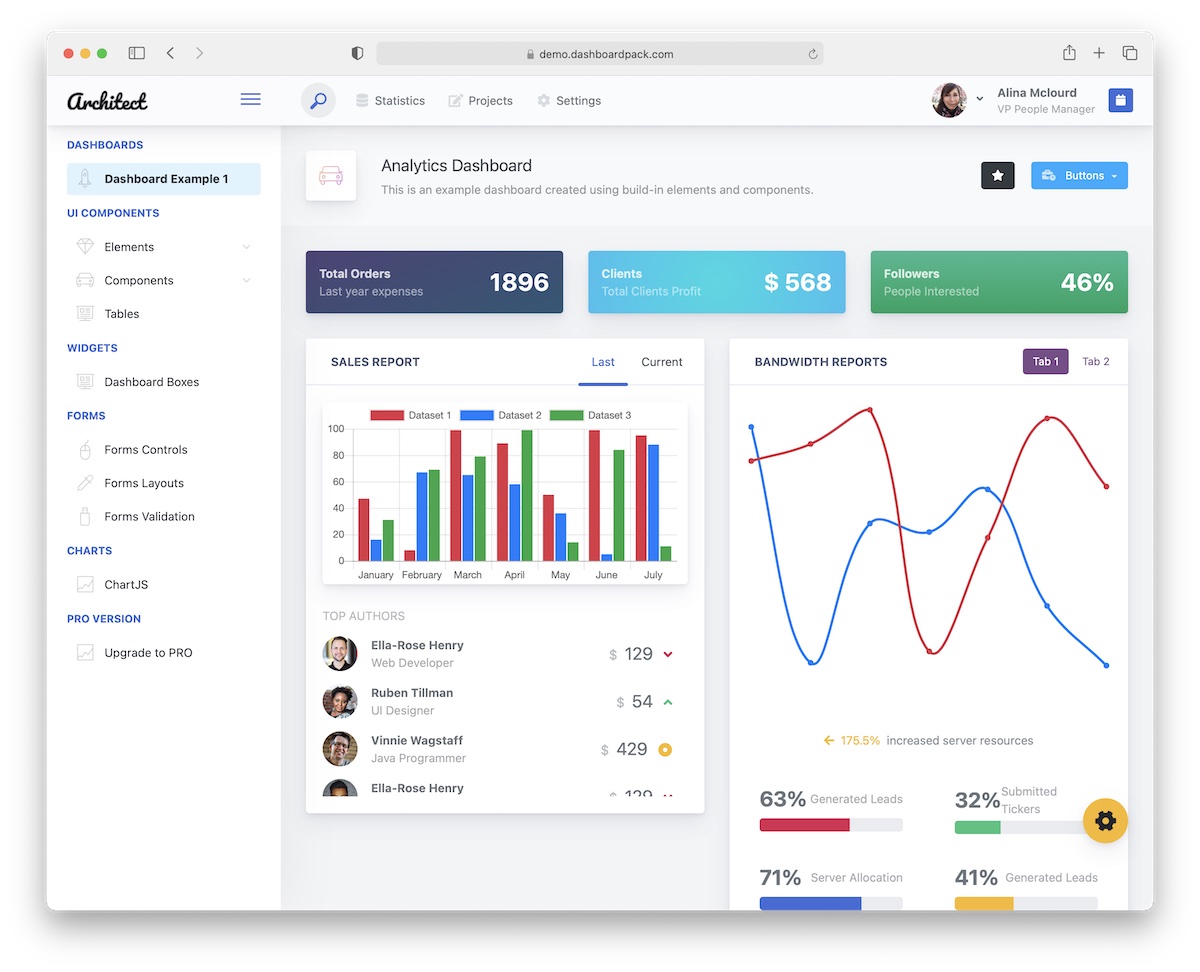 So, you are planning on using ArchitectUI but you just don't feel like paying for it. It's your lucky day. ArchitectUI also comes as a free HTML dashboard template. How cool!
For everyone who would like to develop a simple application or a quick prototype, this is the perfect solution for quick results.
You can edit and fine-tune the header and the sidebar, just like with the pro version. The bundle comprises multiple elements, components, tables, forms, charts, and optional fixed sections.
ArchitectUI goes one step further as a free template by offering you basic support.
8. Fiori
Fiori is a horizontal-only HTML dashboard template, the only one on the list that exclusively comes with this style. Fiori is the way to go if you would like your admin to look different than the majority.
With the SCSS styling, Bootstrap 5, and jQuery, you get a powerful tool with quick editing options. But you must know how to code to make the magic happen with Fiori. (Basic skills are more than enough.)
Individual documentation files help you understand how Fiori operates, but you can still contact the friendly support team.
9. Cuba
With insane mastery, versatility, adaptability and awesomeness, Cuba is one extremely good admin template. It comes in different styles out of the box, including HTML.
In short, you can confidently approach all dashboard creations using Cuba.
Fun fact: Cuba generated well over 5,200 sales in its first year – yes, you are looking at a truly special template.
Cuba is compatible with RTL languages, rocks a dark mode, includes over seventeen apps, and has over twelve layouts. And that's just the HTML version!
An all-in-one solution that takes things to the next level. Make it yours!
10. Emilus
Minimal, clean, flexible and extensible, that's what's up when speaking of Emilus. You can apply this HTML dashboard template for various websites, applications, SaaS, and more. You don't have any barriers with Emilus.
Built-in apps, widgets, light and dark sidebar navigation, regular updates and A-grade support are some specialties that make Emilus at the top of the game.
Even though different users prefer different designs, Emilus stands out with its amazing simplicity. If you are in doubt, always opt for a simple look. Why? Because it works!
You can save yourself plenty of time for a small investment. And you can reuse Emilus as many times as you want!