Many on the list come free of charge, but we also included a few premium alternatives.
You don't need to begin working on your project by paying a fee immediately. Enjoy the free solutions, which have many practical elements and components.
Note: Some templates have the same name, but the technologies differ. So that they don't cause any confusion.
Build a powerful admin with a ready-to-use dashboard template that will unlock the true potential of your application.
Notus React has well over 6,500 downloads with 5/5 ratings, which tells more than enough about how good it is.
Even though it costs nothing, it still comes with one hundred components, three plugins and nine example pages.
The layout follows all the modern web trends to ensure outstanding performance. Read: responsive and mobile-ready.
Download
2. Notus NextJS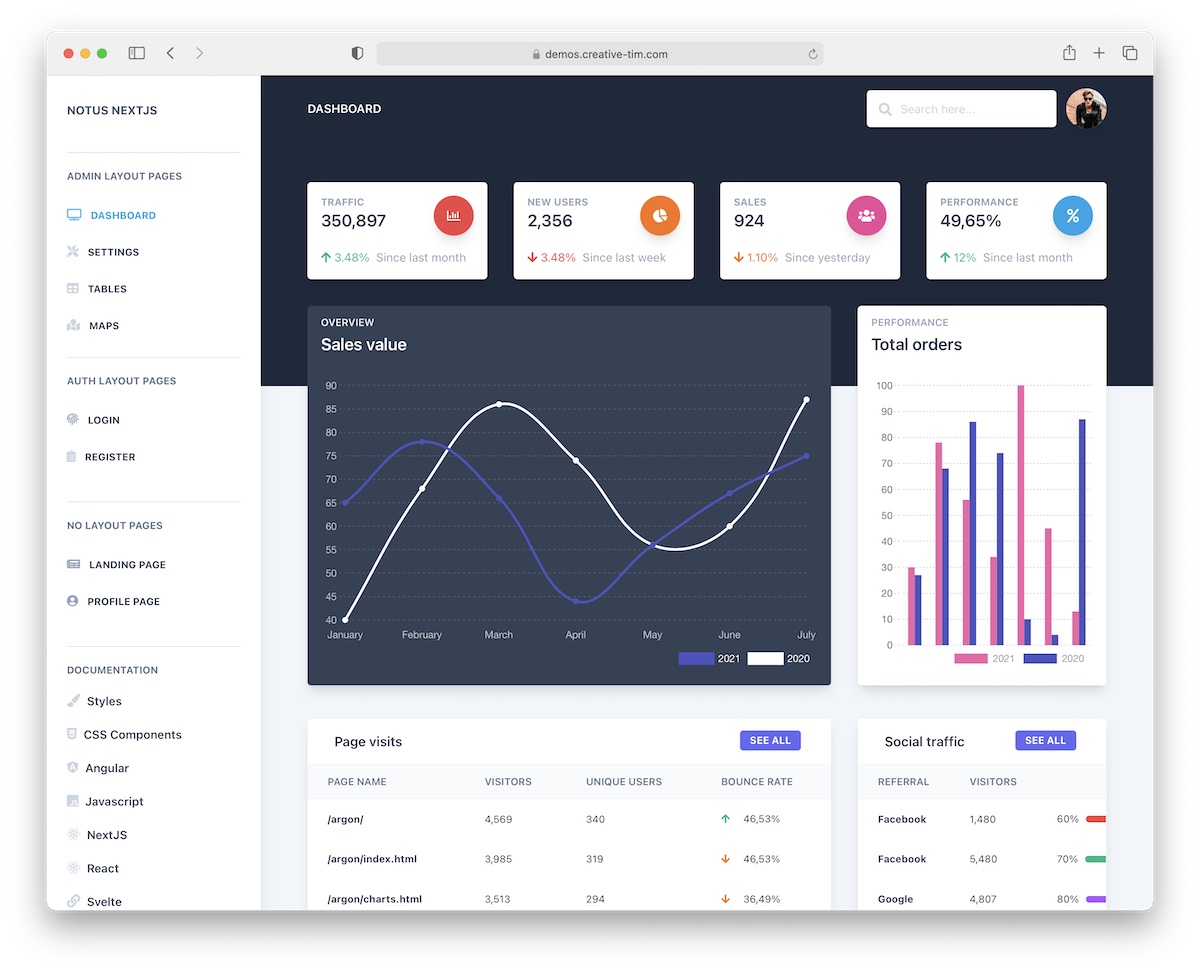 This powerful Tailwind CSS, NextJS UI kit, and admin template will do you well. Notus NextJS is all set to set you on the right track immediately.
The bundle of goodies is just a click away, readily available to put into practice. You don't always need to pay a hefty fee to make great things happen.
We also like Notus NextJS's regular updates, community support, and practical elements. You can even share a comment on the product page, someone will surely get back to you.
3. Vue Notus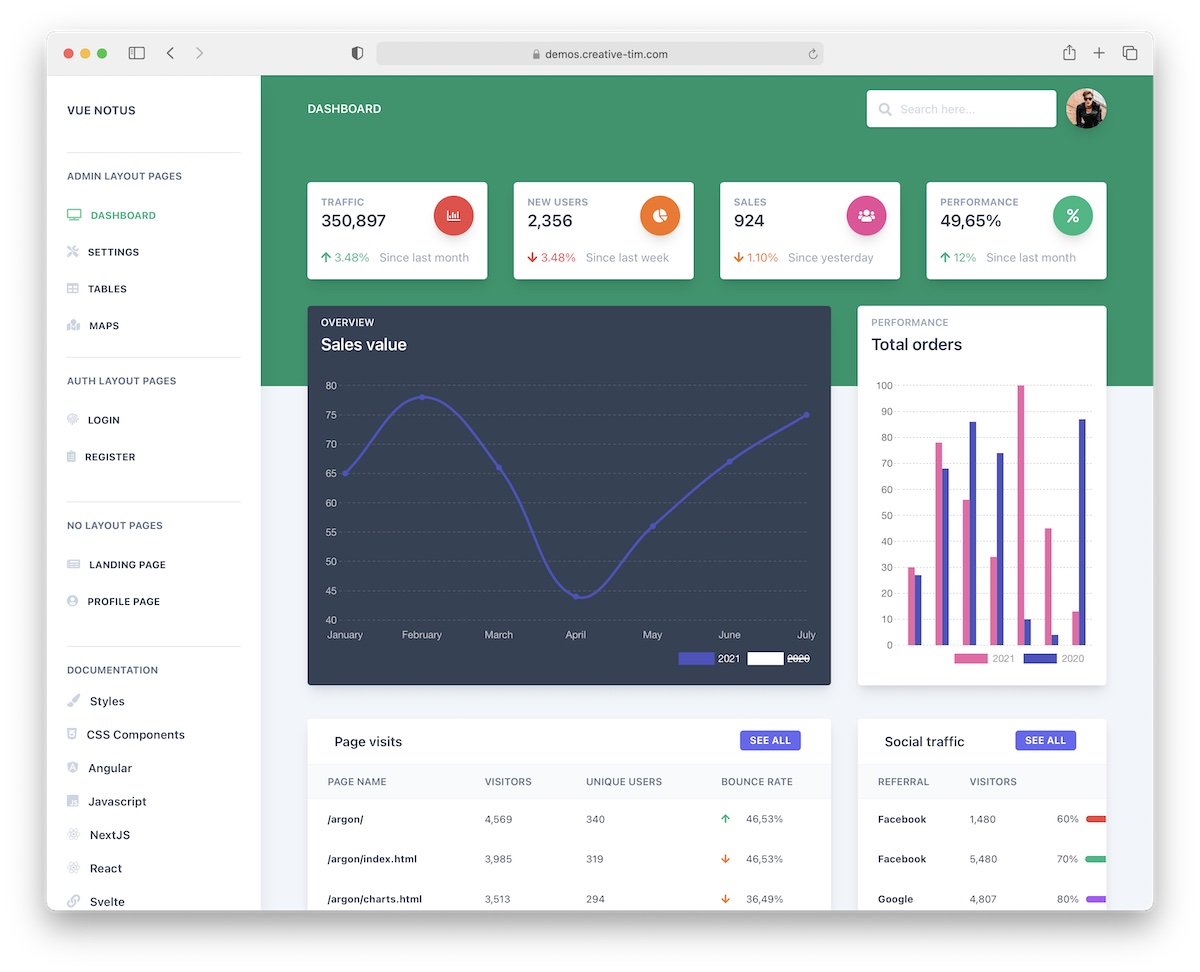 In this collection of the best Tailwind CSS admin and dashboard templates, we ensured there's something for everyone. There's no need to do your research, choose from the list and you are good to go.
As the name suggests, Vue Notus also uses VueJS and comes both as a UI kit and admin template. With this in mind, you already know there will be quite a few components, plugins and pages you can work with. 100 + 3 + 9 = 112! Yes, 112 in total!
4. Notus Angular

You know that all these templates require coding. BUT. You may not be aware that the basics are more than enough. Notus Angular and all the other tools are coded with beginners in mind, which is great for experts.
Quick prototyping is just around the corner. However, Notus Angular also works especially to build an actual admin dashboard for your new (or existing) web application.
Thousands of users are already enjoying Notus Angular's perks (Tailwind CSS + Angular). We're sure you'll benefit from it greatly, too.
5. Notus Svelte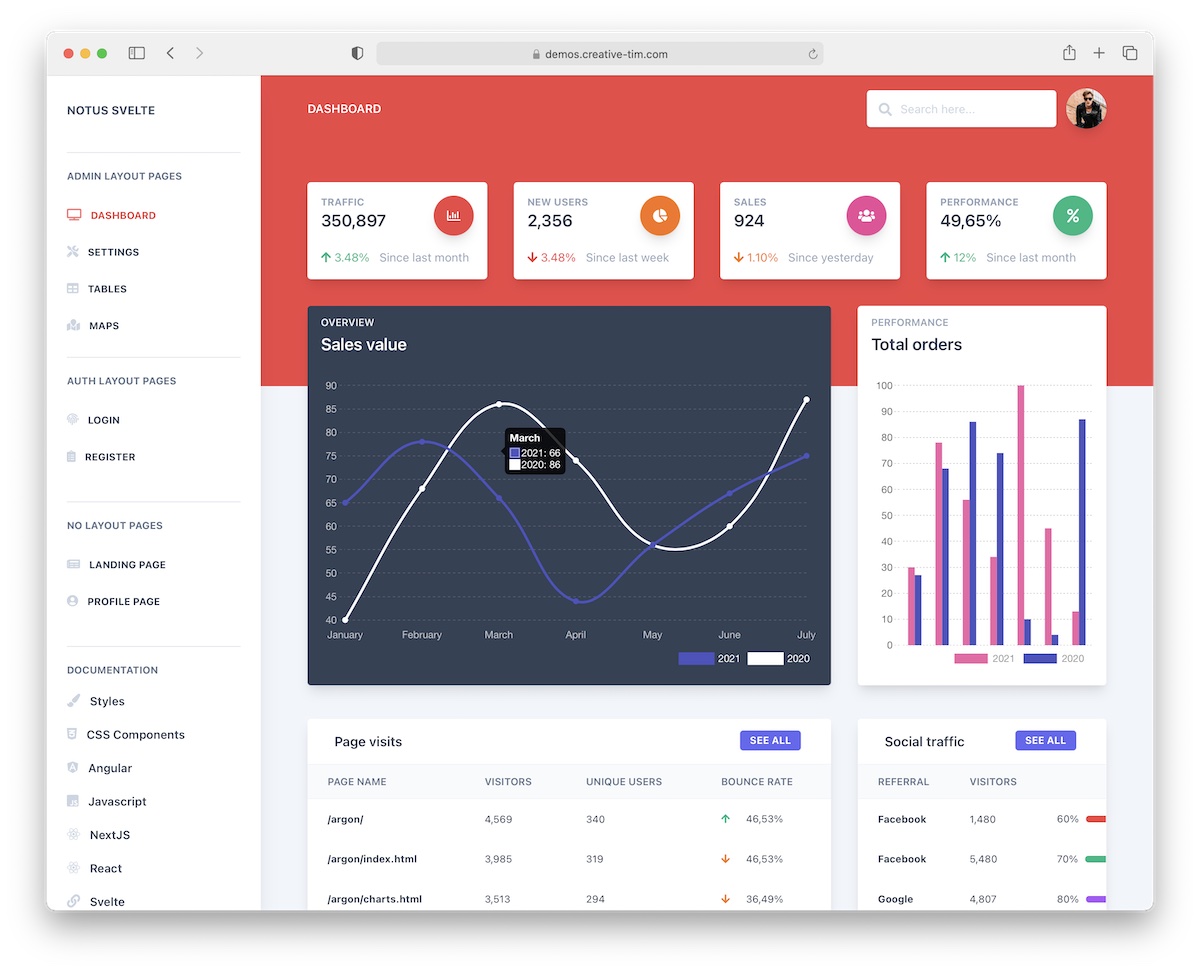 Notus Svelte is a modern and catchy Tailwind CSS admin and dashboard template with 5-star reviews and over 1.5k downloads. Yes, it's free and you can enjoy it immediately. But you can check the live demo preview first and go from there.
Notus Svelte is ready to rock and roll with over one hundred components at your disposal.
You can even modify individual elements or go with the out-of-the-box version. Last but not least important, the template is compatible with modern devices and web browsers to ensure great experience and performance.
6. Material Tailwind Kit

Here we have a full-blown kit that uses Tailwind CSS and React technologies. It is free and open-source, so you are welcome to modify it according to your liking.
It is a free package with 120 elements and four example pages. You can mix and match the available stuff however you want. In addition to that, you can also customize each element or simply go with the default configurations.
You have many options and possibilities to start developing your new web applications comfortably. Get involved!
7. Material Tailwind Dashboard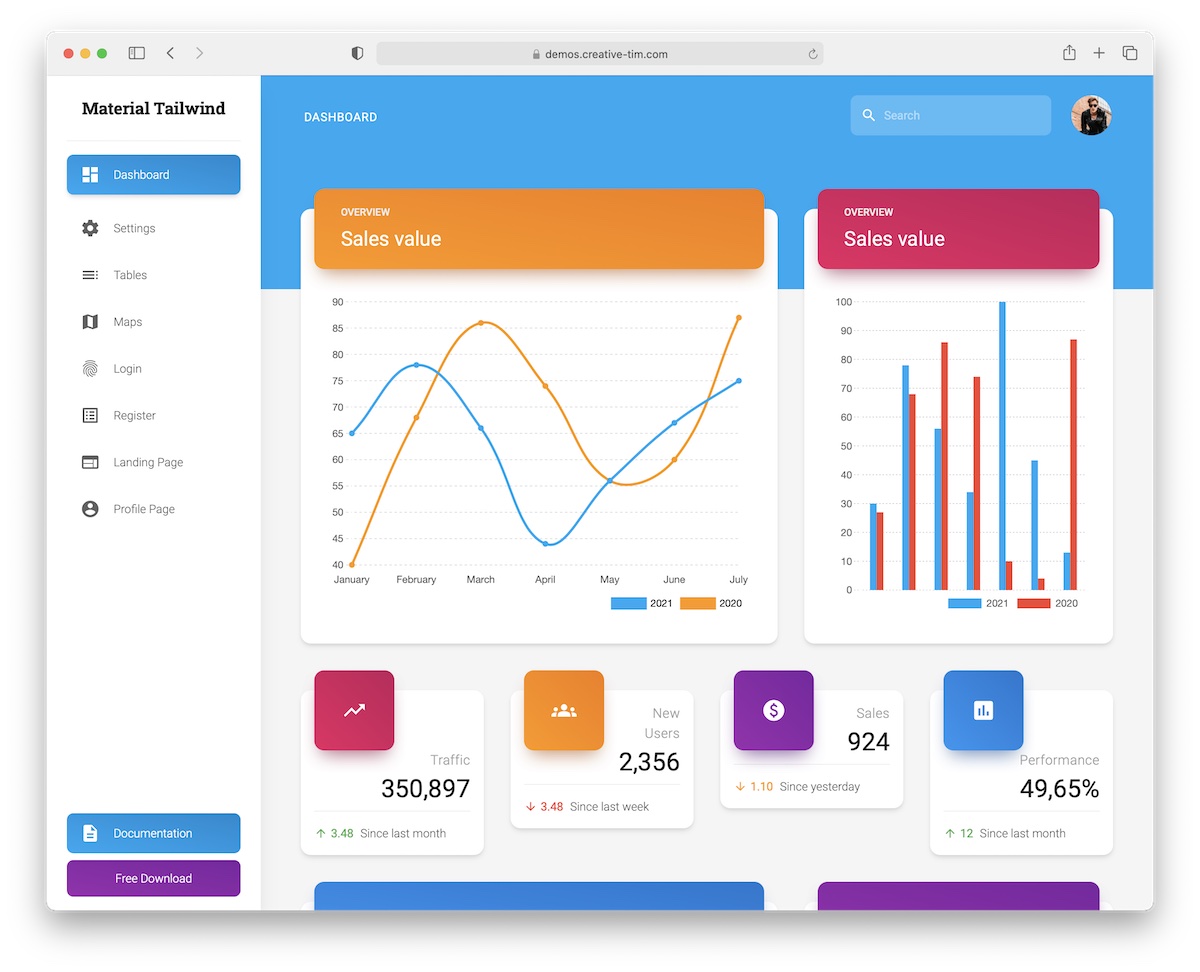 If the above one was a Material kit, this one is an exclusive Material dashboard. Building an admin panel for your project doesn't necessarily mean tedious work and long hours behind the code.
You can kick things off with confidence and no dime spent. Material Tailwind Dashboard may cost you nothing but it promises a remarkable outcome with a quick development time.
Along with the numerous components you can use and reuse, the bundle also offers five color skins. If you are not a picky user, you will enjoy working with the out-of-the-box version – that's a promise.
8. Yeti Admin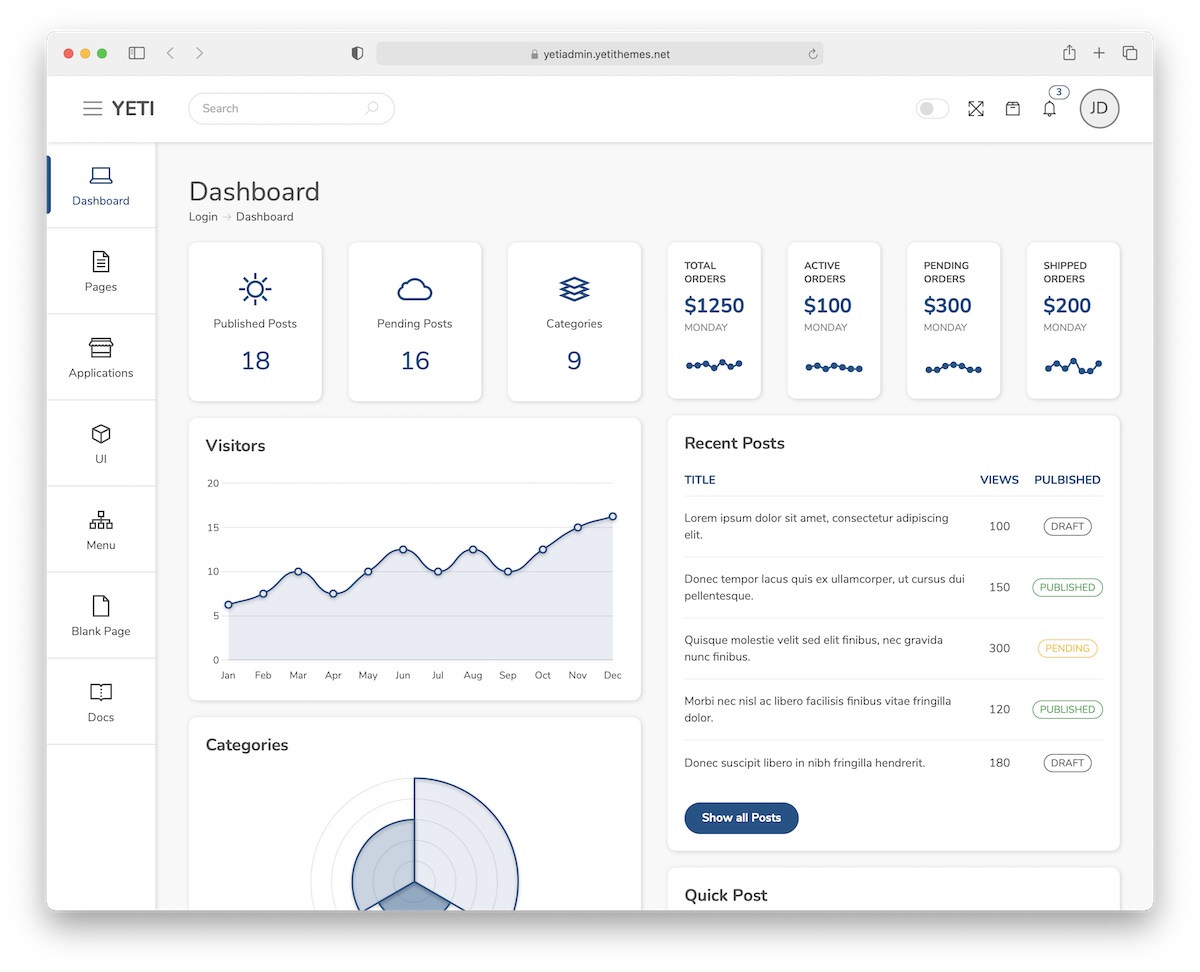 Yeti Admin is a modern Tailwind CSS admin template with an XD design file. It also includes a starter kit, so working on new projects will be much easier and faster.
Some features are dark mode, ready-to-use pages and apps, different menu styles, and more. You can take as much time as necessary to investigate Yeti Admin further by accessing the live demo preview.
But if you are looking for a minimalist dashboard that screams "Simplicity," this is likely the template for you. We enjoyed reviewing every single detail!
9. Midone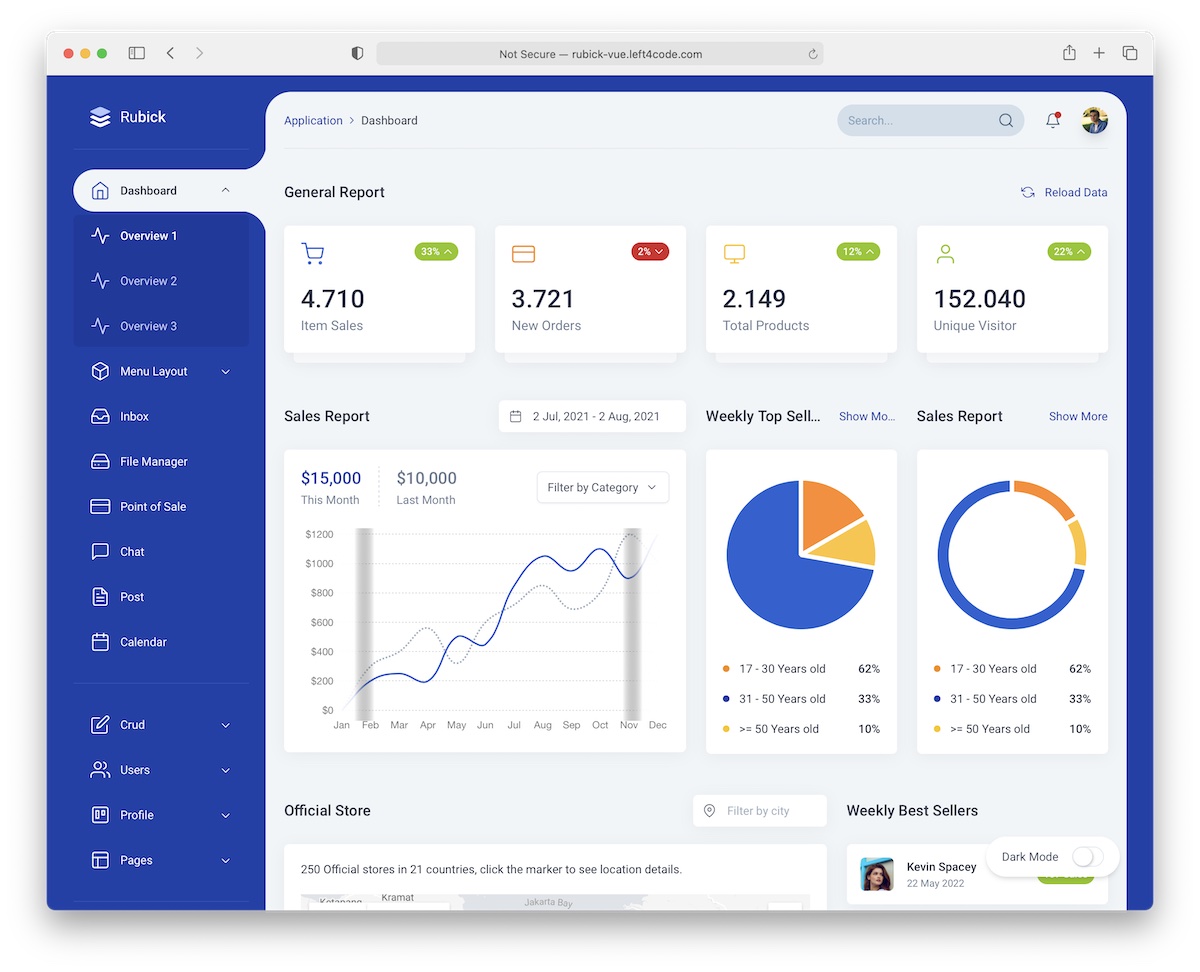 Midone is one of the templates available in many different formats and technologies. Yes, it also comes as a Tailwind CSS admin dashboard template.
The tool is clean, modern and professional. You can comfortably boost your workflow, while still maintaining your expert level. This gives you all this extra time to apply to other projects or market your existing one.
The great coding base ensures great adaptation to your needs and regulations. But you can also first review all the available layouts, themes and components, as there a good chance you'll want to use them as-is.