5 February, 2023
10 Top Bootstrap Dashboard Templates 2023
After reviewing dozens of Bootstrap dashboard templates, here is our pick of the ultimate ten. Avoid the struggle of starting from scratch because you don't have to.
Whether you are working on a website, application, or SaaS admin panel, these are the only tools you need.
You don't have to worry about anything.
Every template has tons of practical elements and layouts to mix and match.
Since they are Bootstrap-based, they are also 100% fluid, adjusting to all devices and screen sizes without a hitch.
Track and monitor stats from one location – the right way.
Start with a predefined template and grow to new heights.
Best Bootstrap Dashboard Templates
Before we continue, I want to mention that you'll find dashboards for niche and general projects. But really, all are functional and useful enough to work for all sorts of tasks.
1. User Management

You will never again want to track user performance another way other than with User Management. Create a custom admin panel that will take your application to the next level. Easily.
With hundreds of components and scalable architecture, you can create your thing like a boss. Which you will.
You can activate multiple page layouts, widgets and cards. Once you go for User Management, you have it all under complete control.
The template's design is also very modern, mobile-like, guaranteeing top-notch performance all the time.
You can make the right decision and optimize correctly only once you have enough data. With User Management, you go this!
2. Finance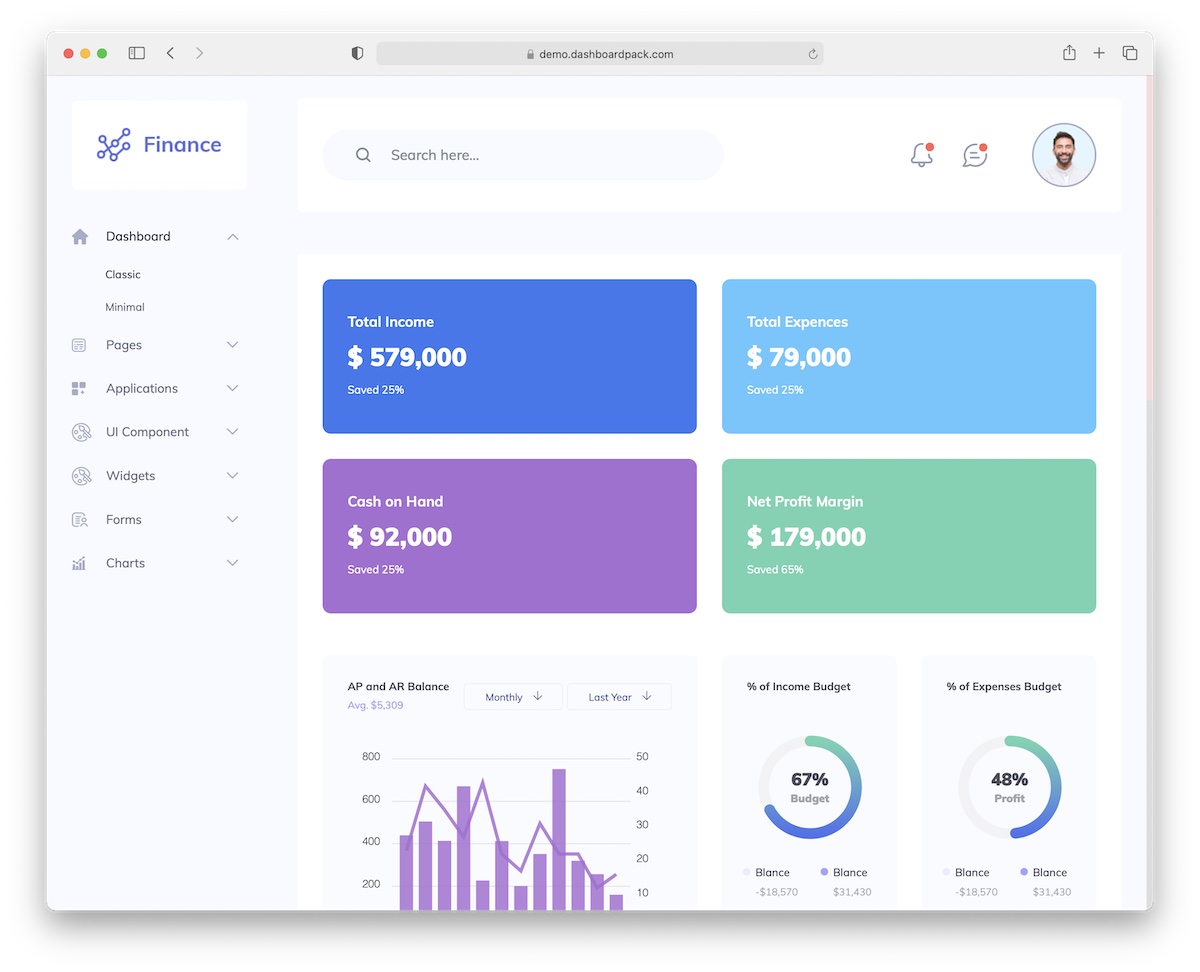 Organizing, reviewing and fine-tuning financial data, sales and other whatnot is a piece of cake with Finance. This Bootstrap dashboard has that name for a reason.
The kit consists of over two hundred editable elements and two main dashboard styles, classic and minimal. But you can adjust things as you wish, creating your desired outcome.
Thanks to the user-friendly and organized structure, any coding you do will feel easy. Even if you are a beginner!
Finance is for everyone, ensuring you get the most out of it to benefit your admin tremendously. But don't forget to enjoy its live demo preview first.
3. Kero

Kero works smoothly with SASS and ensures quick customizations. You can save yourself a ton of time for a small investment. Speaking of investment, you can purchase different licenses to get Kero, Personal, Developer and Lifetime, starting at $69.
Work with Kero on personal and commercial projects, small and large. Kero handles it all, even if working on multiple applications simultaneously.
What's special about Kero is the nine different dashboard designs that you get. Yes, that's 9!
Still, this is just a small segment of all the material you can work with. Save the time, which you can otherwise invest to build your application, website or software.
4. Adminty

Adminty is a powerful and all-around HTML template based on Bootstrap for quick admin dashboard development. You get three different styles out of the box, but you can create your own.
In addition to that, Adminty also contains many other great layout and sidebar settings, ready-to-use color skins and the list goes on.
You get hundreds of elements to work with. In short, you get it all to start working on your project right away.
And if you'd like to introduce your creative touch, modify anything – make it happen! Adminty is here to serve you well, no matter how picky or advanced your app is.
5. Marketing

Marketing agencies and freelancers know the power of proper campaign tracking. But what if you can now manage all your campaigns from one location?
Make it happen with Marketing. This Bootstrap dashboard template brings to the table a clean design, emphasizing stats and details first and foremost.
No distractions.
Everyone will also be comfortable using your new admin panel on smartphones, tablets and desktops. Different colors, dashboards, UI kits, forms, tables cards and widgets, Marketing over-promises and over-delivers.
Note: We especially like the cool chart animations and the convenient back-to-top button. But Marketing is extraordinary overall.
6. ArchitectUI

ArchitectUI is a five-in-one Bootstrap dashboard, as it comes with different styles. Practice building an admin for analytics, sales, CRM, etc.
With a whopping collection of over 250 elements, ArchitectUI truly has everything that you need. Using and reusing components will be a piece of cake even for a beginner.
When working with ArchitectUI, you can access documentation and support anytime you want. But the length of the tech assistance that you ga varies depending on the plan that you opt for.
You can start with the Personal license that sells for $69 and go from there.
7. Hospital

As the name implies, Hospital is a more specific Bootstrap admin dashboard, aiming at medical institutions. But really, you can easily make adjustments and use it for something else (if you DIG the looks).
Tracking and managing nurses, doctors, patients, surveys, sales and all that comes along will be easier than you think with Hospital.
You will also be able to quickly skim through the performance due to the minimalist design. Thanks to this, you don't necessarily need to make many adjustments, look-wise, which saves you even more time.
However, customization is possible only with a basic understanding of the technologies.
8. Fiori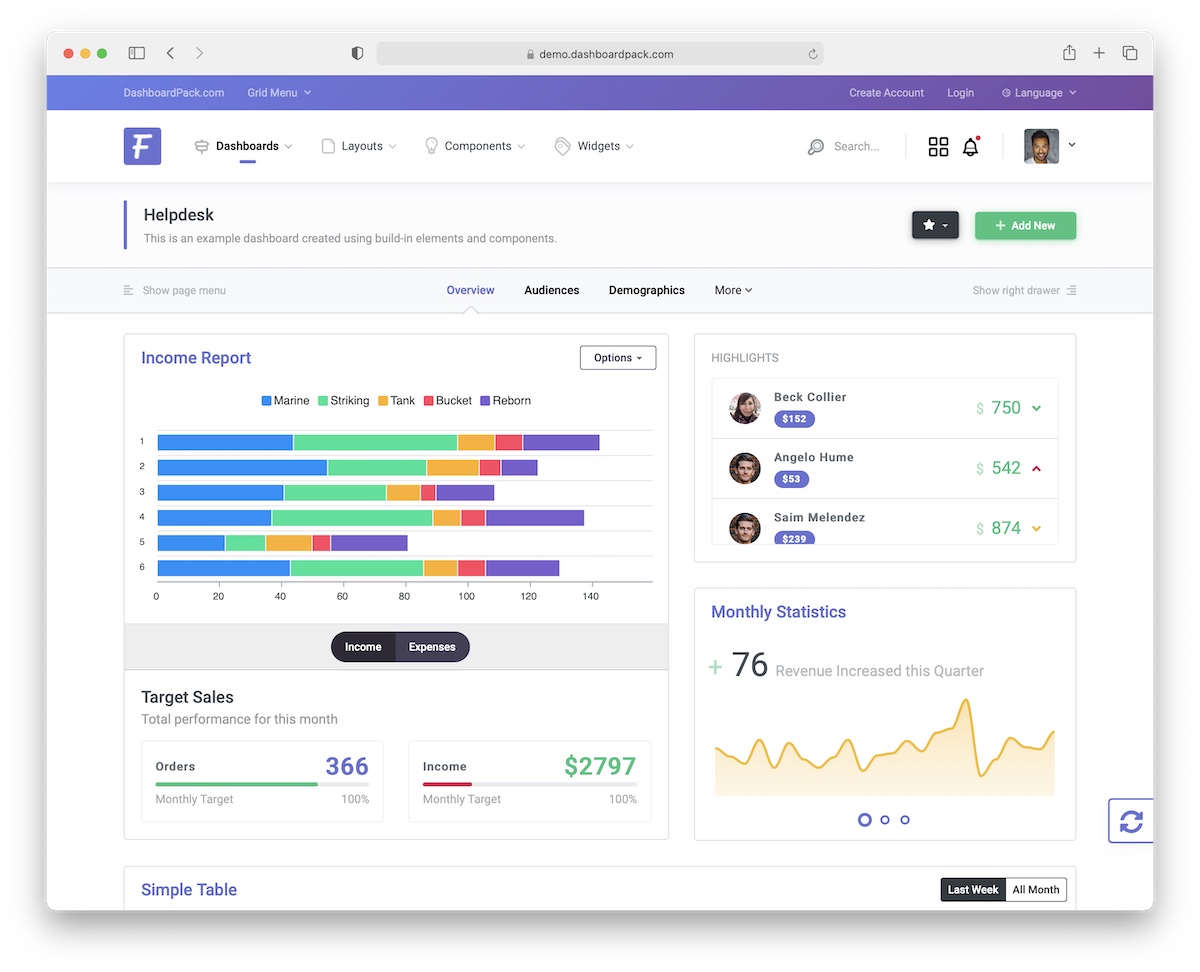 Fiori is one of the rare Bootstrap dashboards with horizontal navigation instead of vertical sidebar. If that's something you are after, this is the best alternative on the market.
You can put it into play right away and enjoy all the very many features that it sports. Save time and energy but keep your professionalism at an all-time high.
Fiori also treats you to many different color styles and quick options to make instant adjustments. What's cool, you can preview all the goodies and effects by heading over to the live demo.
If you have any questions or suggestions, you can always share them with the friendly support team.
9. Sales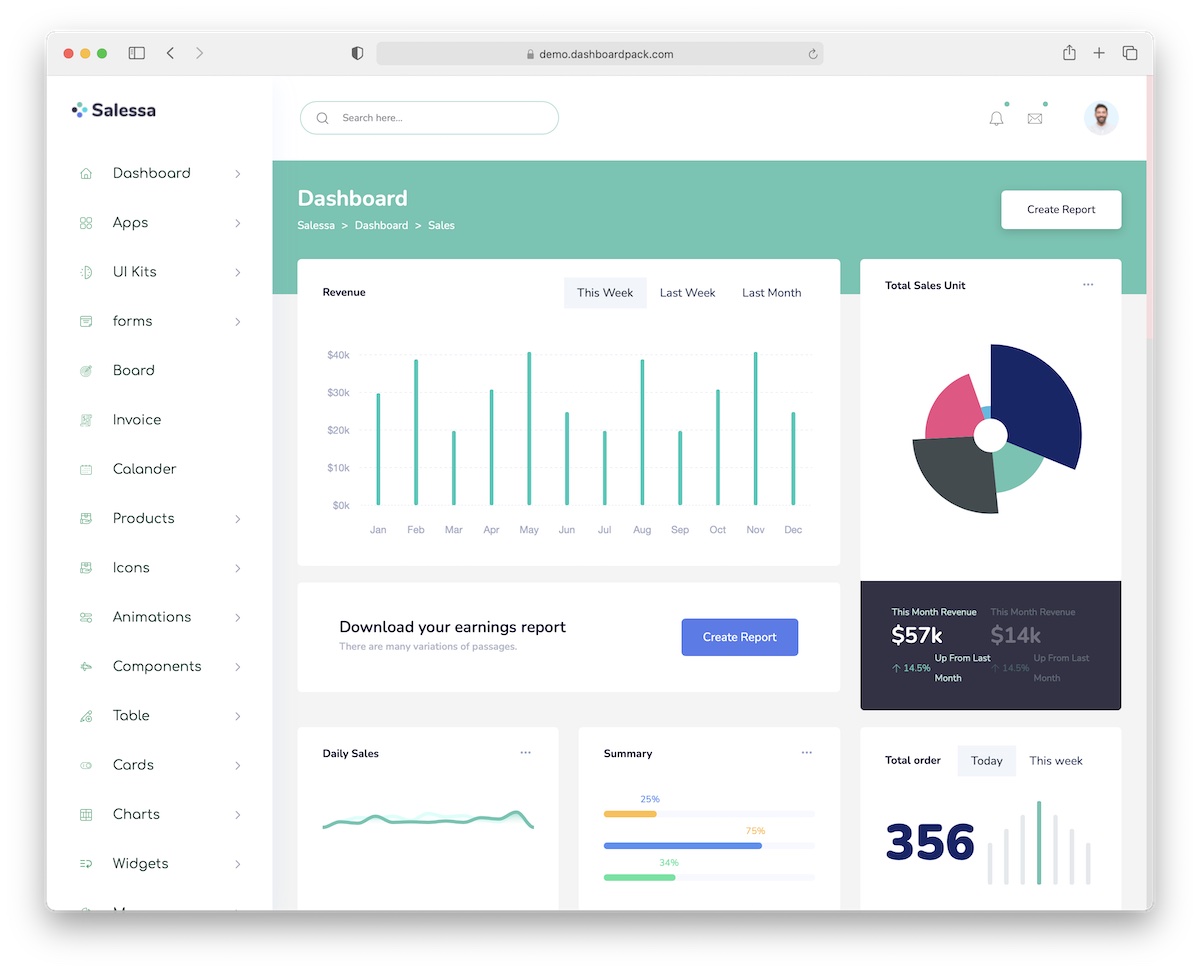 Gather all your organization's sales and financial data in one location – with Sales. It's a dedicated Bootstrap template for building an admin quickly.
You won't ever again need to start from square one with this collection of powerful dashboards.
By utilizing Sales, you will have a complete rundown of sales and other necessary data that will help boost your business to new heights.
Sales includes three main styles by default with heaps of other apps, forms, animations, components and cards.
The individual documentation files ensure you get the gist of all Sales elements, so you never face any inconvenience.
10. Analytic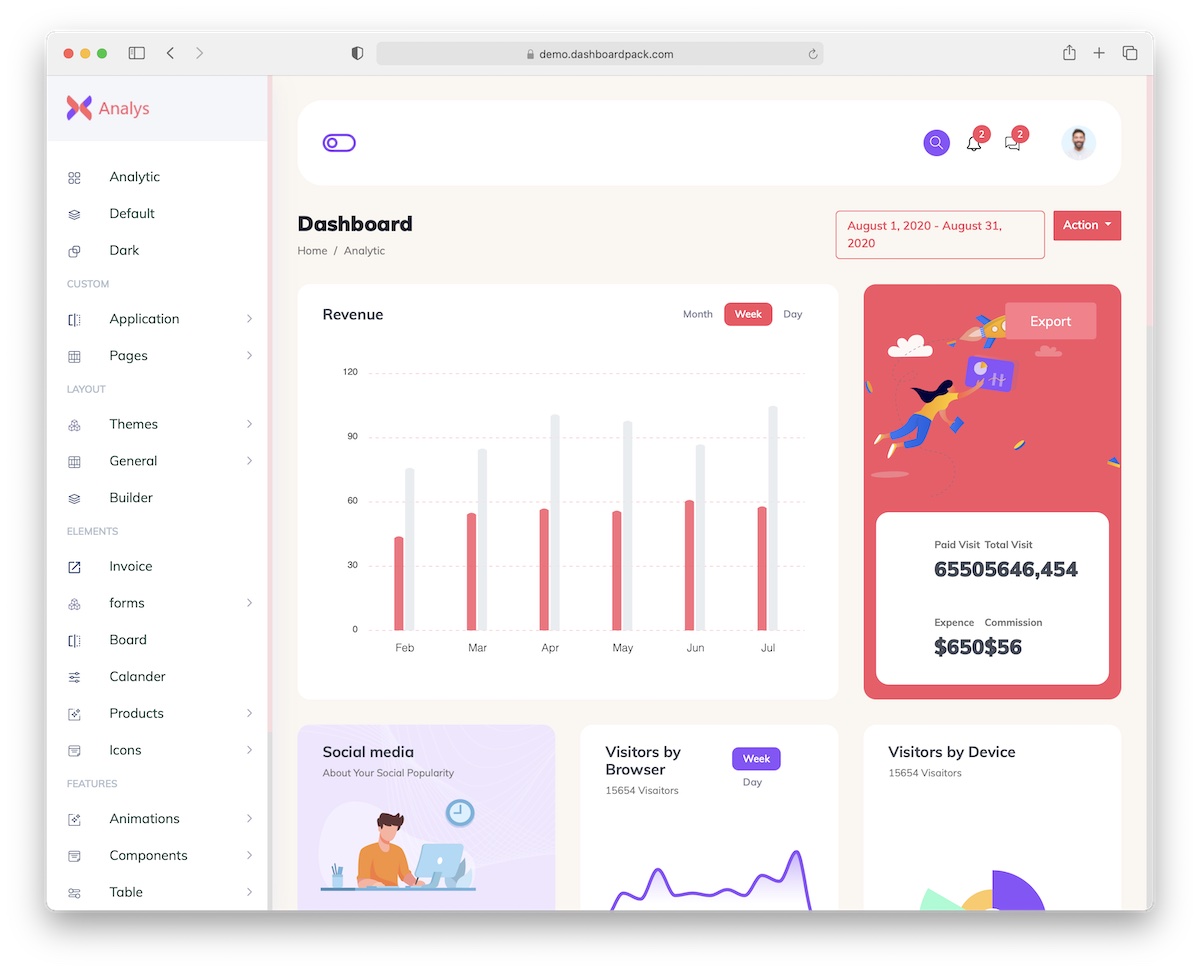 Do you want to create your analytics dashboard, so you don't have to rely on 3rd-party platforms? Analytic is the way to go!
A carefully designed and developed Bootstrap dashboard with tons of special elements, components and widgets to take to your total advantage.
We like the design of Analytic a lot. It's minimal with this mobile-first touch that makes it extra special. Speaking of mobile, the layout is 100% responsive, compatible with all modern devices.
Hurray for the exceptional performance. Note: Analytic is lightweight, making your admin load fast and not put a bunch of load on your server.