7 February, 2023
10 Best Free Dashboard Templates 2023
We don't necessarily go with a premium tool right away; rather, opt for a free dashboard template first and go from there.
Since not all free solutions are reliable, we decided to take the opportunity and share our top selections with you.
These are users' prove dashboard templates that offer plenty of options for your application or website.
Of course, you cannot expect complete creative freedom and multiple elements available with premium alternatives.
Still, these are great for working on quick prototypes.
Even if you are in the learning phase and want to master the game of admins, free versions will do you well.
Best Free Dashboard Templates
1. ArchitectUI (Vue)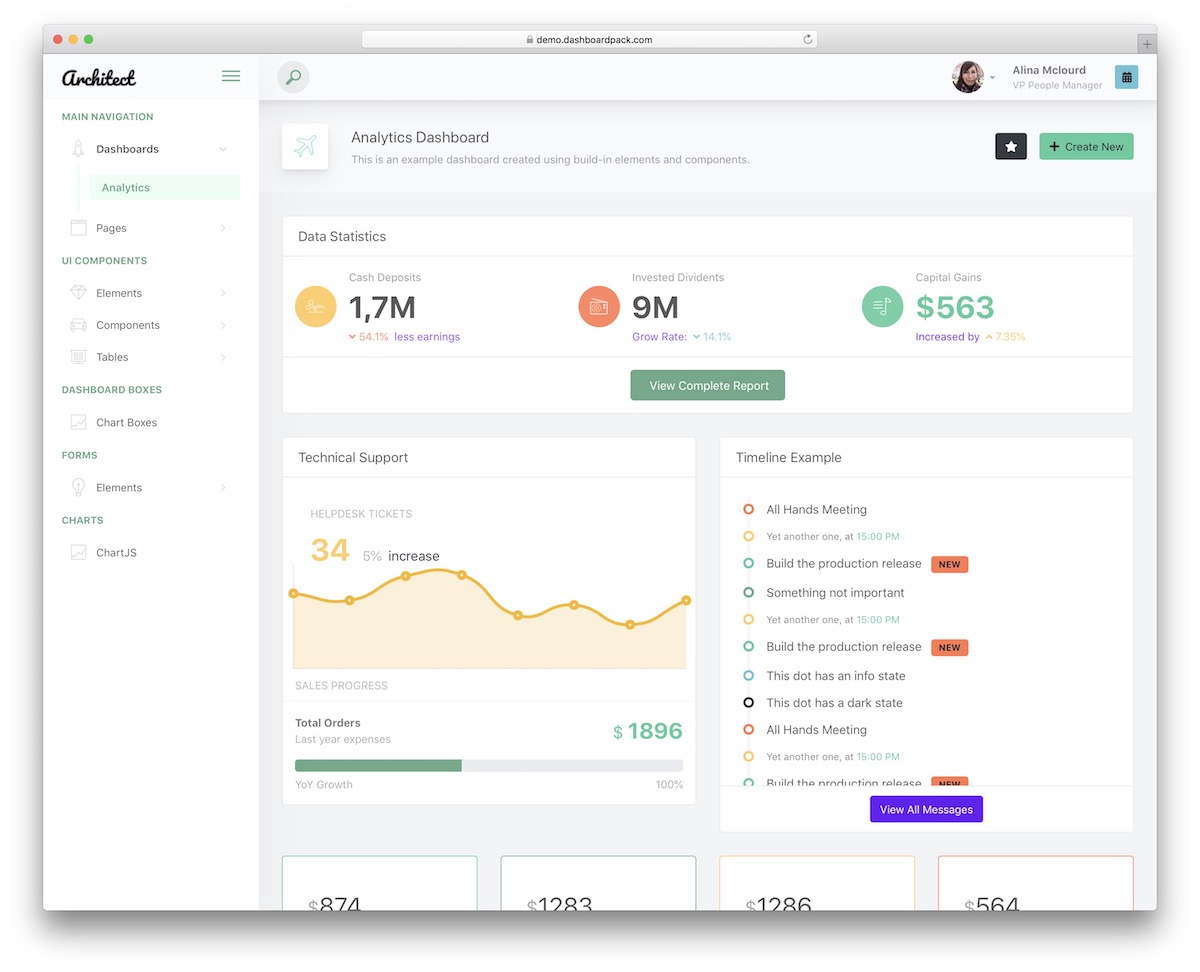 ArchitectUI comes in a bunch of different free variations for you. Let's start with our favorite free Vue dashboard.
As a free solution, it still offers you many predefined components to work with. There are fifteen at your disposal. Not bad for a free tool!
You can also work with various color skins, scalable assets architecture and simple layout modifiers. In true modern fashion, ArchitectUI is 100% mobile-friendly out-of-the-box. ArchitectUI uses Bootstrap 4 Framework.
You even get (limited) support, which applies to all DashboardPack templates. How cool is that?
2. ArchitectUI

ArchitectUI also comes in the Angular format, in case that's something that you are a fan of.
With its clean and minimal design, you can start working on your project immediately. And when you'd need even more material, you can always go one step further with the pro version.
As you'd expect, many limitations come with a free admin template, but that's not too big of an issue. After all, there are still many features at your disposal to put into play.
But first, do yourself a favor and see the live demo preview.
3. ArchitectUI (React)

Nope, not done yet with ArchitectUI. I told you it comes in different styles – this time as a free React dashboard template. The template uses Bootstrap 5, ensuring smooth adaptability to mobile and desktop devices.
You can easily adjust the free ArchitectUI template (like you can when working with the pro version).
What's cool, if you have any information about ArchitectUI React, you can always get in touch with the support first and download second.
ArchitectUI even comes with a free Slack channel and support forum. Start working on your project without spending a single penny.
4. ArchitectUI (HTML)

The HTML edition of ArchitectUI free dashboard template is just as powerful as the other three. It uses Bootstrap 4 Framework and gives you the power to perform some light customization tweaks.
Even as a free template, you can still brand it with your custom color choices. But you can also go with the ready-to-use skins.
ArchitectUI practices all the latest trends by default. It is responsive and cross-browser compatible, so you know the performance will be top-notch at all times.
You are ready to start working on your HTML admin panel with ArchitectUI right away.
5. Material

As the name implies, Material comes from Google's Material Design, which is where it gained inspiration from. With hundreds of thousands of downloads, you know that Material is doing something really right.
The free sample gets you sixty elements, two plugins and three example pages. The great coding structure also ensures you make adjustments quickly without the need to undergo any learning curve.
EVery detail, stat and information come into view smoothly when working with Material. But you can also experience its live preview first before you move forward.
If looking for a Material Design-inspired admin, THIS IS IT!
6. Light

You pretty much know already what to expect from Light. It is a free dashboard template with a clean and minimal design. But it does not miss a few creative touches here and there to spice things up.
It does not really matter what website or app you work on, Light is flexible and highly adaptable. In other words, make it serve your needs!
You can choose between six color options and play with sixteen elements and four plugins. Light even comes four example pages.
Con: I wish the author would update it at least once every year.
7. Paper

With over 100,000 downloads, Paper is one very large free admin template based on Bootstrap Framework. It is easy to use, perfect for beginner and professional developers.
With its mandatory features, you can create a dashboard quickly but when you need more, you can go with the pro solution.
Even though Paper may not receive regular updates, it's a tool you can rely on. And if you face any issues, you can always write them down in the comments section (on Creative-Tim).
Let the fun of development begin with the all-around Paper now. It's just a click away, anyway!
8. Argon

Argon is a pretty serious deal when speaking of free dashboard templates. It offers a whopping collection of over one hundred elements, four plugins and six practical pages. It also includes documentation and SASS files.
You'll quickly get the gist, mastering Argon and turning it into a great admin for your website or application. The amazingly positive reviews (4.9-star) based on hundreds of submissions show that Argon is here to stay.
Create your admin thing without wasting anyone's time, yours especially. Take charge, download Argon and get the ball rolling. Note: Pro version is also available.
9. Black

I like the free admin template the most, but only because black is my go-to color for EVERYTHING. So, if you dig a dark design, Black is the ideal solution to do you well.
It may be a more specific template, but it has already received over 40k+ downloads. Not bad. Not BAD AT ALL!
Black is a Bootstrap 4 template with two main versions, and sixteen individual components. You can configure the default settings and improve Black with your creative touches with easy work. It's a very user friendly solution, so even newbie can create great things.
10. Material (React)

We already included one Material template, but this is the React alternative. With over 500 reviews and 4.9 ratings, we knew immediately that we must pay close attention to it.
Also, Material React has over 130k+ downloads and ensures frequent updates (plus!).
Modify it or use it as-is, the choice is yours. Material's bundle consists of thirty elements, two plugins, seven example pages, five color filters and many other useful features.
What's great, you can create a few different variations by visiting the live demo preview and click on the settings wheel icon.