10 April, 2023
11 Best Bootstrap 5 Admin Templates 2023
Since you are considering using Bootstrap 5 templates, we made a list of our favorite ones public.
These are versatile enough to fit numerous applications, emphasizing admins and dashboards.
When you work on a new project, you don't need to start from square one. Instead, choose a ready-made solution that saves plenty of time and effort.
Moreover, all the coding, improvements and other whatnot you plan to do to these Bootstrap 5 templates will be easy even to an utter beginner.
You can enjoy the different designs, elements, responsiveness, and other specialties of free will.
Enjoy each tool's creative freedom and develop your new application A LOT quicker.
Best Bootstrap 5 Templates
1. ArchitectUI – Bootstrap 5 Admin Template
ArchitectUI is the most popular Bootstrap 5 admin template with over 10,000 users. It is easy to customize to match your brand. ArchitectUI is well-documented and well maintained making it a great option for ongoing development.
2. 1Dastone
Dastone is an all-in-one template for creating admins and dashboards for different applications. You can choose from different layouts, enjoy the dark mode and even use Dastone for RTL languages.
Other neat features are analytics, project and eCommerce apps, form validation and invoices with a print button, to name a few. Even when it comes to customizations and improvements, this is the template down for any challenge.
You can now track the performance and monitor data conveniently from one location. There are already over 400 users who are actively benefitting from Dastone. We highly recommend it.
3. Minible
Minible is a powerful Bootstrap 5 template with all the necessary to create a practical admin panel. You can opt for light or dark mode, create an RTL version, make modifications or go with the out-of-the-box version, the options are very many.
The layout is in perfect harmony with all modern devices and platforms. In short, the performance of your dashboard will always be top-notch.
Even if you are a beginner developer, you will still enjoy great success with Minible (other templates, too!).
Save time but keep your professional workflow intact – that's what's up when speaking about Minible.
4. Skote
Skote is an HTML and Django admin template based on Bootstrap 5 to give you the modern tool you deserve. There are multiple styles, but you can also go one step further and introduce your touch through customizations.
Light, dark and RTL are the main layouts you get. Yes, Skote is fully compatible with translation. In addition to that, you can also select from different sidebar options/positioning.
Still, this is only a small segment of the goodies that Skote promises. You can even view its live demo preview first before fully committing.
Make a difference with confidence.
5. Affan
If you are searching for a mobile template based on HTML and Bootstrap 5 (PWA-ready), Affan is one of the reliable options.
The tool has a modern look with many creative touches, ensuring a great atmosphere.
You get stuff like dark mode, RTL compatibility, over forty pages, and over 200 elements. Affan is packed with practical elements that you can mix and match.
Not just that, but Affan accepts modifications, too. It's all about creating the exact mobile-first website that you want.
We also like Affan's regular updates, which keep the template operating smoothly for years.
6. Chatvia
Hence the name, Chatvia is a Bootstrap 5 template for creating your chat app. How cool does that sound? Instead of building it from square one, save many hours by employing Chatvia.
You get predefined log in, sign up, lock screen and chat designs with many other practical features. You can also choose between dark and light mode, even use Chatvia to create a chat app of RTL writing languages.
Some other goodies come in Google fonts, Remix icons, extended documentation and Sketch files. You now have the freedom to create your chat application – quickly!
7. Muze
Muze is a flexible multipurpose Bootstrap 5 template for creating front pages for agencies, clinics, portfolios, magazines, online stores, and studios.
Along with main demos, you also get plenty of internal designs, even blog-ready templates. There are a total of over thirty layouts that you can work with.
Muze is here with one main objective: to speed up the development of different websites. Even if you work on multiple projects simultaneously, you'll still greatly benefit from Muze.
One tool to rule them all. (Yes, I'm a LOTR fan!)
Source files, documentation, support, it's all available to get you going in the right direction right from the get-go.
8. Sandbox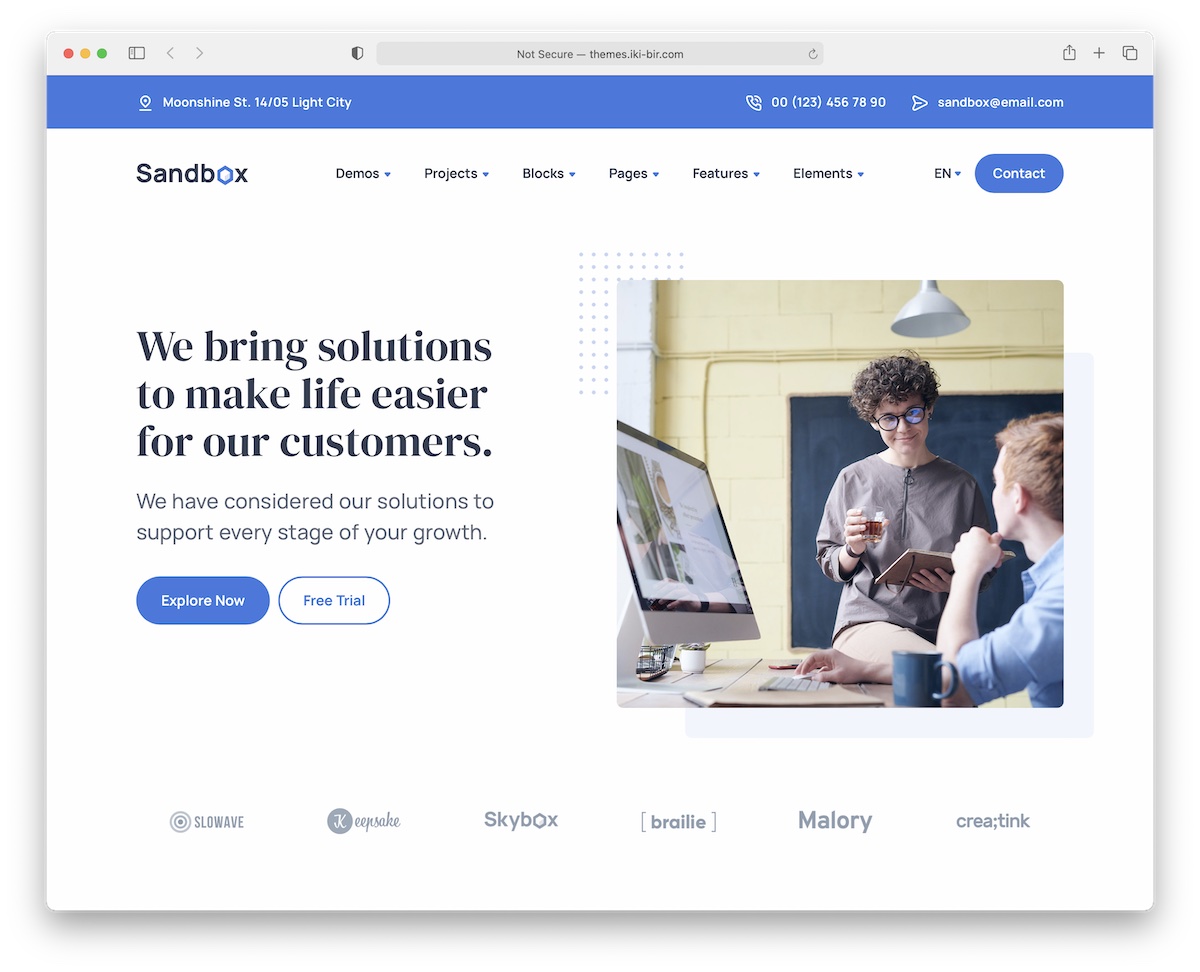 Sandbox is another multi-functional Bootstrap 5 template with two hundred elements, seventy blocks and eighty pages. Yep, you read that right – this tool is no joke!
Full of practical material that you can combine into one powerful website. Sandbox is also very cheap for how much stuff in contains and it also rocks sales quite often.
The default design is also very light and minimal, working great. This ensures you save even more time, but you can always perform modification tweaks.
Note: If you plan to study the live demo further, be ready, as it will take quite some time to go through EVERYTHING.
9. Fastland
Create a landing page from startups, agencies, products, freelancers, and more with the easy-to-use Fastland. This Bootstrap 5 template knows no bounds, unlocking the real potential you deserve with a website.
The kit consists of eight landing pages and over sixty other layouts, so you know Fastland has something for everyone.
Scrolling animations, multi-level drop-downs, hover effects and Google fonts are some other highlights of Fastland. What's cool, you can also talk to the professional team for six months straight (free of charge).
Your landing page development journey is all sorted with Fastland. Do yourself a favor and enjoy this all-around template, even if working with multiple clients.
10. Eduadmin
For rocking a successful education website, a powerful admin is necessary. To your luck, Eduadmin is here to make things happen for you. It won't build a dashboard for you, but it will equip you with all the necessities that'll save you a ton of time.
Along with the dashboard section, Eduadmin also includes many front-end pages for building an entire website. Different layout styles, dark mode, RTL compatibility, regular updates, new features – Eduadmin is a serious deal.
It's also perfectly harmonious with Bootstrap 5, using only the latest technologies to ensure exceptional performance. Working with the code will also be a child's play.
11. Power BI Admin
Should I start by listing down some of the numbers that make Power BI Admin an insane Bootstrap 5 template? 400 UI components, fifty widgets, five color skins, 80 plugins, and thousands of icons.
So. Much. Stuff.
It's impossible to list everything that makes Power BI Admin extra special, so I won't. But I encourage you to view its live demo preview because it's something.
Power BI Admin is compatible with all modern devices, web browsers, and retina screens. Everyone will have a blast using it, regardless of the screen size. The code is also lightweight, ensuring fast loading speed.