24 September, 2023
10 Best Angular Dashboard Templates 2023
You can treat yourself to a quick and easy admin panel creation with our (best-of) free and premium Angular dashboard collection.
We put together this list to offer everyone the most reliable solutions.
You never again need to worry whether the dashboard will work as it should or have bugs and issues.
This especially relates to free Angular dashboards. (You never know what you get – UNTIL NOW!)
100s of components, different color skins, widgets, user-friendly base and responsive structure, these templates rock it all.
Save time, enjoy the development process and end up with a powerful dashboard like a champ.
Most Popular Angular Dashboards
1. ArchitectUI (Free)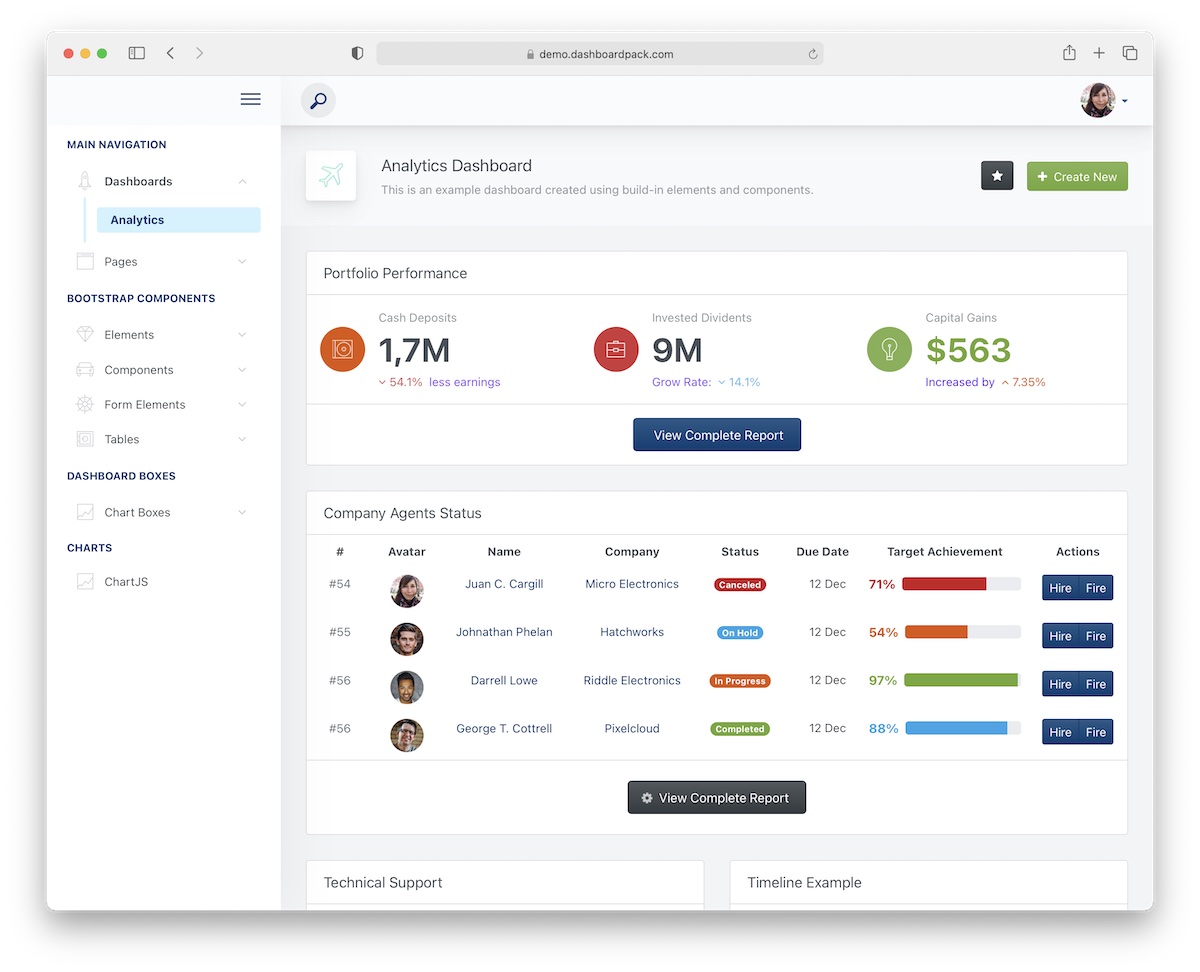 Since ArchitectUI comes in two versions, we want to kick it off with the free option first. After all, you can use it to test the waters, create prototypes and upgrade to pro at any time you want.
Why complicate things if you don't have to?
ArchitectUI, even though free, makes sure your dashboard comes nothing close to half-baked. It will be professional and sophisticated and you can quickly achieve this amazing result.
With a lot less effort than starting from the ground up. You also don't need to worry about responsiveness and compatibility with modern web trends.
2. ArchitectUI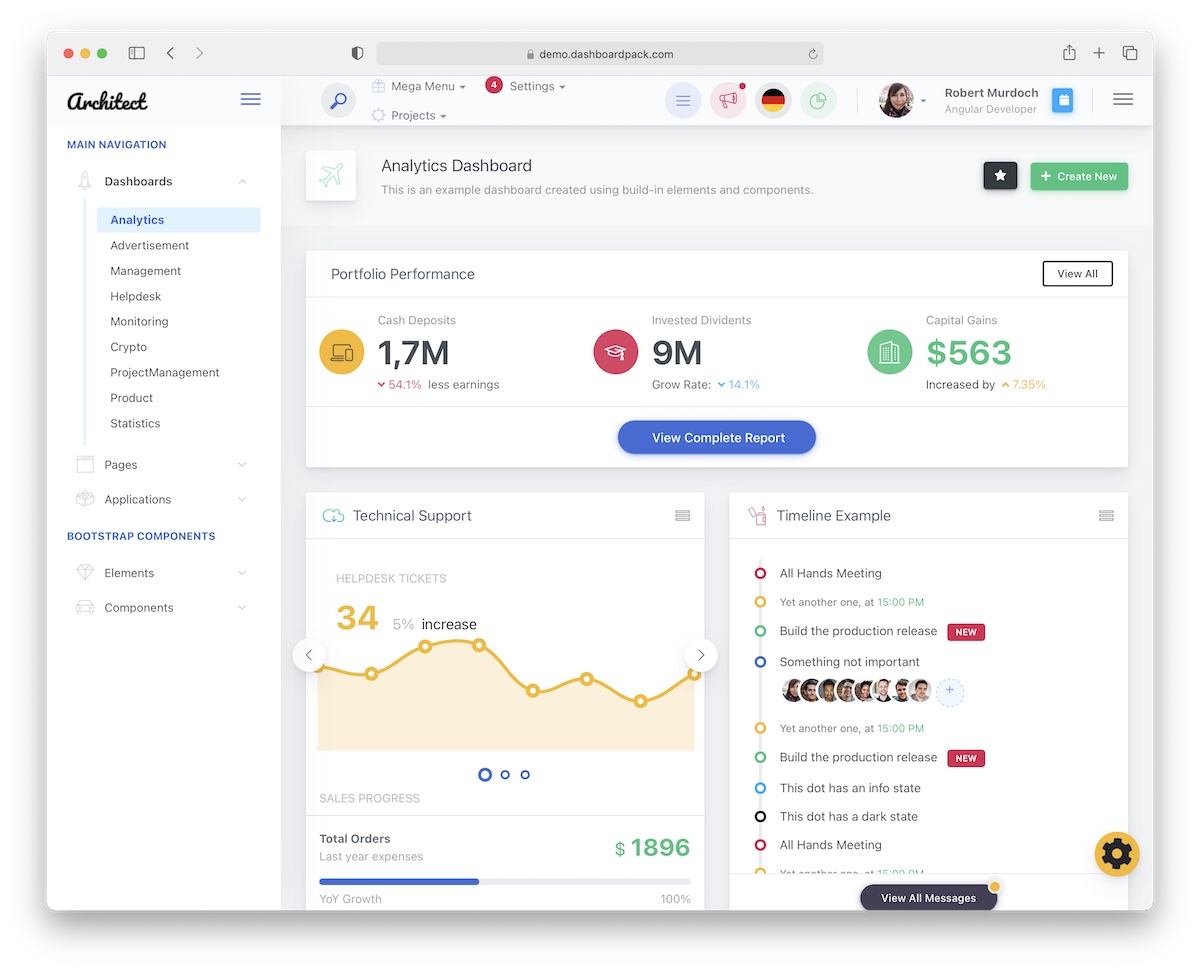 And here comes the premium version of ArchitectUI. This is by far our favorite Angular dashboard for a good deal of reasons.
First, you get a collection of nine different dashboard styles. You can create admins for analytics, monitoring, statistics, advertisement and more just with the ready-to-use demos. But the possibilities go way beyond that.
Second, ArchitectUI treats you to more than two hundred components, all entirely editable and adjustable.
Every user also gets extensive documentation and a friendly support team, so you don't feel alone when developing your next big project.
If you are ready to make a difference, you are ready for ArchitectUI.
3. Material

With over three thousand downloads, Material is a serious Angular dashboard to sort out your admin. It uses Angular 10 and based on Bootstrap Framework, ensuring great performance and ease of use.
Whether working on a simple or a complex application, you can employ Material for both. All the hundreds of elements, plugins and example pages work in complete harmony.
Still, if you plan to make improvements and adjustments, you are welcome to make it happen. You only really need the basic understanding, all the rest will flow seamlessly.
Enjoy!
4. Material (Free)

Material is also one of the Angular dashboards that comes as a free option. Unless you know what you want, you can kick-start your project with the free solution and upgrade to pro when necessary.
Even though it does not come with hidden fees, Material still contains sixty elements, two plugins and three page layouts.
Documentation is also part of the bundle, so you quickly find answers to any question. But people over at Creative-Tim are friendly enough to assist you with simpler queries in the comments section. Take charge and enjoy the process with Material. Now.
5. Paper

At a 4.8 out of 5-star rating, Paper is well-liked among hundreds of users. It has all you's want in an Angular dashboard, but it also surprises you with a few extras.
You can comfortably use Paper to work on several completely different projects simultaneously. While you can use and reuse the ready-made elements and layouts at free will, you can also step things up with your creative touches and twists.
When you decide to work with Paper, there should be no holding back. Meaning, use it to develop the exact admin panel you are after.
6. Light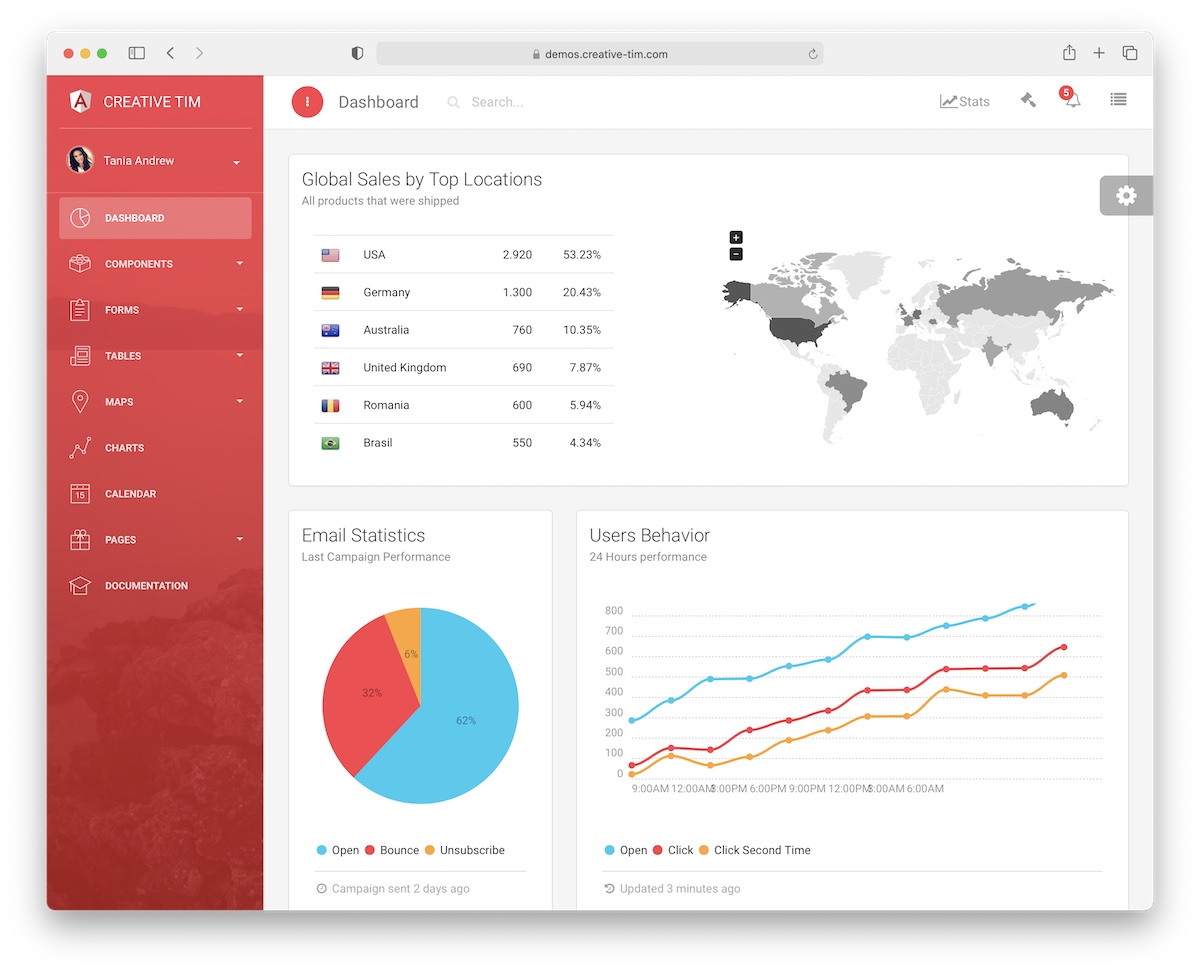 If you are one of those who strive for minimalist and clean design, Light is the way to go. This Angular dashboard is also light in structure, ensuring exceptional performance all the time.
Light practices only the latest technologies and even comes as a free version. If you'd like to quickly test it out, go free, but you can go pro as soon as you want. Unlock the endless features and take your application to the extremes.
We also find cool about Light that Creative-Tim developed it exclusively on user feedback and suggestions. Light was made by you!
7. Argon

Argon may be a little pricier at $89 (Freelancer plan), but all this comes for a reason. This Angular dashboard has a modern design coupled with two hundred elements. That's a lot.
There's more.
In addition to the elements, you also received a collection of seventeen plugins and 25 example pages. That makes the difference!
BUT. You still get more to operate with, modify and adjust to your heart's content. Colors, hover effects, styles, it's all part of the Argon kit, which you don't want to miss.
Thanks to Argon, start on the right path without getting involved from ground zero.
8. Black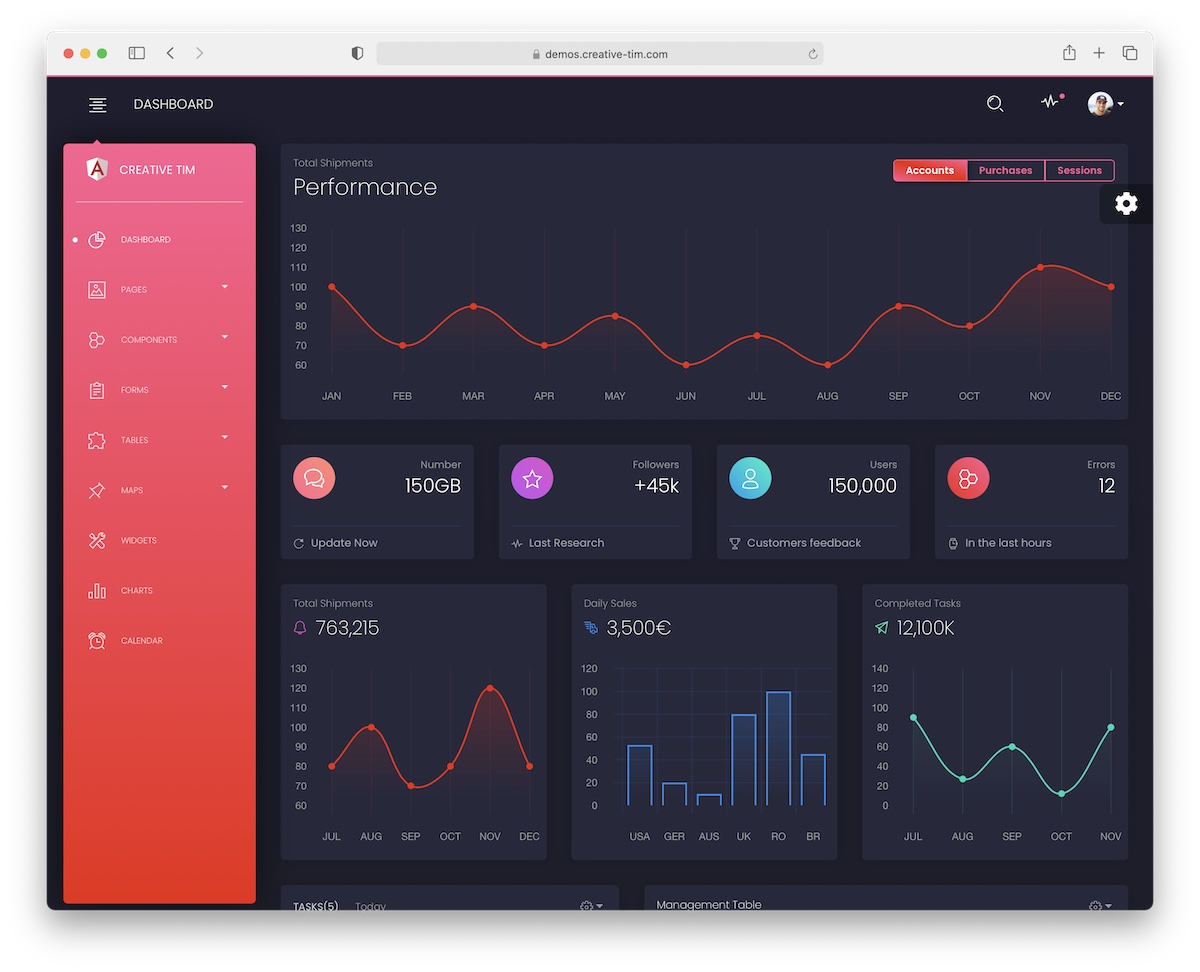 Even though the dark design may not be the most popular amongst Angular dashboards, here's one that covers all the users. There's a catch. Black also includes light mode. Yes, you ready that right!
Black also comes in two versions, free and pro. Just to get a better idea between the two, free has 16 elements and pro 160. 10x!
Moreover, when it comes to Black pro, you can choose between three pricing options, starting at $59. The Freelancer package supports one project, one developer and offers six months of support and free updates.
9. Now UI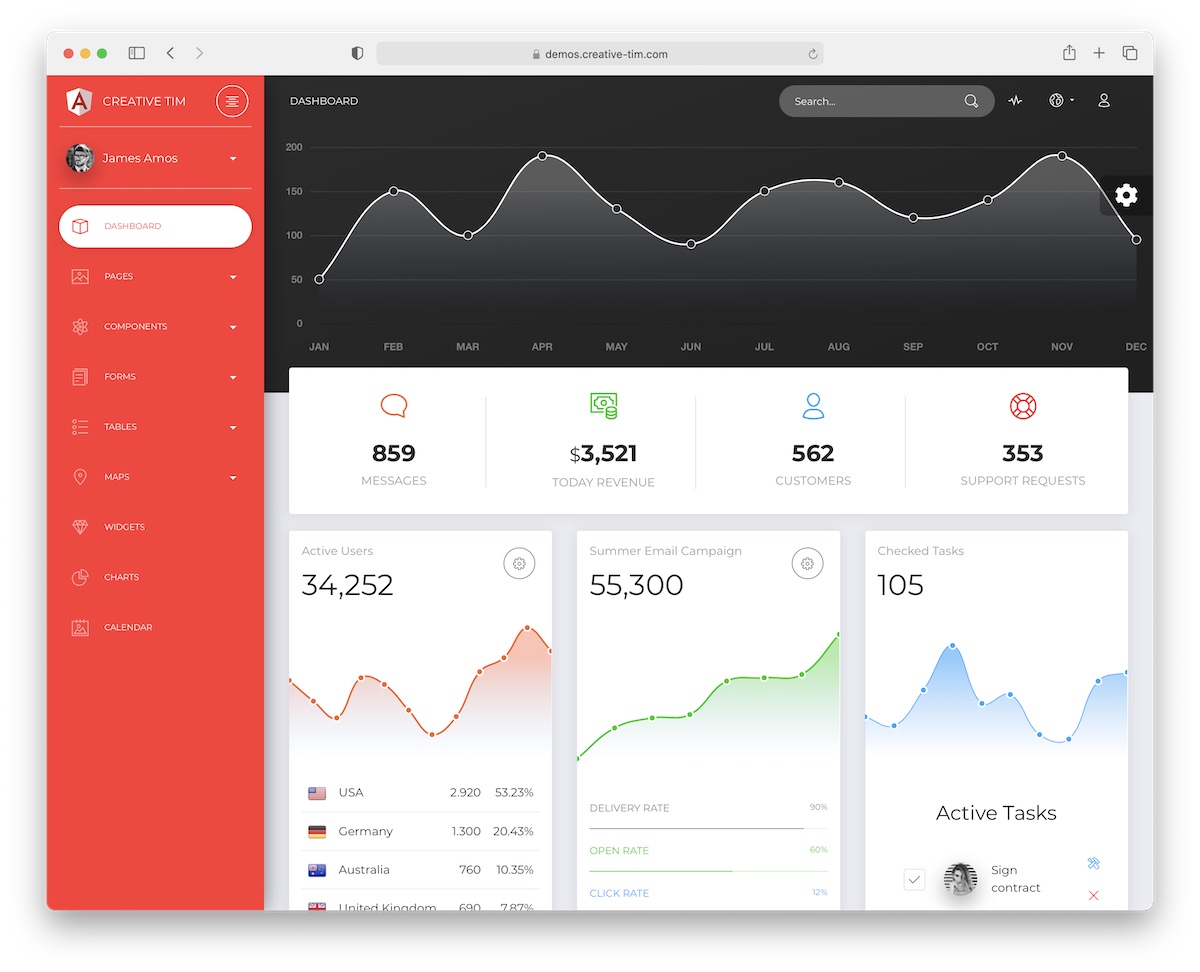 Now UI is a mix of great color selection and – even more importantly – fantastic features. Like all the other Angular dashboards on this list, Now UI is here to save you time and effort.
Boost your workflow to the next level with many components, plugins and pages. Now UI gives you the creative freedom you deserve to develop the admin panel you want. Just with a lot less work.
Have the dashboard do all the heavy lifting for you, while you only focus on reviewing stats and making the right decisions.
That's exactly what to expect when working with Now UI.
10. Notus (Free)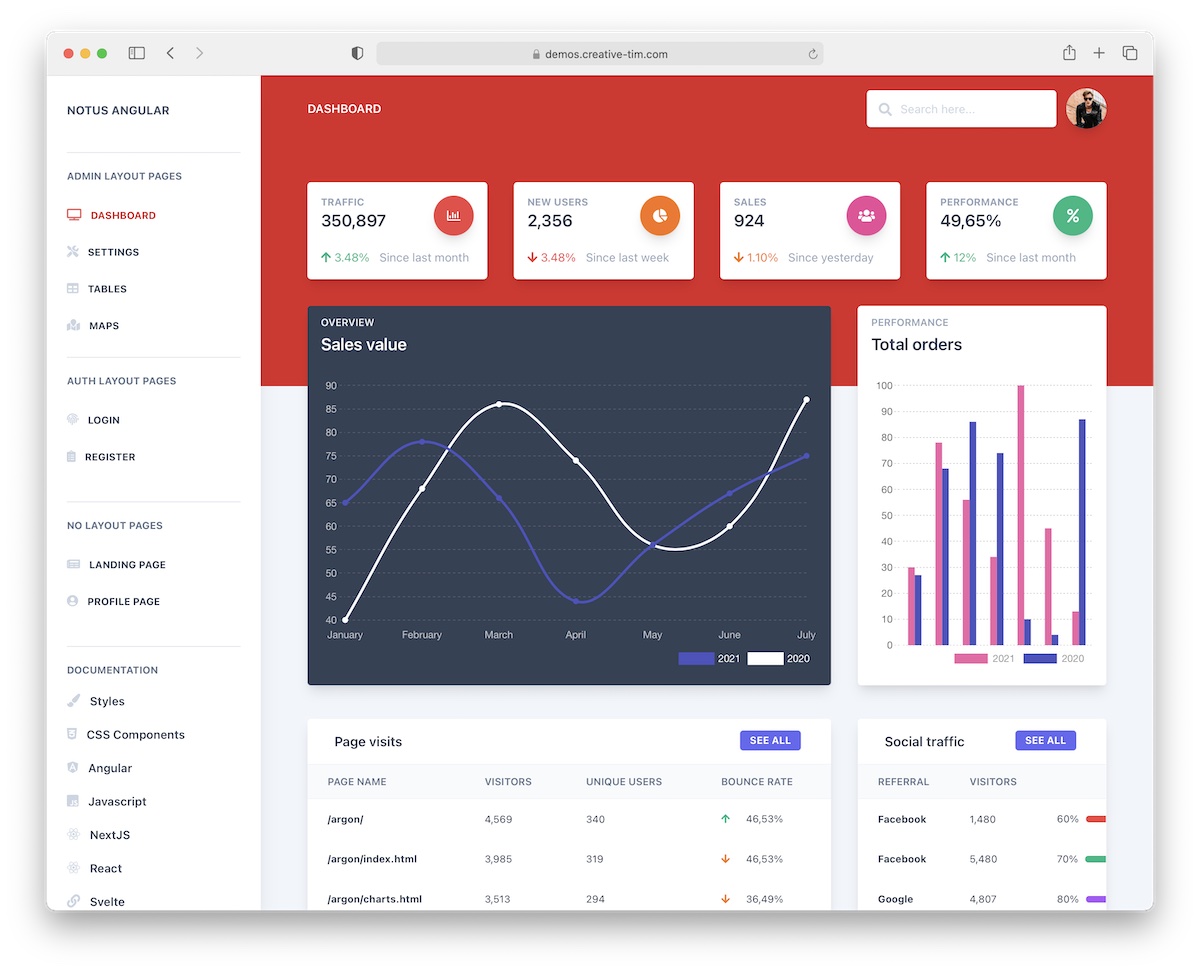 Here's another free Angular dashboard because we all know why. We like free stuff, that's why!
Notus is a fresh alternative with an A-grade design that ensures excellent data and statistics deliverability. Out of the box, Notus focuses on a more bright look with its neat color selection, but that's quickly configurable.
The template is a fantastic solution for all newbies diving into the dashboard building space. But Notus also handles the more advanced users and their switch prototyping.
Notus also has several example pages at your disposal, so you unlock yourself the chance to speed things up significantly.