15 February, 2023
8 Top-Class Free Angular Templates 2023
We bring you this extensive collection of the best free Angular templates because you don't always need to pay a fee when working on a new admin.
Even though certain limitations apply, these are the most reliable solutions we reviewed.
However, as free dashboards, each treats you to many great elements, components and layouts.
You even get a few color options and plugins to choose from.
Moreover, every Angular template fits the modern web trends with its responsive layout and the latest technologies.
Save time, effort and money, while still have a chance to build great things.
Note: Every template works great, but if you ever need more, you can unlock the goodies by going pro.
Start your web application development NOW.
Most Versatile Free Angular Templates
1. ArchitectUI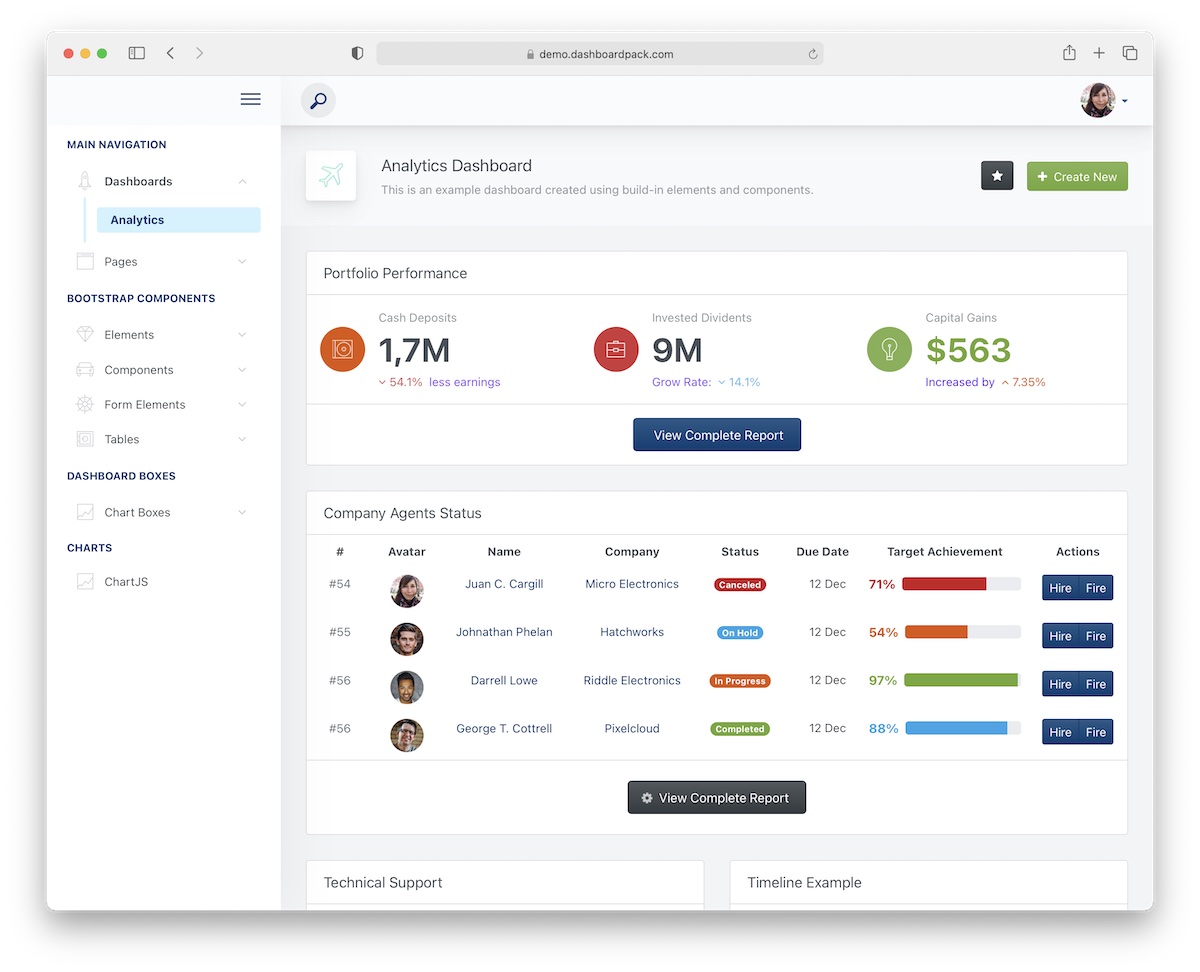 Let's kick things off with one of the most solid alternatives available today, ArchitectUI. You can immediately put this tool into play and start seeing things coming together shortly after.
The template uses Angular 11 and Bootstrap 4. The code structure is very beginner-friendly, as ArchitectUI aims to suit users of all skill levels.
Beginners and professionals are all welcome to join. Because even the basic coding knowledge ensures you a top-notch result.
What we also find beneficial is the ability to get in touch with the support team, which is uncommon for free templates.
2. Material

With a whopping 120k+ downloads (and rapidly increasing), Material is one giant free Angular template that will benefit you greatly.
The design is great, the features are many, what else you need? Of course, the process of modifying Material will also be a little breeze due to its newbie-friendly structure.
The look of the design is light, focusing on delivering a great experience no matter how many stats you'd like to monitor. Important!
To be more specific with features, you get sixty elements, two plugins and three example pages. Documentation is also available to experience an even smoother web app development process.
Material is BOMB!
3. Paper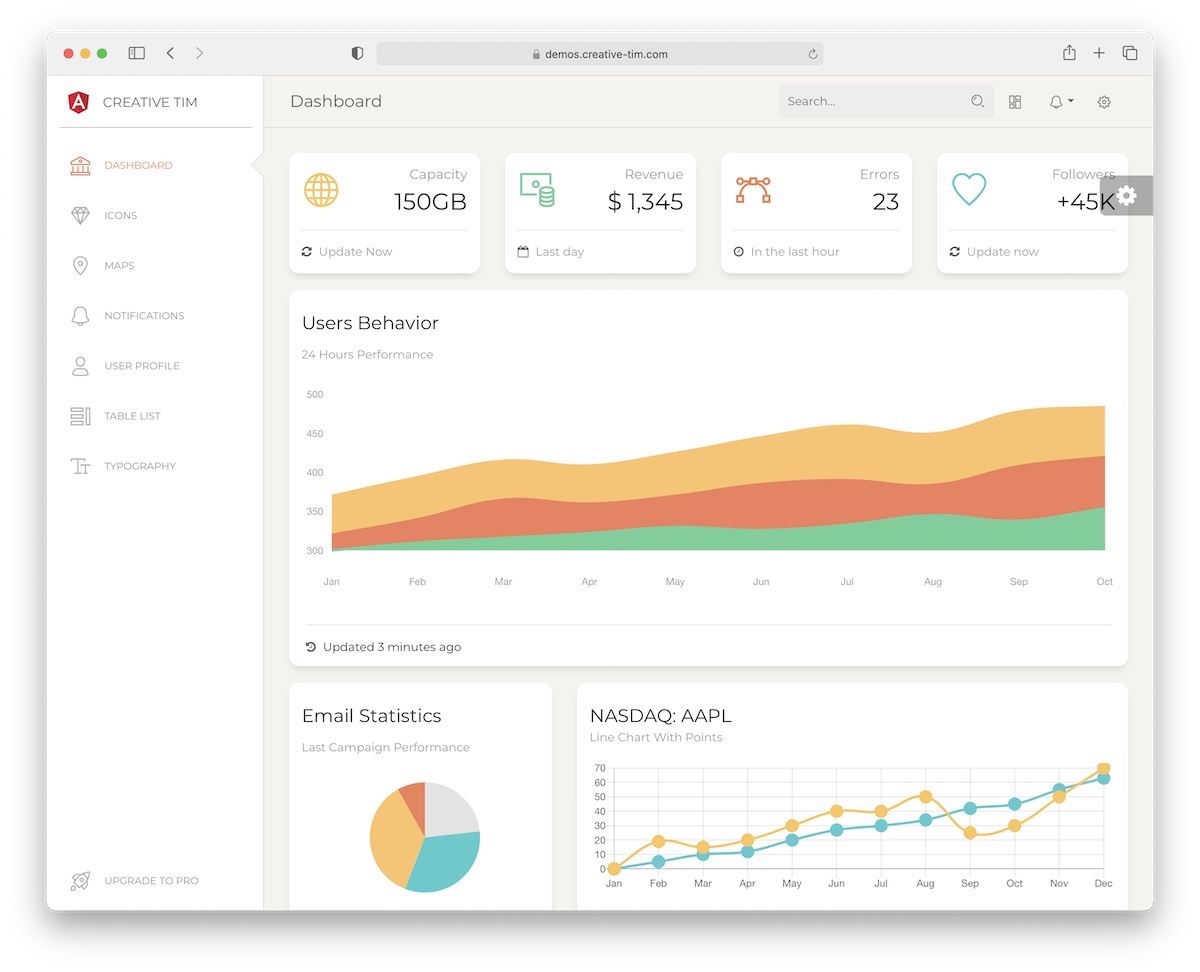 Paper keeps things on the more minimal side with its soft color scheme and white space. You can right away choose between five active colors and decide whether to go with a light or a dark sidebar.
This gives you more than enough options to find the right look. Additionally, you can also perform customization tweaks if necessary.
Use and reuse (or remove) any of the ready-made sixteen components. Couple them with the four plugins and save time with four example page layouts.
No need to start working on an admin dashboard from scratch. Pick Paper and see the magic happen.
4. Light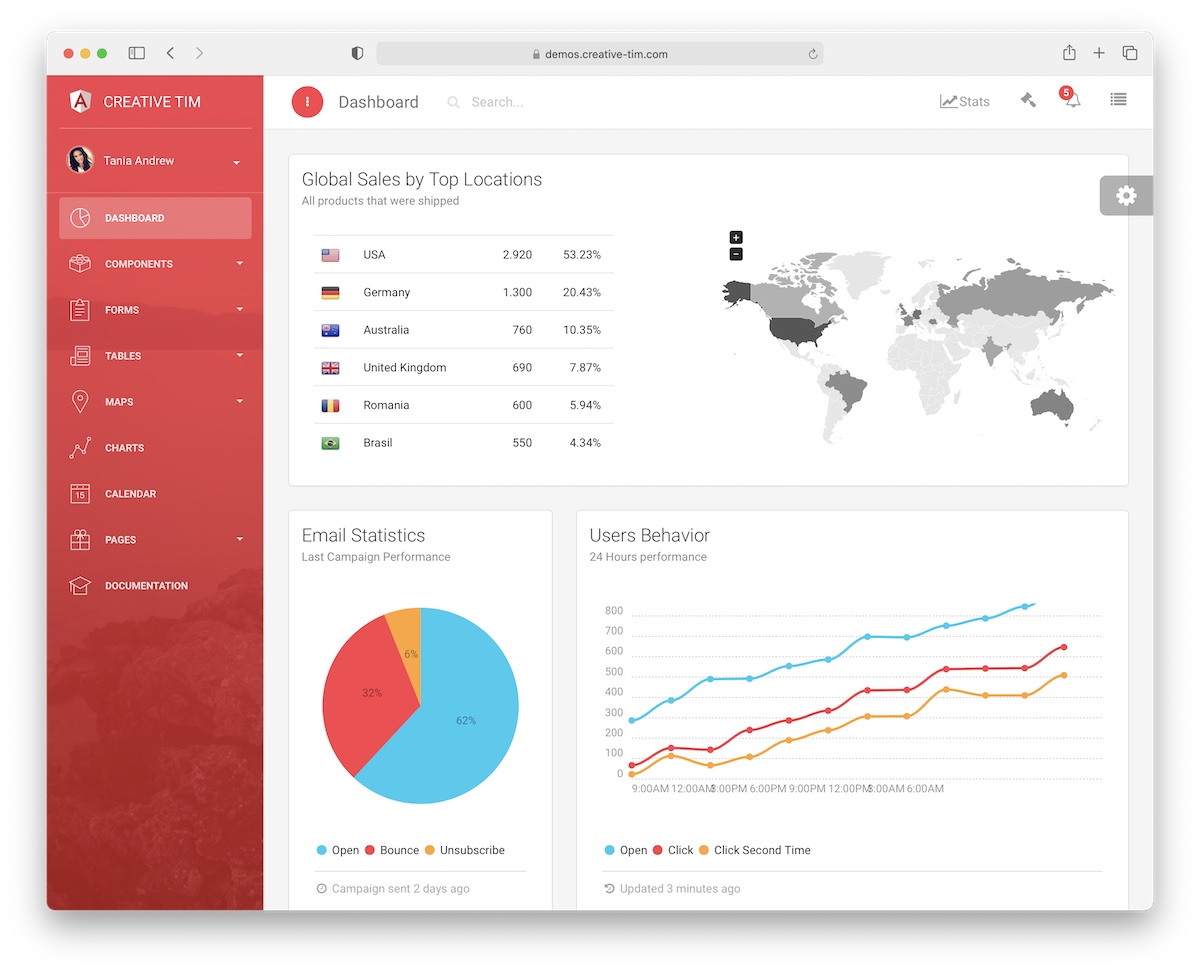 Light is a free Angular template combining a light structure with a light design fantastically. Despite rocking a few creative touches here and there, Light is best for all minimalists.
With Light, you and any other admin user enjoy fantastic performance. Light is compatible with smartphones, tablets and desktops, accessible anytime, anywhere.
Light is capable of handling many projects, app backends, CRMs, management systems and the list goes on.
Even though we advise you to stick to the default configurations (design-wise), which will produce the quickest outcome, you don't have to.
Enjoy.
5. Now UI

Now UI is another of our top free Angular templates picks for multiple reasons. Not only is it very popular amongst tens of thousands of users, but it's also packed with many valuable elements and components.
The kit contains Google Maps integration, notifications, tables, typography control and one hundred Nucleo icons. You can also work with predefined color skins and introduce your custom color scheme.
Hint: the premium support may not be available, but you can still write a comment on the product page. Someone will surely get back to you with further assistance. (But don't tell anyone.)
6. Argon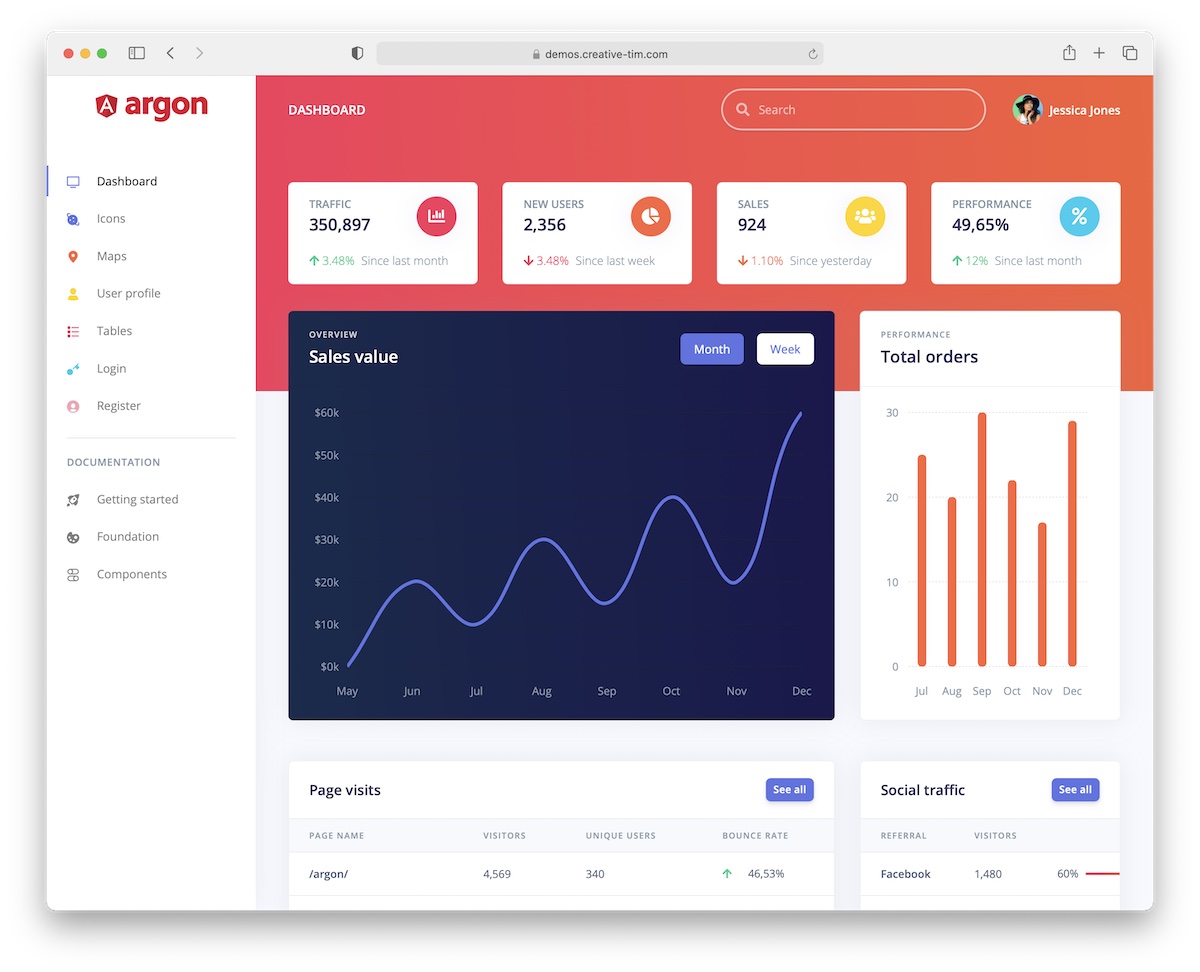 A combo of Bootstrap 4, Angular, one hundred elements and five plugins make Argon one of the finest free dashboard templates. Yes, that's 100 elements!
We immediately noticed the nice 4.9-star rating out of the 5 that made us want to learn more about Argon.
With the modern design and all the possible component combinations, you can quickly set up the first prototype. You don't even need to do any advanced editing just yet.
Of course, if you have a plan to make adjustments, you are welcome to do them. You can also work with the different example pages, so you don't build them starting from square one.
7. Black

Too many requests came for black Angular templates, so here you go. Black is the best option you can get your hands on, without paying any fees.
Black may be free, but it's more premium-like than anything else. Still, the difference between the free and the pro versions is almost 10x (in the number of elements you get).
Black comes with necessary updates that cover any bugs and fixes. Not just that, but you can also expect even more goodies to drop for your convenience.
Note: while Black rocks a dark design by default, you can also use the included light version.
8. Notus

Notus is slightly different from all the free Angular templates on this list. It's a combo of Tailwind CSS UI kit and admin.
Yes, you get heaps of material to work with on your next web application.
Heaps means 100 elements, three plugins and nine ready-to-use page layouts. Documentation and community support are also available, ensuring you approach and complete the development process more comfortably.
Judging by the downloads, Notus is the smallest of the bunch, but there's nothing small about it. Notus's design is one of our favorites, simple and bold.