8 February, 2023
10 Best React Admin Templates 2023
We bring you the most reliable React admin templates, so you don't have to do the tedious process of researching yourself.
Researching may be fun, but how do you know if the template will do the trick?
That's when we come into play.
You are all set for a successful dashboard creation with these promising templates.
We studied each tool carefully to ensure a collection that fits every user.
No matter what type of admin panel you plan to bring to fruition, these Reach templates handle them all.
Use the designs out-of-the-box or fine-tune them further; it all works.
Make powerful admin dashboards without a sweat!
Best React Admin Templates
1. ArchitectUI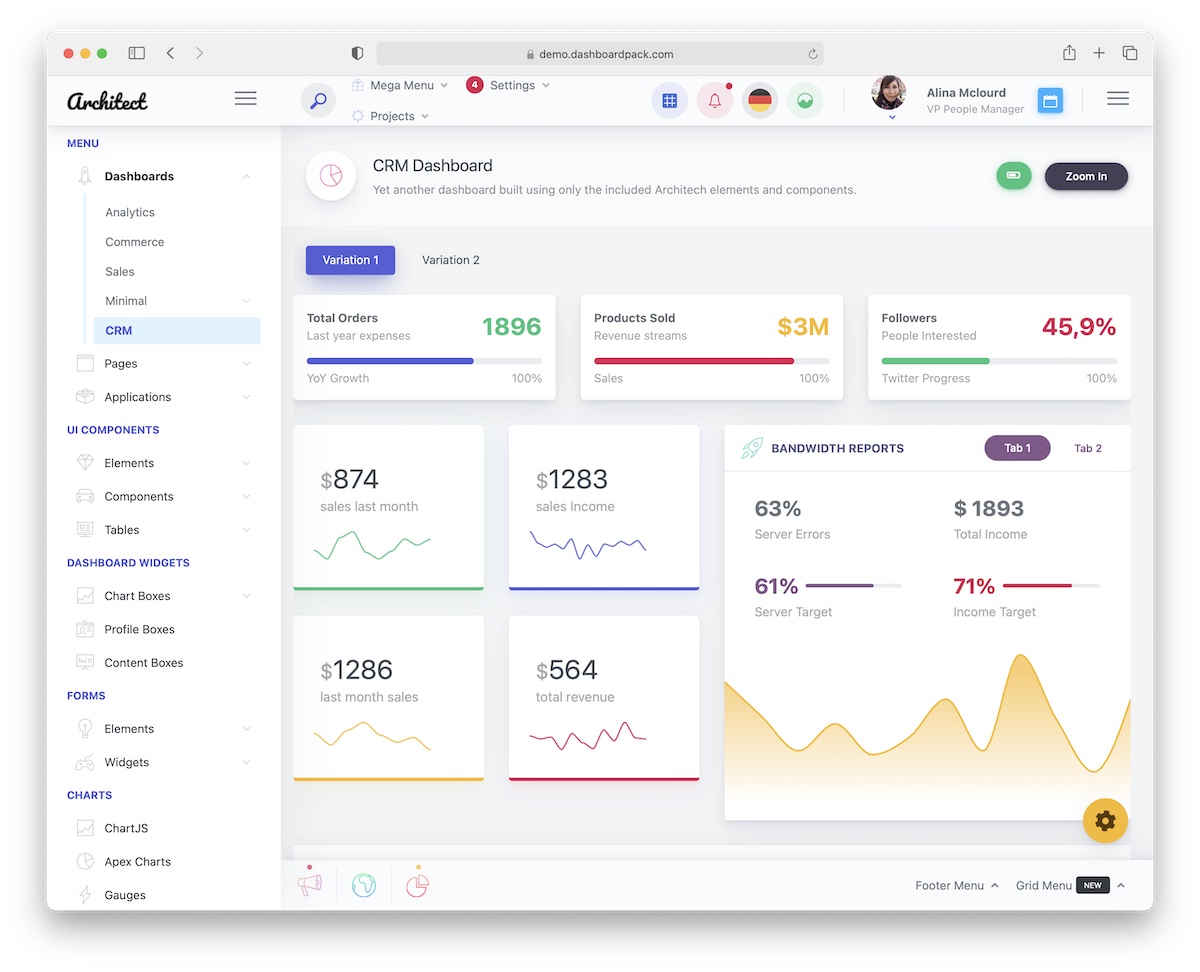 When working with ArchitectUI, you will notice all the amazing layouts, elements and components it includes. The tool ensures you quick development process to start with your new web app as soon as possible.
Sure, you need to have the basics in place, but other than that, you can be a beginner and still win the game.
You get five different dashboards, like analytics, commerce, sales and CRM. There are also multiple ready-to-use pages and applications for you to benefit from.
Along with all the elements, you also get tons of predefined color combos, optional fixed sections and more.
2. ArchitectUI (Free)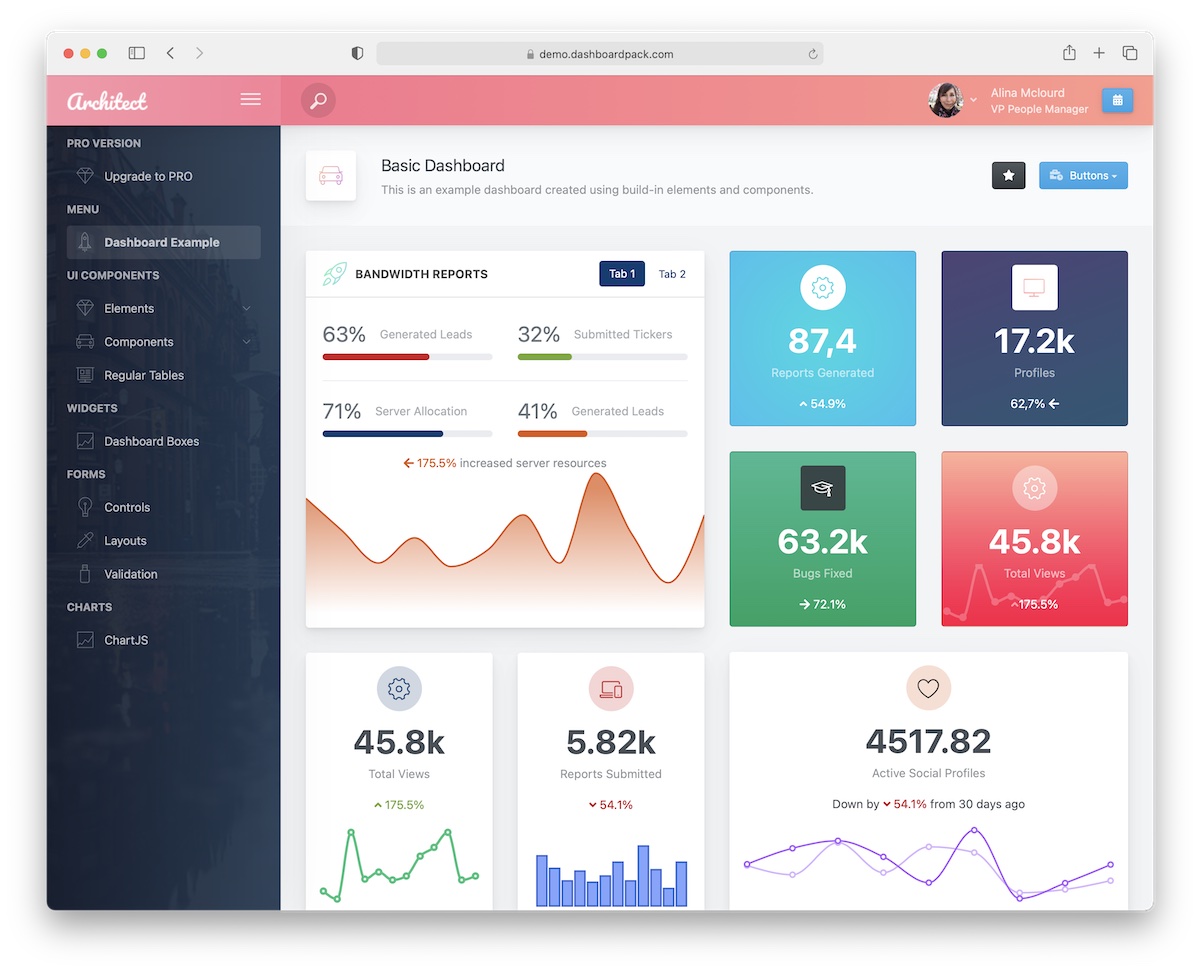 If you dig the style of ArchitectUI but would only like to use it for a quick prototype, here is the free version. With the pro version, you can even use this one to test the waters before taking the plunge.
ArchitectUI still delivers a nice portion of material and color schemes to mix and match. All that's available is also customizable. You can improve the default configurations, making ArchitectUI look how you want.
Its basic support is also cool about the free version of ArchitectUI. No too common for free digital items available on the internet.
3. Material

Material is an up-to-the-minute React admin template with a whopping collection of two hundred elements. This tool is a serious deal for serious users. But you don't need to be seriously skilled.
Additionally, Material treats you to ten plugins, eight example pages, preset color skins and excellent documentation.
When fully committing, you can start with the Freelancer package for $59. Unfortunately, it supports only one project, so if you need more, you need to go with the Company option (supports unlimited projects) at $149.
Of course, you can also pre-test it first and see how well it performs by heading over to the live demo preview.
4. Material (Free)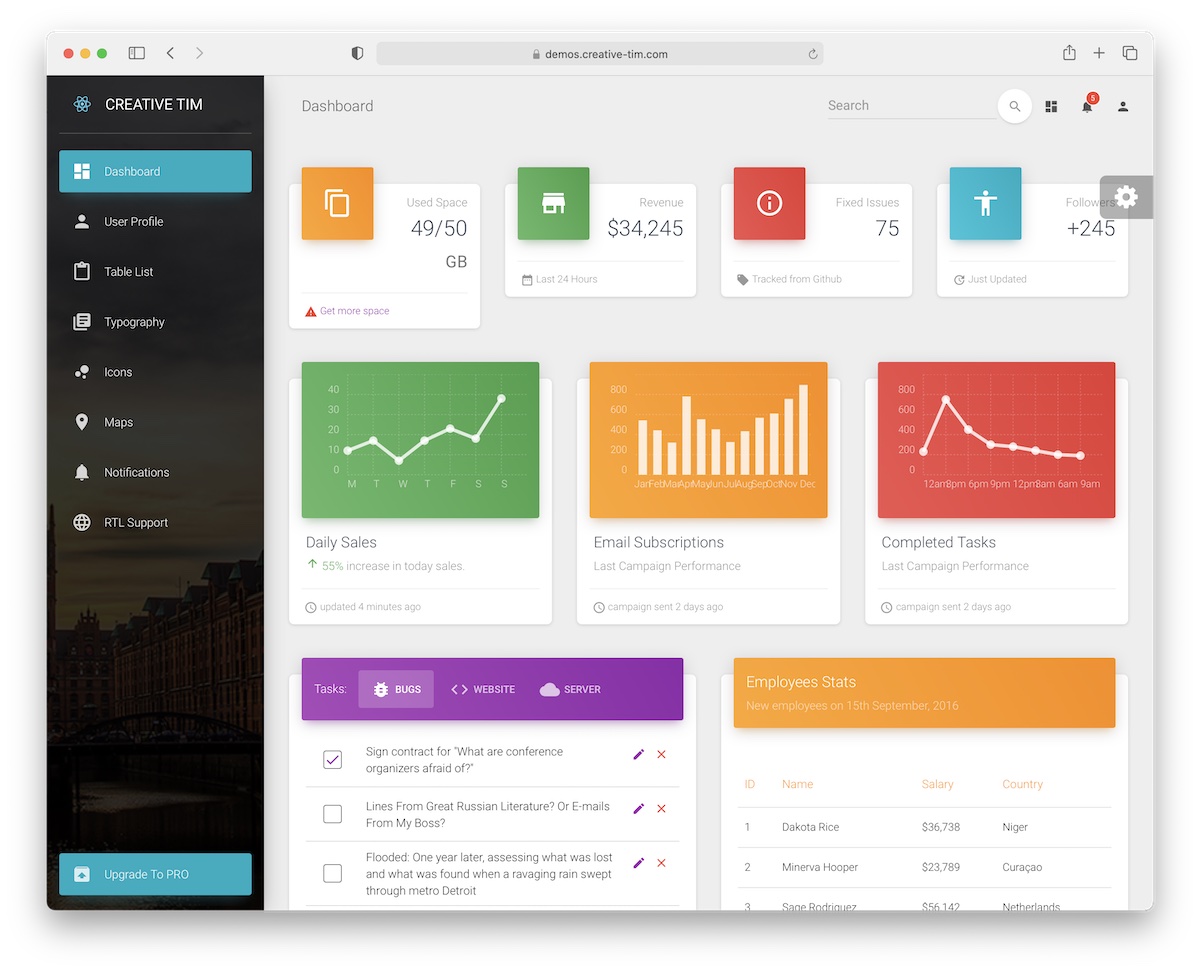 Instead of just testing Material by reviewing the live preview, you can take it one step further with the free version. This one is available to everyone.
Even though it comes with a lot less features, it's still a solid start – especially for beginners. After all, Material has well over 130k download and high ratings, so you know it delivers.
As the name suggests, Material also rocks the Google's Material Design style. So if you're a fan, you just found your tool to start with the development process. For free!
Last but not least, Material free also ensures regular updates to run smoothly for years to come.
5. Light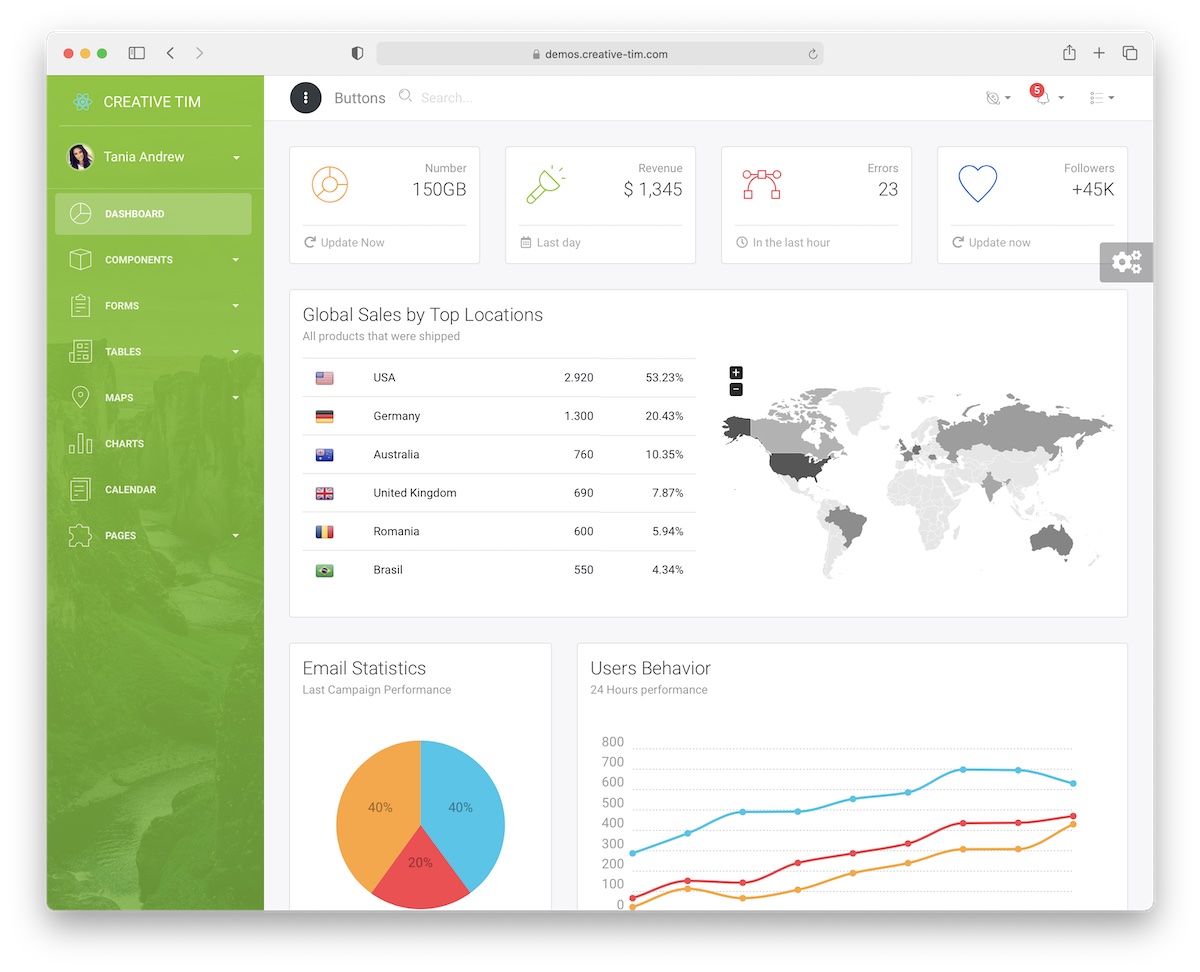 Light equipts you with a light design and structure, together ensuring a superb performance and user experience. It is based on Bootstrap, so you know mobile and desktop adaptation is on point.
Light is a little more limited than other React admin templates on this list. Why? It's main goal is to supplies only the most necessary components and elements.
Of course, this also makes it cheaper than the rest. If you dig it minimal and don't feel paying the premium price, Light is one tool that will do you well.
6. Light (Free)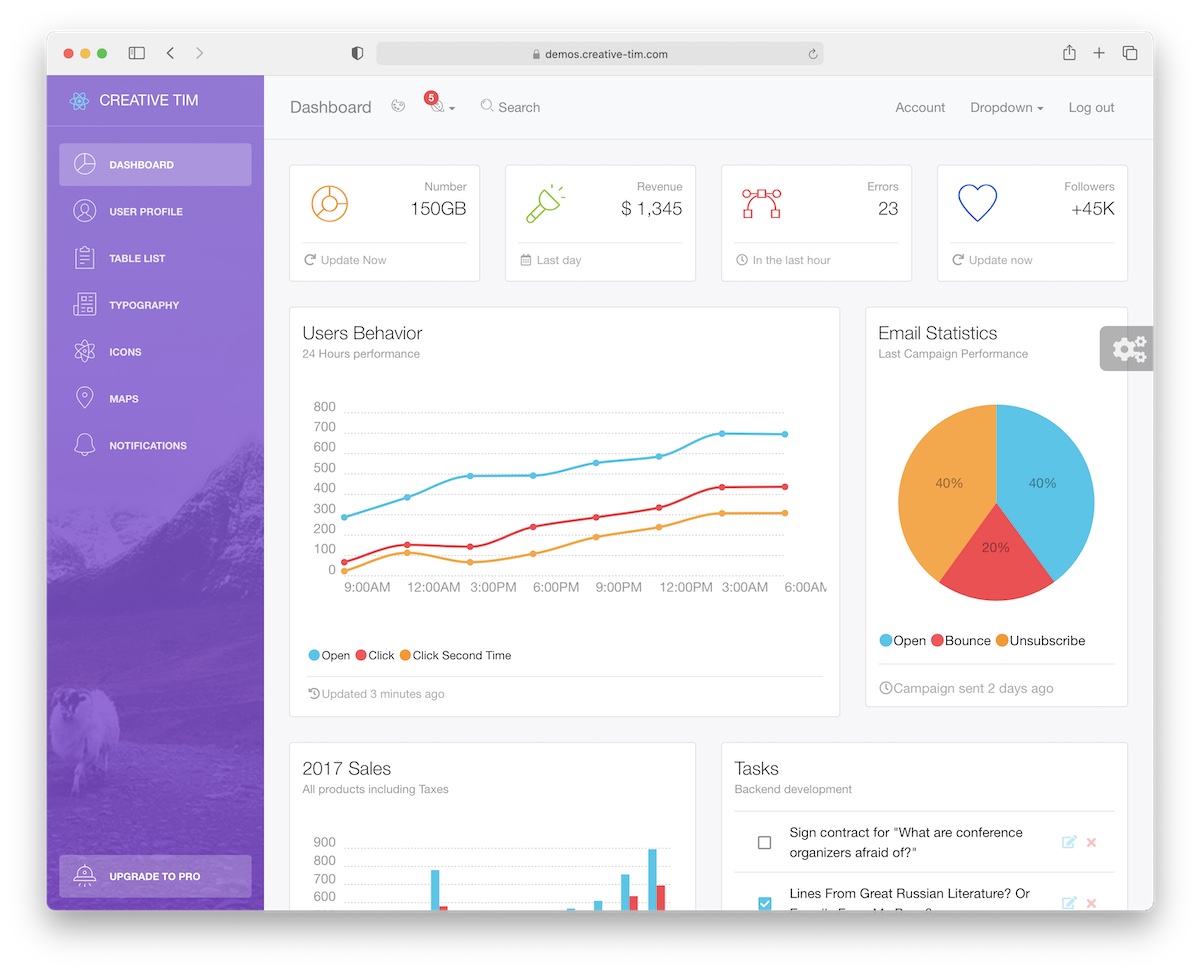 BUT. You don't necessarily need to pay for Light dashboard. Instead, you can opt for the free solution, test it out and later decide what you want to do next.
Tens of thousands of downloads prove that Light is a free React admin template that supports many projects. You can use it for project management systems, admin panels, CMSs and more.
We like the fact that you also get quite a few styling options. From filter colors to optional sidebar image, let Light make your admin special. Which it will!
7. Black

Honestly, I am stocked that Black ended up on this list of the best React admin templates. All dashboard templates are predominantly light in design, so it's great seeing a dark alternative. And that's exactly what Black is.
Surprisingly it also has a light mode. Just in case, I guess?
You can also select from five color options, optional mini sidebar, 160 elements and fifteen plugins.
Black is also fully coded with beginners in mind. Even though the process is simplified, extensive documentation and friendly tech support will answer all your questions.
Make it dark, or don't make it at all. (That was a joke.)
8. Argon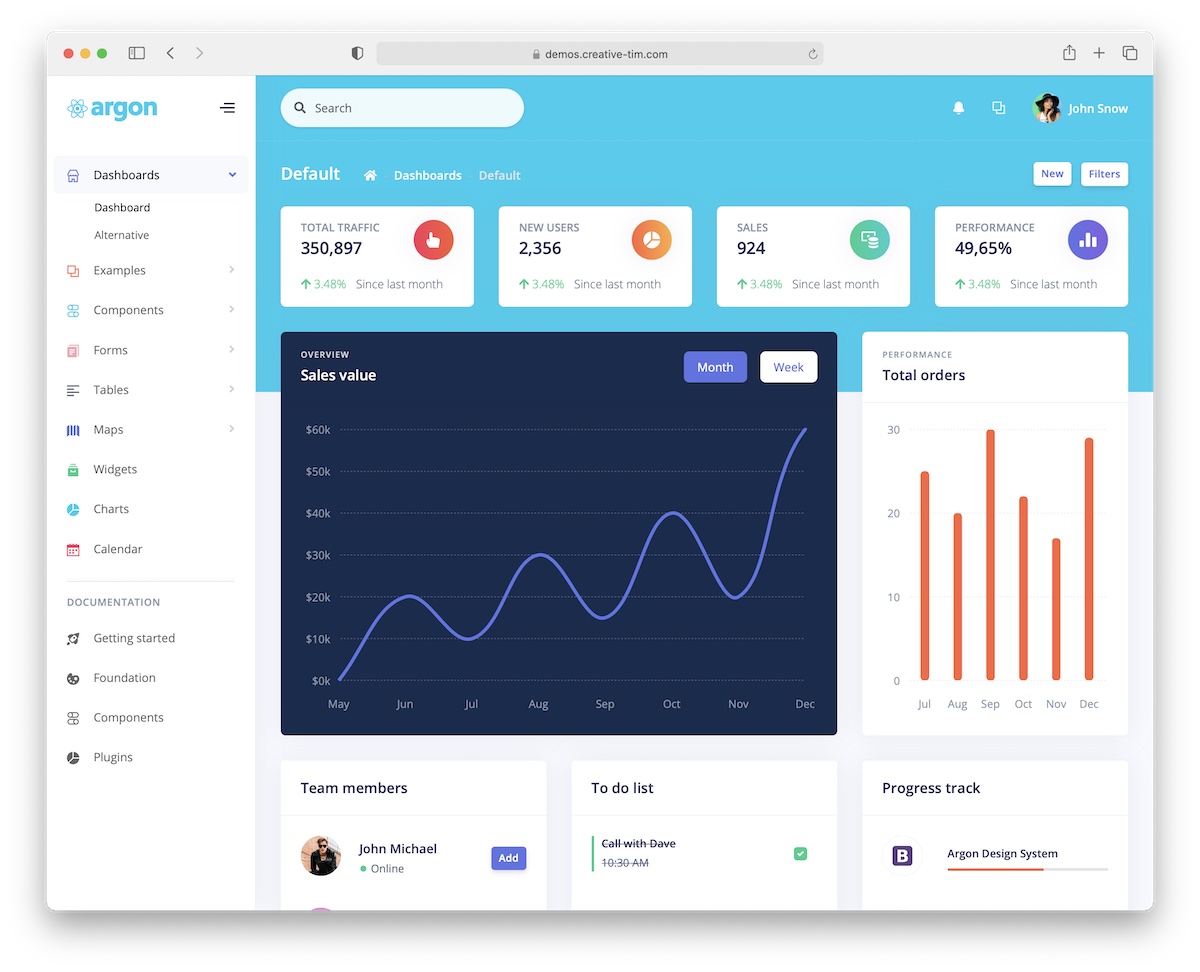 If you are sitll unsure which React admin template to go with, I'm sure there's a high chance you'll want to go with Argon. Yet another superb alternative that we all thrilled to list it here.
Argon is promising, reliable and easy to use, everyone an up and coming web developer would want. However, Argon is easily capable of handling more advanced projects, too. Pros, you're welcome.
While there are hundreds of elements to choose from, each is also configurable, so you can create the outcome to your liking.
Why pick Argon? Because it simply ROCKS. Yes, that's why!
9. Paper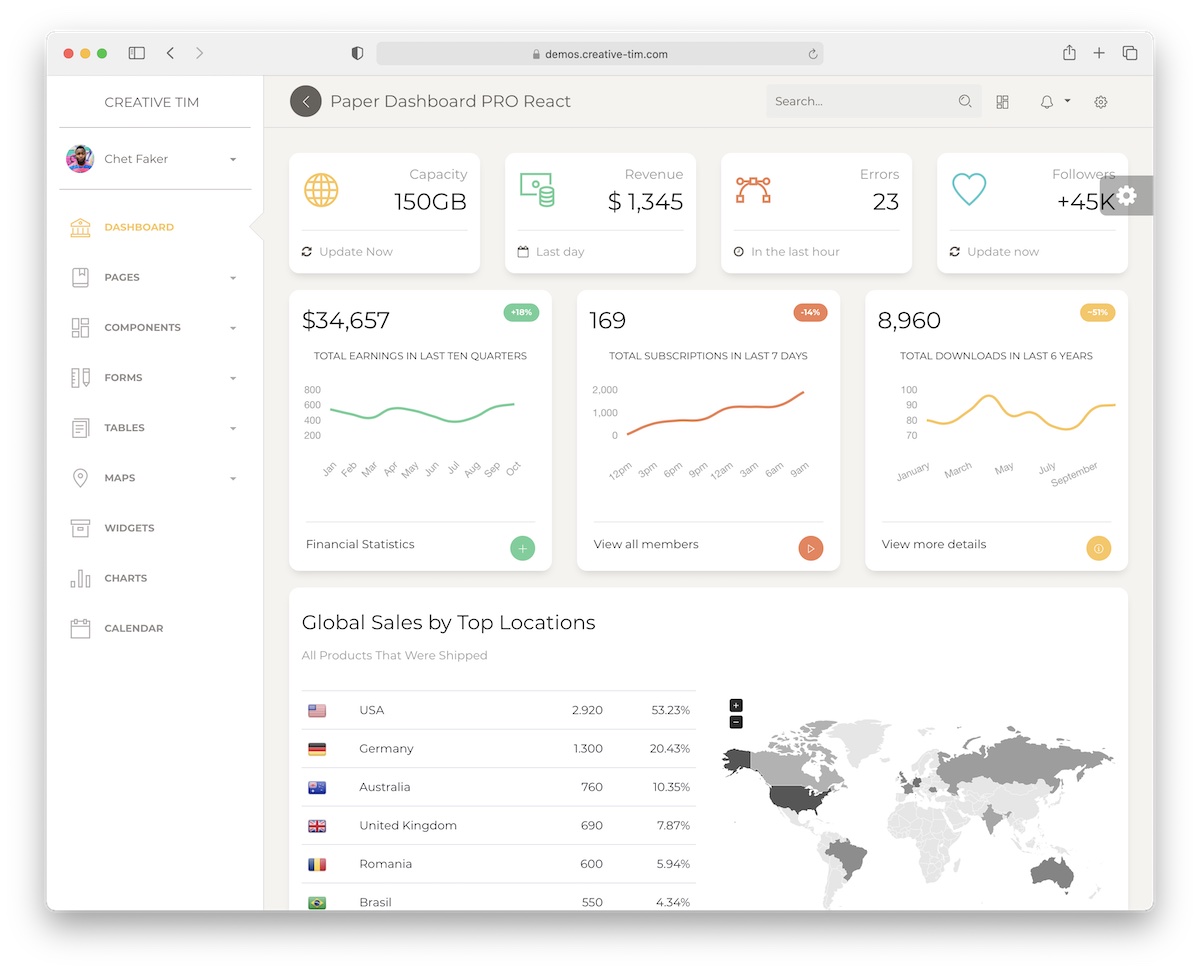 Manage stats, data and anything else you'd like to monitor successfully with Paper. With a 4.9 out of 5-star rating, Paper is at the top of its game.
It also features regular updates, which means you can expect even more goodies that'll make Paper more extraordinary. So far, there are already 160 components, fifteen plugins and five example pages. All of which are easy to adjust and modify to your needs.
Those of you who are working on a single project can start with the Freelancer package. But for all the rest, you need to jump straight to Company or Enterprise plans.
10. Now UI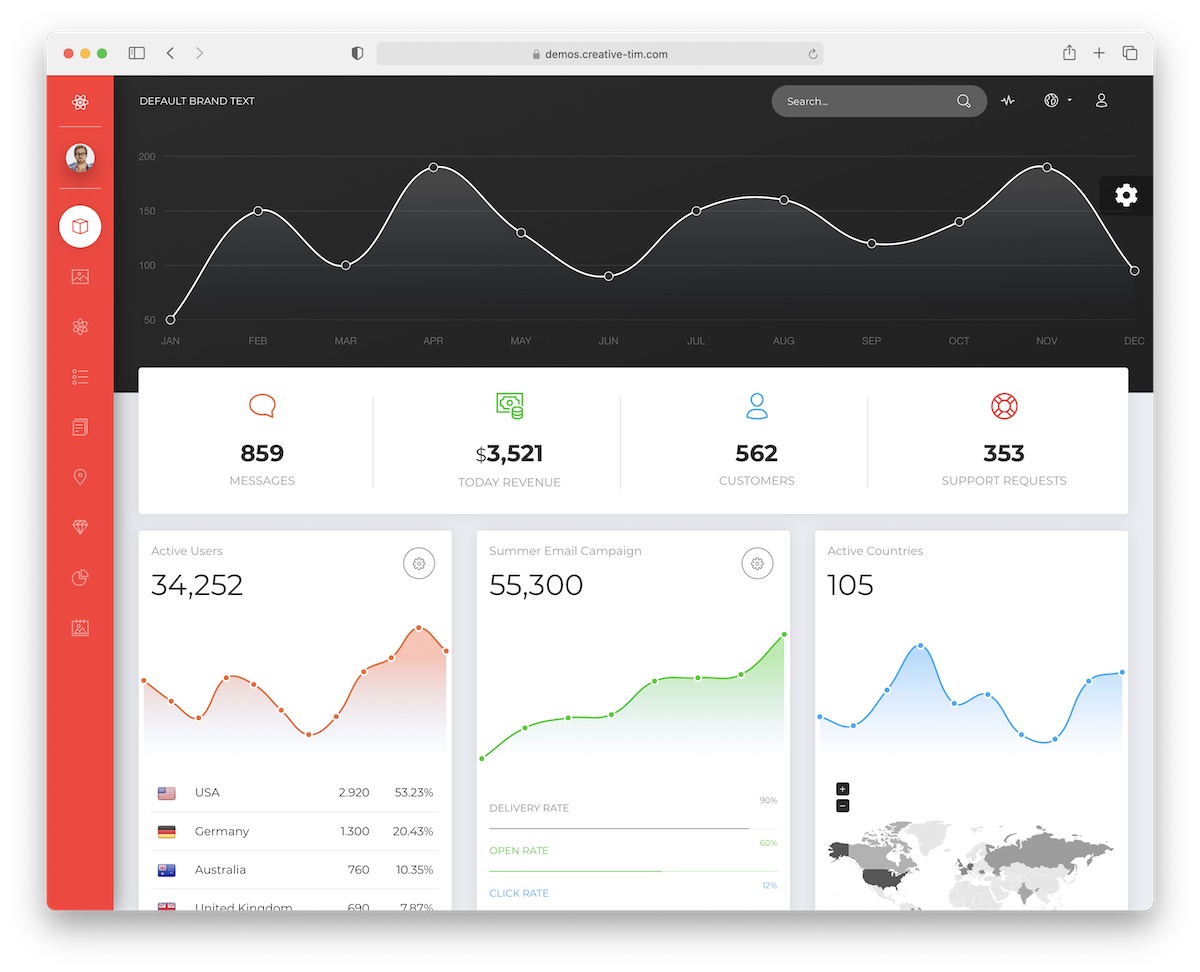 Now UI is one more spectacular React template for admins and dashboards. Regardless of the application, you plan to launch, Now UI will handle it with a neat admin panel.
The simplistic design, nice color scheme and great components make Now UI one powerful alternative. You can employ it to monitor an array of different data from one location, which we all know how convenient that is.
You can also contact the support team anytime on your development journey. Never feel lonely and always have everything sorted out. Now UI will make sure that's the case at all times.