10 September, 2022
10 Free & Premium React Dashboards 2023
You can start from scratch, but you can also master app development with these powerful free and premium React dashboards. Easily.
Whether you pay for it or go without paying, you will boost your workflow a lot.
We made sure to properly review each template and only deliver the most promising ones. They are reliable, easy-to-use and packed with fantastic features.
You don't need to worry about responsiveness, quick customization tweaks and even using one dashboard for multiple projects.
Monitoring statistics, data and other necessary information happen conveniently with these. From one location.
You are in safe hands to make a big difference in building your next big app.
Top-Notch React Admin Dashboards
ArchitectUI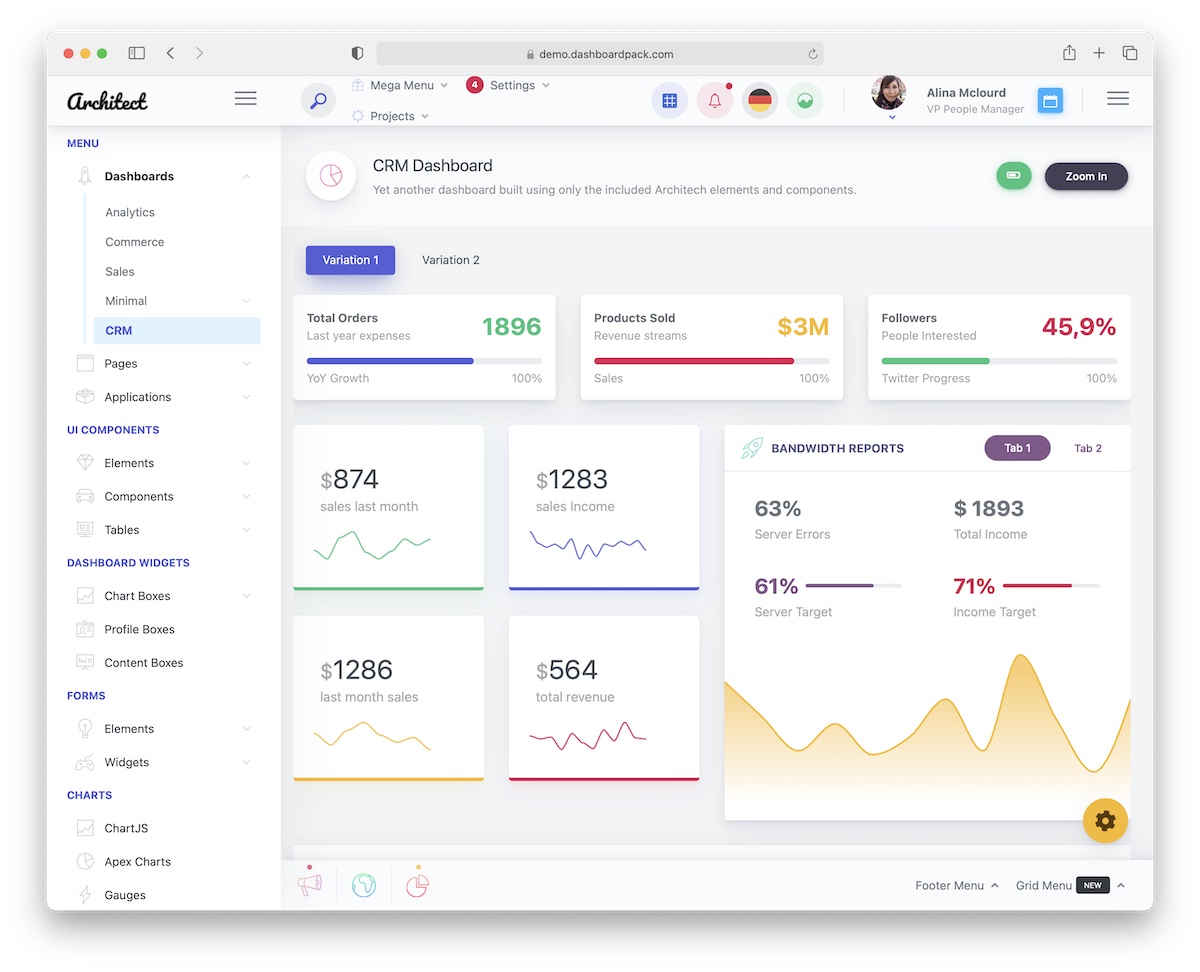 ArchitectUI is our favorite dashboard template due to its extreme adaptability and versatility. You can literally use this tool for any project you work on. It even comes with different dashboard designs for analytics, sales, CRM and more.
When working with ArchitectUI, you can either use it as-is or you can customize it. You'll do all the adjustments and configurations without breaking a sweat. Even as a beginner.
ArchitectUI includes over two hundred elements, numerous color schemes, optional shadow and an option to make header, sidebar and footer fixed.
Still, this is just a small segment of ArchitectUI's goodies. Expect only good things to happen.
Material

Everyone who's a fan of Google's Material design, hence the name, will dig Material. This React dashboard knows no limits. It is editable to the very last detail, but you can achieve great things even by using its default material.
With multiple thousands of downloads and high ratings, Material is one of the more popular on the market.
You can pick between three different pricing plans, starting at $59. However, the entry package supports only one project and only one developer. For anything else, you'd at least need to go with the Company kit ($149).
Enjoy the fun development process with Material.
Light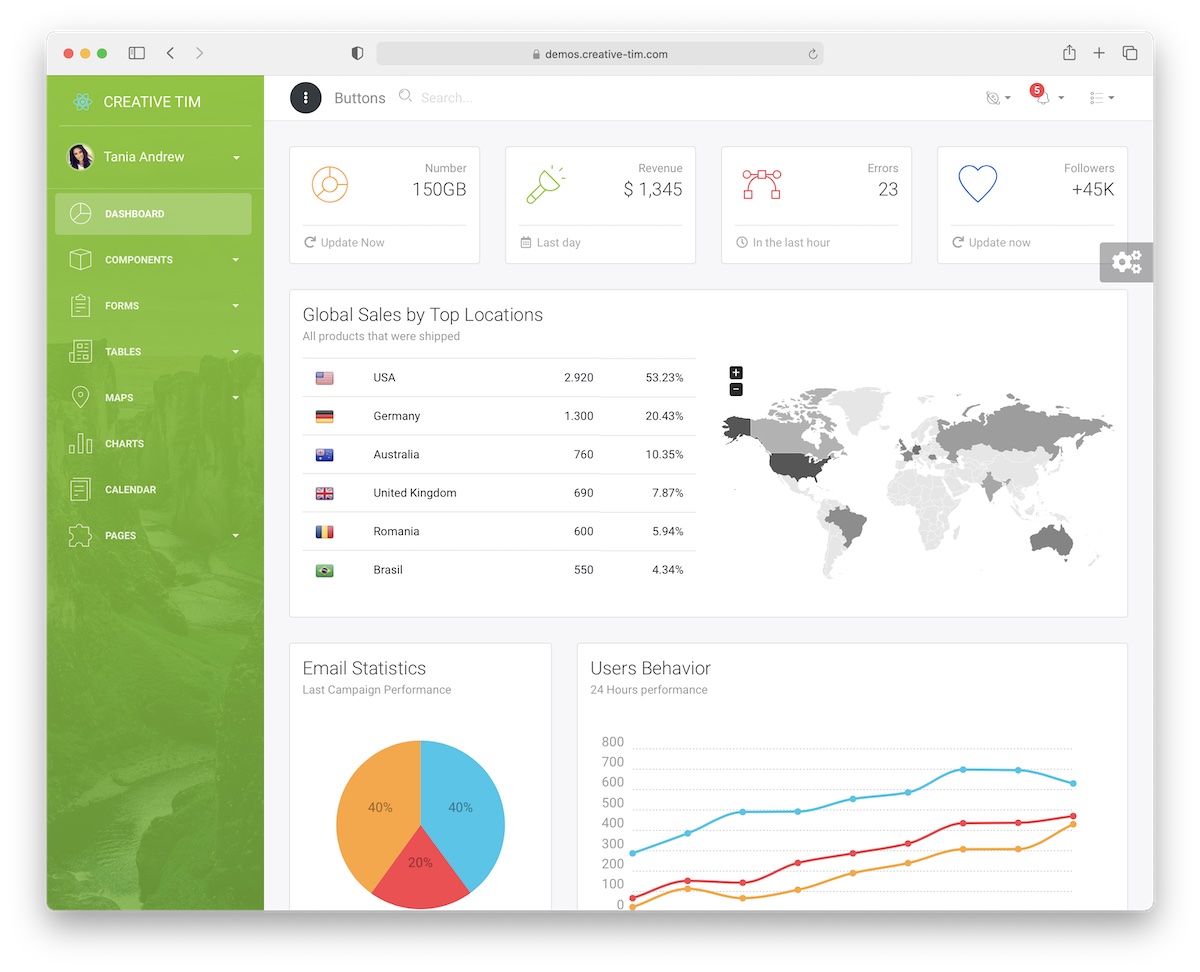 Light is lightweight, with just the right amount of material, so it doesn't overwhelm you. 60 elements in total with thirteen plugins and four example pages, that's what's up when it comes to Light.
It also treats you to different color skins and an optional background image. On the other hand, if you are tech-savvy, you can also introduce your creative touch and make Light truly yours.
Some of Light's features are forms, tables, maps, charts, mini sidebar and notification bell, to name a few.
If you find anything you don't understand, you can either search for it in the extensive documentation or hit up the support team.
Black

If you are on the hunt for a React dashboard with a dark design, this is the only one that we got. And yes, it's called Black. What a coincidence.
Black has everything you need that is bundled in the batch of 160 elements, fifteen plugins and seven ready-to-use page layouts.
Note: even though a dark design by default, Black still comes with the light mode – just in case!
There are different color options, but you can introduce your favorites, too.
All three available pricing plans offer tech support and free updates, so you'll be running smoothly. Keep in mind, the length of support and updates is limited, which is a bit of a bummer.
Argon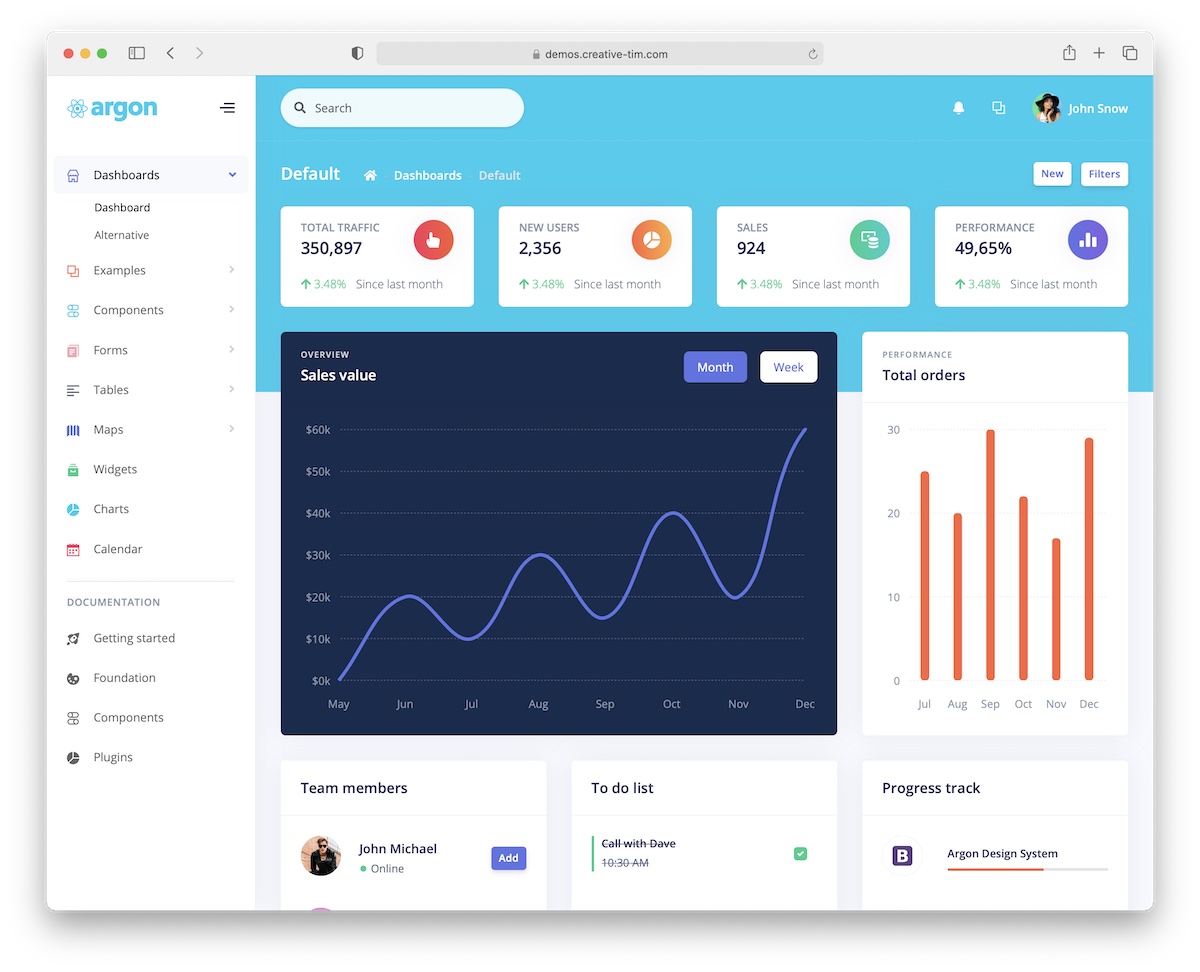 Argon creates a pleasant atmosphere browsing stats and data with its neat and simple design. To experience the tool first hand, you better go and review the live preview before you purchase it.
Once you go Argon, there's no turning back.
Hundreds of ready-made elements give you the freedom to create the Reach dashboard at free will. But the real freedom comes by knowing that every component is additionally customizable to your heart's content.
Yes, Argon is truly a remarkable template that does not miss updates, documentation and quick support. Your applications and websites will enjoy Argon and the dashboard you will create using it.
Paper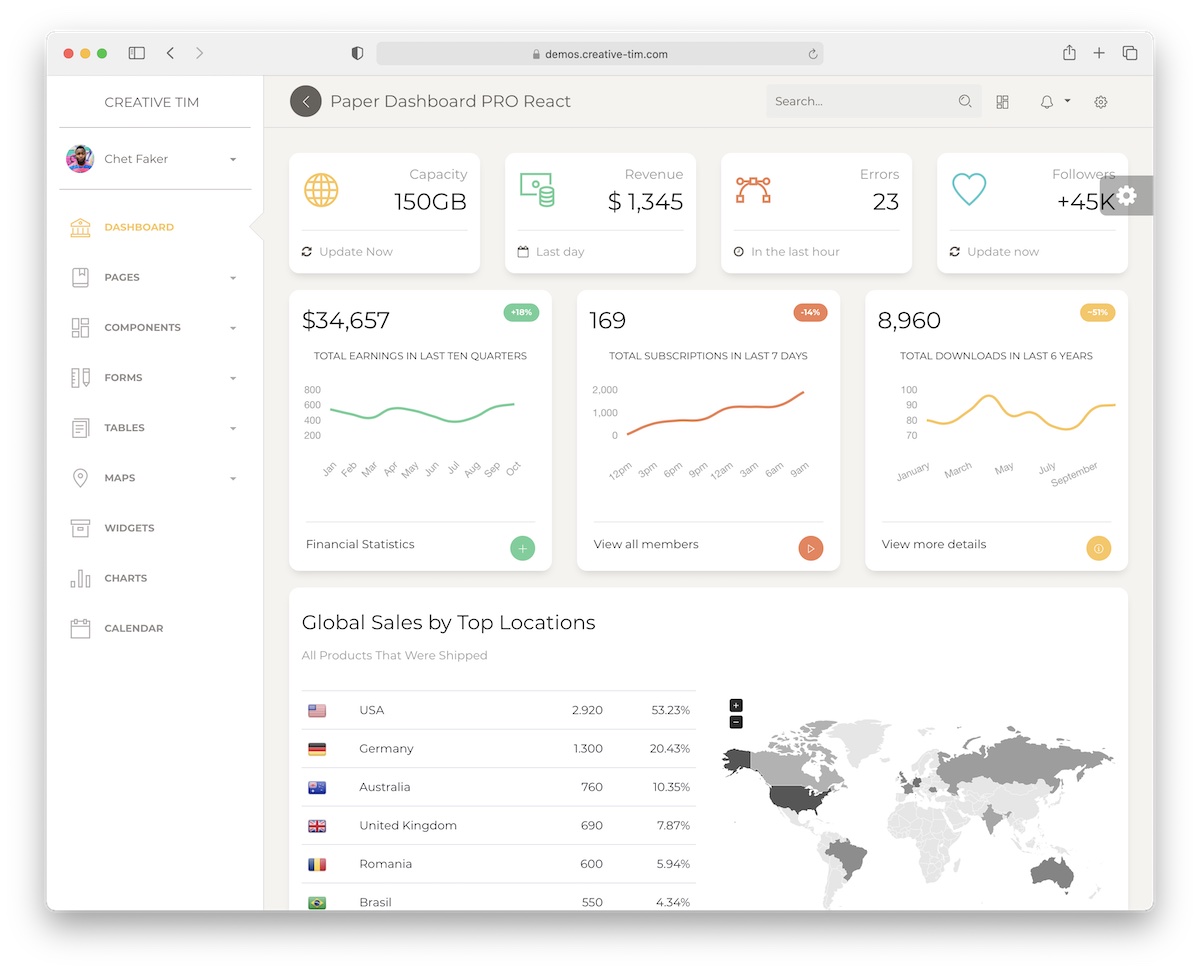 Paper easily becomes your favorite React dashboard if the design appeals to you. You can work with this tool on as many different projects as you want.
However, if you want to use Paper on multiple applications, the basic, Freelancer ($49), pricing option will not do the trick. You at least need to go with the Company kit for $149.
Paper ensures great out-of-the-box operation, but you can always fine-tune it further, so it fits your project in particular.
Nice selection of colors, tons of reusable elements, typography, clean code structure and designer files are only a few of the specialties of Paper.
Now UI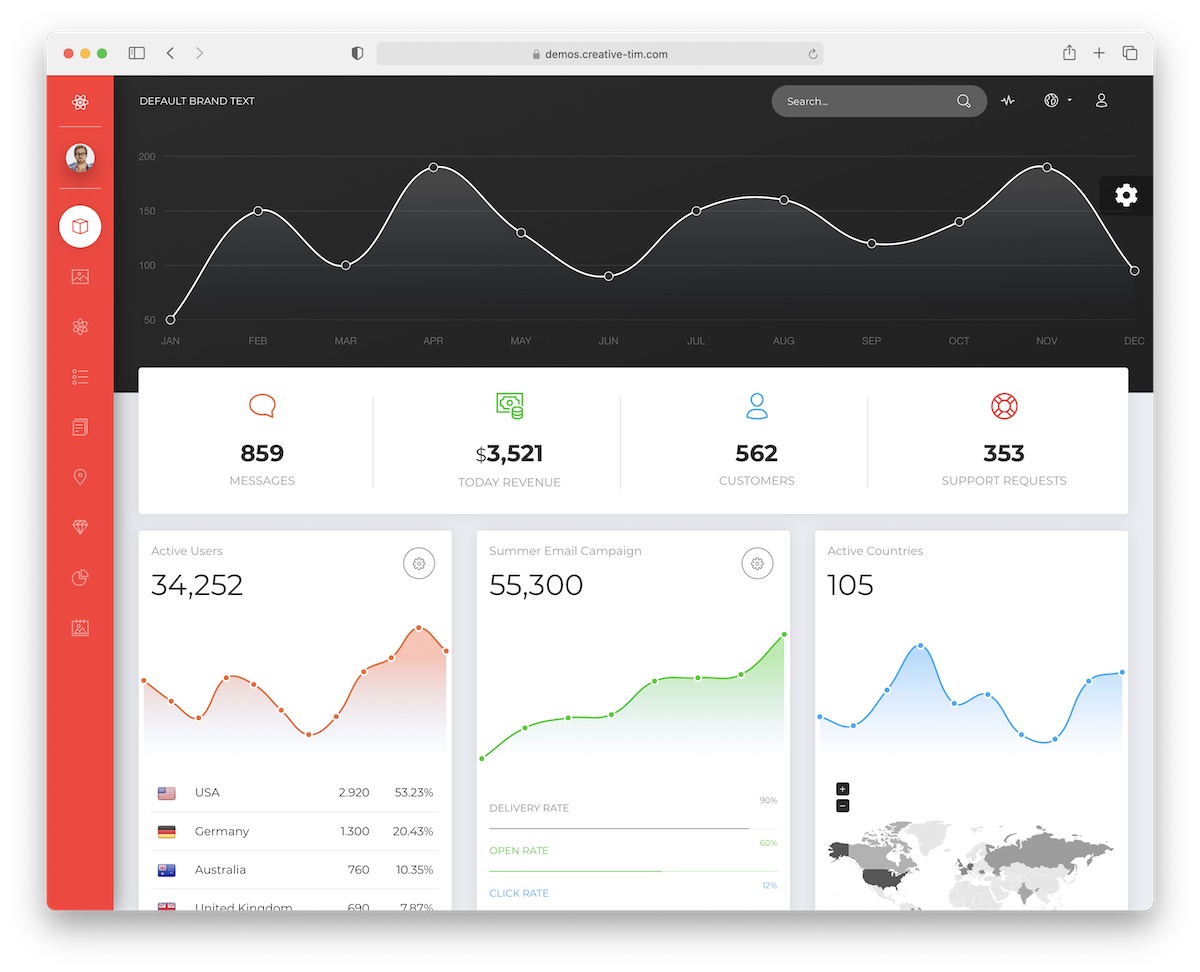 Managing and monitoring statistics from one location is easy nowadays. All you need is a proper React dashboard, like Now UI, and you already did heaps of work.
Now UI is based on Bootstrap 4 and follows all the latest trends and regulations. The performance of your new dashboard will be on point across all devices and platforms. No need to worry about that.
It's a fantastic template that works for all kinds of web applications you are building. It even comes with five different color options for the sidebar, but you can also go entirely against the grain.
Some of the features are ready-to-use pages, notifications, forms, Google Maps and multiple widgets, to mention a few. Make a difference now.
Best Free React Admin Templates
ArchitectUI (Free)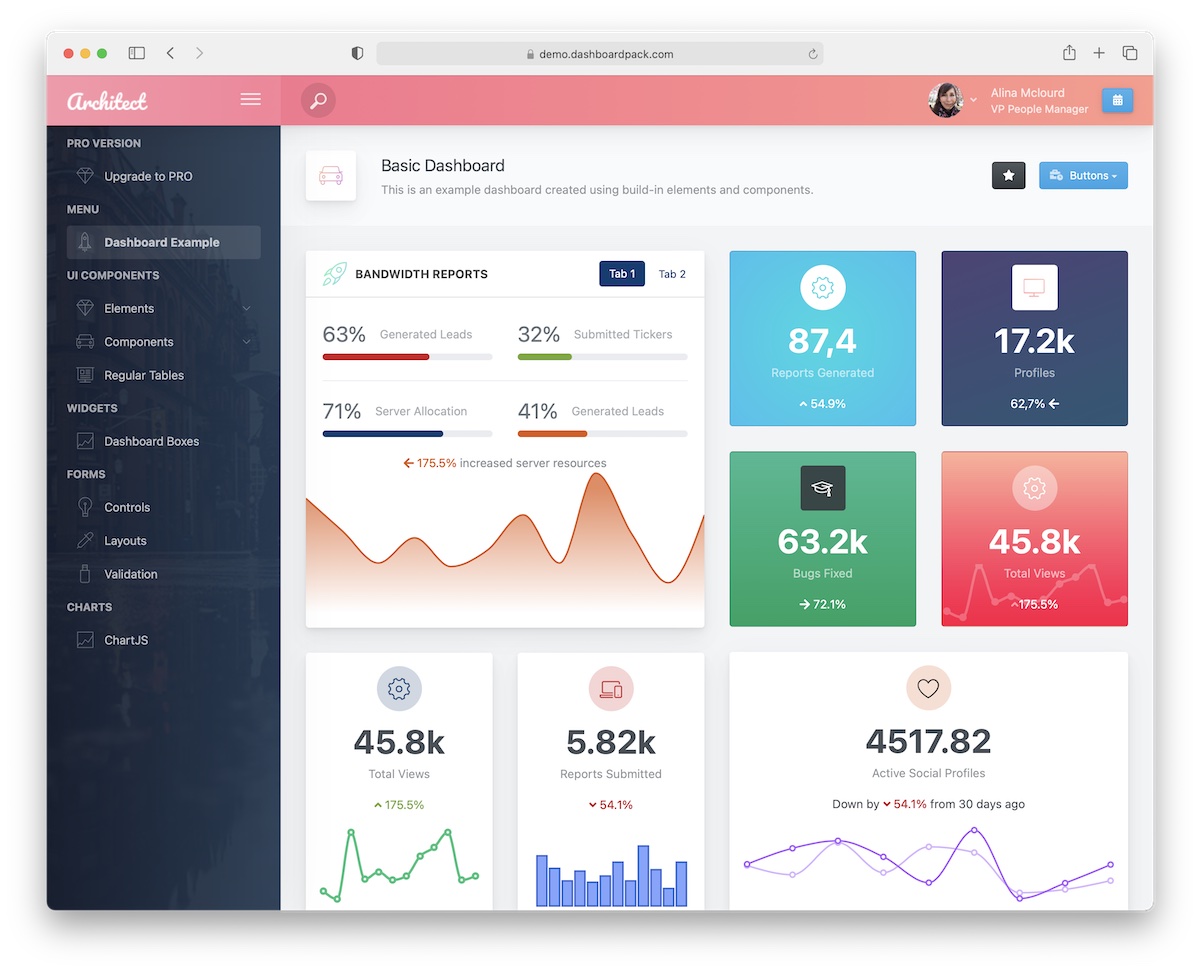 I am sure some of you scrolled all the way down here immediately without bothering to check premium templates. You did the right things. Why? Because you can start for free and upgrade at any time you want.
ArchitectUI is the first example. Just like it's our favorite pro React dashboard, so is it our favorite amongst the free alternatives.
Even though it costs nothing, you still have many color and customization options to make ArchitectUI the way you want.
Hey, you have nothing to lose yet all to gain, so why wait? Pick ArchitectUI for prototyping, for learning, whatever. You are in good hands!
Material (Free)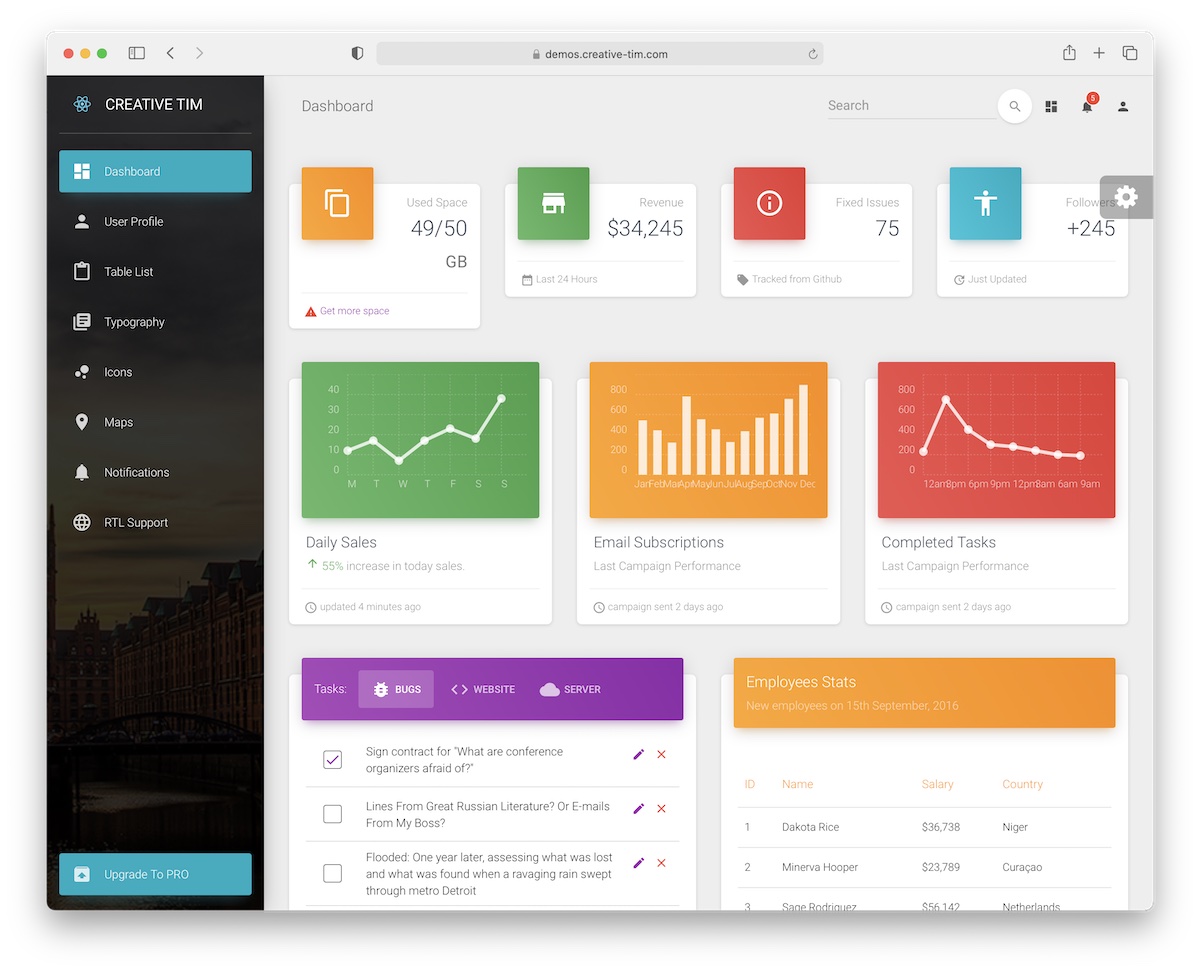 Material is another one of the powerful free React dashboard with over 130,000+ downloads. Out of 500+ reviews, Material scored a nice 4.90/5 rating.
Yes, Material is dope and that's a guarantee.
You get thirty elements, two plugins and seven example pages with additional five color filters. Material is fully coded and equipped with practical documentation that will answer all your questions.
There's also an option to write basic questions in the comments section on the Material page. Someone will very likely get back to you with help as soon as possible.
Sometimes, free tools beat premium (but not the ones above, rather some that we eliminated during the testing phase).
Light (Free)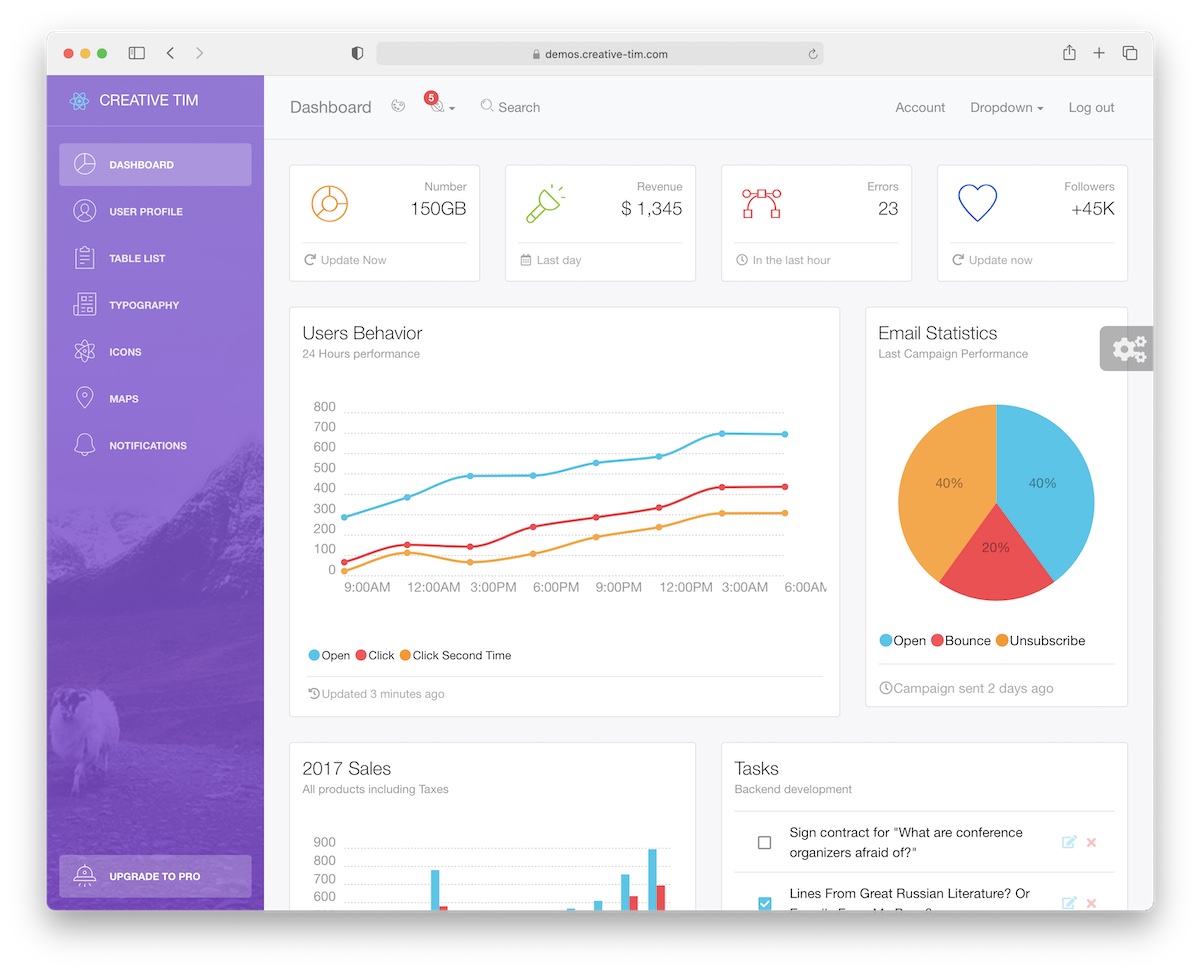 Many dig the lightness of Light that comes in the form of light design and light structure. Great performance and fantastic experience that satisfy every user.
Build a dashboard quickly for your new application, be it a management system, a CMS or a back-end. Starting with a new task has never been as fun as it is with Light.
Make sure you don't miss the opportunity to try this template. But you can get the gist of it by heading over to the live demo preview. You can even try different color options and add a background image.
That's it! Over to you.