1 September, 2022
11 Best React Templates (+ Free) 2023
Since you decided to work on a powerful admin dashboard, we bring you the best React templates.
You will have everything you need after investigating our review further. All the templates that we added to the list come from testing and trying, as we only want to share the most promising alternative.
In other words, these React templates are all safe and sound. Just plug and play.
They come with a plethora of features, elements and components to mix and match.
There's more.
We also added multiple free solutions. Even though they come with certain limitations, they still ensure you kick-start your project.
Note: every free template also comes as a pro version. Start for free and upgrade when necessary.
Enjoy.
Best React Templates
ArchitectUI

Okay, let's get things moving the most powerful ones, the premium templates.
Here is ArchitectUI, one of our favorite solutions to create all sorts of dashboards. Applications, websites, software, you name it, ArchitectUI handles it.
ArchitectUI makes the top of the list due to its hundreds of elements, nine dashboards, different color skins and easy customizations.
BUT. You can also work with it out-of-the-box if the style already suits you. This way, you save even more time and energy.
You won't need another template again, even if working on multiple projects at the same time. Make it happen with ArchitectUI.
Material

Similar to ArchitectUI, Material is a top-notch Reacth template with thousands of downloads. Out of hundreds of reviews, Material rocks a 4.8-star rating, which tells you more than enough. We like it, too!
In the kit, Material delivers two hundred elements, ready-to-use plugins and predefined examples pages. Since it also includes different color skins, there's a high chance you'll find what you need by default.
On the other hand, there's no need to hold back, Material is 100% modifiable, too. What's even better, you only need basic coding skills to make things happen.
Start with Freelancer ($59), Company ($149) or Enterprise ($449) plan.
Light

Light is not just clean and minimal design-wise, but it is also lightly coded, ensuring excellent performance. It includes many practical elements to play with. However, Light does not overwhelm the user, causing 0 distractions.
Due to the Bootstrap-based foundation, the layout is 100% fluid, appearing with crystal clarity on different devices. (Read: high performance. Always.)
Every element and detail work in complete harmony with each other. You get forms, tables, maps, charts, icons, typography options and heaps more.
You can also add or remove the background image, choose different images and create a mini sidebar. The new dashboard is in your complete control with Light.
Black

Black is a pretty self-explanatory React template for all the dark design enthusiasts. Still, Creative-Tim decided to make it more general with a light mode version. You can even use both versions, add a toggle and unlock day/night modes.
The bundle consists of 160 elements, fifteen plugins and seven example pages. You can also choose between different colors or even use a custom one.
You are all set to create great things with Black, so don't hold back. Even if you need additional assistance, the friendly support team is always available. Or you can find your answer in the extensive documentation.
Argon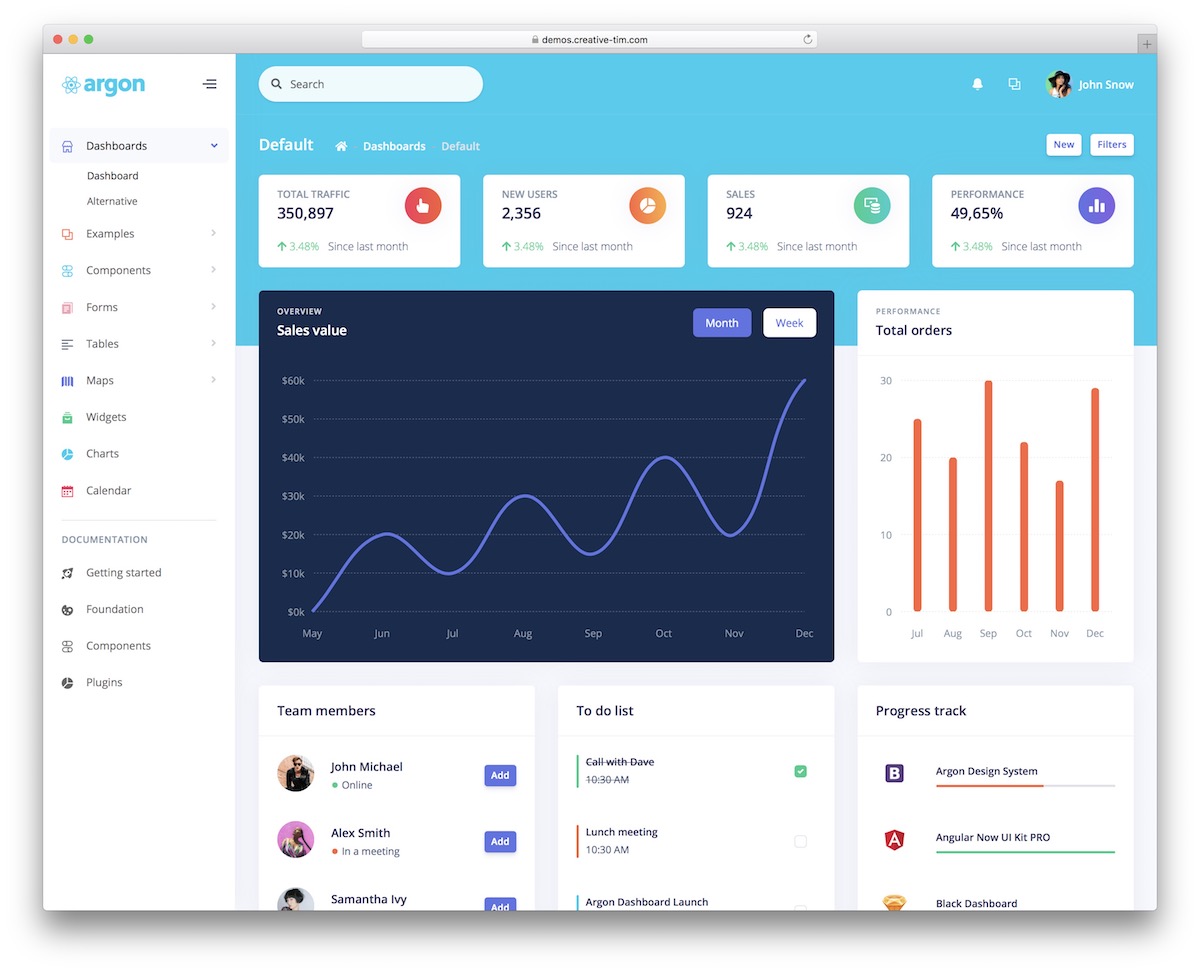 Who even does dashboards from scratch these days? I know, right! For a small investment, you can save yourself a ton of time and energy. That's why you opt for Argon.
A versatile and all-around React template with almost too much stuff to work with. But that a good thing.
There are tons of different styles of components to choose from, perfect if you are working on different projects. But Argon also handles more advanced applications that require extensive monitoring.
Join hundreds of users who are successfully employing the power of Argon. But you can do it your way entirely, so don't let your imagination limit you.
Paper

Paper is a Reactstrap and Bootstrap 4 template that assists you in creating a powerful foundation for your web app. It mixes multiple elements and components that form one solid base.
Take it to your total advantage, customize it if necessary and start moving forward like a champ.
You can reorganize things to your heart's content, even if working exclusively with out-of-the-box features.
Track downloads, subscriptions, sales and tasks comfortably and efficiently without really performing too much work.
Paper also comes with a minimum of six months worth of tech support and free updates, ensuring everything runs smoothly.
Now UI

Now UI will stand the test of time with modern looks, heaps of features, updates and easy customizations. Never again miss or lack proper data management – from one location!
That's when Now UI comes into play.
Great color choice, cards, plugins and ready-made page examples, it's all part of the Now UI kit. But it does not need to end here.
You can also alter the default configurations, making Now UI work for your application exclusively. Use, reuse, remove, whatever, there's a lot of stuff available for you to benefit from.
Make Now UI take your project to the next level with a spectacular admin panel.
Best Free React Templates
ArchitectUI

These are all the free versions of the above premium React templates. ArchitectUI is a terrific and our most used solution (free and premium) that helps speed up the development process.
Even though not as big in features and components as the premium version, free ArchitectUI still brings to the table many goodies.
Not just that, even if you have any questions, you can ping ArchitectUI's professional support. Not something you would get from that majority of free templates out there.
But ArchitectUI is unlike any other solution that you can download with a click on the button. Get involved and make a difference.
Material

Material is a free React template with a modern and minimal design that spices things up with a few creative touches here and there.
You can use an image as a background, pick from predefined colors (5 skins) and enjoy other effects. Material makes it special in your dashboard, that's for sure.
As far as the features go, you get thirty elements, two plugins and seven example pages. Great navigability also ensures quick access to different sections for smooth content review.
Note: Material is fully RTL compatible. It even comes with a ready-made page layout, which you can employ out-of-the-box.
Light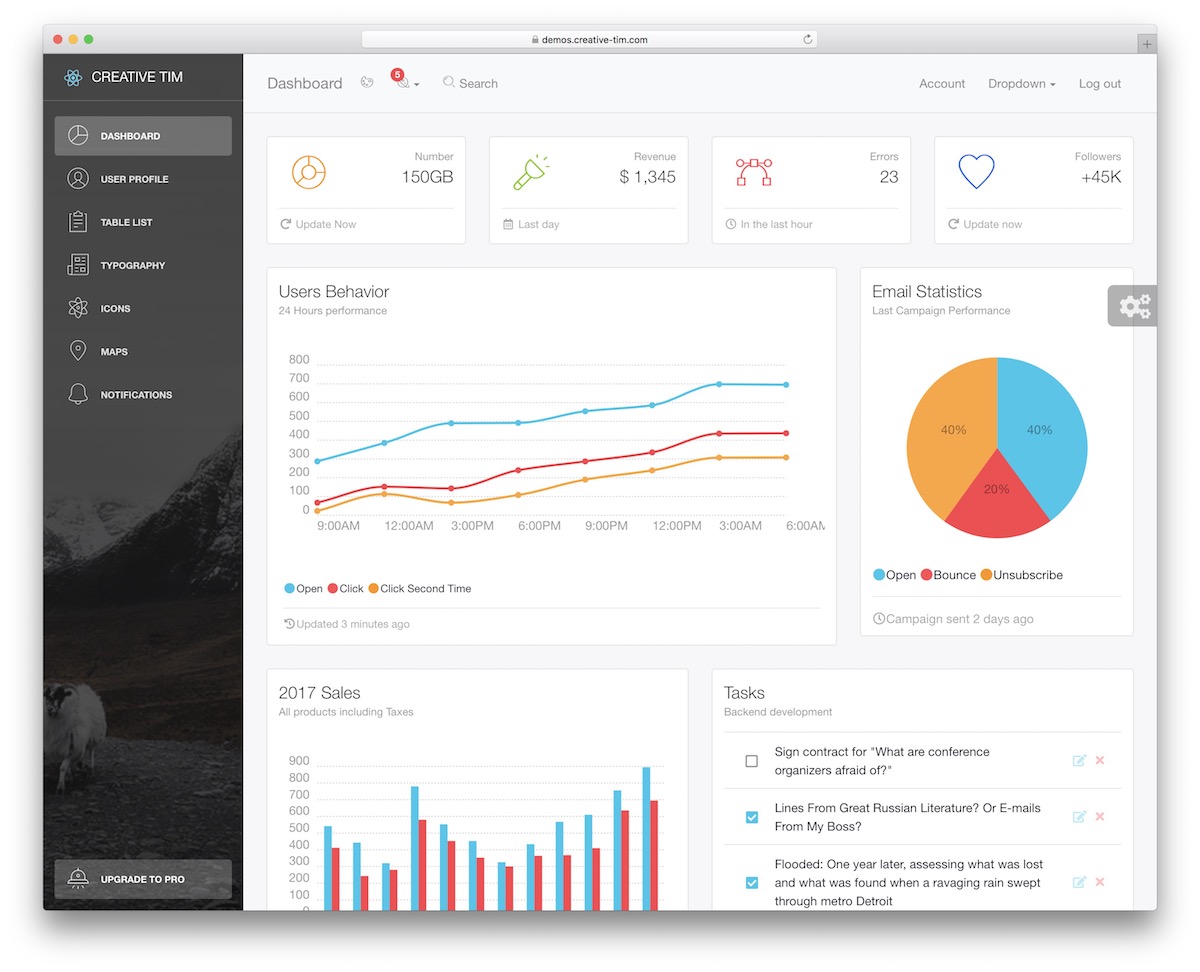 Just like the pro version, Light free React template keeps its clean designs and lightweight structure intact. With well over 60k downloads and a 4.9-star rating, you know that Light is a serious deal.
Great coding ensures beginners and experts both easily benefit from Light tremendously. There may be no Photoshop and Sketch files, but you still get dozens of elements, plugins and page layouts. Plus, you can utilize any of the six color schemes.
Back-ends, CMS, project managements, admins, it's all possible with the flexibility and versatility of Light. Enjoy the process of developing a dashboard without starting from the ground up.
Black

Since we really like the Black React template, we also wanted to include its free alternative. Tons of downloads and positive reviews make this tool one of the best. No wonder why it got a spot on this list!
Note: Even the free version includes light mode (just in case).
Additionally, you still get three default color choices, sixteen components, three plugins and seven page layouts. You can use the latter as-is, or improve them further.
You can start with easy prototyping and creating quick projects to full-blown code creation, Black is here for everyone who wants something more.