18 March, 2023
9 Best Free React Templates 2023
There's no need to pay a fee when working on a fresh app or website; use these free React templates and enjoy a quick start.
But there's a catch.
When it comes to free tools, not all are reliable and safe.
BUT. (Yes, another one.)
That's not something to worry about. We conducted this collection of the best 10 free React templates.
They are SAFE, SECURE and ready to rock and roll.
You can now start working on your website, app, software or SaaS admin panel comfortably. All the templates are just a click away, delivering many features, knowing they cost nothing.
Best Free React Templates
1. ArchitectUI
Let's kick things off with ArchitectUI, one of the solutions favored by users to many to count. The template makes sure to unlock a user-friendly experience when it comes to building a dashboard. For free.
Design-wise, ArchitectUI is modern and clean, ensuring top-notch content distribution. There are also very many UI components, widgets, forms and charts you can work with.
Two other cool features of ArchitectUI are the hide/show sidebar menu toggle and catchy animations. And if you would like to perform any customization tweaks, by all means, make it happen.
ArchitectUI is open source.
Note: To unlock more features, you can always go with the pro version.
2. Material
A Google Material Design inspired free Reach template that you can now use to work on your dashboard design. With high reviews and hundreds of thousands of downloads, Material is one of the best solutions.
In short, you cannot go wrong with this template.
Material uses Bootstrap 4 and follows all the latest web trends and regulations. With that in mind, you know your admin panel will always operate without a hitch. Mobile devices included.
You get thirty elements, two plugins, seven example pages and five color options in the kit. Start strong. Start with Material.
3. Light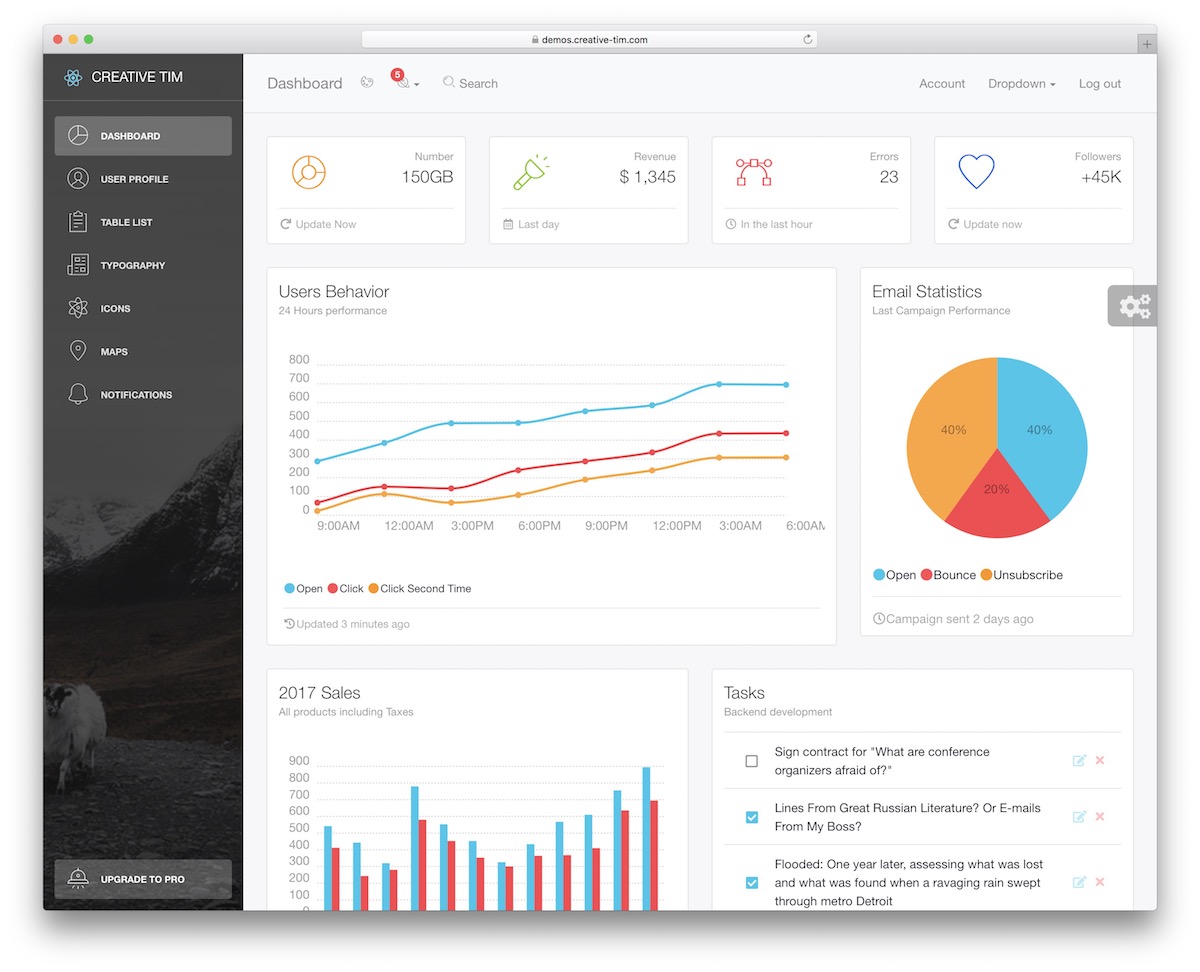 Light is not only lightweight in structure, but also light in design. This free React dashboard delivers a pleasant atmosphere, which easily and quickly caters to different project intentions. Different admins, CMS, app back-ends – it all works for Light.
With the available layouts, plugins and elements, you have many options and possibilities to create the admin that's to your liking. Light comes with certain limitations as a free template, but it's powerful enough to offer everyone an enjoyable kick-start to something new.
We also liked that Light is updated quite regularly, and has high-star ratings from hundreds of positive reviews.
4. Black
When looking for a free Reach dashboard template with a black/dark design, hence the name, Black is the one. Everyone will have it easy immersing in the statistics and any other detail you'd like to present with it.
The choice of typography, graphics, cards and other specialties make Black very appealing to the eye. And that's to Bootstrap 4, it's also entirely in harmony with mobile and desktop devices.
100s of reviews, 10,000s of downloads, yes, Black is a serious competitor. Keep in mind, even though dark by default, Black still comes with the light version and three sidebar background color options.
5. Paper
All the React fans out there, developers or website owners, make sure you don't miss Paper. Even though it's not one of the most popular templates available, it's a promising alternative that will do you well.
With a neat combination of colors, designs and elements, you can quickly create an admin panel for your project. While the free version of Paper does not come with support, it does include documentation. Make documentation your best pal if you are a newbie.
Additionally, there are sixteen elements, four plugins and seven practical pages. Launching a new project should not start from scratch, use Paper instead.
6. Argon
This is the first version of the Argon template that we included in this list. This one is for Bootstrap and Reactstrap with a whopping collection of one hundred elements. You also get five plugins and six examples pages.
The code structure is newbie-friendly, perfect for utter beginners and experts. (Note: with the pro version, you unlock heaps more!)
Icons, maps, tables, login and registration forms, it's all at your fingertips. Argon also performs phenomenally on mobile, with wider objects, like tabes, rocking horizontal scrolling.
You can see Argon in action by accessing the live demo preview, even review docs first, and go from there.
7. Now UI
If you are just searching for more free React templates, Now UI is an excellent alternative to consider. The chart, which almost appears as a header, is different from other alternatives on this list. Perfect for displaying main stats.
But this is just the beginning.
Now UI includes 100 icons, Google Maps integration, different notification styles, six color schemes and solid and transparent tables.
Do you know what Now UI free and pro version have in common? They both contain seven example pages by default. We also liked the fact that Creative-Tim updates this template frequently.
8. Notus
Notus is the only React bundle we found a perfect fit to include on this list as a full-blown UI kit. Along with the dashboard layout, you get landing and profile pages out-of-the-box.
It's a sophisticated solution with plenty of material to mix and match. You get one hundred elements! And a fully coded structure that everyone will find easy to use and tailor to their needs.
There's no support, but if you comment on the official Notus product page, someone will get back to you with a friendly response.
Enjoy!
9. Argon Material-UI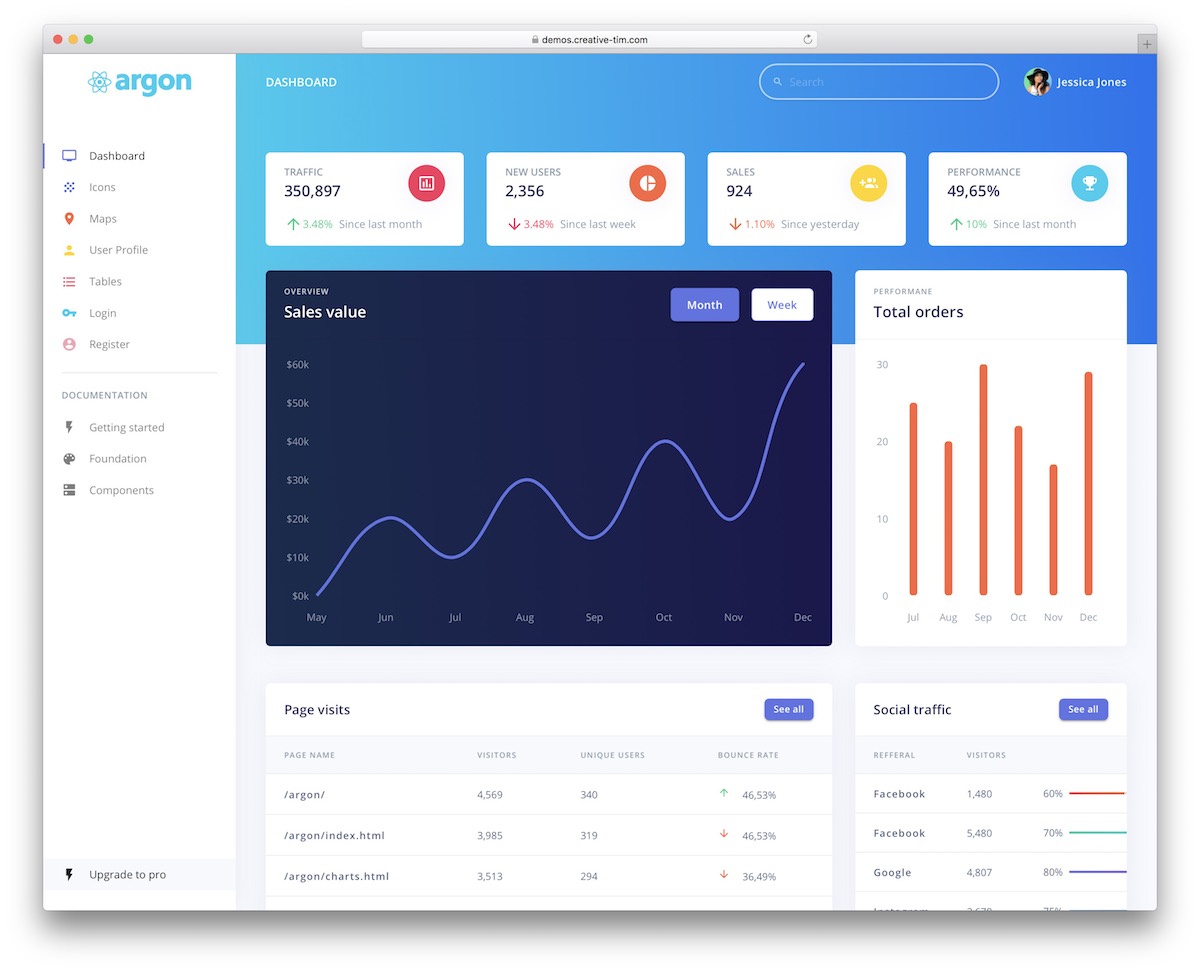 And here's the second version of Argon. This is a React and Material-UI type with equally amazing design, plenty of components and organized code.
At the time of writing this, it's the smallest free React template in terms of downloads but received a 5-stars rating. You can study it further yourself by visiting the live demo preview and even go through the extensive online documentation.
With the example pages, you save yourself even more time, as you don't need to create them from the ground up.
Argon is amazing for prototyping and personal use, so don't waste time and take action now.