8 April, 2023
9 Best React Native Templates 2023
If you would like to master mobile app creation, then you need these best React Native templates.
There's a catch. While some of the solutions below are exclusive React Native apps, the others are full-blown website themes with React Native.
In short, if you look for complete website creation, then opt for themes. If not, then go with apps/templates.
You have all the necessary options to kick-start your mobile app development like a champ.
Save 100s of hours while still maintain a professional outcome. That's what's up when it comes to React Native templates.
No matter which you choose, it's a guarantee that you will enjoy the workflow. So it's more of a personal preference – you are good to go with any!
Raise your mobile users' satisfaction sky-high.
Best React Native Templates for Apps
1. MStore Pro
This React Native template almost does not need a description. MStore Pro is one of the best app creators for eCommerce available on the market.
With thousands of sales and many positive reviews, you know MStore Pro is here to say.
It is powerful enough to create all kinds of online stores for mobile users. You can also translate it, make an RTL version, whatever.
Some other goodies are push notifications, order history, dark mode, nine home screens and different payment gateways.
MStore Pro is a serious deal that you can now get for cheap.
2. MrBakery
MrBakery is a complete solution for your eCommerce website, especially if you want to dive into the food industry. Along with that, you also get a React Native app, which unlocks the ultimate mobile experience for your users.
Since the theme is compatible with Elementor page builder, working on edits and improvements will be as easy as pie.
0 coding skills necessary.
You can add practical add-ons that will make the eCommerce experience even better. These could be Ajax search, product compare, quick view and pop-ups, to name a few.
MrBakery is an excellent solution for taking desktop and mobile performance to the next level.
3. Azura
If you are a fan of PrestaShop and want an out-of-the-box desktop and mobile solution for fashion stores, go with Azura. With its modern and trendy design, Azura offers you to start out from the masses. Easily!
You can select between different home designs, create beautiful categories and stunning product pages. Everyone will enjoy browsing your items.
Azura is also flexible enough to handle niche and general stores. No need to feel any limitations. Release your imagination and get creative.
Moreover, if you want to translate Azura and use it with RTL languages, that's also an option. It's a tool of great greatness, so don't miss it.
4. Xavia Furniture
Even though some of the themes and templates in this React Native collection are niche-oriented, they can all go against the grain, too.
Xavia Furniture is another example that will turn heads. A furniture PrestaShop theme by default, but you can use it for something else.
The tool keeps the design more on the minimal side, ensuring as few distractions as possible. Your products first, conversions second and all the rest third.
Additionally, Xavia Furniture treats you to regular updates and professional tech support. Don't be afraid to task, they'll be stoked to help you out.
5. Propertya
Propertya is a WordPress theme with Android and iOS app functionality for real estate businesses. Showcasing properties and raising the chance of winning over more clients is oh so possible with Propertya.
While it works smoothly by default, Propertya gives you all the rights to modify it according to your liking.
You get access to many desktop and mobile designs and layouts, which you can improve accordingly. Of course, you can preview it first before making the final decision.
Another cool feature of Propertya is the built-in monetization function. You can include listing fees, features fees, AdSense and more.
Share the real estate industry with a banging website and mobile app, thanks to Propertya.
6. Oreo Fashion
Fashion brands and online clothing stores will enjoy using all the perks of Oreo Fashion. This React Native template also supports multi-vendor stores.
You can save time by picking the default samples, but there's more.
Even if you plan to modify Oreo Fashion, you're way ahead of everyone else.
For a small investment, you can rapidly boost your development process. And even if you work with multiple clients, you can still use Oreo Fashion.
Note: If you don't feel like building the app yourself, you can also get in touch with Oreo Fashion's teams and they will do it for you (for a fee).
7. Nearby
Everyone building an app for finding nearby people for a chat, go with Nearby. Instead of working on it from the ground up, you can now work on it with a ready-to-use React Native template.
Building apps is not that complicated anymore.
Great filtering options, notifications, credits, different login options and popular/featured users are just a fraction of all the amazingness that's Nearby.
Unfortunately, no live preview is available, but you can view some screenshots to get the gist.
Nearby also comes with regular updates, which is a big plus.
8. Foods
There's a food theme above and an exclusive food React Native template. Your food app is just around the corner, even if building it for your client.
Foods has a modern, clean, engaging design that creates a pleasant atmosphere. You get the necessary documentation and support to get you started quickly.
Your app will work without a hitch on Android and iOS devices and even integrate with an older app.
Like other themes and templates in this collection, Foods is also modifiable to improve it with your branding regulations.
9. DWT Listing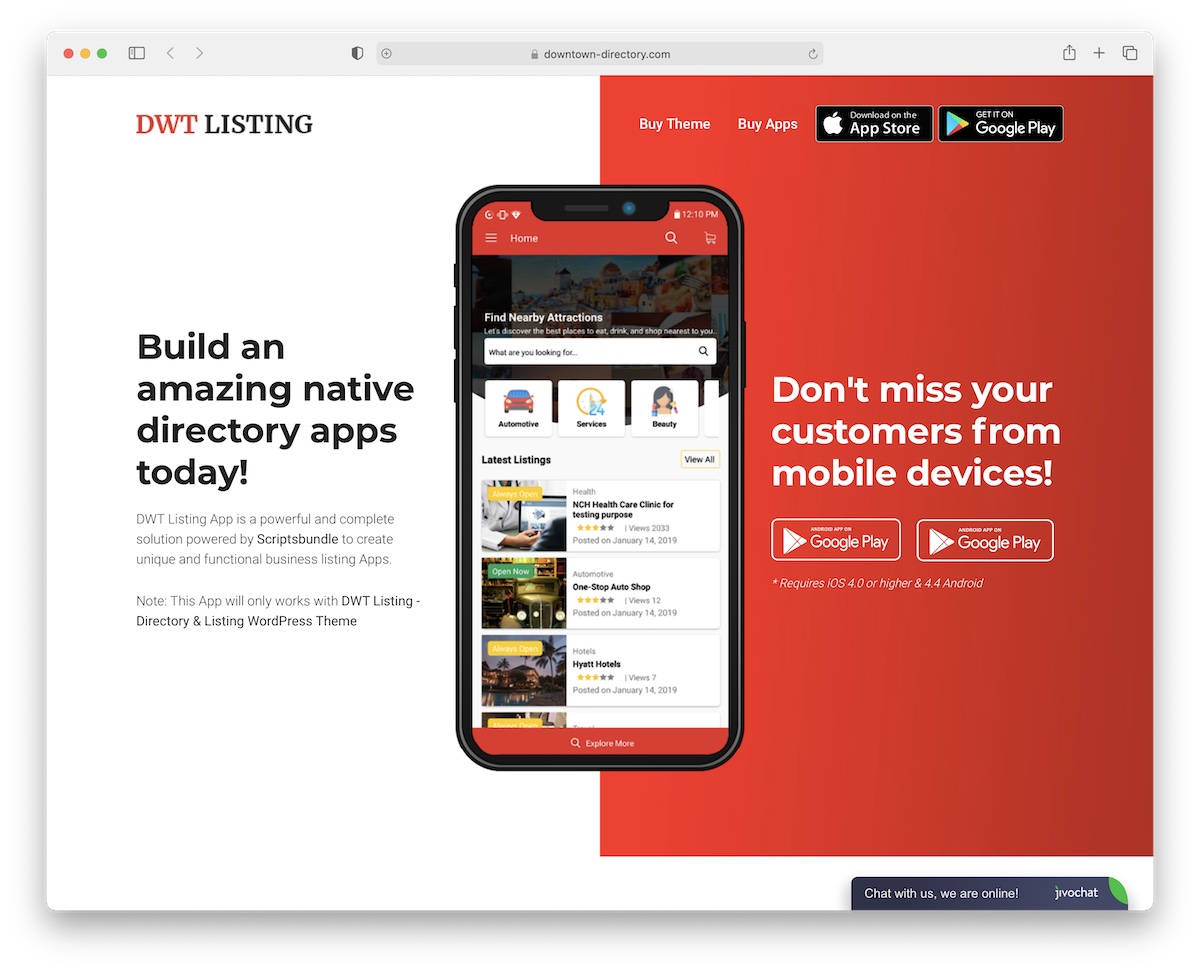 Even today, directory and listing websites and applications are still quite popular. DWT Listing is an all-around React Native template to create a mobile app sooner rather than later.
The kit offers eleven home screens, which can work for all listings. Niche, general, it's all possible with DWT Listing.
Note: You can expect even more layouts and features with upcoming updates.
Here's a quick rundown of some features: source code, packages, pending approval, events, different payment options and RTL support.
It takes four steps to start making moves with DWT Listing and enjoy your new mobile app. Go for it!