26 September, 2023
10 Best Vue Admin Dashboards 2023
You can kick-start your web application development with our review of the best Vue admin dashboards.
Instead of going through the scroll of hard knocks yourself, we collected a list of the 10 most promising and reliable templates.
Never again worry about the performance, features, predefined page layouts and easy customization.
On top of that, every Vue admin template is fully coded and user/beginner-friendly.
By employing only the latest technologies and ensuring excellent adaptability, you are ready to roll immediately.
Applications, websites, SaaS, whatever, enjoy a quick establishment process and make an immediate difference without sweat.
Best Vue Admin Dashboards
1. ArchitectUI (Free)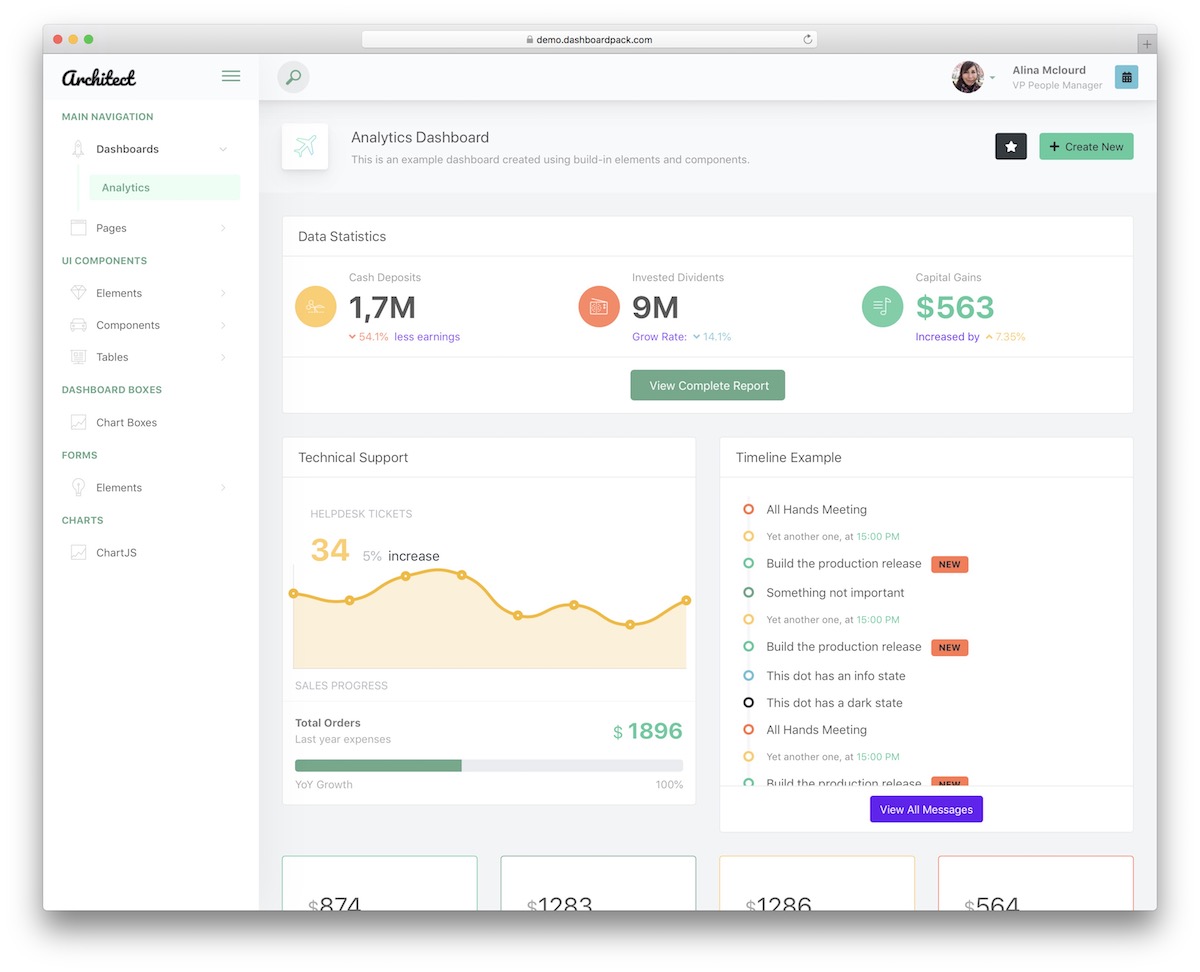 Okay, before we get serious with our template pick, we want to kick-start the listicle with a free alternative.
Why?
Many like to create quick prototypes. In addition, many others are still in the process of learning working with Vue templates.
After all, you only need basic coding knowledge to proceed with ArchitectUI like a champ.
ArchitectUI is a powerful solution that gets the ball rolling with its different layouts, fifteen custom components, and widgets. The template is also 100% responsive, optimized for a fantastic performance.
2. ArchitectUI (Our Favorite)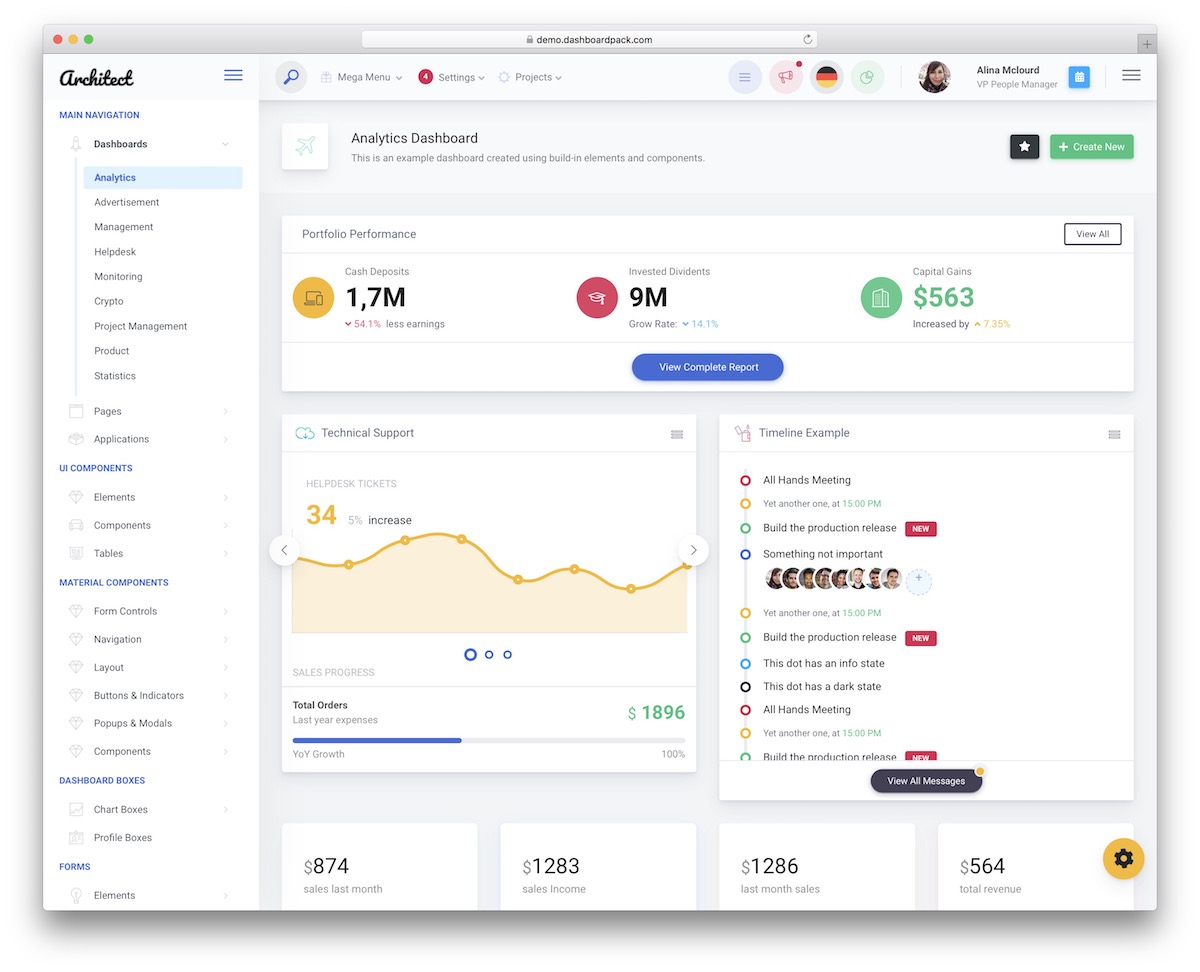 If you like ArchitectUI free Vue admin dashboard but want more features, go with its bigger brother. The pro version, of course.
This version contains nine ready-to-use dashboard layouts, multiple color skins, fifty widgets – you name it!
And if you would like to make adjustments and improvements, please do. The overall structure is easy-to-use, so you can quickly get the most out of ArchitectUI.
Last but not least important, ArchitectUI is a Bootstrap 4 based template, giving it the must-have flexibility.
Start with the creating of your project's admin panel strong. Start with ArchitectUI!
3. Vue Paper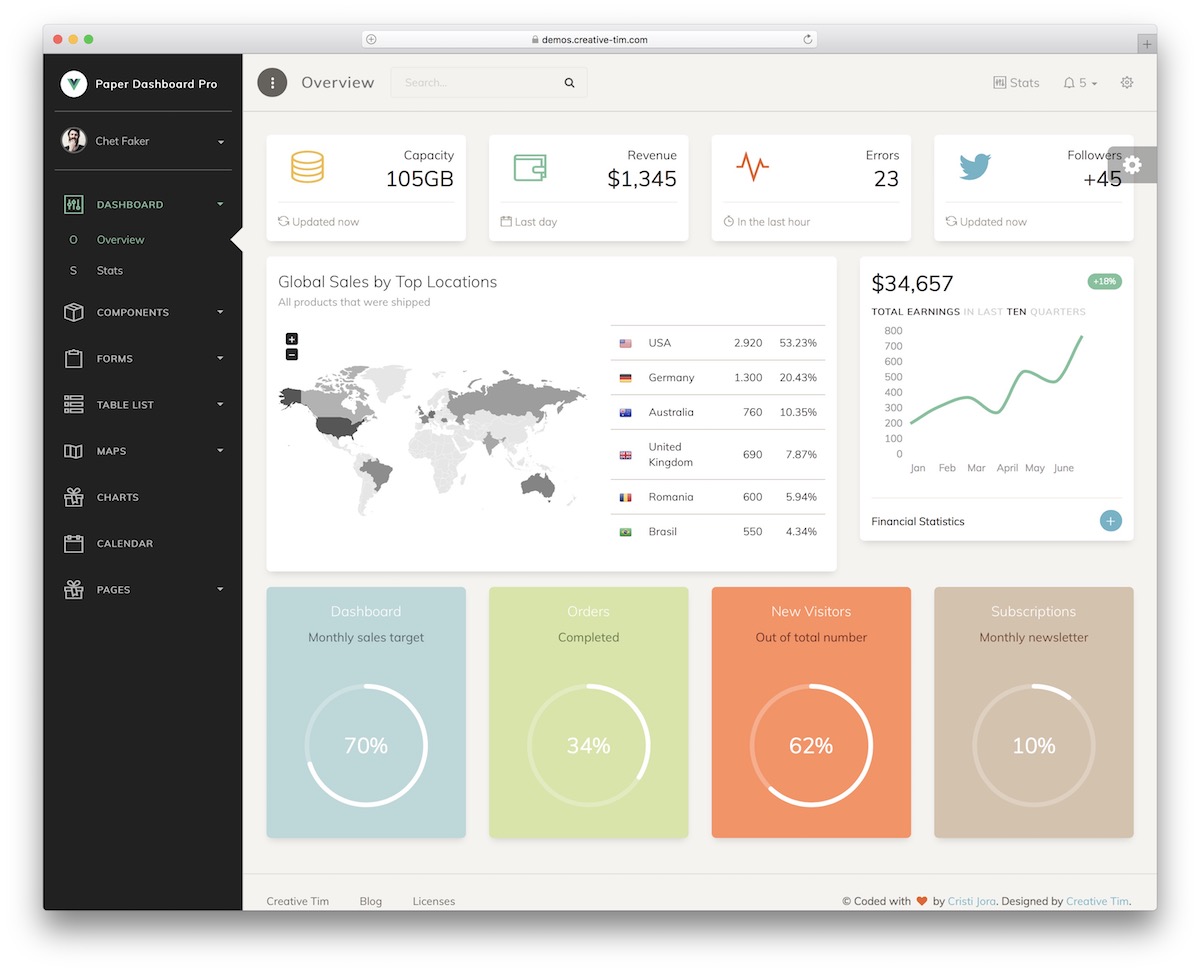 With over one thousand sales and high ratings and positive reviews, you know Vue Paper is a solid dashboard template. And you couldn't be more right.
Along with the great looks and a layout that works seamlessly on different screen sizes, Vue Paper is also packed with features.
It includes 160 elements, fifteen plugins, 25 example pages, Bootstrap base and extensive documentation. For $49, you can get the basic, Freelancer package, which supports one project, one developer and six months of pro support.
You can also opt for Company or Enterprise pricing plans if you'd like more. Make some noise with Vue Paper.
4. Vue Material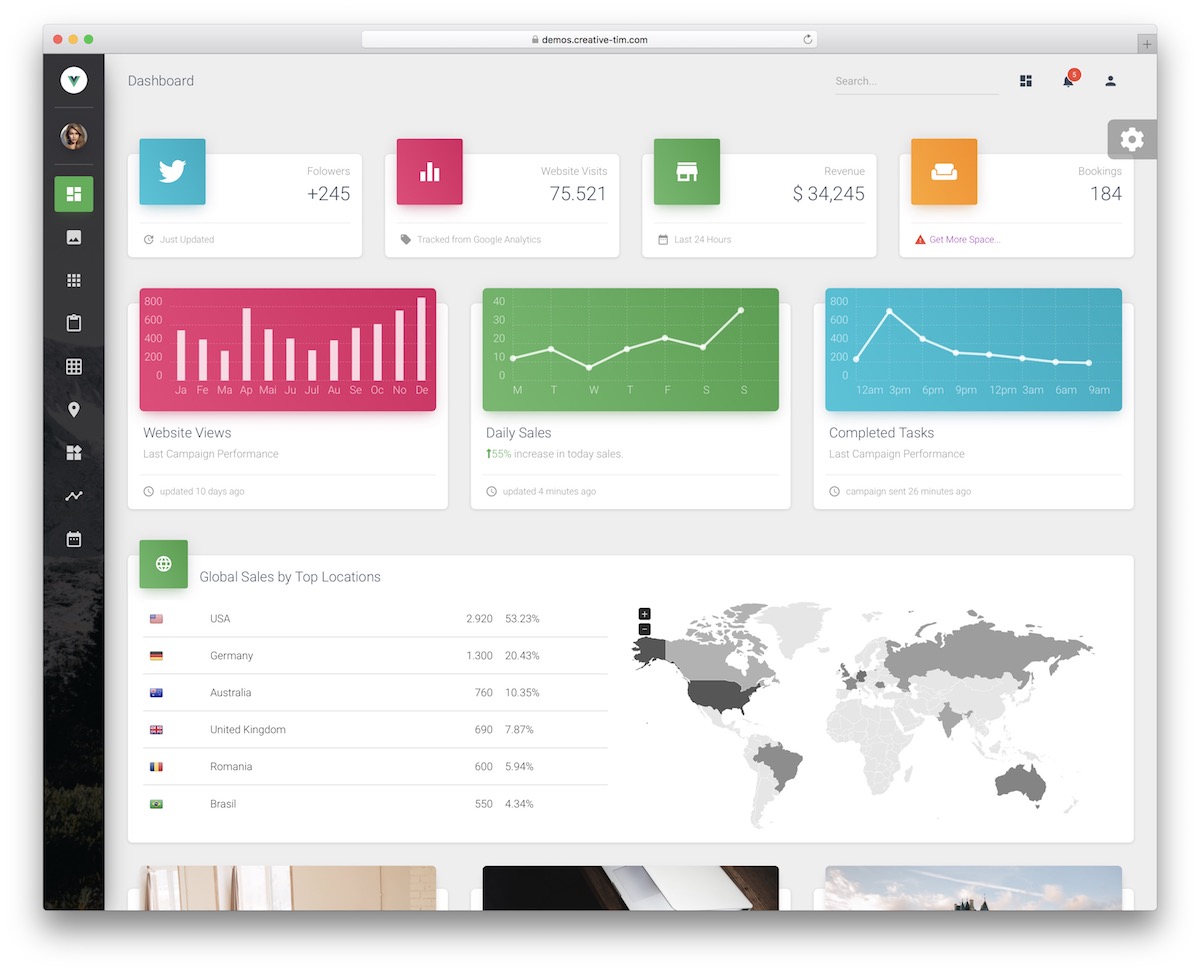 Vue Material is a powerful admin dashboard that only requires basic coding skills to activate. Even when performing customization tweaks, you'll get the job done quickly. (You need to be familiar with Javascript, Vuejs and Vue Router.))
As the name suggests, it's inspired by Google's Material Design.
Quick startup guide assists you in speeding up the process of developing your application's admin quickly. But you can also access the comprehensive documentation where you will learn all the ins and outs of Vue Material.
AND. Get in touch with the friendly support team in case of additional assistance.
Con: We'd like to see more regular general updates.
5. Vuetify

Beautify your admin dashboard with Vuetify. Did you see what I just did there? Never mind, here is another exceptional solution to start working on your application with absolute confidence.
No ifs, buts or maybes. Just plug and play.
This Vue admin dashboard follows the style of Material Design and contains a whopping collection of two hundred components. Yes, that's a lot.
But it does not end here.
Vuetify also contains four plugins and eight examples pages, so you don't have to build them yourself. A massive TIME SAVER, if you will.
Finally, you can expect new features and improvements to drop with upcoming template updates. Hurray.
6. Vue Light

Vue Light is another terrific variation of an admin dashboard template for your applications and websites. Why starting from the ground up if you can save yourself so much time with a ready-made solution?
No need to answer that. It's obvious.
Make it quick, effective and impactful with Vue Light. Great lightweight coding ensures you immediate corrections and improvements. (If necessary.)
You can – of course! – work with Vue Light out-of-the-box.
You even have a few color skins, sidebar background (optional) and mini sidebar toggle. For even more fun, put any of the 25 example pages into play.
7. Vue Paper 2

Due to the popularity of Paper Vue admin dashboard template, Creative-Tim released version two. It uses Bootstrap for flexibility and simple coding for quick development. Vue Paper 2 is excellent for beginners and pros.
The kit includes multiple pages, components, forms, maps, widgets and charts, to name a few. The simple, but modern look ensures great distribution of stats.
Anyone can use your new admin on smartphones, tablets and desktops.
Vue Paper 2 has enough features for everyone, but no too much, maintaining a distraction-free experience. Like other Creative-Tim templates, you can opt for three pricing plans: Freelancers, Company and Enterprise.
8. Vue Black

Since we wanted to offers something for everyone, here's a dark Vue admin dashboard template. Vue Black includes all the basics with a few extras, so you can start immediately.
Note: even though a dark template by default, it still comes with a light version. Just in case.
Vue Black is great for all types of dashboards, as it easily handles multiple stats for you to investigate further. What's cool, you can first check the live demo preview, even test it on different devices and go from there.
The demo even allows you to check the light version, different color skins and the mini sidebar function.
9. Vue Now

Vue Now lets you start, you guessed it, now. Okay, joke aside, we bring you another all-around Vue admin dashboard with hundreds of sales and a 4.9-star rating.
You are in for a treat.
Vue Now has a solid sidebar with six predefined color skins. You can even minify the sidebar with a single click (see live demo).
Other greatness comes from 160 custom elements, seventeen plugins and over twenty pages. You will save so much time with Vue Now it will almost feel as if you'd be cheating.
And if you ever need any help, Vue Now's professionals always offer you support.
10. Vue Argon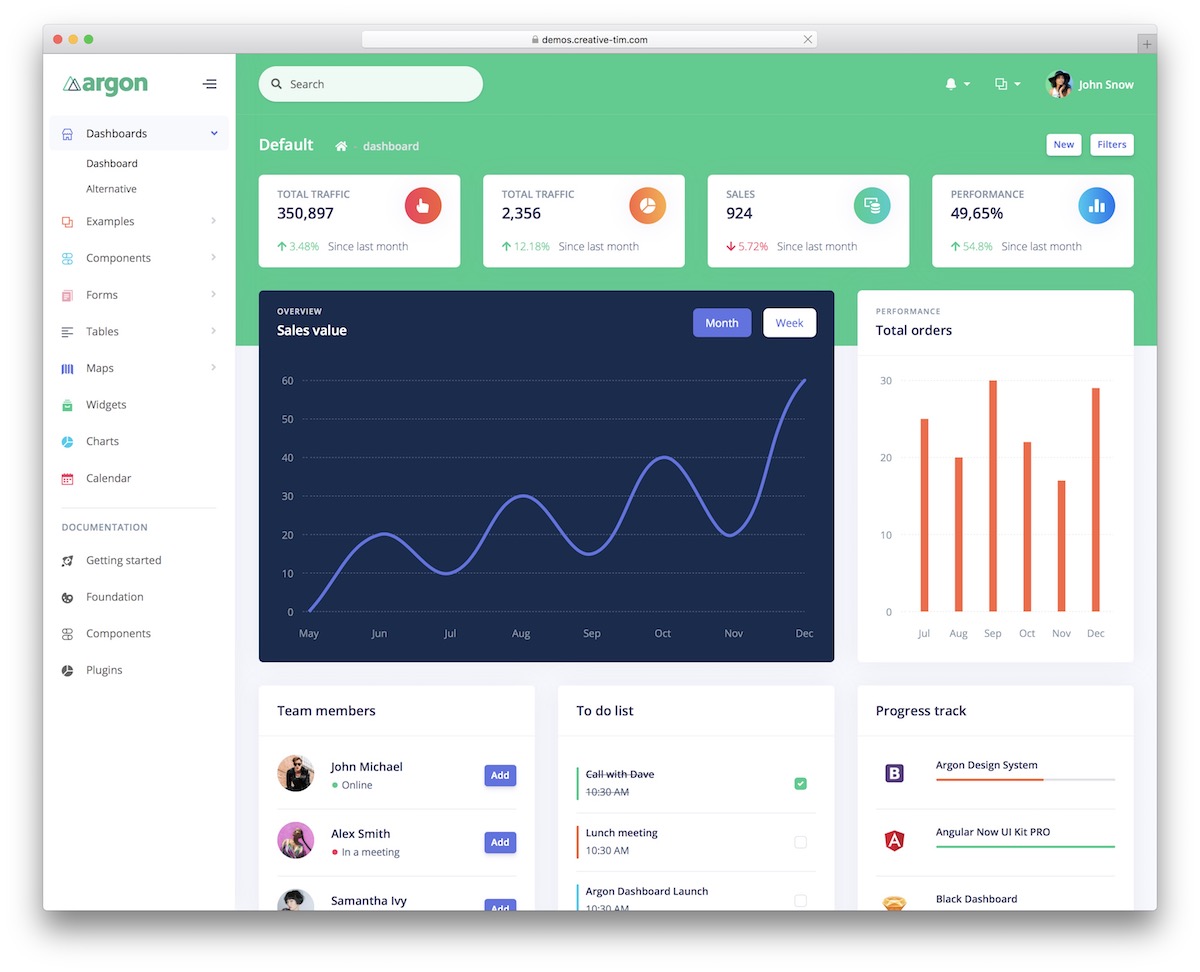 Vue Argon promises an up-to-the-minute admin dashboard with its regular updates, which keep it modern and fresh. Tons of positive feedback ensure you look at a solid example that produces fantastic results.
Enjoy a quick start that will take things to the next level, without a shadow of a doubt.
Tons of effects, animations, page styles, plugins and two hundred (200!) elements await every Vue Argon user.
What's cool about any Vue admin dashboard templates on this list is how user-friendly they are. They rock an easy-to-understand code but that's not all.
If you need help, someone from the support team will offer you a helping hand.