10 April, 2023
10 Flexible Free Vue Templates 2023
If you are still considering whether or not to opt for free Vue templates, our list of the best ones ensures you make the right decision.
Why?
After spending months using, reusing, testing and reviewing dozens of available alternatives, only these were promising enough to share with you.
Safe, secure and supported by the latest technologies.
You can now start your application, website, or other project confidently.
After using just one of the free Vue templates below, you will never want to start from scratch again.
Enjoy building a trustworthy admin dashboard that will make an immediate difference.
Best Free Vue Templates
1. ArchitectUI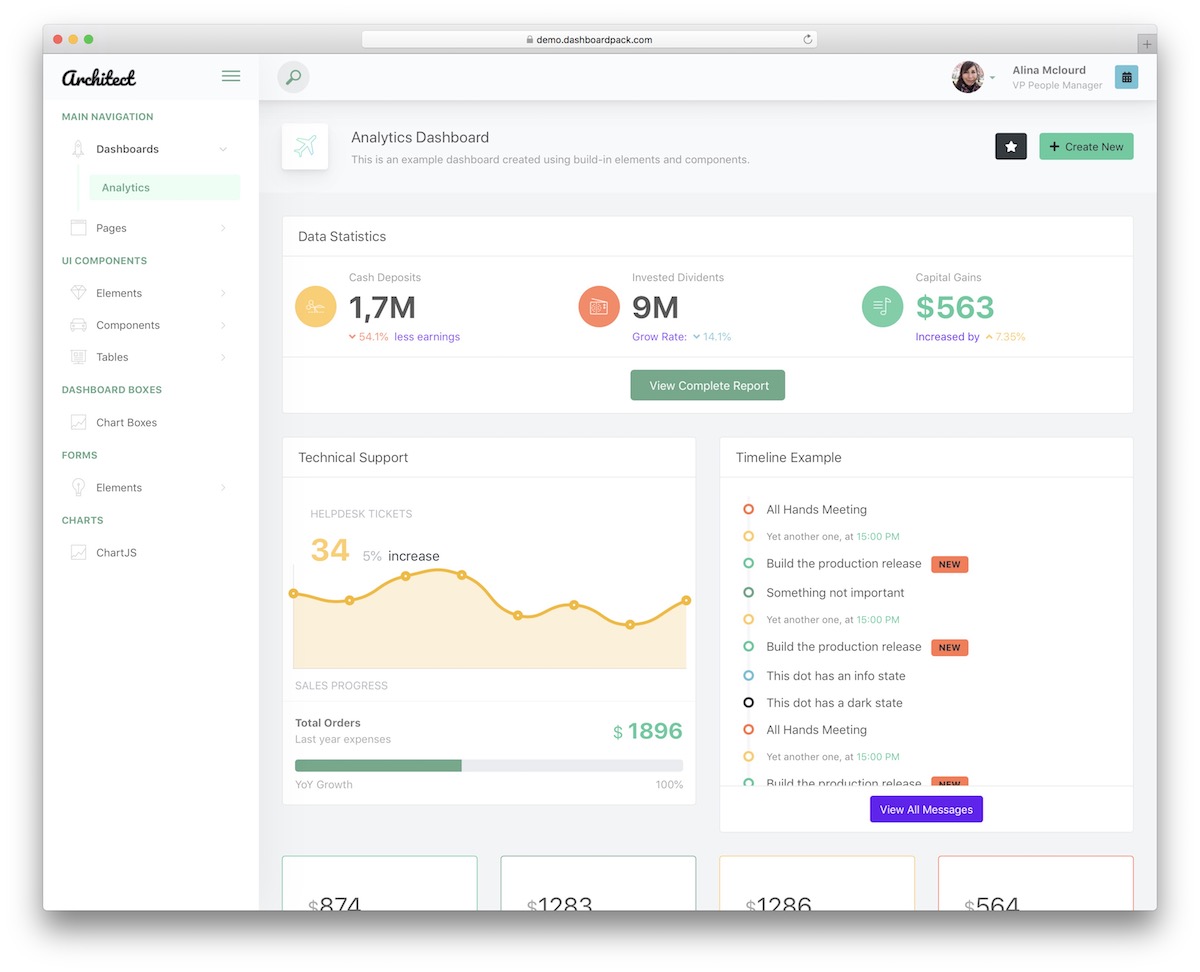 ArchitectUI offers you kick-start your admin dashboard with a great set of layouts and elements. You get a collection of fifteen practical components and widgets that you can mix and match your heart's content.
The coding is easy, too, so even if you are a beginner in Vue, you'll still succeed without sweat.
Moreover, ArchitectUI has collapsible sidebar navigation, making the experience of browsing stats and data more pleasurable.
You can also get the ball rolling by visiting the live demo preview first and go from there. Once you go ArchitectUI, there's no turning back (just so you won't later tell you I didn't warn you).
2. Vuetify
Creative Tim has a collection of many highly valuable and popular free Vue templates. Vuetify is the first on this list, as it's one of their most downloaded ones (50k+ dowloads!). Plus, it has hundreds of positive reviews.
Yes, Vuetify is doing something extremely right.
Vuetify bundle contains sixteen elements, two plugins and seven example pages. The free kit also equips you with the necessary documentation, so you execute your admin creation even more comfortably.
Note: the author even responds to different queries in the comments section. Bravo!
I'd only expect more regular updates from such a well-liked solution.
3. Vue Material
As the name implies, Vue Material got inspiration from Google's Material Design. If that triggers your interest, you can now download it and put the template into play without giving it a second thought.
With over 40,000 downloads, Vue Material is one of the most user-approved Vue templates available. Instead of building an app and dashboard from the ground up, kick things off with a ready-to-use template.
Remember, you can always step things up and go PRO if necessary. Let's face it, the free version only offers sixteen elements (200 in pro) and two plugins (15 in pro).
4. Vue Light
Vue Light unlocks this clean and simple atmosphere that everyone enjoys. Also, due to the minimalist look, Vue Light easily adapts to different projects you need to realize. Quick and efficient.
Moreover, it bases its foundation on Bootstrap 4, so you know the layout is entirely fluid. Mobile and desktop experiences will be equally amazing with Vue Light.
You get it all and more with six colors, background image, SASS files, four example pages, and 10+ components. While Vue Light is top-notch and powerful, I'm missing a fresh update, as it's still at 1.0.0. version (three years later).
5. Vue Paper
There's nothing worse than having a quick deadline for a client's request. But you always sort it out professionally because you overpromise and overdeliver.
Still, if you set an instant prototype, things can be slightly off. Working with a free Vue template like Paper is so rewarding. It's an all-around tool that easily adapts to the regulations you need to follow.
However, Vue Paper is here to WOW you and your client, thanks to the many goodies it sports. You can choose between different sidebar background and active colors out-of-the-box.
You also get a startup guide that eliminates the learning curve.
6. Vue Black
Vue Black almost does not need an introduction. It's a Vue template with a dark design and many creative elements to make a more dynamic experience.
BUT. Vue Black even comes with a light alternative if you like the look but don't fancy the dark factor. Or you can use both, include a toggle and offer users to choose between dark/day mode.
Vue Black combines all the components, elements, colors and details seamlessly. You can work with it as-is, improve it, whatever.
The template is here for you – to make a difference and start with a solid dashboard panel for your app or site.
7. Vue Argon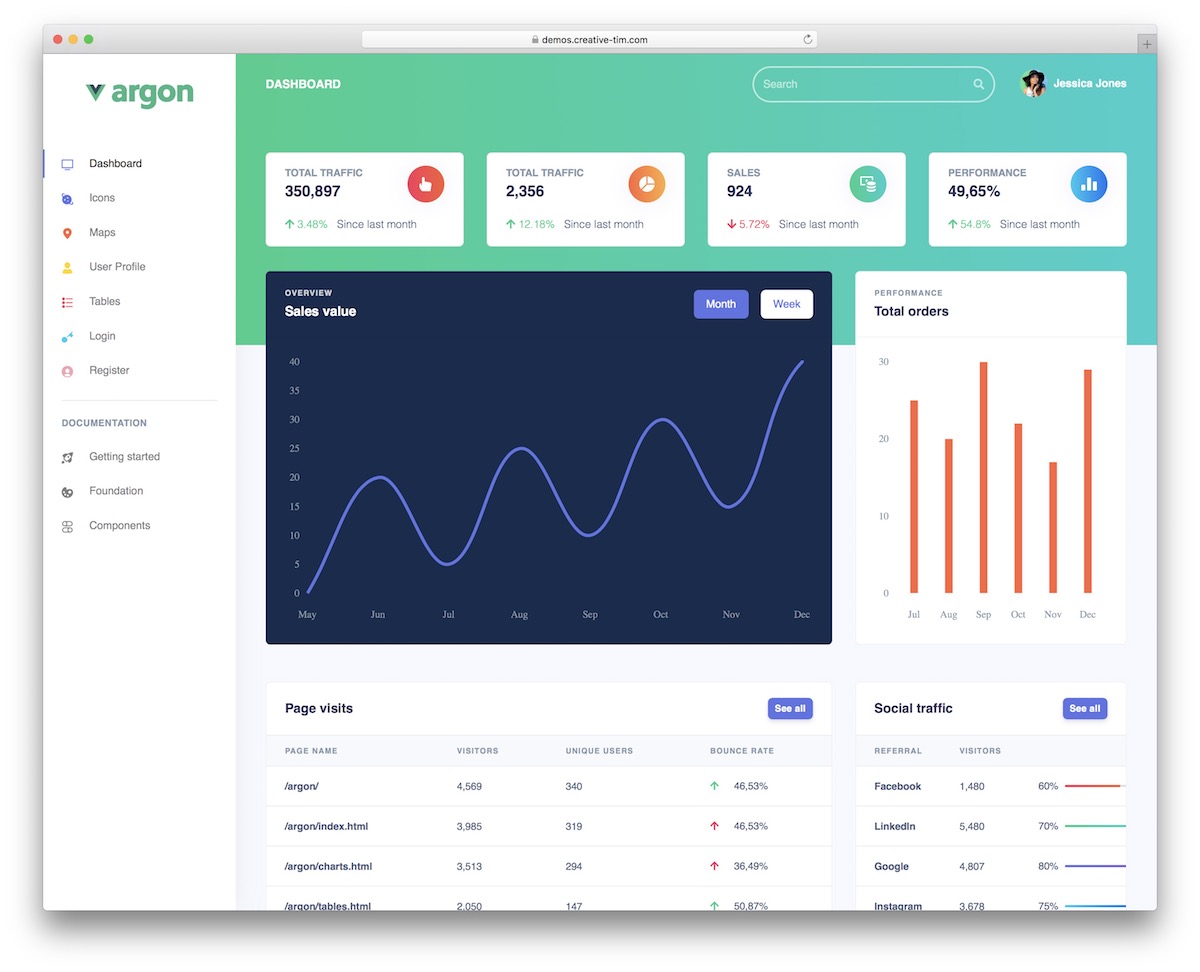 You read that right. Vue Argon is like the biggest free template on this list, in terms of elements. It has a whopping 100! Along with that, it even includes three plugins and seven example pages.
And if you'd like to edit anything, please do. The beginner-friendly code structure ensures everyone a quick execution of something new.
You can save plenty of time and effort, you'd otherwise need to invest if starting from square one.
Since Vue Argon uses Bootstrap 4, you immediately know this template's responsiveness is on point.
Hit the download button and start right now.
8. BootstrapVue Argon
Okay, here's another Argon variation, and no, they are not the same free Vue templates. (So they don't cause any confusion.)
BootstrapVue Argon also contains one hundred elements, three plugins, and seven example pages. You can use the latter as is, turn them into actual pages, modify them, whatever you desire.
With multiple thousands of downloads and a near 5-star rating, you know this template is a serious deal. Setting up an almost instant foundation for your web project becomes a piece of cake with BootstrapVue Argon.
Take it to your total advantage and benefit from ready-to-use elements. You deserve it!
9. Vue Material (Laravel)
Here's the Laravel version of the Vue Material free template. You can start using the template with the click on the button, enjoying all its special elements, details, colors, and more.
Sort out a front-end and a back-end without paying a fee. You can hammer out a base for your application or website like a champ with the basic coding knowledge.
The template uses Vue.js and Laravel and operates through an API—modern technologies for a solid admin dashboard.
You can expect no half-baked stuff from the free tools on this list. Make an impact Vue Material, track data, and neatly organize it in one location.
10. Nuxt Black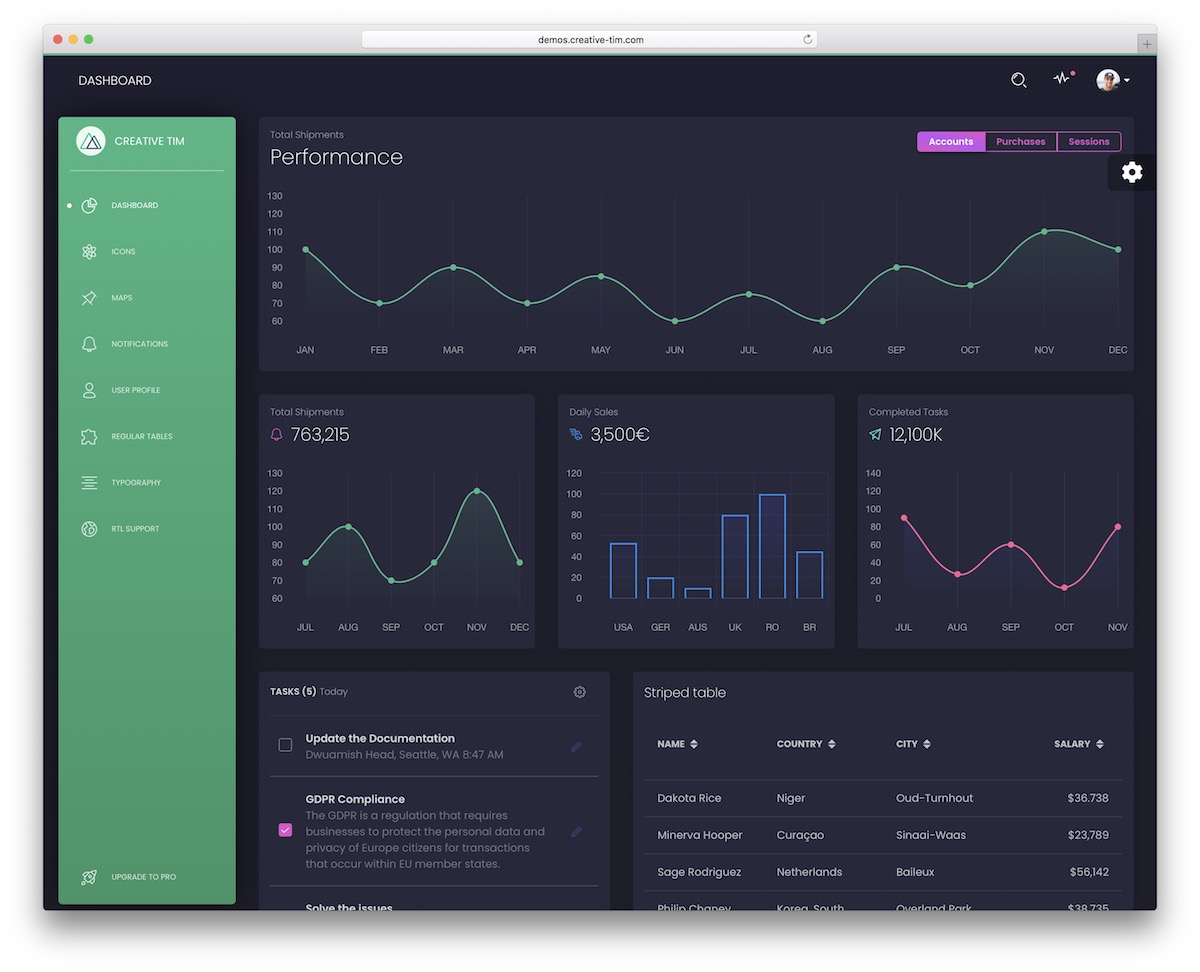 Since many users prefer a dark dashboard, we added one more to the list. Meet Nuxt Black. But there's even something for all the rest – light mode is part of the bundle, too.
Catchy graphics, several elements, plugins and ready-made pages with comprehensive documentation are all part of the package.
The default version works flawlessly, so you can use it as-is, for inspiration – you get the gist of it. Don't hold back and IMPROVE it if necessary!
Nuxt Black follows all the modern trends, ensuring a great experience on desktop and mobile. Feel free to investigate it further via the live demo preview before the plunge.