8 January, 2023
10 Top-Notch Vue Templates 2023
You can launch a new application quickly and save a ton of time and money, with our pick of the best Vue templates.
Why even bother creating an entire dashboard from scratch? Not just that, but why do the tedious research yourself if you don't have to?
Yes, that's when we come into play.
With all the testing, trying and creating our own Vue templates, we know all the ins and outs of what means a SOLID Vue template.
That's why we curated this best-of list (which we will update regularly, so you only get the most reliable dashboards). So you don't have to.
Take your application to the next level.
Most Versatile Vue Templates
ArchitectUI (Free)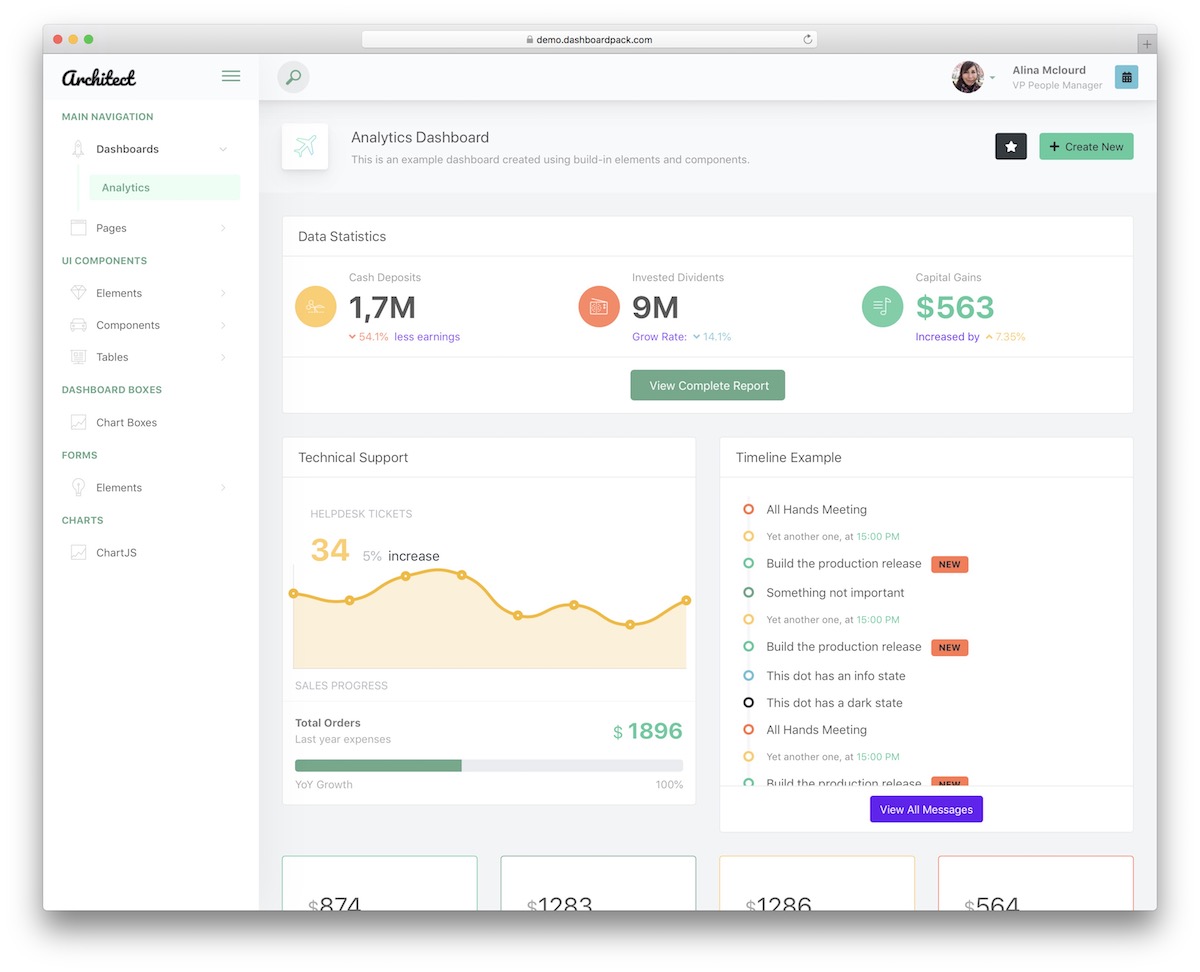 Let's move forward with a free admin dashboard that uses Vue, ArchitectUI. It's an excellent solution that offers everyone to get going in the right direction immediately.
You can now create an above-basic dashboard for your application or website without paying a fee. The template also uses Bootstrap 4, guaranteeing excellent performance on different devices. Essential in today's mobile-first world.
You get fifteen widgets and components in the kit, different color skins and a great coding structure. In short, everyone with a basic understanding of code will win the admin building process using ArchitectUI.
Let the game begin!
ArchitectUI (Pro)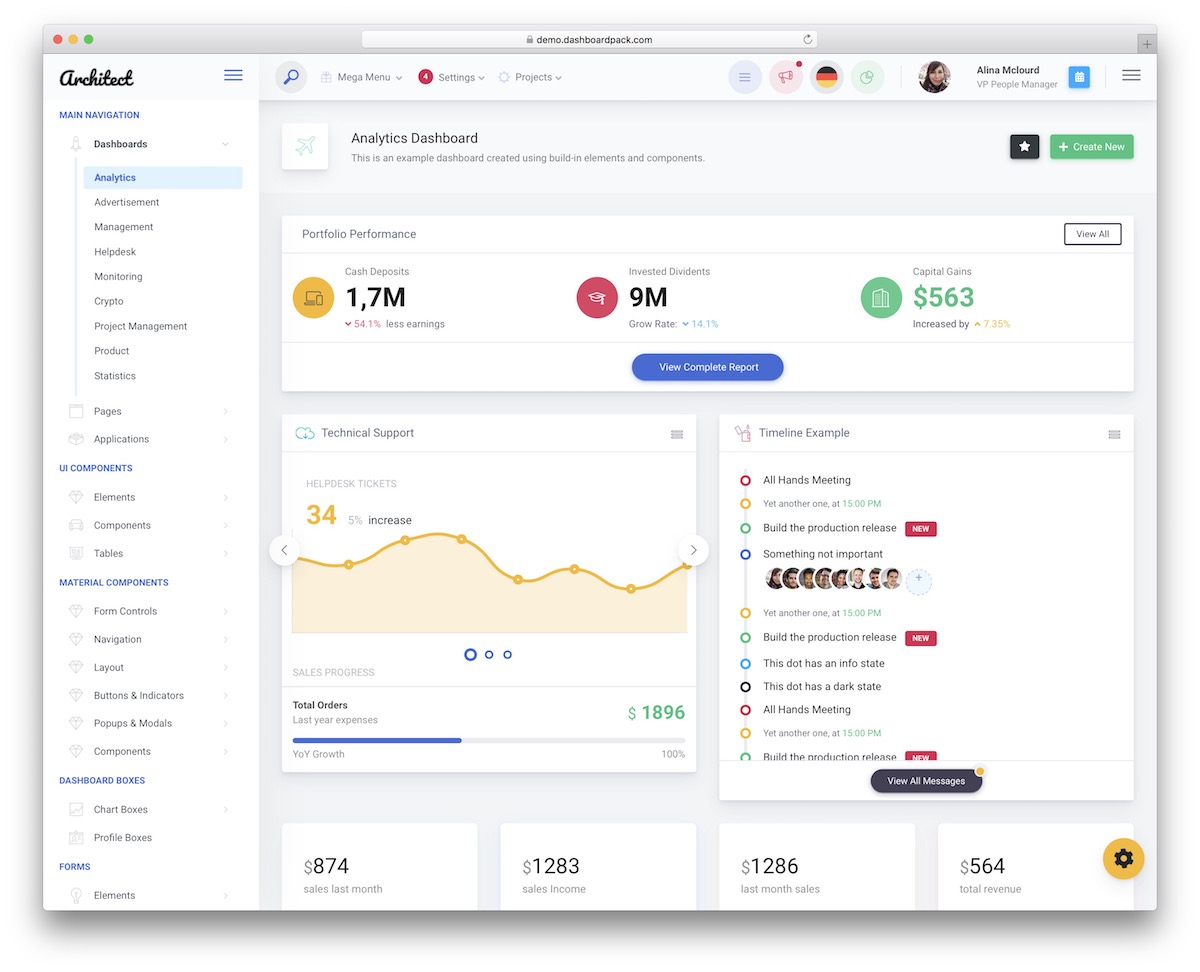 Okay, here's a catch. We wanted to add the free version of ArchitectUI first, so you can test the waters. But, when you want to unlock even more goodies, you can upgrade to the pro version of ArchitectUI anytime.
This gives you so much material, so you can easily make it fit your project's requirements. 50 widgets, nine color schemes, nine dashboard styles and a flexible layout, all this and more is what you get with ArchitectUI.
You can also choose between two different licenses, Personal and Developer. In addition, DashboardPack also offers a Lifetime license, which gives you all their products and unlimited possibilities for a one-time payment.
Vue Paper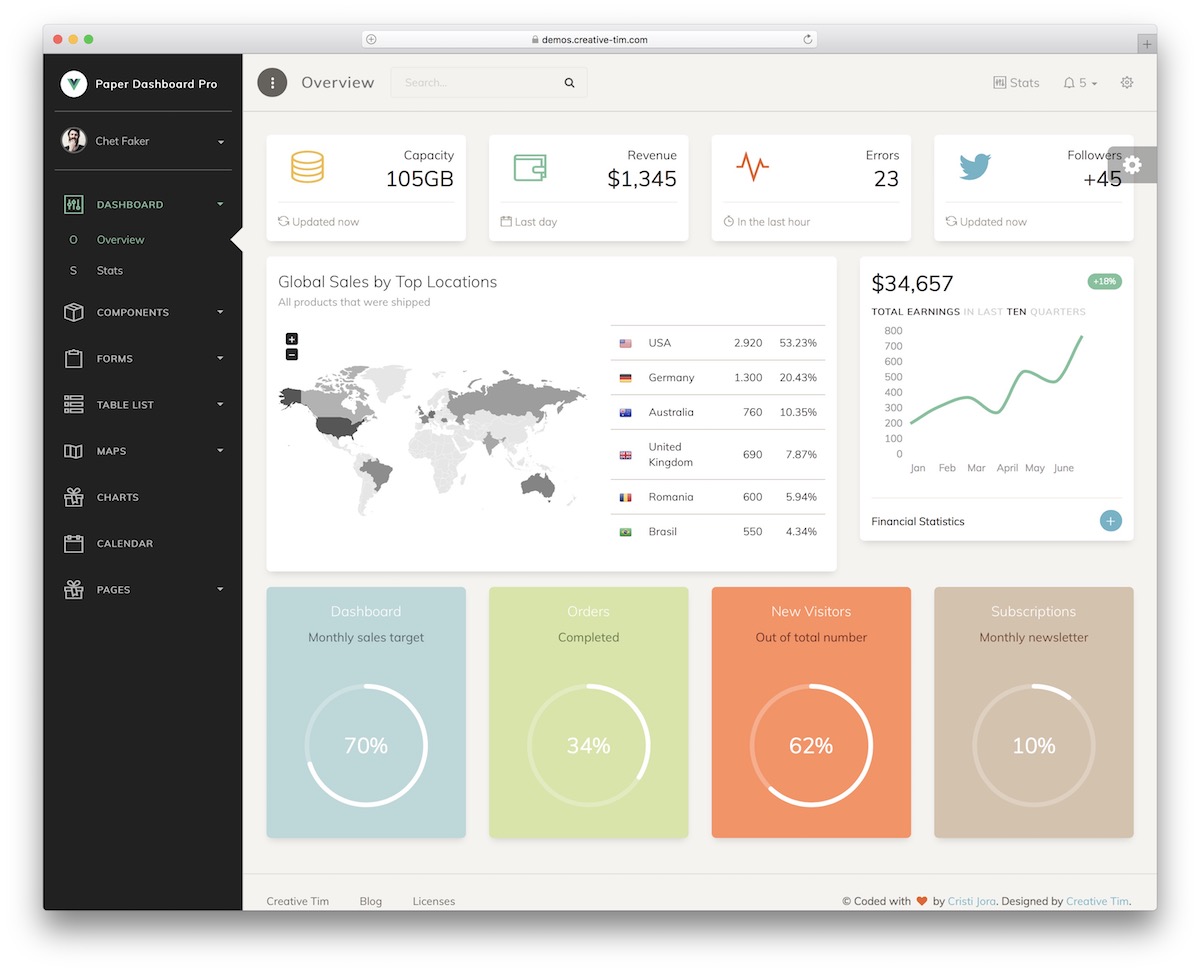 Vue Paper is a resourceful premium template with many components and elements for your app or site. You don't have to start a new project from the ground up anymore.
That's what these templates are here for. Save time and money at the same time.
Vue Paper mixes great designs, details and fantastic performance very well. But you can also modify it if necessary, making it fit your needs precisely.
One downside that captured my attention immediately is the infrequent updates. Still, Vue Paper works great as-is. (You may expect an update sometime in the future.)
Vue Material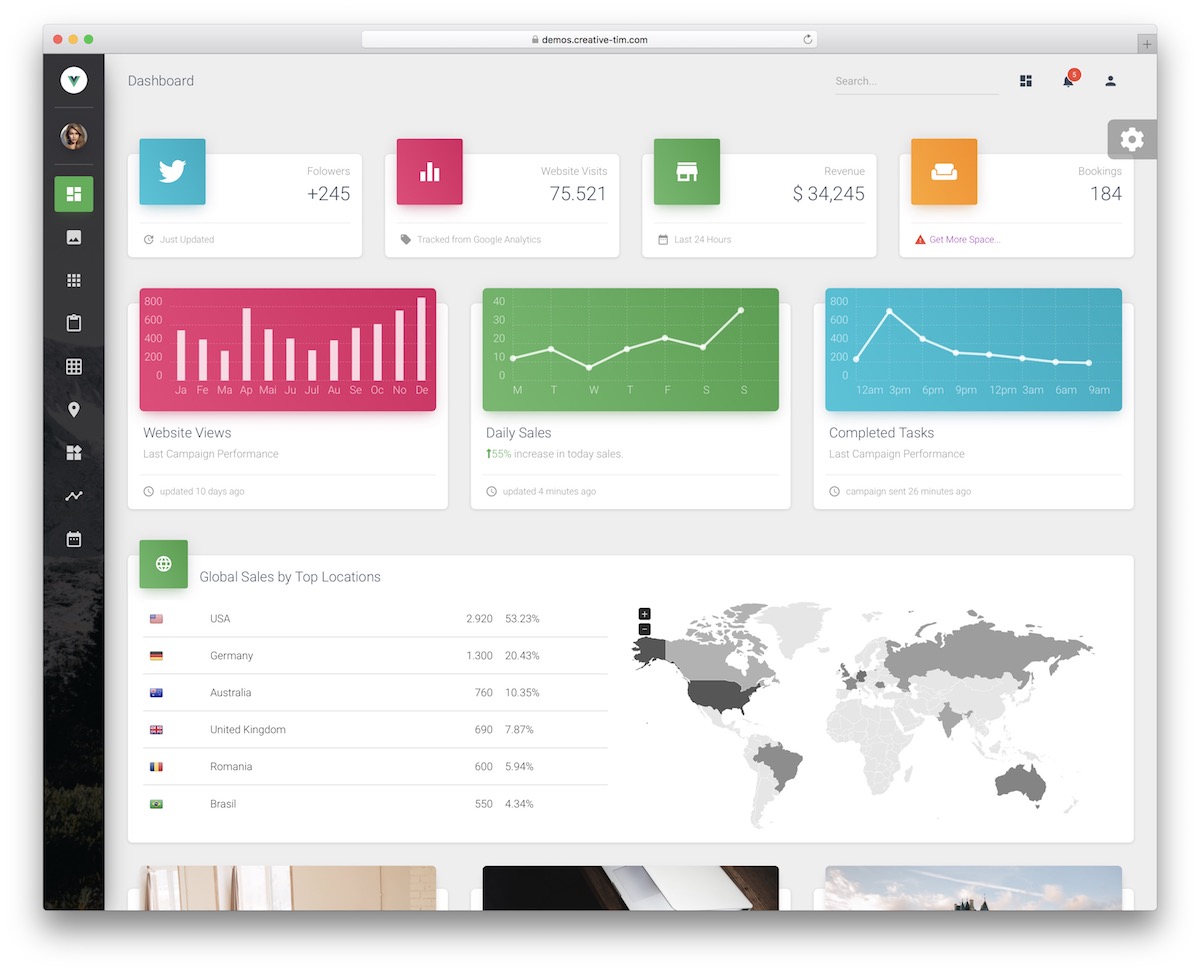 As the name implies, Vue Material is a Google Material Design-inspired dashboard template with 100s of downloads and a 4.9-star rating. A solid solution with a top-notch appearance on different devices and screen sizes.
Keep in mind that even though working with Vue Material is a little breeze, you need to have the basics of Javascript, Vuejs and Vue Router under control.
Vue Material has three different pricing options, Freelancer, Company and enterprise. It all depends on how many projects, support and updates you need. For instance, Freelancer supports one project, one developer, six months of support and six months of updates.
Vuetify

Vuetify is a popular Vue template, using the latest technologies only. With that in mind, it's a safe and reliable alternative that gets the job done quickly.
Also, working with the code will be effortless for beginners and professionals. But if you are completely new to this type of template, we'd advise you to opt for the above free version first and go from there.
But you get access to extensive documentation and support, too, so that may do the trick for a newbie.
A quick rundown of features is as follows: eight pages, heaps of components, tables, forms and charts, to name a few.
Vue Light

Vue Light is a spectacular Vue template if you are searching for a lightweight and minimal solution. Your application or admin dashboard will love Vue Light.
Superb delivery of contents, fluid layout and overall exceptional experience make this Bootstrap dashboard a stand-out alternative.
You can select between seven colors, add a sidebar background image and even kick things off with the free version first. Vue Light is all a developer would want, so don't hold back.
You can start without pulling out your card, test it and upgrade later. OR. You can check the live demo preview and go full-tilt right away.
The choice is yours!
Vue Paper 2

Vue Paper got so popular, Creative-Tim decided to release the second version. It already received a ton of positive feedback from over sixty reviews and a 4.8-star rating. Dope.
This Vue template has a nice mixture of dark and light elements, creating an easily immersive atmosphere. Even though it works fantastically well, you can also go one step further and modify Vue Paper 2 to your needs and demands.
Trust me, it'll be easy if you have the basics of Vue.
The features are there, readily available for you to put into play and make an immediate difference.
Vue Black

Here we have one for all the dark design enthusiasts. Vue Black is a neat, minimal template for establishing a powerful app and website dashboards.
Note #1: Vue Black includes a light version, too, plus six color choices.
Additionally, you can choose between classic or mini sidebar. If you'd like to offer it as an option, code a toggle both for the sidebar and light/dark mode.
Manage any type of data professionally from one location by utilizing the versatile Vue Black.
Note #2: You can also start with the free version of this Vue template and upgrade to pro later.
Vue Now UI

Vue Now UI delivers 160 elements, 17 plugins and 27 example pages by default. You can also select between different ready-to-use color skins. On top of that, all the components and elements of the template are entirely editable.
If you want to make changes, make them.
Vue Now UI includes comprehensive documentation and access to a friendly support team to make it even more user-friendly. Perfect for beginners and pros.
Some of the elements are buttons, grid system, forms, tables, Google Maps, charts and the list goes on. Make remarkable things happen quickly and with basic coding knowledge.
Argon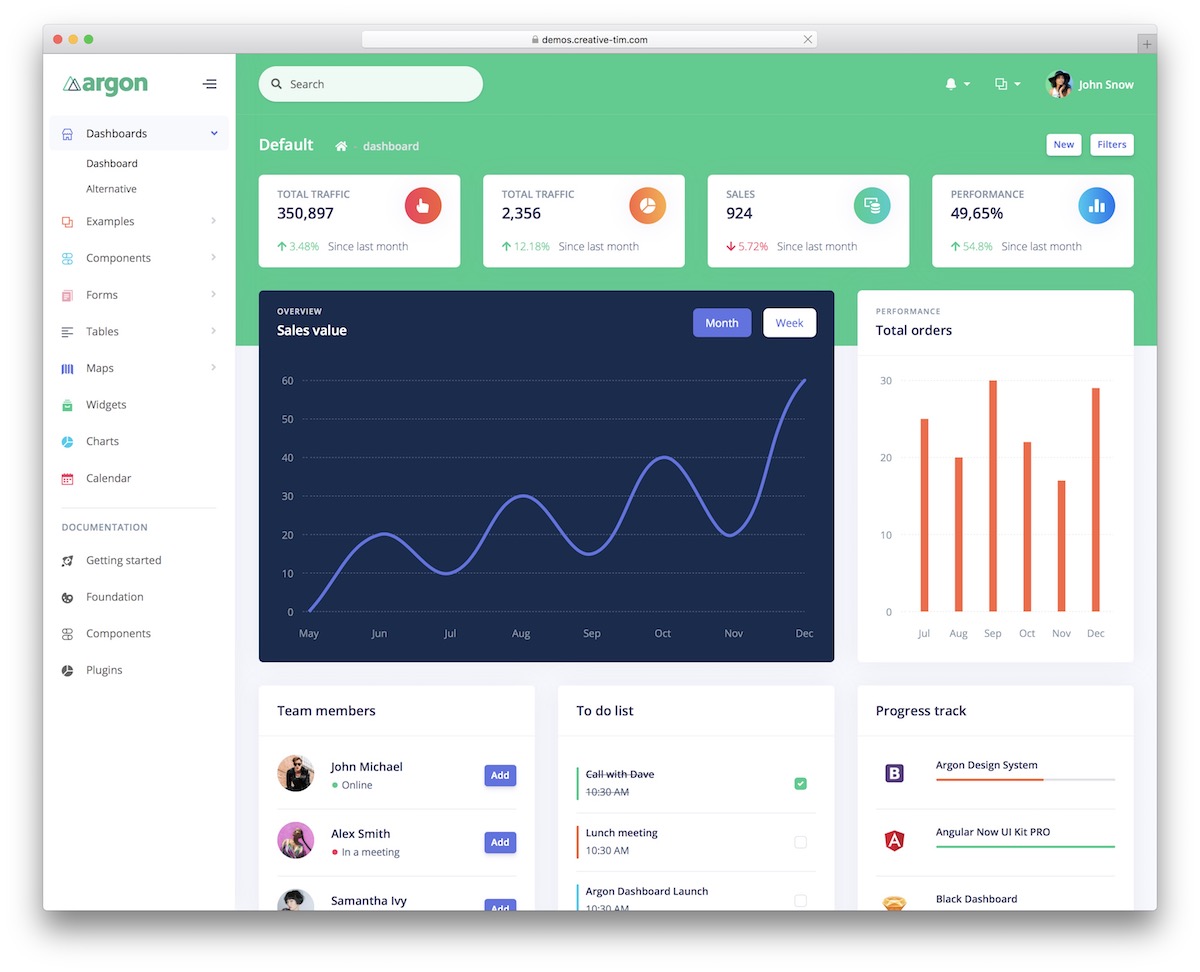 Argon is a full-blown Vue template that kick-starts your admin dashboard for small or large apps or websites. It's a tool of 100s of goodies you can improve and enhance to the last detail.
Start on the right path with a reliable solution that you can grow with. And that's exactly what you can expect from Argon. Make it yours and you'll never again want to build another admin panel from scratch.
Along with the dashboard section, you also get three additional pages for login, registration and screen lock. Here you go, a fantastic solution that knows no limits.