23 September, 2023
11 Best Free Bootstrap 5 Templates 2023
We found a lot of unreliability when reviewing the quote-unquote the best free Bootstrap 5 templates. Thus, we took things into our own hands to create a collection of the most powerful options for you.
These are all highly practical and come with quite some features. They come more premium than free.
All use the latest technologies to guarantee outstanding performance across popular devices and web browsers. The designs and looks are also on point, following the latest trends.
However, you can use a free template based on Bootstrap 5 for personal projects. This also allows for a quick prototype for your reference before fully committing.
You are all set to create successful web applications. Boom.
Best Free Bootstrap 5 Templates
1. Soft UI

Soft UI has over 7,000 downloads and 5/5 star ratings, which already tells more than enough. If building a dashboard, this is the remarkable alternative that will do the trick.
We wouldn't recommend anything else since Soft UI does things well.
You get a collection of seventy elements, one plugin and seven practical pages in the kit. You have the right to mix and match components however you want. Not just that, but if you'd like to perform any improvements, you can do that, too.
Note: If you ever exceed the free version of Soft UI, you can always upgrade to pro.
2. SaaSpal

SaaSpal, as the name implies, is a remarkable free Bootstrap 5 template for anything software, SaaS and another web application-related. The modern and creative design takes things to the next level right from the get-go.
SaaSpal is also a one-page template. Meaning, you display all the content on a single page, in just a few scroll apart.
From floating navigation and back to top button to pricing plans and testimonials, it's all available and then some. We also like that the author regularly updates SaaSpal, so you know it'll stay rocking the latest and greatest for years to come.
3. AppGrids

If you are searching to create a landing page for an application, that's when you should opt for AppGrids. This resourceful free template uses HTML5 and ensures an excellent coding experience.
Beginners and pros are welcome to work on their new projects with AppGrids.
The free version of the template is for personal use only. However, you can create the exact promo page you want without starting from scratch.
Tons of sections are ready-made, waiting for you to add details and content. Great deliverability is guaranteed across all modern devices and web browsers, so everyone enjoys browsing your lander.
4. Bizfinity

Bizfinity is a versatile free Bootstrap 5 website template that easily covers all businesses. It's great because you can easily perform as many edits and improvements as possible. In other words, tailor Bizfinity to your liking without holding back.
The package contains fourteen predefined pages, animations, a functional contact form and multiple practical UI elements.
Every user also gets extensive documentation that will help answer all your questions. Even if you have only a basic understanding of HTML, you will still successfully develop a proper business website with Bizfinity.
Why wait? Make a difference now.
5. ClassiList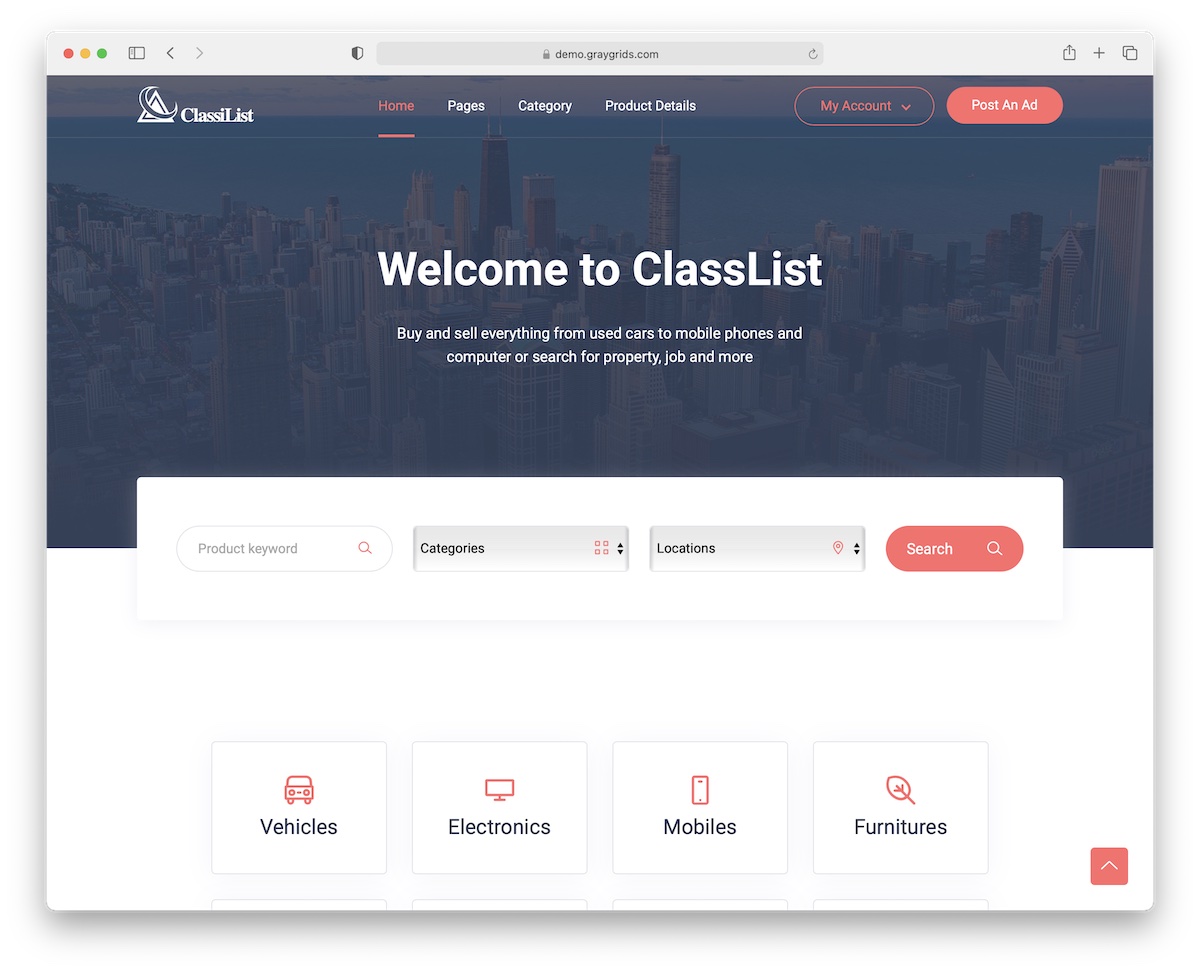 While some of the free Bootstrap 5 templates on this list are more generic, the others are more niche/industry-specific.
ClassiList, hence the name, is for launching classified ads or listing website. You can even employ this neat and easy-to-use solution for a directory website.
The options are very many. You can easily work with ClassiList on different projects (but only for personal use with the free version).
Everyone offering the same template in free and premium versions is doing great. Users can test things out and get the gist of it first.
Benefit from all the amazing features!
6. Space

Space is a massive free Bootstrap 5 template that allows you to create multiple pages. You can employ it for agencies, small businesses, startups, even a freelancer will enjoy using it for his/her professional website.
Space's page contains three homes, twenty internal pages and over one hundred UI elements. That's a lot! The design is also a mixture of minimalism and creativity, so there's a good chance you'll want to use it out of the box.
BUT.
You have all the rights to personalize Space and brand it according to your or your client's regulations.
7. Fancy

We like it when someone names a digital asset Fancy. That's exactly how this next remarkable free Bootstrap 5 website template goes.
Anyone fancy creating a one-page website? That's exactly what you can accomplish fast with Fancy. Even if you are a beginner in HTML, you'll still do a dope job making a top-class page with Fancy.
No need to start from scratch. Meaning, save time and energy, but boost your workflow, keeping your professionalism intact.
Regular updates are also included. Fancy comes with frequent fixes and upgrades to ensure smooth operation forever.
8. AdminKit

Every website and other web app needs a powerful admin panel. Luckily, you can now create one without spending a single penny. AdminKit is here to make an instant change in how you build dashboards.
This spectacular free Bootstrap 5 template follows all the web trends of today. Great performance, stunning design and smooth adaptation to screen sizes, AdminKit guarantees it all.
Besides the special layouts, components and other goodies, AdminKit does not require jQuery. The code is also built with beginners in mind, so everyone can greatly benefit from all the wonders of AdminKit.
9. Delivery

The popularity of food delivery apps is on the rise, thus, there's a good chance you own one or are in the process of launching it. Promote your application like a real champ on the internet with a sophisticated site.
That's what you can do with Delivery. No ifs, no buts, no maybes.
The Bootstrap 5 template has three pricing options, starting with the free. You can always upgrade to one or ten licenses.
You can use Delivery for any type of delivery app, fast food, restaurant, grocery. But really, it could be other delivery services, too! That's how versatile and easily adaptable the template is.
10. eStore

With this bundle of promising free Bootstrap 5 templates, we try to cover as many websites as possible. And if you are in the process of releasing an online store, that's when you can go with eStore.
Bringing to fruition an eCommerce website does not need to start from square one. You can always jump-start your project with a powerful and beginner-friendly tool. Yes, eStore!
The kit brings you ten eCommerce exclusive pages with an additional one hundred (and counting) elements. You can comfortably work with eStore as-is, but you can also modify it, so it follows you branding directions to a tee.
11. Massive

Massive has a name like that for one good reason: because it's MASSIVE. Four homes, seventeen practical inner pages and over two hundred UI components – isn't that massive?
It's a multi-functional free Bootstrap 5 template for all professional websites. Businesses, agencies, freelancers, creatives, everyone can profit from Massive.
The clean, simple and engaging design creates a pleasant atmosphere out of the box. The layout is also perfectly harmonious with different screen sizes and the lightweight code ensures fast loading.
You are all set to create an impressive personal project for free! But you can also go commercial (for premium).