24 September, 2023
9 Best Tailwind CSS Templates 2023
You don't need to start from scratch if you plan on working with predefined Tailwind CSS templates. Also, if you are afraid to pick an unreliable one, don't worry. You're in good hands.
We did all the necessary reviewing and testing to supply only the best solution, so you don't have to.
With Tailwind, you have the creative freedom you deserve when building web applications.
Unlike other CSS frameworks with limitations and fixed ready-to-use elements, that's not true for Tailwind.
And to make the entire process even easier, pick a template and start your development process immediately.
Make the final creation follow your regulations to a T. Easily!
Best Tailwind CSS Templates
1. Notus React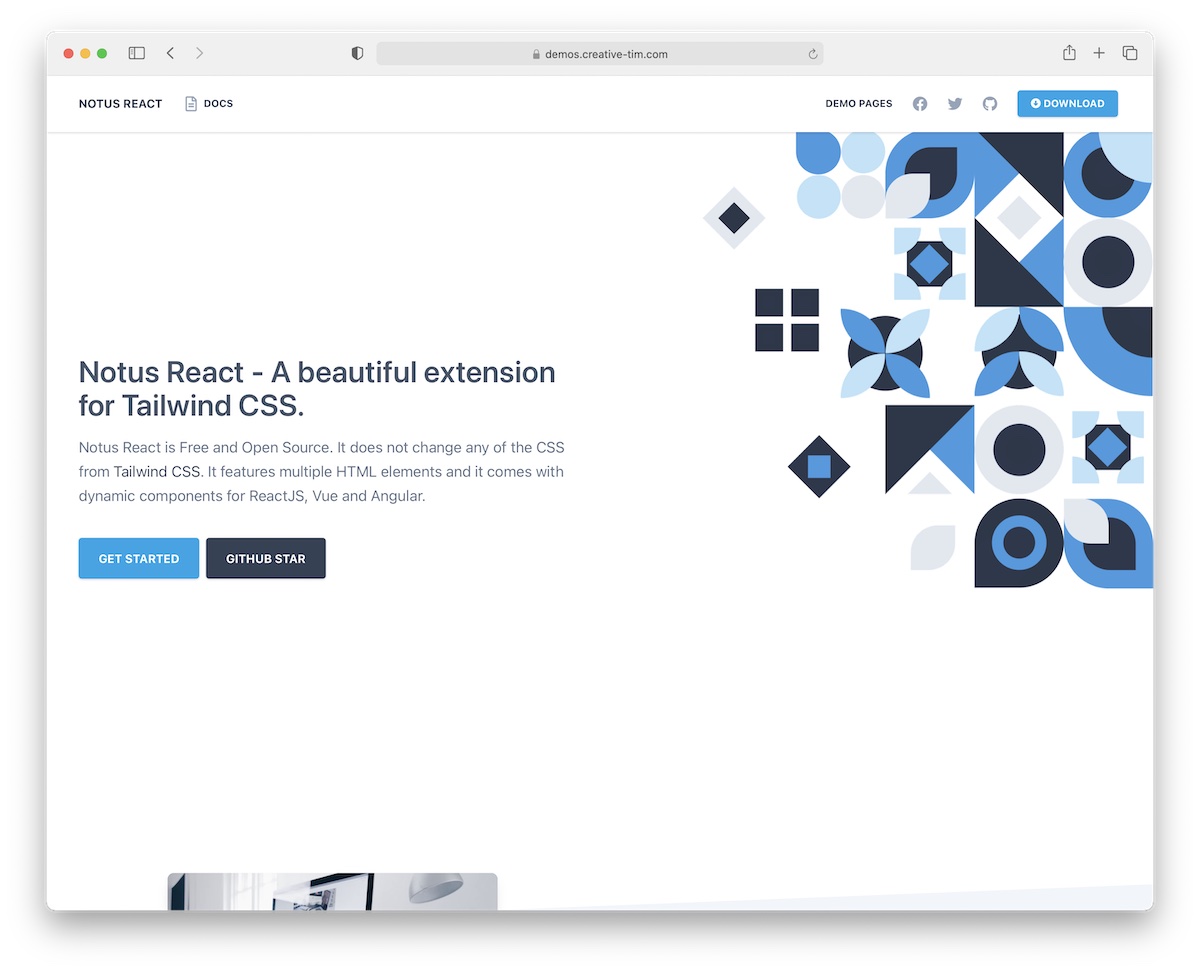 First, may the name of some templates not fool you, as they have the same core, but the format is different.
Let's start with our favorite, Notus React. With over 6k downloads and 5-star ratings, this template delivers many goodies and a solid, user-friendly base.
Remember, this free version has one hundred elements and multiple other goodies. But if you ever need more features, Notus React's pro version will do the trick.
Create killer websites and dashboards like a champ.
2. Notus NextJS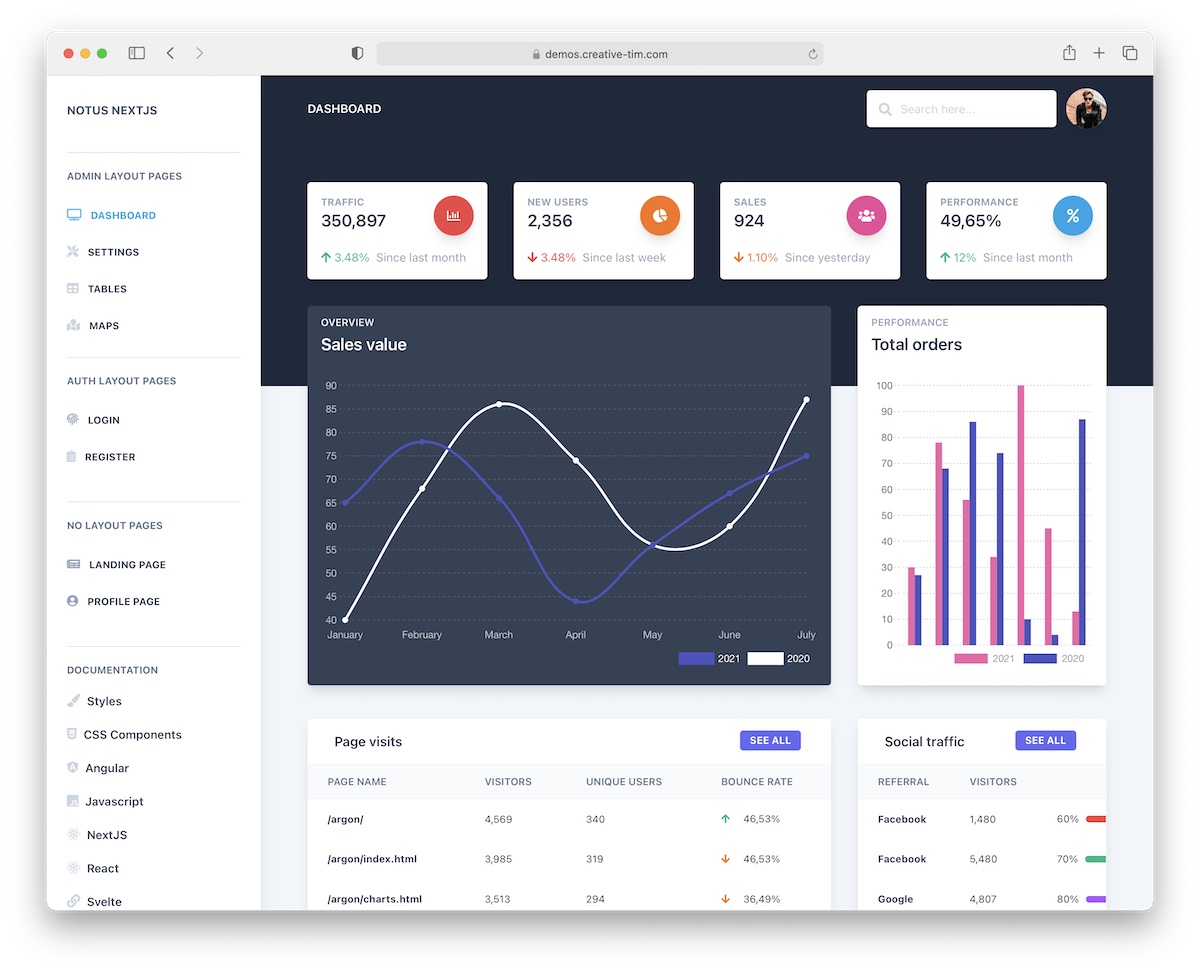 Notus NextJS comes as a full-blown Tailwind CSS kit and dashboard template that you can enjoy free of charge. Unfortunately, there's no pro/premium version of the template available. But that may change shortly.
Along with the modern design and many practical elements, Notus NextJS also ensures updates for life. In other words, with improvements and any possible bug fixes, Notus NextJS will forever stand the test of time.
Feel free to preview it first and enjoy the amazingness first-hand.
3. Vue Notus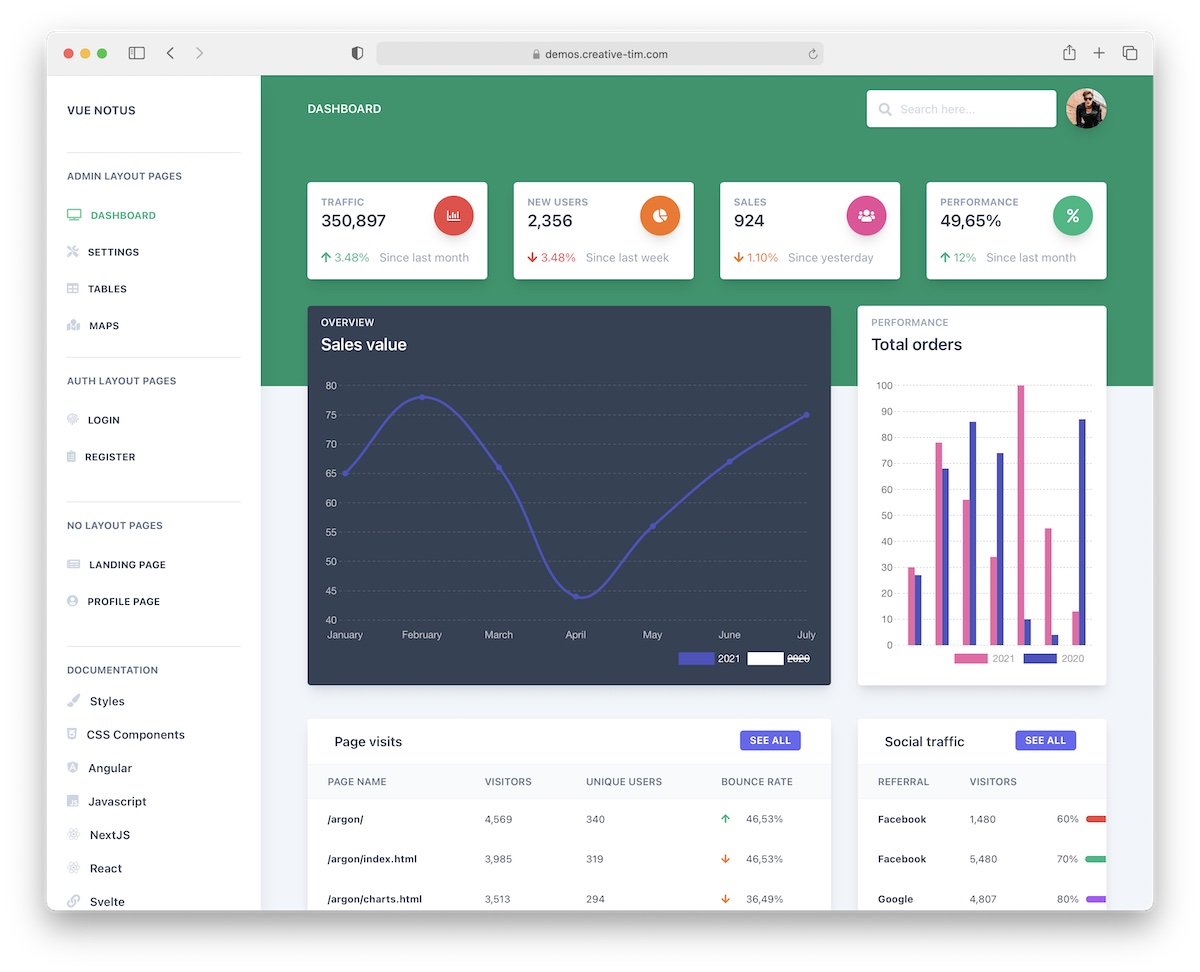 Vue Notus is a Tailwind CSS template kit with an admin section.
The kit contains one hundred elements, three plugins, nine page layouts and access to community support. Or even type your query in the comments section on the official product page.
You can also flip through the extensive documentation to help you execute your project successfully. You even get a quick startup guide, which is handy for all beginners.
4. Notus Angular

More Notus alternatives, this time in the Angular format. It is another excellent Tailwind CSS template and UI kit solution with an admin that will do you well.
You can start working on your project free of charge and save heaps of time.
The multiple components, plugins and pages are at your fingertips, available to put them into play, make customizations and more.
Notus Angular allows you to make the outcome appear how you want.
5. Notus Svelte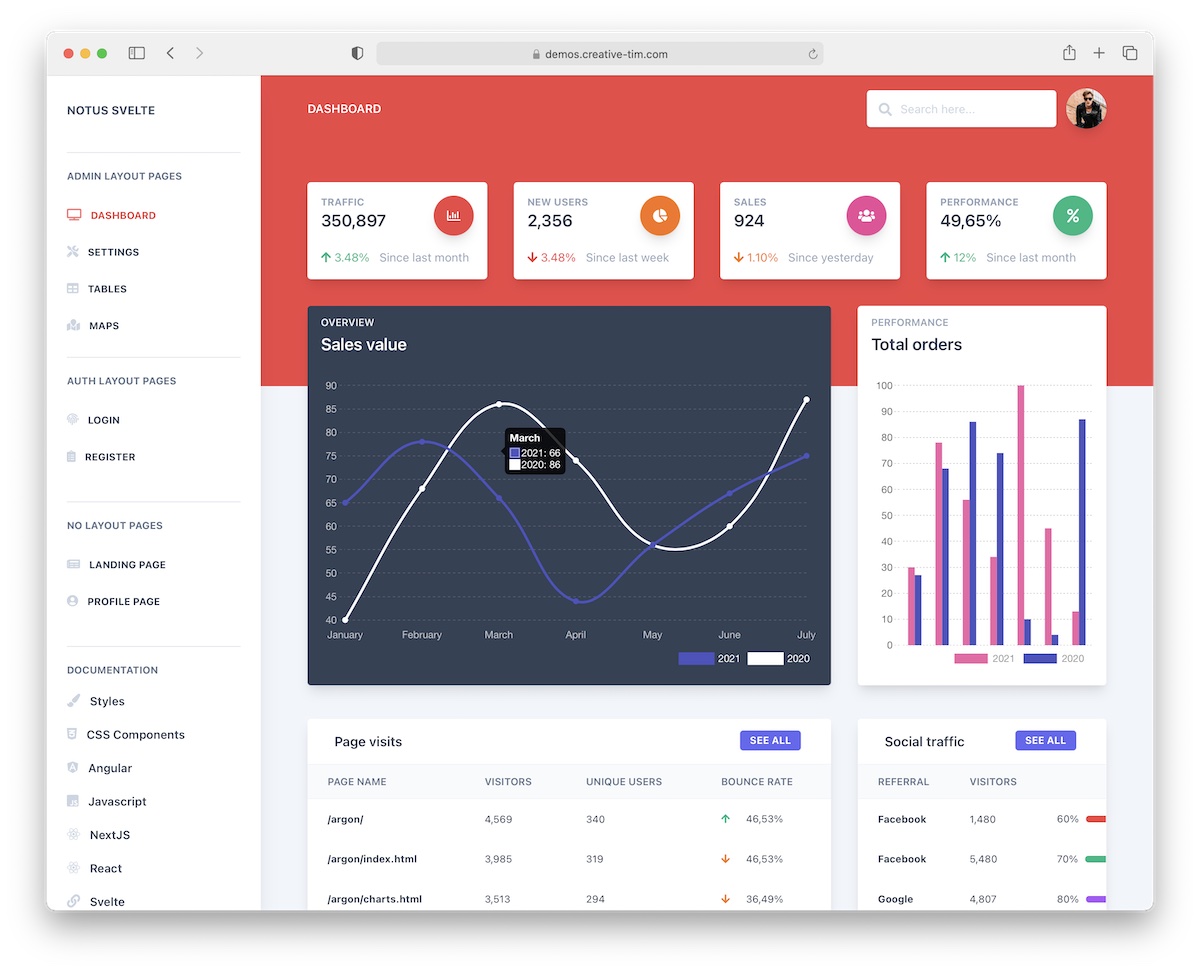 Notus Svelte treats you well with its clean and minimal design. It ensures great content deliverability across all modern devices and platforms.
The layout is 100% mobile-ready by default, something you don't need to sort out yourself.
Before you hit the download button, all the demo pages are available to preview.
Yes, Notus Svelte is also free of charge, so you can start immediately and enjoy the speediest development process using ReactJS, Vue and Angular components.
6. Material Tailwind Kit

Material Tailwind Kit is a little different, as it comes as a collection of over one hundred components and four example pages (no admin).
You have a ton of possibilities with the available material, even an option to make adjustments color-wise.
What's cool about Material Tailwind Kit is the layered structure of every element. This way, making changes and edits will be easier and more acceptable for beginners.
7. Material Tailwind Dashboard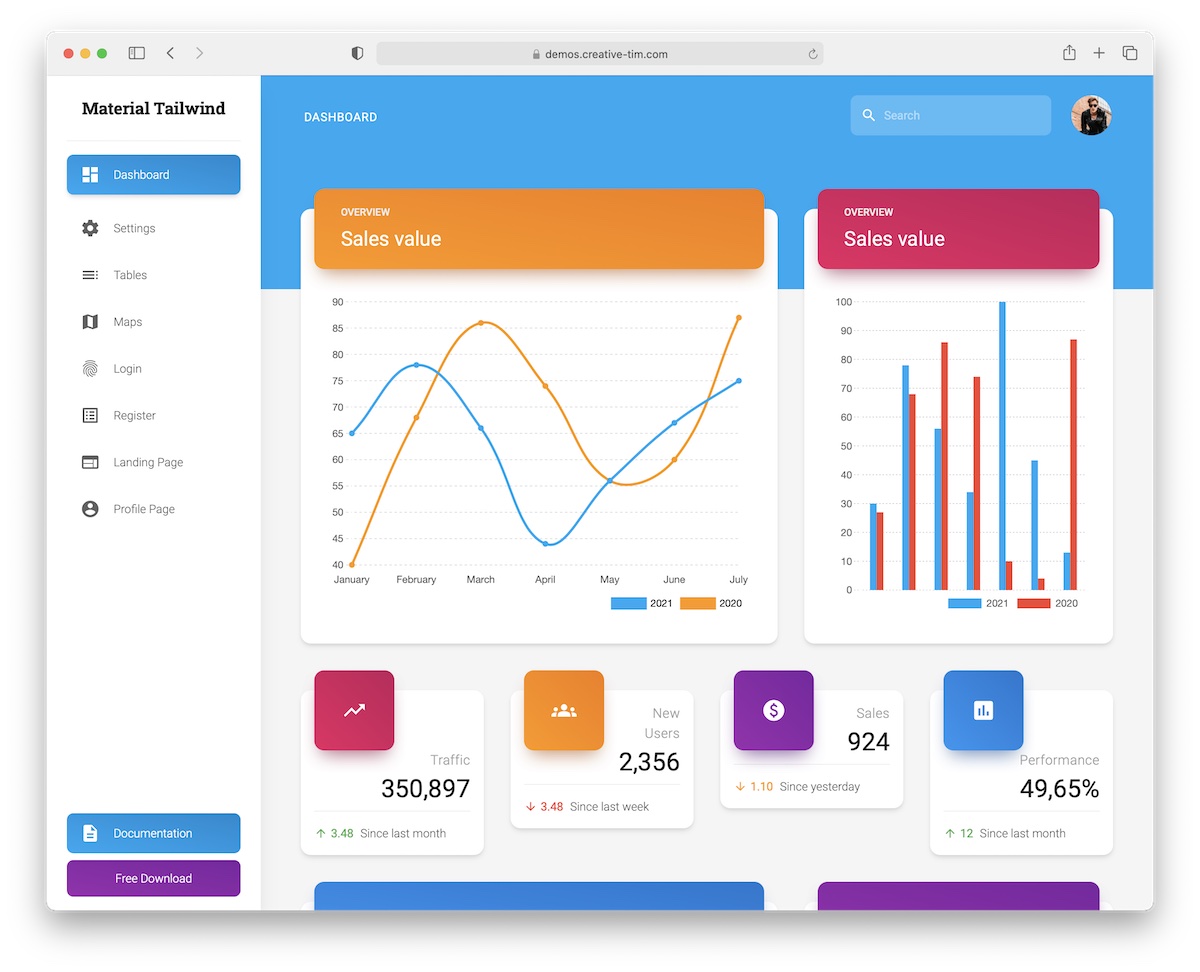 Inspired by Google's Material Design, this React and Tailwind CSS template creates a pleasant atmosphere when reviewing stats in your admin.
Every element of the Material Tailwind Dashboard is fully coded and easy to use, so you can adjust comfortably. Pick five available colors and add a background image in the sidebar.
And if there's something that you don't understand how it works, the individual components documentation will sort it all out conveniently.
8. Yeti Admin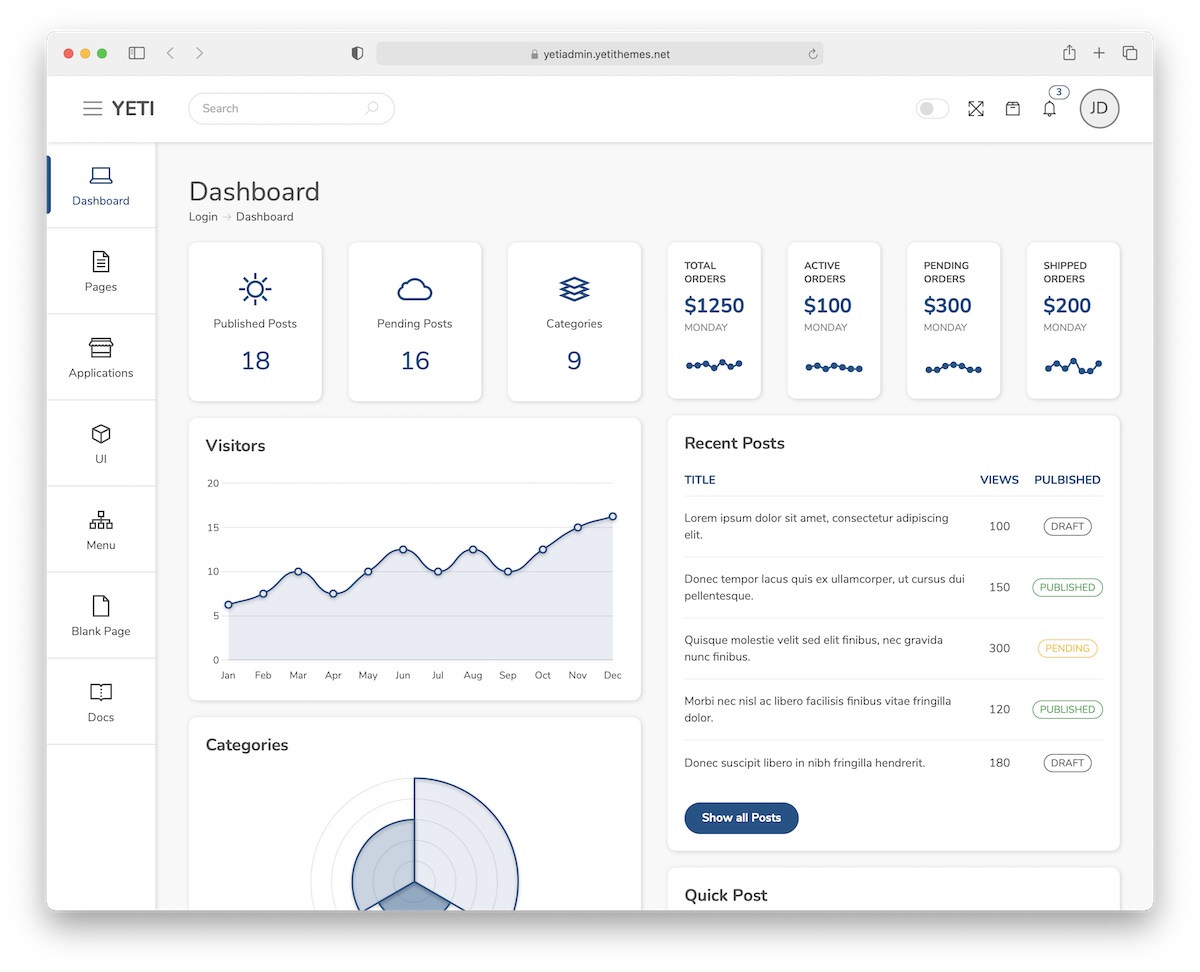 We posted a lot of free variations of Tailwind CSS templates, so here are a few top-notch premium alternatives.
Yeti Admin has a starter kit, admin templates, and Adobe XD design file with available light and dark modes.
Some other features include over twenty components, multiple ready-to-use pages and apps, modular design and avatars.
The author of Yeti Admin is also open to all your suggestions, which will help them make an even better and greater template.
9. Midone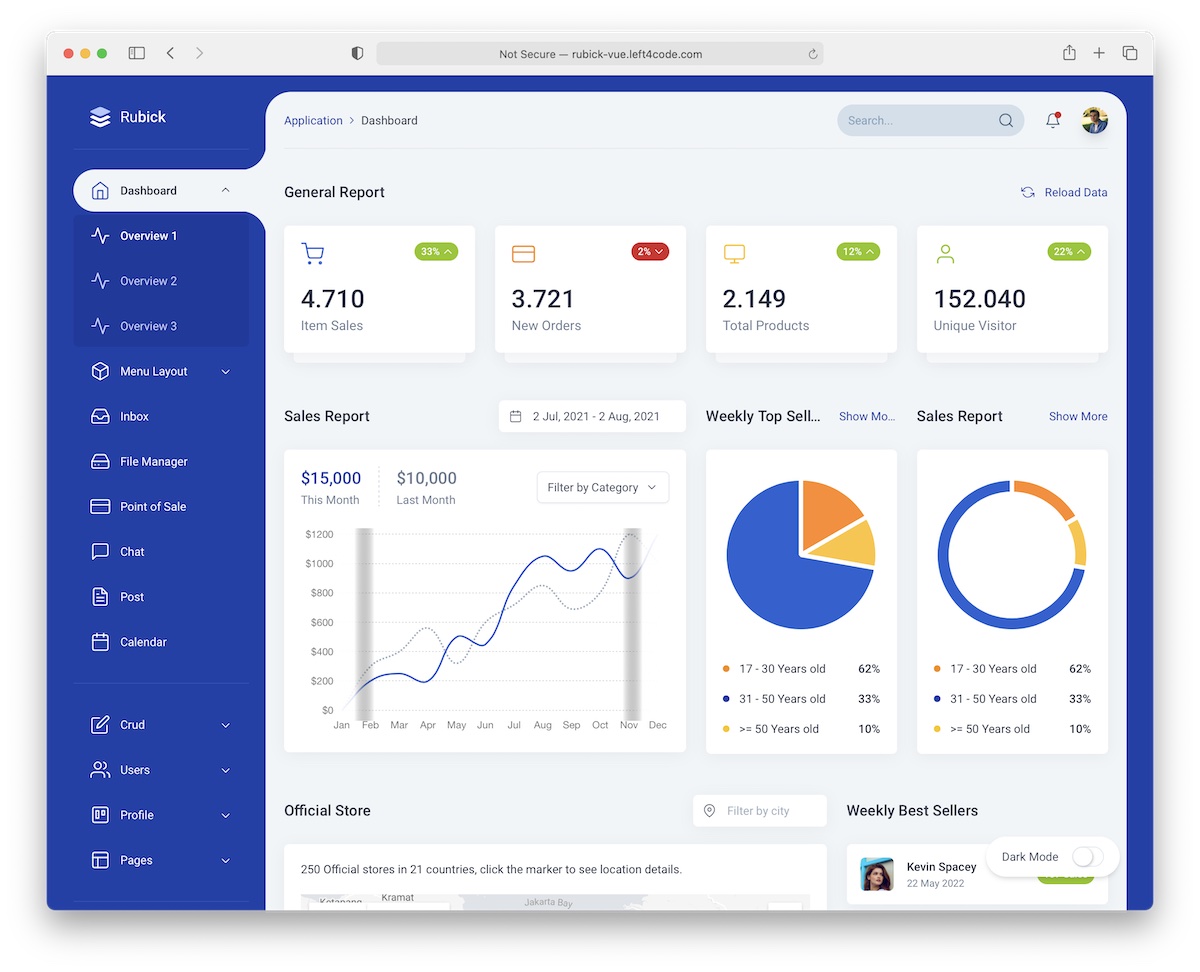 Midone is a massive Vue admin starter kit with Tailwind CSS integration. You also get an HTML version and an XD design file.
This tool is very popular at over 1,900 downloads and over 4.9-star ratings. And it's getting better and bigger day in and day out.
There are various specialties in the bundle, like dark mode, five functional apps, modular components, slide-over effects,s, and notifications, to name a few.
Enjoy.