19 January, 2023
10 Best Bootstrap Gallery Templates 2023
You can share your photography masterpieces with the world in many ways, and these best Bootstrap gallery templates are our favorite.
We made sure to create a collection of the best alternatives. You know, so you don't have to.
No need to wonder anymore whether the template works or not. These are all high-class.
Building a powerful, impressive, attention-grabbing online portfolio website doesn't need to start from the ground up.
You can save time developing your dream online presence with all these different designs.
Regardless of your creative venture, these templates cover it all and some. They are also easy to use and customize, so spicing things up with your creative touches is possible.
Make a positive impact on everyone now. With a stunning gallery website!
Best Bootstrap Gallery Templates
Shutter

Whether you are an amateur or a professional photographer with a passion for dark design, that's when you go with Shutter. This neat solution will make you stand out from the masses.
It comes with a catchy home, where you can display images you are most proud of. Shutter also features bio, blog, and contact pages with social media icons.
When working with Shutter, your page will operate without any hitches on all modern devices and web browsers. So, if you're ready for something that doesn't look too traditional, you are ready for Shutter.
Sunzine

Online gallery and portfolio websites become a piece of cake with Sunzine. Even though this is an HTML template, it still saves you a ton of time you'd otherwise need to spend starting from the ground up.
Sunzine is minimal and modern, following the latest web trends to guarantee superb performance. Even when it comes to doing the coding work, it'll be a breeze. Beginners will enjoy using Sunzine, too! (Completely organized and commented code.)
Some features include a filterable portfolio, drop-down menu, functional contact form and Google Maps integration. Sunzine is well capable of fitting both freelancers and studios.
Cocoon

Cocoon is another distinct Bootstrap gallery template that comes as part of three pricing options. You can enjoy a single license ($19), membership access ($129) or lifetime ($349). But first, you can preview it and enjoy its amazingness first-hand.
You can share your images as a freelancer or an agency, Cocoon is here to handle anything and up to the level of a small business.
The layout is responsive and cross-browser compatible, ensuring excellent content visibility on retina screens. You can also create a compelling about page, start a blog and link your new website to different social networks you use.
Capture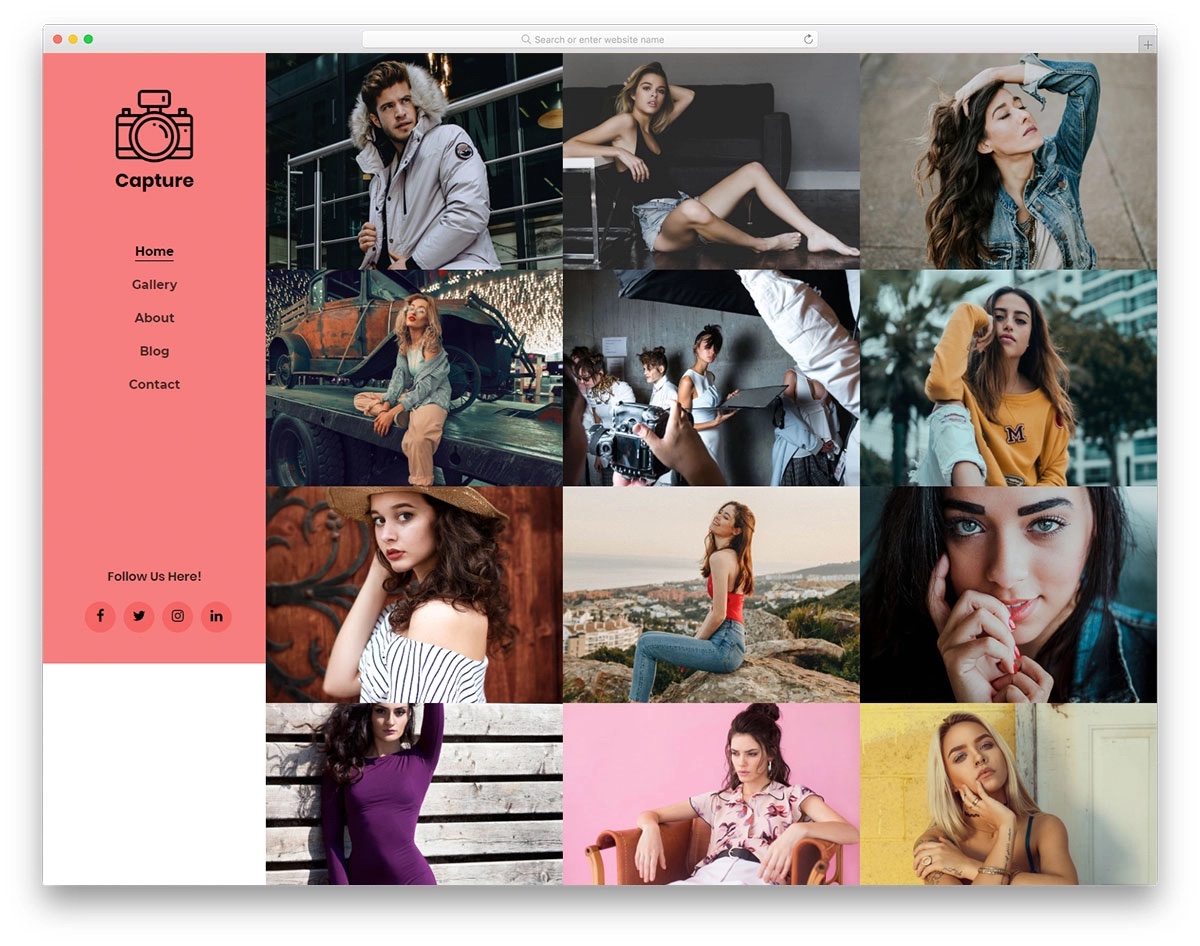 Are you capturing moments that you'd like to share online? Create your platform with Capture instead of relying on 3rd-party networks.
You can now have it all under your complete control. If you want to appear more professional, a website is a must.
Thanks to Capture and all the perks that come with it, you can immediately start your successful page creation. The modern and trendy design ensures excellent content deliverability on different screen sizes.
Capture also features hover effect, the grid-style home page, multi-sectional footer and a working contact page (with maps!). Get involved and enjoy impressing everyone with your new, striking gallery page.
Thumber

You cannot go wrong with Thumber if you search for a Bootstrap gallery template with a slider. It doesn't have just any sider, it has a full-screen version, which is bold and impactful.
While you can use left and right pointers for navigation, you can also access the bottom thumbnails to jump from image to image.
Thumber is amazing on desktop and it's amazing on mobile, too. The slide-in sidebar navigation offers a quick way to visit different website sections, even go straight to different social accounts (Facebook, Twitter and Instagram icons included).
Need a slider? Sort it out with Thumber!
Eremia

For everyone who is down for some originality, you shouldn't miss checking Eremia. It's a remarkable Bootstrap gallery template with a multi-purpose approach. Everyone can use it, professionals, amateurs, agencies, studios, Eremia fits it all.
Eremia treats you to dark and light layouts, seven homes and over twenty overall practical pages. Some other highlights are parallax effects, cool transitions and catchy animations. You can modify it to the last detail or even go with the out-of-the-box version.
I highly advise you to check the live demo preview. Only then will you truly understand the real potential of Eremia.
Imroz

Creating agency and portfolio websites becomes a lot fast and a lot easier with Imroz. You can choose between multiple homes, including light and dark styles. Each sample operates by default but you can also go one step further and enrich it with your signature style.
Along with different homes, Imroz also delivers several internal layouts, organized code, and reusable components. Imroz was put together with users in mind, so everyone can put it into play without swat.
If you just started your web development journey or have years of experience, you'll make magic happen with Imroz.
Oblo

Oblo is a feature-packed Bootstrap gallery template that promises a boost in workflow and a quick outcome. Even though it may take a lot of time building a website with Oblo than starting from scratch, you'll still retain your professionalism.
The Oblo kit comes with over seventeen pages, four impactful home page designs. Oblo is exclusively dark, creating a smooth and pleasant atmosphere when reviewing your visual content.
The list of goodies is vast, so you cannot expect me to write down all of them. But here are a few: contact form, CSS3 animations, blog section and portfolio with filters.
Enoma

Enoma is a Bootstrap gallery template perfect for all the creative minds. Sharing images and creating galleries and portfolios hasn't been as much fun as it is with Enoma.
The tool allows you to benefit from all its amazing home and inner page samples, features, free updates and professional support. No matter what your question is all about, Enoma's experts will answer it.
This way, you can feel safe and comfortable while building your wowing gallery page. Never settle for anything less than stars. Achieve great results with Enoma – which you will!
Nexeri

Your portfolio, gallery, and other information you'd like to share online will stand out with Nexeri. It's a superb Bootstrap template for freelancers, agencies, photographers, designers, you name it!
Everything that Nexeri offers you is built with special care. You'll notice that as soon as you start viewing the live preview in great detail. You can pre-check all six homes, internal pages and other elements of Nexeri.
The template comes with regular updates and extensive documentation, which you can flip through at any time you want. But you'll soon realize how easy it is to work with Nexeri.