23 January, 2023
10 Top Free Bootstrap Sidebars 2023
You can quickly create a proper navigation (or something else) for your website to benefit from with our extensive review of Bootstrap sidebars.
Everyone knows the importance of a sidebar, but if you pick a template, you may choose an unreliable one.
Hence we went out there, tested 30+ to bring you this condensed, powerful, practical list of various sidebars.
They all come in different styles and designs, even for different purposes. But they all have in common modern technologies, responsiveness and user-friendly code.
Note: All these template are FREE of charge. How cool is that?
You have nothing to lose yet all to gain. Enjoy!
Best Bootstrap Sidebars
We couldn't decide which is our favorite because the template suit different purposes, so the list below is in no particular order.
1. Colorlib Sidebar V01

Colorlib Sidebar V01 is an ideal sidebar template for community-type websites and platforms. It appears from the left side and dims the rest of the page to highlight its content.
Keep in mind, even though you can opt for the default configurations, you can also make adjustments. In other words, make Colorlib Sidebar V01 serve your project exclusively, which it will!
2. Colorlib Sidebar V03

Would you like to add a newsletter subscription form to your sidebar? If that's so, you can now make it happen quickly by utilizing Colorlib Sidebar V03.
The off-canvas format keeps the same style across different screen sizes and devices. The text and color choice is easy to edit, as Colorlib Sidebar V03 ensures a quick development process with organized code.
But first, check the live demo preview, which allows you to experience this Bootstrap sidebar on any device you want.
3. Colorlib Sidebar V04

You can also add a contact form in the sidebar. How cool does that sound? To achieve a great result fast and comfortably, go with Colorlib Sidebar V04.
It does a great job with the design, but you can brand and personalize it, too. The experience stays the same amazing one on smartphones, tablets and desktops.
IColorlib Sidebar V04 features a pretty basic contact form, which makes eat seamlessly integrate with your project.
4. Colorlib Sidebar V07

A sidebar can work for many things, including account, profile and other creations. Colorlib Sidebar V07 is a neat solution with a progress bar that saves you plenty of time.
The tool also includes a hover effect, checkmarks, avatar and a mobile and browser compatible structure.
It's not always that a default configuration suits all users. That said, Colorlib Sidebar V07 is fantastic due to its customization possibilities.
Make it yours.
5. Colorlib Sidebar V10

Colorlib Sidebar V10 is an off-canvas sidebar based on Bootstrap, which can work as neat navigation. It features a background image, title, text, links and social media icons.
It's all neatly packed into one beautiful design that operates smoothly on any device and platform butter.
Moreover, you have all the right to use it as is or fine-tune it further – that's entirely up to you.
6. Bootstrap Sidebar V01

If you are working on a personal portfolio website for yourself or your client, you can add a sidebar by choosing Bootstrap Sidebar V01.
The free Bootstrap template rocks a dark look with an avatar, drop-down menu option and off-canvas format.
Keep in mind, the main navbar is also in the kit with a full mobile version.
Working on a sidebar menu will never be as fun as it will be with this modern free snippet.
7. Bootstrap Sidebar V05

If the last Bootstrap sidebar was more personal, this one is more business-oriented. Still, anyone who needs to add sidebar navigation to their website can put it into play.
Along with links and hover effect, you also get a newsletter subscription form.
Note, this is still only the design, so you need to activate your coding skills to embed it into your web app successfully.
8. Bootstrap Sidebar V08

Creating a sidebar does not need to happen from scratch when working on a new website or a blog. Bootstrap Sidebar V08 is the most minimalist solution in this collection that easily adapts to all themes and branding regulations.
The free template features a categories section with drop-downs, a tag cloud and a newsletter form. Tags come with a cool hover effect that turns each tag pink. Very playful.
9. Bootstrap Sidebar V07

Bootstrap Sidebar V07 is a pretty original template for creating a sidebar that offers quick access. In other words, a section of this Bootstrap sidebar is always visible but the rest slides in on click only.
To fully understand how it works, you can visit the live demo preview, which you can test on different devices.
You don't always need to follow others, do your thing and stand out from the masses. And this sidebar snippet can be a great start.
10. Bootstrap Sidebar V06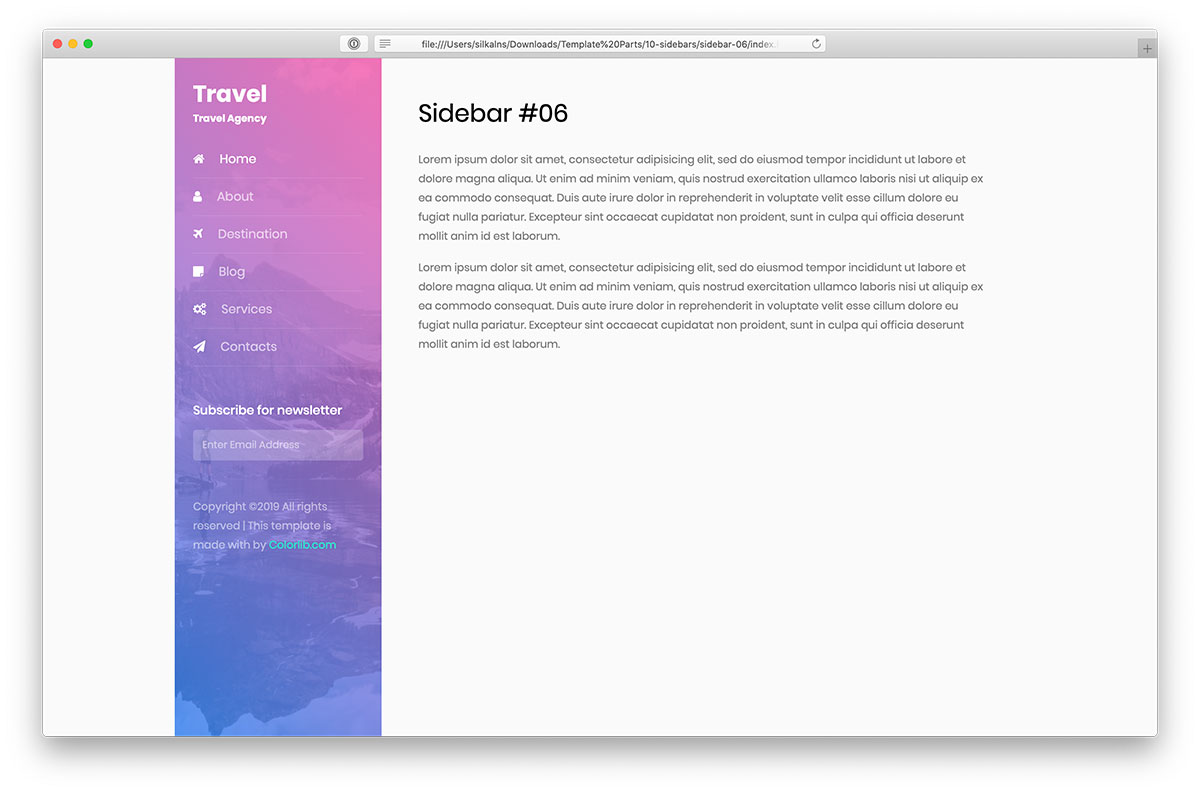 Gradient effects and background image are the main specialties of this next Bootstrap sidebar. If you are still looking for the best alternative to add to your website, don't miss checking Bootstrap Sidebar V06.
It's a static sidebar menu with a subscription form that you can modify to fit your needs precisely. As a free snippet, you must follow copyright, which usually means keeping the backlink (you should not remove it).
These are the best for the best sidebar templates available for free. But Colorlib has dozens of other amazing Bootstrap sidebar templates.