6 February, 2023
10 Bootstrap WordPress Themes (+ Free) 2023
We spent a good portion of this year creating this complete list of the best Bootstrap WordPress themes.
We did something extra for you. Instead of going straight to listing some premium solutions, we also added powerful free themes.
You can use the latter for heaps of different projects, even eCommerce!
However, if you would like to unlock the real potential, that's when you go with the premium Bootstrap theme.
We added tools that have a super multi-purpose approach. In other words, whether you would like to build a blog, an online store, a business page, it doesn't matter – these themes will sort you out.
With ease!
Free Bootstrap WordPress Themes
1. Shapely

Out of the free themes, Shapely is our favorite solution. It is versatile and powerful enough to handle all sorts of websites. You can easily integrate it with different plugins, like WooCommerce, Gravity Forms, Yoast and more.
Multiple widget areas are also available to quickly tweak things and make Shapely your way. Even design-wise, Shapely has enough options to tailor it to your liking. Like that would not be enough already, Shapely is 100% translateable.
As a free tool, Shapely also includes access to community support to quickly find answers to your questions.
2. Illdy

Illdy is another fan-favorite free Bootstrap WordPress theme for business websites. The core characteristic of Illdy is the one-page layout.
You can now present your business, services and other whatnot online in a few scrolls apart. No more jumping from page to page to find the necessary information.
Illdy follows all the modern web trends, ensures great performance on mobile and fast loading speed. You can create your own color scheme, pick fonts and edit sections.
Unlike other free themes that limit usage, Illdy goes over and beyond with what's possible. Documentation is also available, so you enjoy a smoother website creation process.
3. Activello

Activello is an all-around, flexible, easy-to-use free WordPress theme based on Bootstrap Framework. There are no set rules for you can use Activello. In other words, you can create any blog you want, even mix topics and niches.
Food, travel, lifestyle, business, music, you name it, everything works for Activello.
The layout smoothly reshapes to mobile devices, so everyone has the chance to access your blog at any time.
Some other goodies are slider, WooCommerce integration, infinite scroll and easy 3rd-party plugin integration.
If you are ready to start your blogging journey for free, get the ball rolling with Activello. The final product won't feel free at all!
4. Sparkling

Sparkling is another free Bootstrap WordPress theme that perfectly fits the creation of (any) blog. It has a flat design with a minimal touch that easily adapts to your ideas and wishes.
But you don't need to stick to the default configurations. You can always step in with your creative touches and improve Sparkling accordingly.
Moreover, Sparkling features a gallery and plenty of practical shortcodes for instant integration. It even comes with an about page, a contact section, a widget-rich sidebar, and footer areas.
Achieve premium looks without spending a dime. That's what you can accomplish without sweat when working with Sparkling.
5. Dazzling

To some extent Dazzling and Sparkling themes are pretty similar, but when you look again, they are quite different. Yeah, yeah, I know, I'm complicating things.
It should be better for me to say that Dazzling is awesome! Which, of course, it is.
The theme has a nice content distribution regardless of the device or platform you use. It includes a load more and back-to-top buttons, Font Awesome icons, featured slider and drop-down menu, to name a few.
You can now create a modern blog without spending a hefty fee on a professional to do it for you. Enjoy.
Premium Bootstrap WordPress Themes
6. Essentials

If the options with free themes are too little for you then these premium alternatives are the way to go.
Essentials is one of the fastest-growing Bootstrap WordPress themes currently available on the market. There's a catch. This tool does things differently and offers OH SO MANY options and possibilities – unlimited, if you will.
There are over 35 demos, more than 660 templates, optional WPBakery and Elementor samples and the list goes on.
As a multi-purpose theme, Essentials covers all types of websites with ease. You can customize anything – to the very last detail, enriching it with your ideas.
Make a PRO website with little effort now, thanks to Essentials.
7. Sway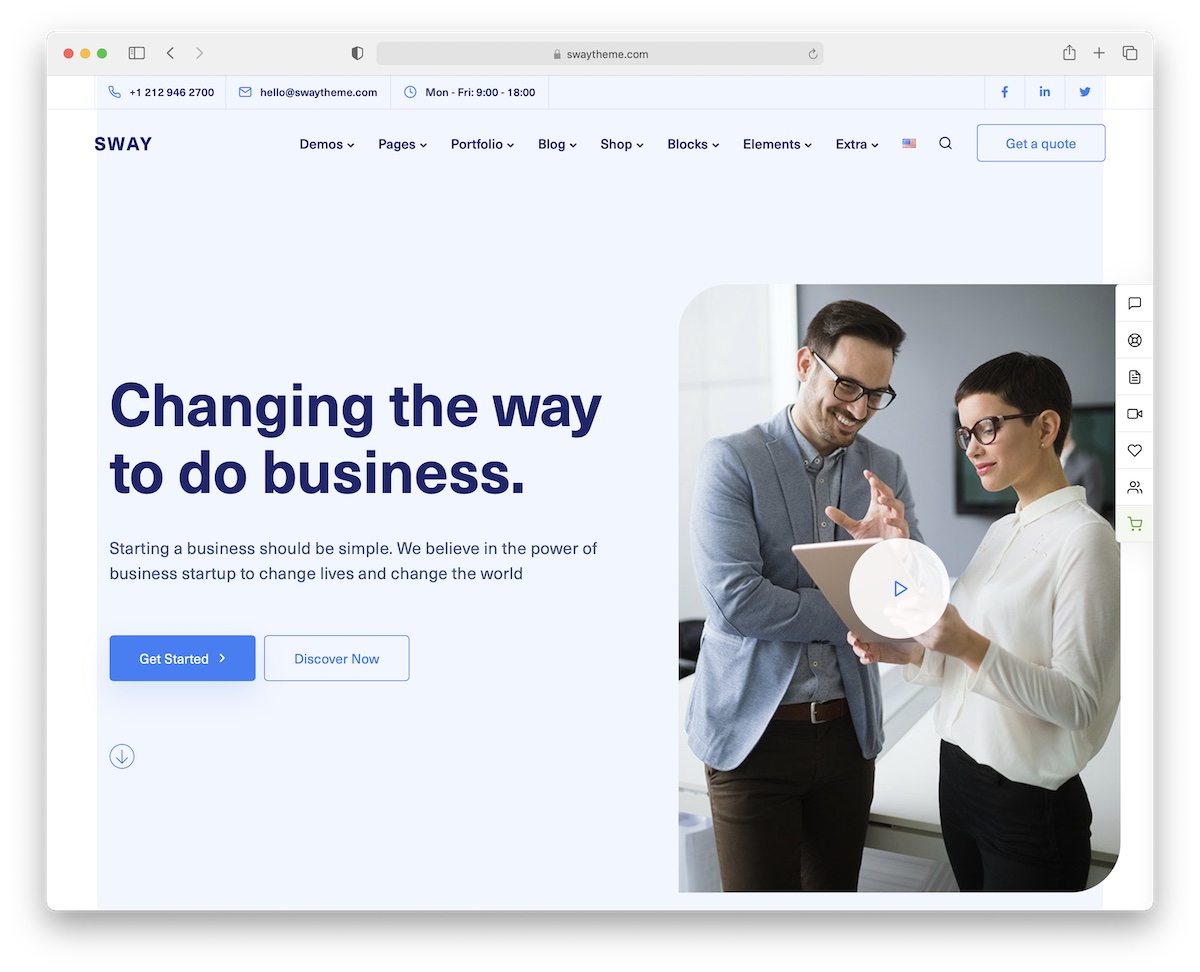 Sway is another Bootstrap theme that offers you to create over fifty full-blown websites by default. But once you modify all those website demos, the possibilities are endless.
It's your imagination that may limit you, nothing else.
Other goodies of Sway are regular updates, 5-star ratings, one-click installation and performance optimization. You don't need skills and experience to successfully work on your next project.
Sway is for everyone.
What's cool is that you also get a few premium plugins included free of charge. You save money with Sway. And it only costs $39 (price may vary).
8. Snowlake

Businesses and startups will greatly benefit from the power of Snowlake. This Bootstrap WordPress theme has many goodies that will take your online presence to the next level.
Always shoot for the stars, and you achieve excellent results with Snowlake without a shadow of a doubt.
You get a total of over 150 pages and 300+ UI elements that are coupled with the practical Elementor page builder. Snowlake comes with video installation, documentation and professional support, so no beginner will feel lonely.
Other great features of Snowlake are predefined header and footer styles, ready-to-use color skins, blog module, contact form and neat animation.
Create a business page that feels very friendly.
9. Remake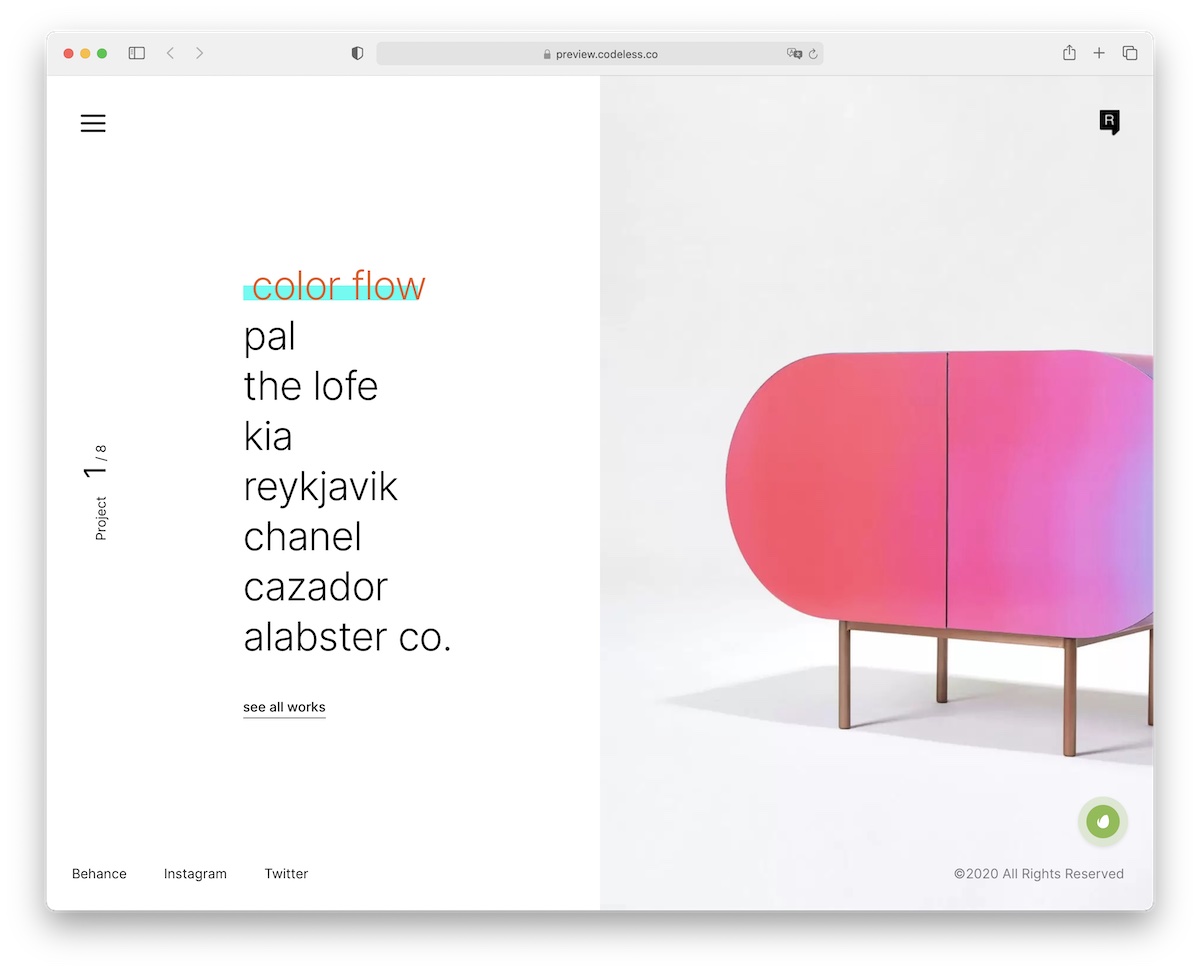 Yes, we didn't forget about all the creatives out there. Building an online portfolio happens in a little breeze with Remake.
This Bootstrap WordPress theme has a clean, modern, distinct style that will make you stand out. You can even opt for dark mode, which is beautiful.
Remake makes it all work fantastically well. Thus, you are welcome to work with the tool out of the box, but you are also welcome to modify it.
You can start a blog, create an online store, whatever! Remake can do many great things, so don't miss checking it out.
You'll love it!
10. Goya

But if you would exclusively want to create an eCommerce website, there's no better Bootstrap theme than Goya. With thousands of downloads and high ratings, you know Goya is doing something right.
The moment you start investigating its live demo preview, you get hit with awesomeness. You know why it received such success.
Not only does Goya comes with every section a successful eCommerce requires, but you can also pick between variations.
Product quick view, mini cart, single-page checkout, different menus and Ajax live search, this is just a small portion of practicality that Goya contains.
You can build one or ten different stores with Goya. Easily.