28 August, 2022
8 Top Node.js Dashboards [Free + Premium] 2023
Use our carefully selected, reviewed and tested Node.js dashboards when working on a new app project.
You can easily take things to the next level without the need to start from the ground up. These templates offer you to save plenty of time and energy.
Focus on customizations and refinements and have the outcome all set sooner rather than later.
We made sure that every dashboard uses only modern technologies and stays up-to-date with the latest trends.
What's cool, we also sneak in a few extremely reliable FREE dashboards. You can either start directly with a premium one or go free and upgrade only when the need arises.
A lot of design options, features, components and other practical elements await every user.
You have everything you need to start a new project with absolute confidence.
Best Node.js Dashboards & Templates
Minible

Minible is an excellent solution for you to start working on your admin quickly, without spending oh so much time on it. You can start by selecting different styles of dashboards, even go with a dark one or an RTL alternative.
What we really like about Minible are the default vertical and horizontal layouts that it rocks. Still, this is just the beginning.
Minible uses Bootstrap that gives it the necessary responsive feel. You also get seven apps, thousands of icons, quick support and a lifetime worth of updates.
You can use this Node.js dashboard template for as many different projects you work on as you want.
Skote

Skote equips you with all the necessary to start with your project immediately. You can save yourself a good deal of time and effort for a small investment of $22.
You get a collection of multiple minimal and modern layouts, which you can additionally configure to your heart's content.
Along with dark and light styles, Skote also includes vertical and horizontal navigation. It is compatible with RTL languages, too.
Whether it's a web application, SaaS, CMS, project management, whatever, Skote handles it all without a hitch.
Track everything and take your project to the next level with one solid and powerful dashboard template. Hurray for Skote!
Metorik

What special about Metorik is the different formats that it supports out-of-the-box. However, in our case, we will look at the Node.js dashboard.
Different styles, working apps, charts, animations, hover effects and Google Maps integration are just some of the specialties of Metorik.
Before you proceed with purchasing, you are welcome to study the live demo preview in great detail and go from there.
Con: Metorik does not come with regular updates. Still, it's capable enough to meet the needs of the latest trends. Plus, you can get in touch with friendly support at any time you want in the first six months.
Endless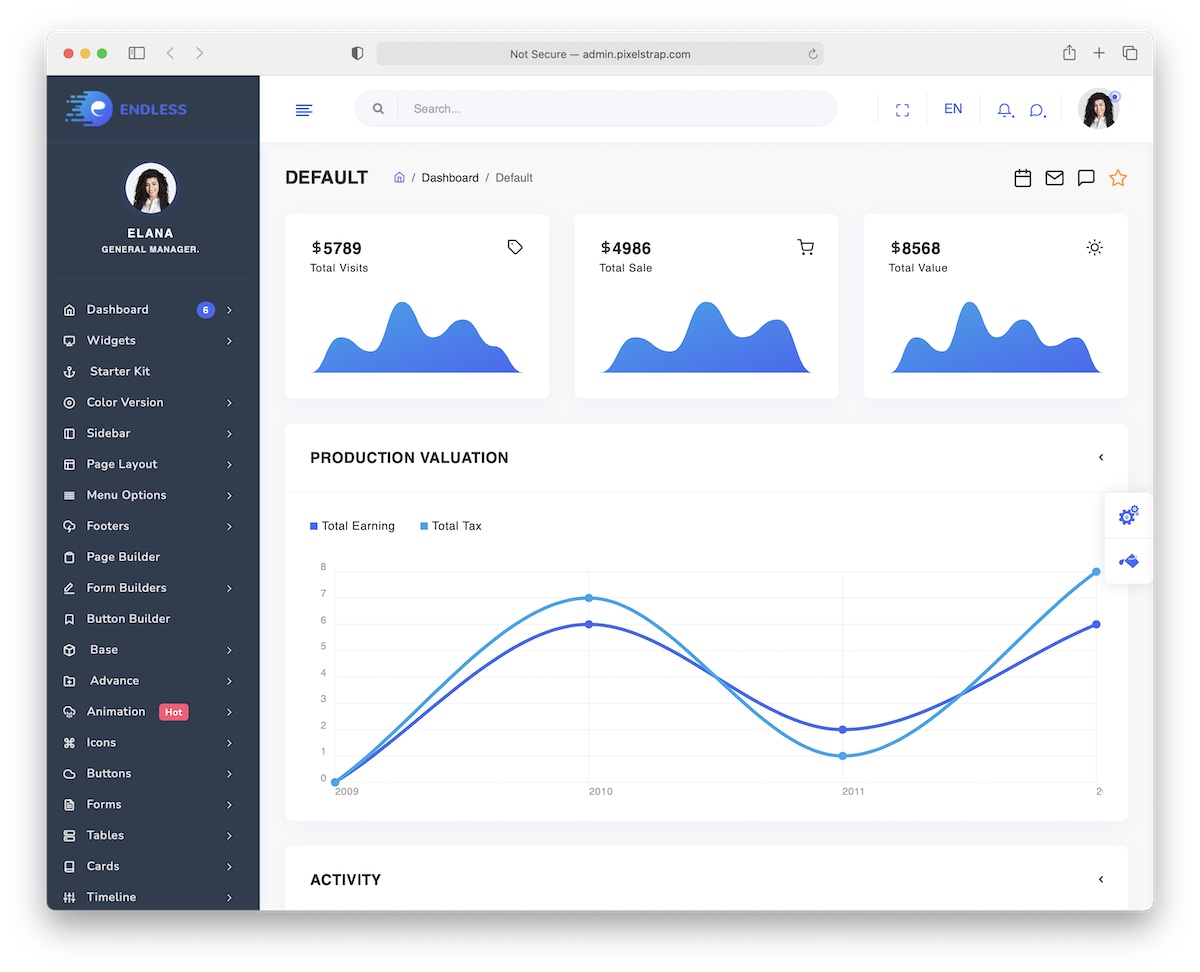 With hundreds of sales, 5-start ratings and frequent updates, Endless is one of the top Node.js dashboards. Hint: it even comes with regular discounts, which can go upwards of a cost of a large Starbucks latte.
As you'd expect, the look of Endless is very clean and simple. Reviewing statistics, notifications and other useful data will be effortless.
Select between light and dark modes, create an RTL dashboard and enjoy the resourceful starter kit. Endless delivers features on features for you to take to your total advantage.
Never again lack an impressive admin pannel. Just make it Endless and you're good to go!
Argon

You don't need to go about building an admin dashboard detail-by-detail, starting from square one. Argon is one extreme Node.js template based on Bootstrap 4.
With sophisticated design and two hundred elements, Argon ensures everyone a quick start. Wait for it!
It also contains sixteen plugins and a whopping 25 example page layouts. For the most part, you will only want to do some mixing and matching.
You can start for $149, picking the Freelancer package. But there are two more options available, Company and Enterprise. In short, there's something for everyone. Without a shadow of a doubt!
Argon (Free)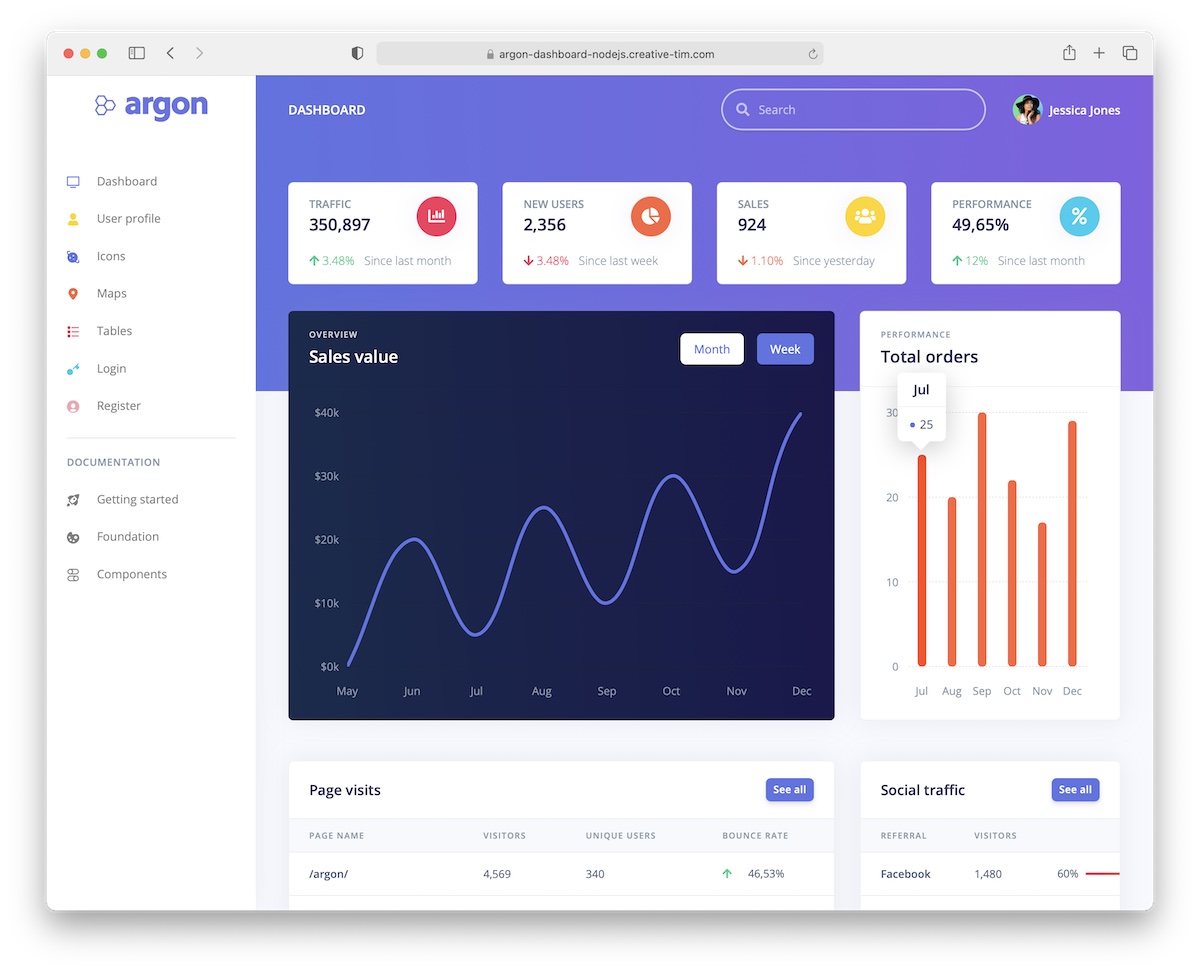 Okay, so you don't really feel like paying for Argon just yet? No worries, here is the free version of Argon.
Keep in mind, even though it's free, it still gives you a chance to work with one hundred components. Not bad. NOT BAD AT ALL!
The coding structure of Argon is also great for someone new and experts. You can also read through the extensive documentation any time.
And if you have some basic questions, you can also type them down on the comments section over on Argon's product page.
Make changes and edits if necessary, introduce your creative touch and come out with a top-class dashboard that will move mountains.
Material (Free)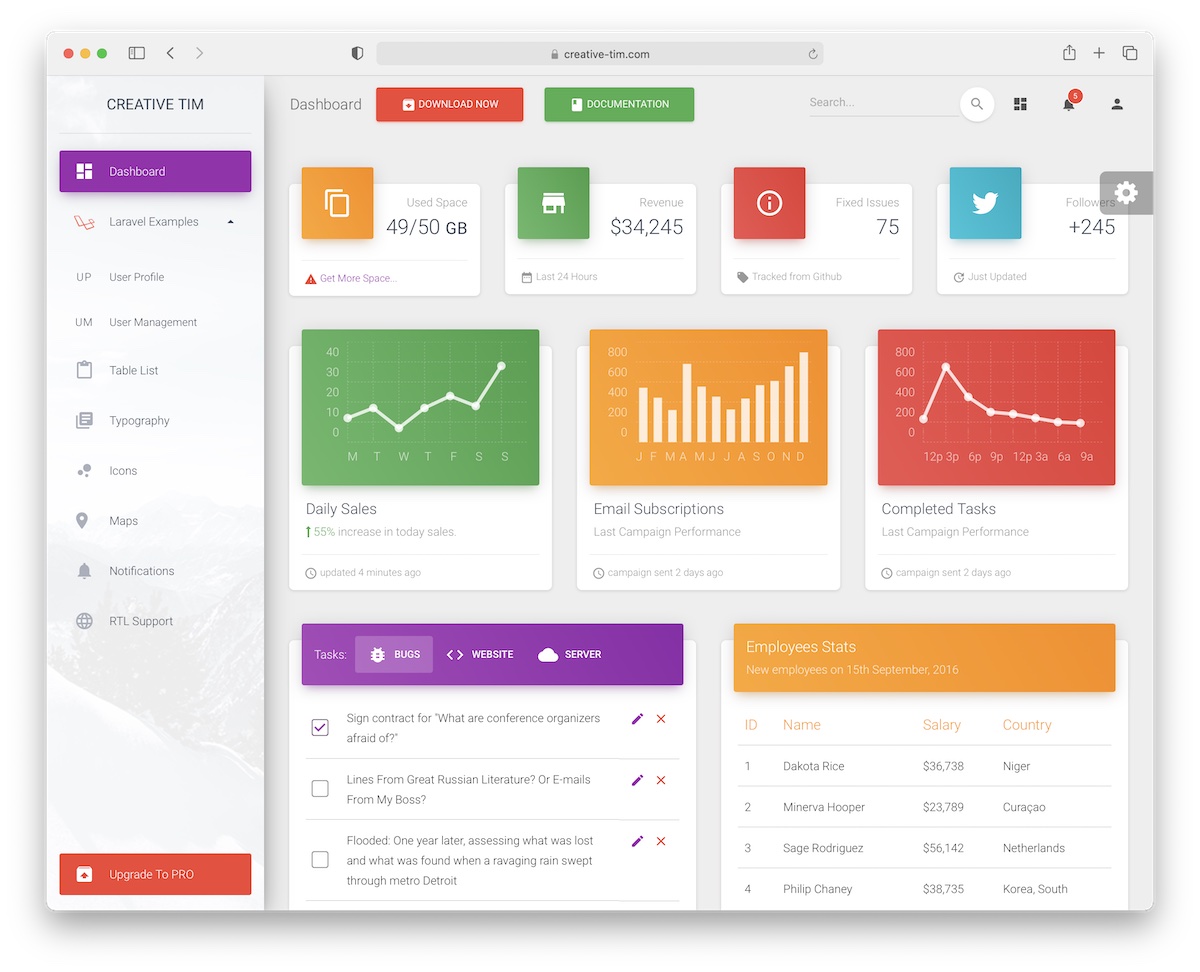 Material doesn't hide anything. It gained inspiration from Google's Material Design and made it possible for anyone as a Node.js dashboard.
With over ten thousand downloads and dozens of positive reviews, Material is here to stay. Sadly, it doesn't include regular updates, but you get documentation and even have a chance to talk to the staff.
The kit treats you to thirty custom-made elements, two plugins and ten example pages.
To make it even more exciting. Even though a free template, you can still perform customization, make Material meet your expectations.
But before you download it, feel free to see the live demo preview. Witness how awesome Material is first-hand.
Argon React (Free)

Another Argon free template? Yes! This time with Reactstrap. Fresh design in combination with one hundred components makes this Node.js dashboard one of the best available on the market.
You can now take your development process to a different level with speed. In other words, boost your workflow but maintain your professionalism. That's what's up!
Argon is in perfect harmony with mobile and desktop devices for a continuous smooth experience. It is also lightly coded, ensuring a great performance (read: fast loading).
If you are just starting out with Nodejs, you can also go through the quick start guide and learn how things operate.