7 February, 2022
10 Websites Made With Bootstrap 2022
We collected these fine websites made with Bootstrap to boost your inspiration and make you more confident about using this all-around framework.
There are many people out there who are still saying that all Bootstrap websites look the same.
Well, this may be true – but only to some extent. If you are a lazy web developer, sure, you may not really bother differentiating yourself from the masses.
However, if you are taking things seriously (which you should), this is the collection of the trendiest websites build with Bootstrap that will do you well.
Never let your imagination limit you. And, even more importantly, don't let others tell you what you can and cannot do.
Prove them wrong!
Best Bootstrap Websites For Inspiration
Maps Connect

Before digging any deeper into the Bootstrap design, it's best to start with one of the largest brands in the world – Apple.
This is Maps Connect, a simple solution that lets any small business add their information for potential customers to find them easier.
And if Apple is using Bootstrap, then there's no reason why you wouldn't want to opt for it, too.
Even though Maps Connect may not be too heavily design and creativity oriented, it just shows that Bootstrap can be for anyone and anything.
Wokine

Wokine is an excellent example of how much you can accomplish with the Bootstrap Framework. Even though the entire website is in French, we aren't here for the content.
But the design.
Awesome attention to detail, great scrolling transitions, parallax effect, semi-overlay menu, you name it. Wokine definitely sets new standards with its eye-catchy look that inspires many of its website visitors.
And that's exactly what you want to achieve when offering design, branding and other innovative strategies as your primary business services.
Amaze everyone. With. Your. Website. (Wokine is doing a really good job!)
Jack Watkins

Jack Watkins will work on your brand and website design. As a designer and developer yourself, you'll have a blast reviewing Jack's Bootstrap-based website.
A minimal design that distributes content in a distraction-free way. I also like the clean navigation bar without capital letters. It's not something you see daily.
Each internal page is in great harmony with the home page, keeping the nice flow intact.
If I'd need to describe Jack Watkins's website with one word, I'd pick: bold. That's the first impression that I got, which may be completely different from yours, but that's OK.
Bite Toothpaste Bits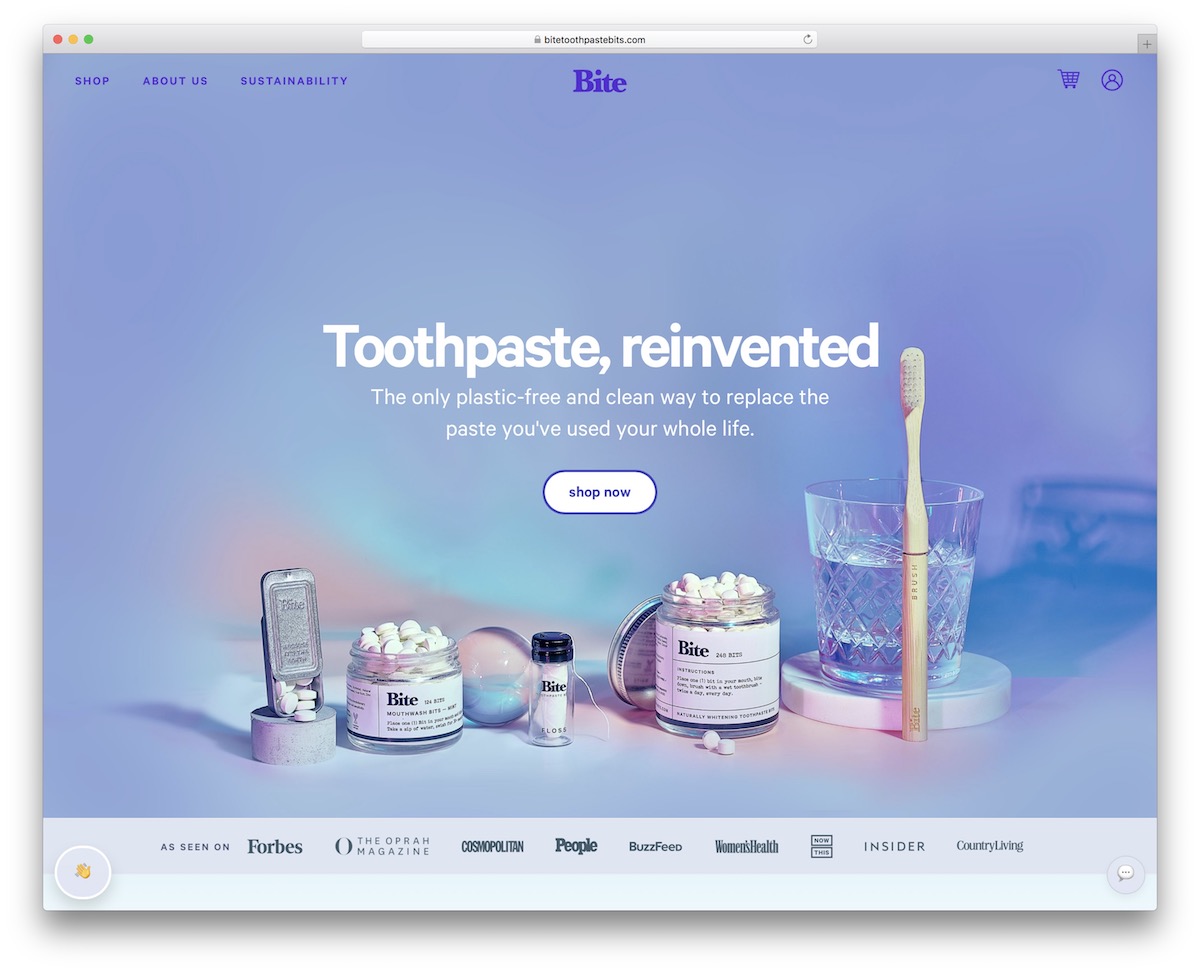 If Bite Toothpaste Bits doesn't grab your attention immediately, there are other Bootstrap websites that I'm sure will. But Bite does an excellent job with its design, too.
No wonder why it got on our best-of list.
I won't write about what Bite's purpose is. Remember, we are here for the design and to gain some inspiration.
Everything starts with a full-screen image, text and CTA. As soon as you start scrolling, great content, effects and details start popping from all over the place.
Dope UX, bro!
I also like the sticky menu, the waving hand emoji for notification and hover effects.
Etsy

Okay, let's make one thing clear; Bootstrap is great for small, medium and GIGANTIC websites. If Etsy uses it, you know you can, too.
When working on a marketplace (not necessarily a DIY), Etsy can be a great starting point to learn from.
Design-wise, Etsy corresponds greatly with its crafters. Even though there's a lot of information, product detail, images, reviews and related products, Etsy does not feel heavy.
You easily immerse yourself in its worlds of handcrafted, vintage and other items.
Con: I don't really like the fact that it opens a product in a new tab (desktop).
PopArt Studio

PopArt Studio is another excellent website made with Bootstrap that looks unlike any other. Innovatie, original and all that jazz. And you thought Bootstrap websites are boring.
Wrong.
The timeline-style home page is not something you see daily. But you need to start scrolling to see it. Also, as soon as you start scrolling back to top, PopArt Studio displays navigation. This keeps the experience super clean, but the menu quickly accessible.
Another practical feature is the language picker, which appears on mouse hover. But all these are just a few of the superb features that PopArt Studio sports.
Tons of other goodies at your disposal.
Forbes India

Yes, the Indian version of Forbes also uses Bootstrap Framework. It has a newspaper/magazine style layout but it differs from the main Forbes website.
A lot more crowded, if you will. And that's what's one of the main distractions for me when it comes to news sites. Too. Much. Stuff. On the front page.
However, I won't say that's necessarily a bad thing, we are all sued to it. I just like it when some of the news portal giants are keeping it minimal and less busy (but don't use Bootstrap).
AddThis

AddThis is one of the largest Bootstrap-based websites that we included in this list. It's a social engagement tool (more than that!) that knows how to do promotion right.
Tip: if you are starting a new business, always look at how big guys do things. Don't copy, imitate and add your twist to it.
AddThis mixes simplicity with creativity very well. It does not really focus on special effects, making it quick for the user to get familiar with the features.
Seconds matter in the online space!
Stance

My favorite socks! Stance is a great example of how you can use Bootstrap for building a big eCommerce websites. Stance has everything an online store needs including cookies, best sellers, notifications and more.
It's a terrific example of how to execute home pages, categories, product presentation and mega menu – the right way.
Caleño Drinks
Going alcohol-free can be fun, too, with Caleño Drinks. A website full of Latin vibes is a brilliant example of making a Bootstrap website that stands out from the crowd.
You can feel the good vibes only by scrolling the website and investigating inner pages. It also includes a slider, notification bar, Trustpilot reviews, testimonials and the list goes on.
Honestly, I spent a good deal of my review time browsing Caleño Drinks. It's friendly, it's cool, it's voguish, well, you get the gist of it.
Don't miss checking Caleño Drinks.