7 January, 2023
10 Top Laravel Dashboards & Templates 2023
Our collection of the best Laravel dashboards offers the most reliable templates for all web applications you work on.
After reviewing over thirty possible candidates, we settled on these ten.
We based our selection on multiple factors since we are all about delivering the best.
From flexible designs and layouts to great color selection and heaps of features, these Laravel dashboards have it all.
Plus!
Since the request for this collection came from users of all skill levels, we also included a few free options.
You can use these to learn Laravel and building dashboards or for quick prototypes.
This is it. Developing an admin dashboard has never been that fun!
Enjoy.
Top-Notch Laravel Templates
Argon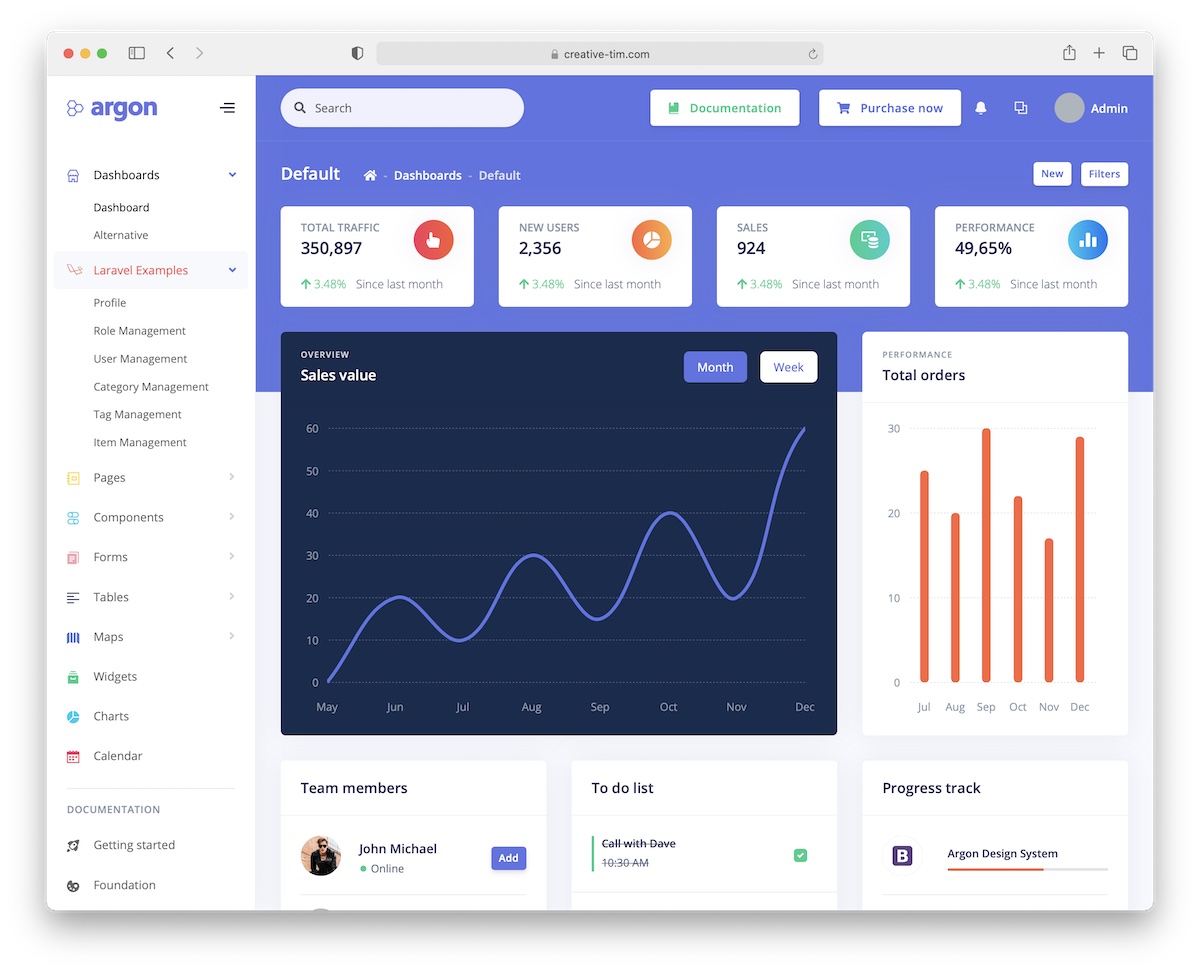 Argon is at the top of the list for multiple reasons. Not only does it have a 5-star rating, engaging design and 100s of elements, but it also promises a great process of making your project a reality.
Very user-friendly if you will. In short, both beginners and professionals can profit from Argon tremendously.
And if you ever find any inconvenience, you can always reach out to the pro tech support. Or just flip through the comprehensive documentation.
As far as the pricing goes, it starts at $149 and goes all the way to $449. Or, you can pick the free version (scroll down) and go from there.
Argon (Free)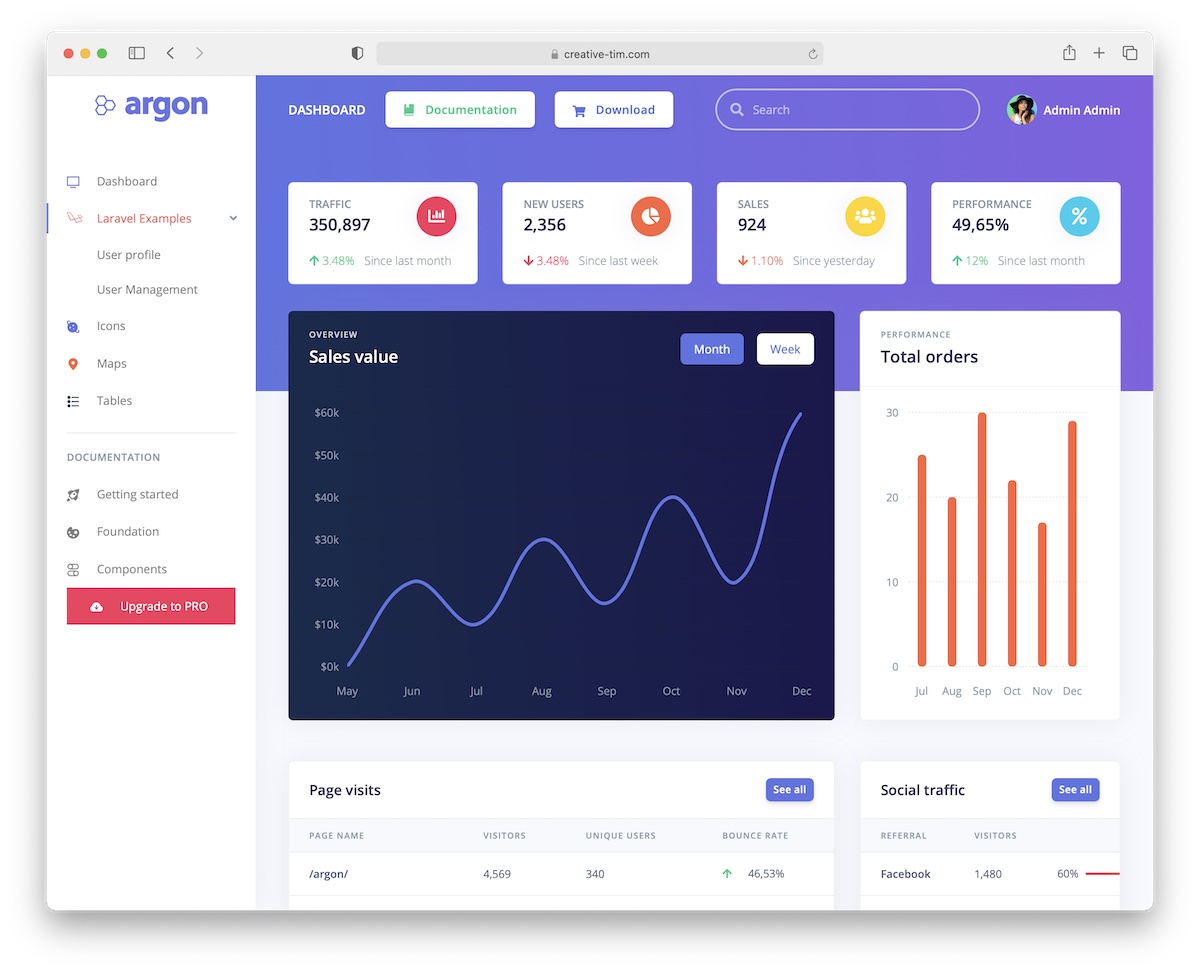 You don't always need to pay to benefit from a Laravel dashboard. Since Argon pro is our favorite, the same applies to the free versions.
With approx. 30k downloads, Argon shows that it's a powerful alternative that comes with no hidden fees. A great way to test the waters before upgrading to pro.
But you can do oh so much more with Argon free.
You still get a collection of one hundred elements, multiple plugins and several ready-to-use examples pages. You don't need to do anything from scratch. Rather improve the available material and enjoy the quick dashboard execution.
Material

You will find a mix of free and premium Laravel dashboards throughout this collection. Material template also comes in two versions. For. Your. Convenience.
You can use Material for as many web apps as you want. It is adaptable enough to fit something niche or something general. You can customize it however you want.
Material saves you A LOT of time, thanks to the ready-made layouts and a broad selection of practical elements.
You get heaps of plugins and components that work together in perfect harmony. But first, head to the live demo preview, where you can investigate Material's amazingness first-hand.
Material (Free)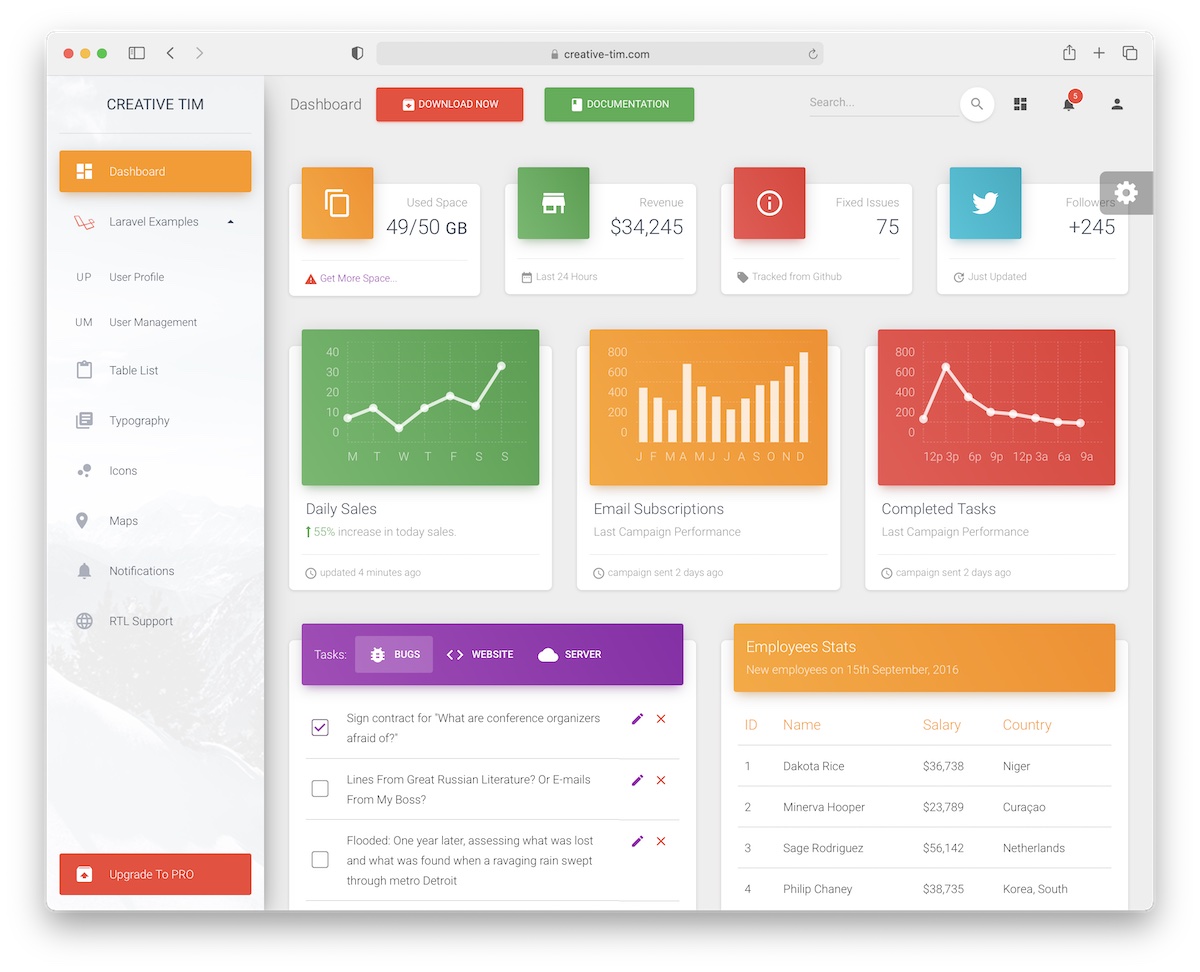 I am sure many skipped the premium Material and umped straight here. You did the right thing! Because if you are particularly looking for a free Laravel dashboard, Material will do you extremely well.
And you can upgrade at any time you want.
With over 24k+ downloads, Material is a popular template that already helped many users do magical things.
You can use the free version for either a prototype or a full-blown app. Even learning!
However, you get a lot less material with the free demo than the pro version. Still, there are sixty elements, two plugins and three example pages and some neat styling options.
Black

Many times, users complained about the lack of dark design. To your luck, here is Black. This striking Laravel dashboard is everything you need to create a mobile-ready admin.
Note: If this is the style you like but would prefer a light version, scroll down to see the White dashboard.
It took Creative-Tim about ninety hours to complete Black with all its perks. Yes, 90 hours, saved!
Your custom-made application deserves a custom-made admin panel. You will attain a great outcome that will take you little time to complete. Even as a beginner!
Support, documentation and updates included.
Black (Free)

Yes, here it is, the free dark Laravel template, Black. A great approach to starting with your development process is by going free and then upgrade to pro.
The free dashboard already has a decent portion of the material to quickly sort out an admin. There's also a quick setup guide that ensures everyone enjoys a smooth sail.
The layout is 100% responsive, guaranteeing a seamless performance on different screen sizes.
Pick any of the three main color skins, make other styling configurations and extra customizations and you are all set to go live.
Begin the process without the heavy lifting. Begin with Black!
Now UI

Getting projects done will now be much quicker. If you still haven't find the right Laravel dashboard, the chances are high that Now UI will do the trick.
A flexible and extensible template that you can modify however you want. OR. You use it out-of-the-box and save even more time.
It's all up to you.
Now UI is here to serve all its users very well. The code is also built with beginners in mind, so no matter how skilled you are, Now UI ensures you the creation of a professional admin.
Pick between three premium packages or even start with the free sample. Make great things happen with Now UI.
Paper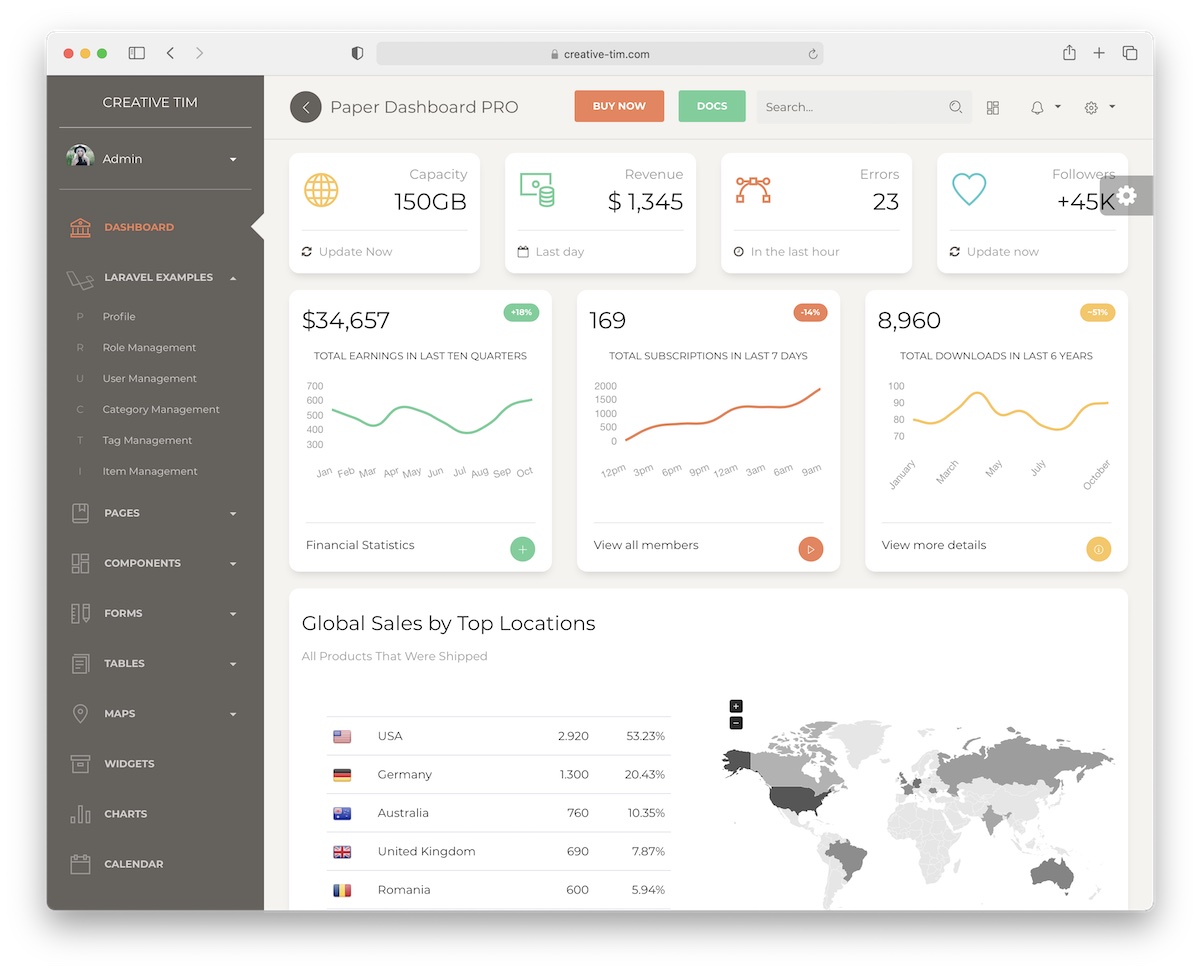 If only I could tell what, but something appeals to me regarding Paper. Secretly, this is my favorite Laravel dashboard.
It has this nice color choice with a modern, mobile-first design that creates a pleasant atmosphere. Keep in mind, no need to stick with the default configuration.
While making custom adjustments, you can also pick from ready-made active and sidebar background colors. (See live demo preview.)
Bootstrap, light code, 160 elements, thirteen plugins, and so on. Go all-in with a single web app admin creation or use Paper to work on several projects.
It's all possible.
White

I mentioned White earlier when speaking about the Black Laravel template. This is the same dashboard just that it comes in light mode.
There's no need to configure dark edition if you can just go with this bright version. Note: The gradient detail spices things up. Right?
Along with the great styling options, White also offers an array of elements (200!) that make for one hell of a dashboard.
Notifications, maps, pages, tables, widgets, a mini sidebar and a calendar are only a few of the specialties that make White so grand.
White's ready, are you?
Light

Light is one of the lightest Laravel dashboards on the market today. There are two good reasons for that.
First, it has a simple but creative design that creates great content distribution. And second, it has a lightweight structure to perform fast and seamlessly across different devices and platforms.
Light is really something!
There's no bloat when it comes to Light. No fancy stuff and no other unnecessary elements that cause distractions.
But you can see it first by visiting Light's live demo preview. On the other hand, if you are not 100% sure, you can always opt for the free version with 1,000s downloads first.